All products featured are independently chosen by us. However, SoundGuys may receive a commission on orders placed through its retail links. See our ethics statement.
Wren V5PF Review
The Wren V5PF is an excellent sounding speaker and the Play-Fi works well, it just isn't very portable. Not that it needs to be.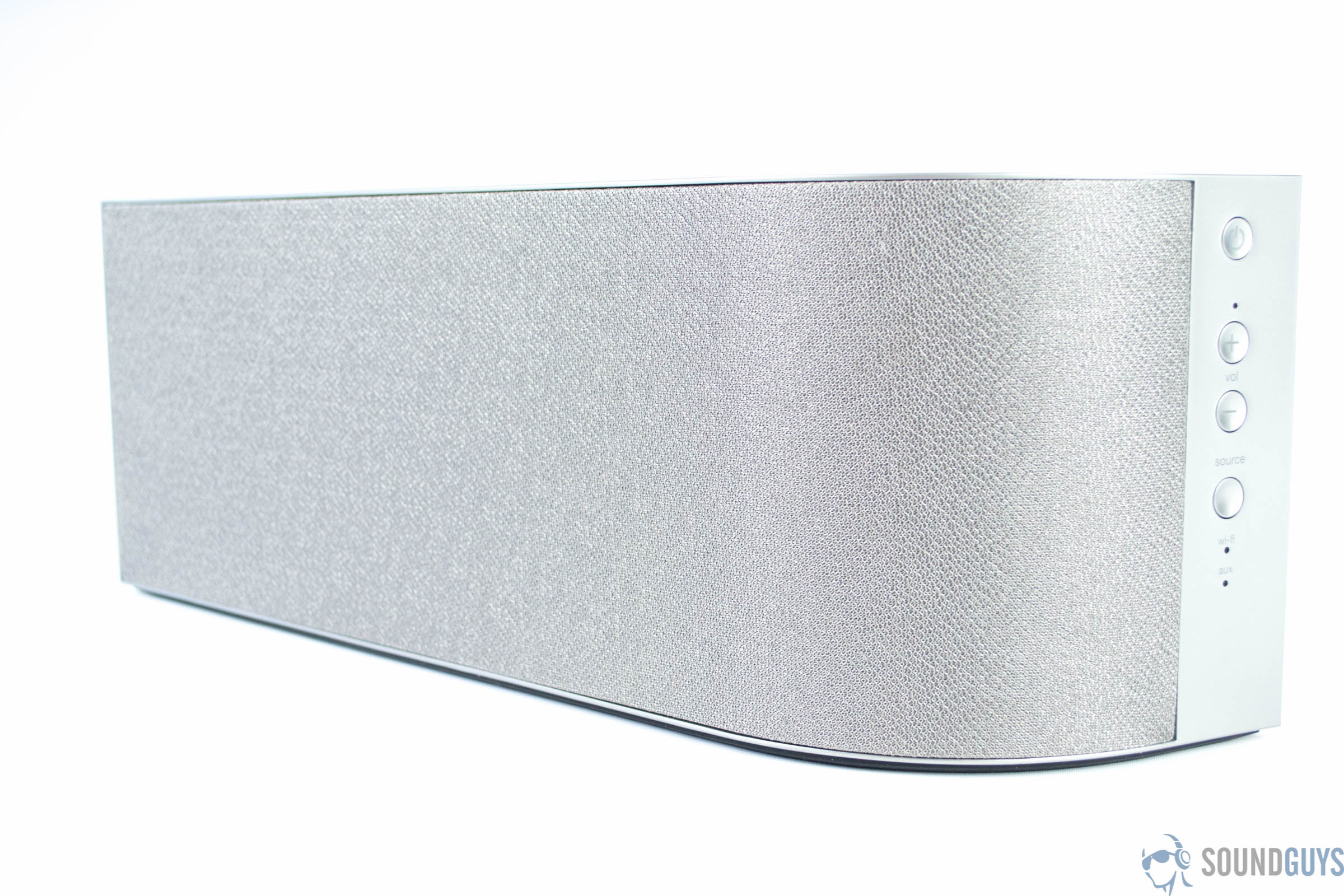 As the technology behind wireless speakers improves, most of the focus is shifting toward smaller, ultra-portable models. While this may be true for the bulk of manufacturers, it isn't true for everyone. While Sonos might currently be the most recognizable brand, there is fairly large group focusing on wireless in-home audio, rather than speakers that can easily fit inside a backpack.
Wren is one of these companies, and their V5 series comes in a few different models aimed at owners of various devices: an Airplay model, a DTS Play-Fi model, and a more recently released Bluetooth model. We're looking at the Play-Fi model, the Wren V5PF. While the connectivity differs, the sound and build remains the same across all of the various models.
What's In The Box?
The Wren V5PF is one of the largest speakers we've reviewed, so it was no surprise that the box is a fairly large one. Open it up and the first thing you'll see is the speaker. Underneath you'll find the AC adapter and power cable, mini USB cable, micro USB cable, and the Setup guide.
Build & Design
While sleek, rounded and futuristic are all words that describe a large percentage of modern wireless speakers, Wren takes a different approach with the V5PF. Instead, the speaker takes its design cues from high-end home stereo equipment, complete with a wood finish — available in either rosewood or natural bamboo. The silvery cloth on the front of the speaker provides a nice contrast to the wood.
As mentioned earlier, the speaker is fairly large, measuring 4.2 x 16.7 x 6.2 inches. It isn't light either, weighing in at 6.6 pounds. Considering this isn't a speaker meant to be carried around, the size and weight aren't a problem, but it's worth doing some measuring if you don't have a lot of space and you're thinking about buying the V5PF. Luckily, the rubberized bottom will keep the speaker from easily sliding off of a table or desktop.
Connectivity
Play-Fi isn't nearly as common as Bluetooth, but luckily you don't have to worry much about hardware compatibility. Adding Play-Fi to your phone or computer is as simple as downloading an app. Plug the speaker in and turn it on, and it immediately becomes visible to any Play-Fi enables devices on your wi-fi network.
While enabling Play-Fi is simple, playing the music of your choice may be trickier. Playing local music on a mobile device is simple, but I wasn't able to use Spotify on either an iPhone or Android phone. If this is a big deal to you, it might be worth looking into the Airplay or Bluetooth versions of the speaker. From a PC, on the other hand, the DTS Play-Fi app allowed me to play any audio from the computer to the speaker.
While it was fun to push the volume slider up on the computer in my office and hear the speaker get louder in my kitchen, this isn't ideal, so it's nice that the Wren V5PF features a few buttons on the side / front. Starting from the top, you'll find the power button, volume buttons (plus and minus) and finally the source button, which allows you to switch between Play-Fi and the 3.5 mm aux jack on the back of the speaker.
Sound Quality
Testing was done playing music of various genres and styles from a Windows PC as well as both an iPhone and an Android phone. Right now, Play-Fi is limited to CD quality (16 bit, 44.1 kHz) sound, but that is still at least technically better than Bluetooth's lossy transmission.
Bass response is impressive for the size, and notes are well represented. While many speakers "fake" the low end, here the size works to the Wren's advantage. A word of advice: the V5PF features a bass port in the back, so for maximum bass, place it near a wall.
The mids provide plenty of room for guitars and vocals. Response doesn't sound totally flat, with a cut between 500 and 1000 Hz (likely to avoid muddiness) and another in the higher mids (presumably to avoid harshness).
Detail is fairly good in the high end, but it's clear that they're playing it safe. There is a bit of softness in the high end at times, but this is certainly preferable to harsh, tinny high end.
While it might be larger than most speakers we review, the Wren still isn't large enough to provide a wide stereo field, though soundstage is fairly good and it certainly can fill a room. Unlike most of the speakers we look at, we noticed no audible breakup on most songs as we cranked the volume — in fact, in most cases it seems that the V5PF sounds at its very best when cranked up.
Conclusion
One of our favorite large-format wireless speakers of 2014 was the Bose SoundLink 3, and in terms of sound quality and ease of use, the Wren V5PF beats it handily. If you need portability, this obviously isn't the best choice, but if you're looking for a speaker that will sit on your shelf, the Wren is one of the best sounding speakers we've heard. Just be sure that you choose the right model for you.