All products featured are independently chosen by us. However, SoundGuys may receive a commission on orders placed through its retail links. See our ethics statement.
The bottom line
Although $299 is a pretty steep asking price, the Model One Digital is a perfect speaker to put in your kitchen or bedroom as long as you don't expect audiophile quality.
Model One Digital
Although $299 is a pretty steep asking price, the Model One Digital is a perfect speaker to put in your kitchen or bedroom as long as you don't expect audiophile quality.
What we like
Great design
Strong connection
Multiple ways to connect
What we don't like
Sub-par app experience
Average sound quality
No Chromecast support
Price
Rating Metric
Sound Quality
8.0
Bass
7.0
Midrange
8.5
Highs
8.0
Durability / Build Quality
7.8
Value
7.5
Design
9.0
Portability
7.0
Before there was Bluetooth, there was radio. If you wanted to listen to music that you didn't own, you couldn't just open up a streaming app. You had to tune to your favorite radio station and hope they played the song you wanted to hear. Seventeen years ago the Tivoli Model One became one of the best radios you can get with technology that could really hone in on the frequency you wanted to hear. It was a great little radio, but the company is back with a new iteration for modern living. The new Model One Digital takes the retro aesthetic of the previous model and mashes it together with modern conveniences, but is that enough to make it a good buy?
What's Inside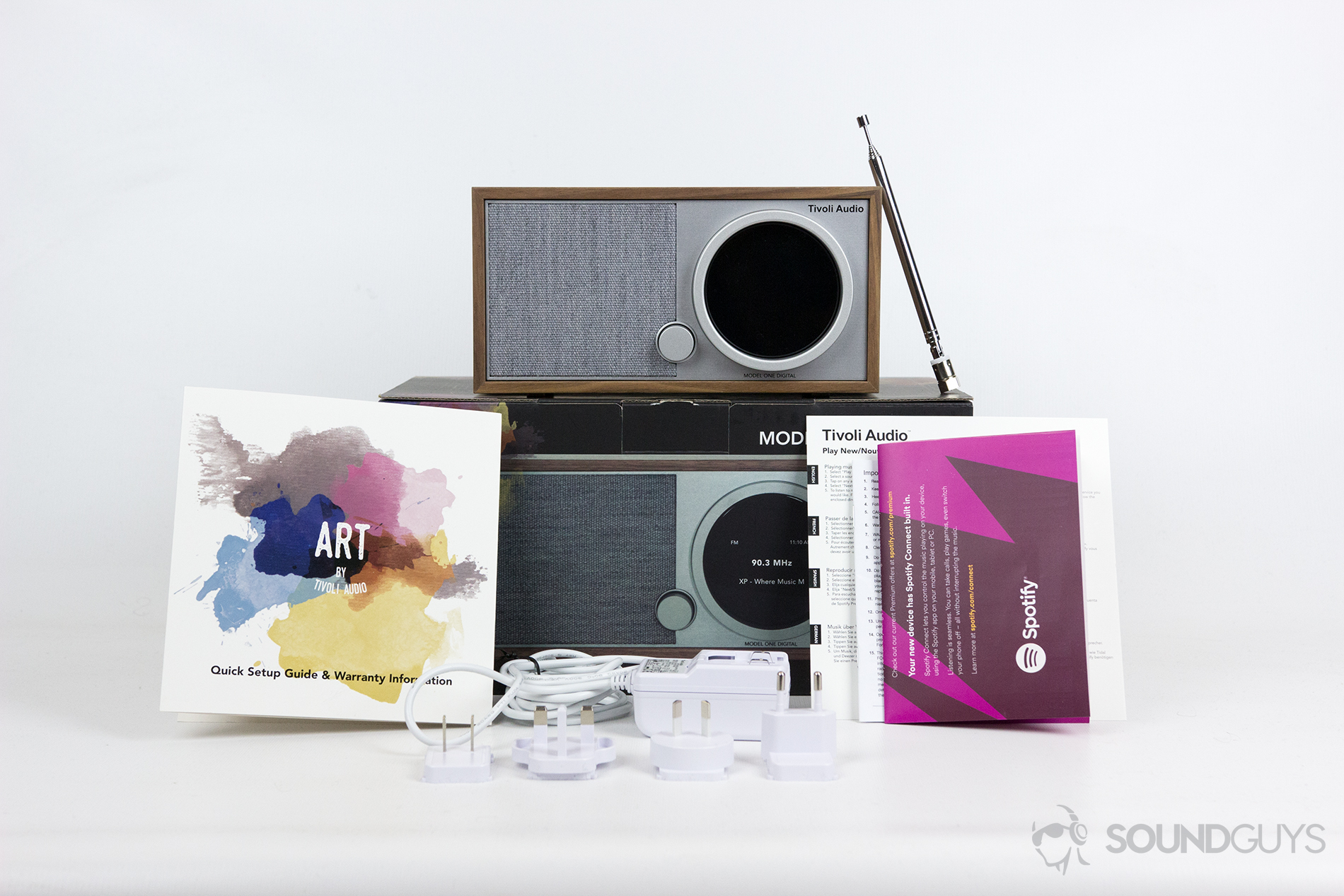 In the box you'll get the speaker, the power supply, and a quick start guide and warranty information.
Build & Design
Like the original Model One, this new model looks straight out of the 50's with a few exceptions. The housing has a walnut/grey finish but it also comes in two other options: white or black ash. You can choose whichever one matches your decor better. On the front of the speaker is a plate of metal with a fabric grille on the left, two knobs on the right, and a small display. The smaller knob controls volume while the larger ones gives the user playback controls. It's a pretty clever way to implement controls into the design without any buttons.
The size of the speaker isn't so large that it can't be moved, but it's definitely not meant to be portable. It doesn't have a battery so you have to keep it plugged in at all times, which is fine considering it's a house speaker. Though the build quality is excellent (the only issue I found was that the volume knob is a little wobbly), I wouldn't call it durable by any means. A drop or two and you might find yourself shopping for another speaker.
It might just be my hipster love for the analog world, but I found this speaker to be gorgeous. The combination of wood and metal gives it a modern industrial feel while the looks bring you right back to the 50's. The display on the right side does give it away a bit, but it's not bad as far as displays go. It's bright enough to see easily indoors and even displays the Spotify in color, which was a surprise to me as I assumed it was black and white.
Connection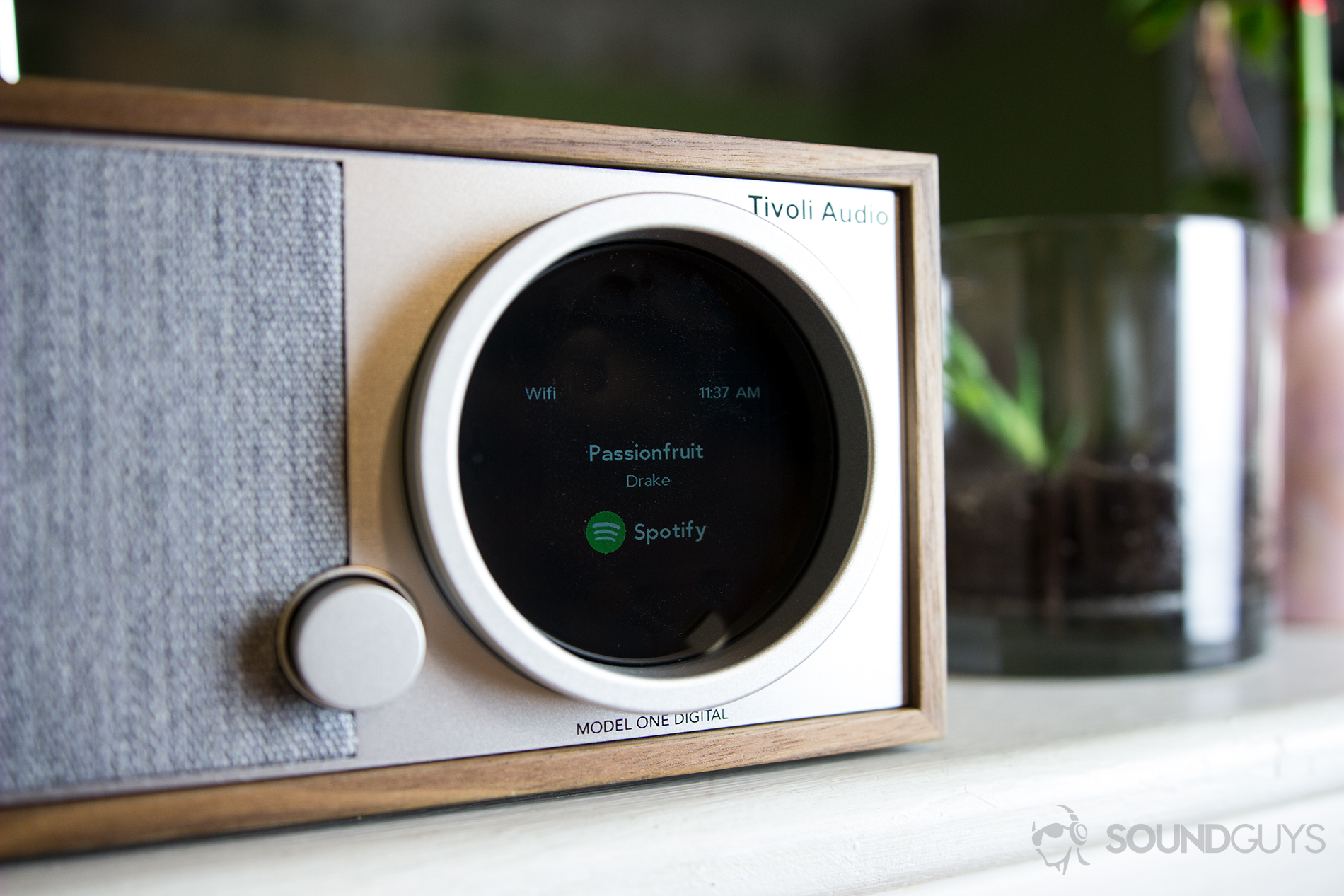 You can easily attach the included antennae to the back of the speaker, but that's not the only input you'll see. You'll also find a 3.5mm input, power input, a micro USB input for service, a "party mode" button that lets you pair to other speakers in the Tivoli ART collection, and a setup button for initially setting up the speaker.
Unfortunately, setting up the speaker is the worst part of the process due to a usable but sub-par app experience. It crashed multiple times and for some reason still doesn't show that I have a speaker available even though I can play music with no problem. An update was pushed out during my testing to enhance the experience, but it still didn't make the app any better to use. That said, once setup is complete the speaker is an absolute pleasure to use.
Thankfully, you can skip over the app and go straight to the speaker when streaming music thanks to its wireless capabilities. You can play music directly through Spotify app if both devices are on the same wifi network thanks to Spotify connect, and it's also compatible with other streaming services like Tidal, Deezer, and Tune-In. You won't find compatibility with Google Play Music just yet as it doesn't have Chromecast built-in, but you can connect via Bluetooth to get the job done. Though Bluetooth range isn't as impressive as when you're streaming over wifi, it still still has a strong connection that rarely (if ever) drops as long as you stay in range. And if you'd rather listen to the radio it can do that too.
Just short press the volume button down in order to cycle between inputs (aux, Bluetooth, wifi, FM). The ring around the display also has controls built in. You can skip between songs by rotating if you're streaming music and pressing it down pauses or plays the music. If you're listening to the radio it becomes a tuner, smoothly switching between stations.
Sound Quality
Though I did listen to FM radio for a good amount of time, the quality obviously isn't good enough to judge it solely based on that. So most of the testing was done on Spotify streaming over Wi-Fi on the highest quality setting.
To be frank I really enjoyed listening to this speaker, but the low end was probably my least favorite aspect of it. It was strong enough to keep most people entertained and I was definitely impressed with how much bass you get for the size, but it's way more boomy than controlled at loud volumes and came off as artifical. In the intro of the song "Redbone" by Childish Gambino the bassline seems to wobble and trip over some of the other parts of the song, including the main melody.
To me this speaker was made for vocals, so naturally the midrange was great. The vocals in "Life in Wonderful" by Jason Mraz was clearly the focus of the speaker, while the guitar in the background maintained a good detail throughout. Podcasts were also great to listen to for this reason.
The high end was also handled pretty well, with the hi-hats in "Shoot Down The Stars" by Gym Class Heroes being nicely balanced throughout and never dipped in the volume with the snare hits.
Conclusion
So one thing we haven't mentioned is the price. Is this speaker really worth $300? I'd have to say depending on what you're looking for: yes. If you want a speaker you can play during a party, this isn't the one. This is more of a personal speaker. I can see someone making use of this somewhere like a bedroom or kitchen. If you like listening to music or podcasts while you cook, this is perfect. It's a speaker that will demand attention because of its beautiful design, but will also earn its place in your house because of its functionality and sound.