All products featured are independently chosen by us. However, SoundGuys may receive a commission on orders placed through its retail links. See our ethics statement.
The WAVe case will charge your headphones on the go
Never run out of battery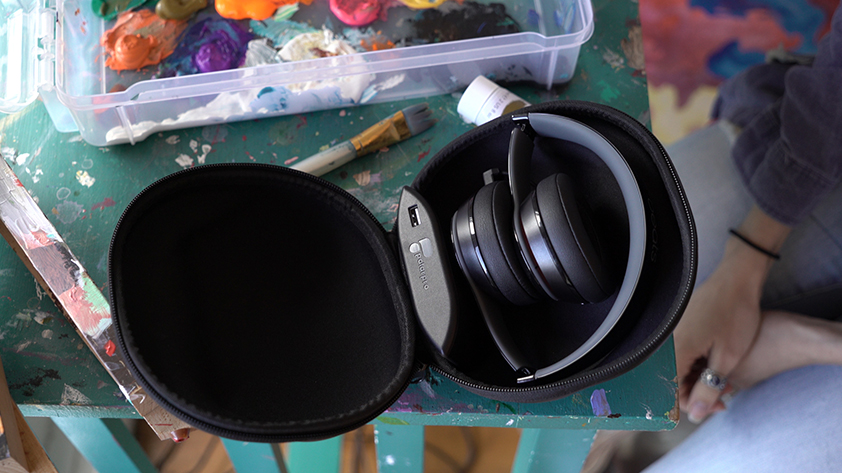 The benefits of Bluetooth headphones outweigh the cons for plenty of people, but that doesn't mean they don't exist. The more your Bluetooth headphones can do, the more frequently you're going to have to charge them. A new Kickstarter campaign by Polar Pro hopes to make it a little easier to charge your headphones on the go with their new WAVe case.
Just like any other headphone case, this hardshell case promises to keep your large over-ear headphones safe while you commute or travel while simultaneously giving you a handy place to store them. Unlike other cases, this one has a 3000 mAh battery built into it. Charging time varies on model, but it promises to get you a 90% in roughly 20 minutes while a full charge takes around half an hour.
Of course, whether or not this works for you depends on the size of your headphones. The universal case measures 5.75 x 7.25 x 2.1-inches, and Polar Pro makes it a point to say that this case will work with most models of Bose headphones including the new QC35's. If you're more of a Beats person then the contoured case might be the one for you, which is slightly smaller but fully compatible with the Solo line of headphones and the Studio Wireless. If you own a pair of Bluetooth headphones that have battery draining features like ANC, this case could be the perfect accessory for you.
The inside of the universal case has a small pocket that keeps accessories like audio cables or airplane adapters organized and easily accessible. Unfortunately that feature isn't found on the contoured case, instead opting for a more secure fit for your headphones. If this seems like the perfect case for your favorite pair of travel headphones, you can get one for yourself at the early bird price of $39 for the contoured case or $49 for the universal case. The campaign just went live today so you have about 29 days to snag yourself a WAVe case.