All products featured are independently chosen by us. However, SoundGuys may receive a commission on orders placed through its retail links. See our ethics statement.
The E3 by GGMM is a wireless speaker with some bonus features
GGMM has a Kickstarter for a wireless speaker that does a little more than just play music. Check out this project for a speaker with some bonus features.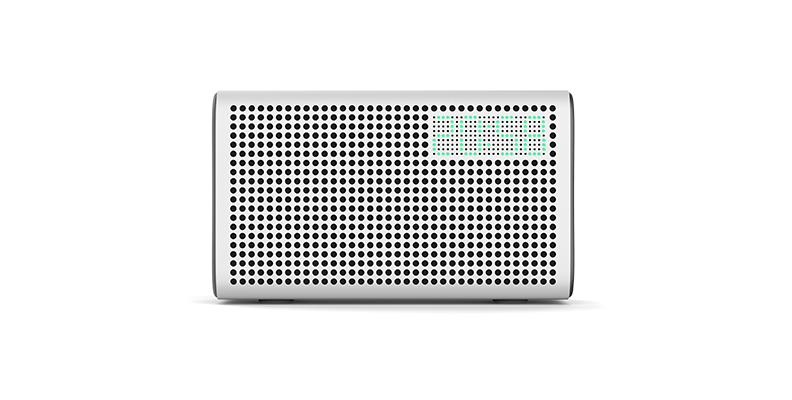 Bluetooth speakers are a dime a dozen nowadays, but there's always those few that try to go the extra mile in terms of functionality. The E3 Wi-Fi Smart Cloud Speaker by GGMM falls under this category, with a few extra common but useful features.
The speaker looks like plenty of other speakers on the market, meaning it's a small rectangular box with the drivers covered by a grille on the front. Incoporated into that front grille is a small digital clock on the top right. This hints at one of the the special features the E3 speaker has to offer, it's also an alarm clock. This isn't something that is going to be a must-have feature, but it can definitely be a useful one if you have trouble getting up in the morning. The free app also lets you customize it so that instead of an annoying buzzer, the alarm will be your favorite playlist.
The most interesting feature the E3 has to offer is its ability to connect straight to the cloud.
Not only can you connect to it via Bluetooth, but the speaker can also connect to your home Wi-Fi network which lets it pull songs from the cloud, leaving your source device free. You can do this with your music from Spotify, Pandora, Tidal, Tunein, and iHeartRadio. All that it requires is an initial setup in the app and you're good to go. Because it has the ability to connect to your home Wi-Fi, you can also connect two together and assign them left and right for a true stereo sound. But why stop there? You can connect multiple speakers together and have them in different rooms of your house, each synced up perfectly.
The speaker utilizes dual 2.5" full range drivers along with a 3" passive radiator for enhanced bass. Up top are a few buttons that allow you to control your music without touching the source device. Besides, if you're using the speaker to pull music from the cloud there technically isn't a source device so built-in playback controls are essential. Of course there's the option to skip or return to previous tracks, but there's also a small button with a heart symbol on it that lets you access up to 6 preset cloud playlists. On the back of the speaker is a smart USB output that recognizes the device you plug in and provides the appropriate power to charge it. Pretty handy for when you need to plug in a dying device throughout the day or, if you keep the speaker on your bedside, at the end of the day.
The E3 might not be the portable speaker that you'll want to bring to the beach, but if you're looking for a relatively inexpensive way to play music around the house with some added benefits it might be worth looking into. The E3 is almost 25% to goal at the time of this post and if you want to add one of these to your bedside you can choose from three colors and back the Kickstarter for as low as $79.