All products featured are independently chosen by us. However, SoundGuys may receive a commission on orders placed through its retail links. See our ethics statement.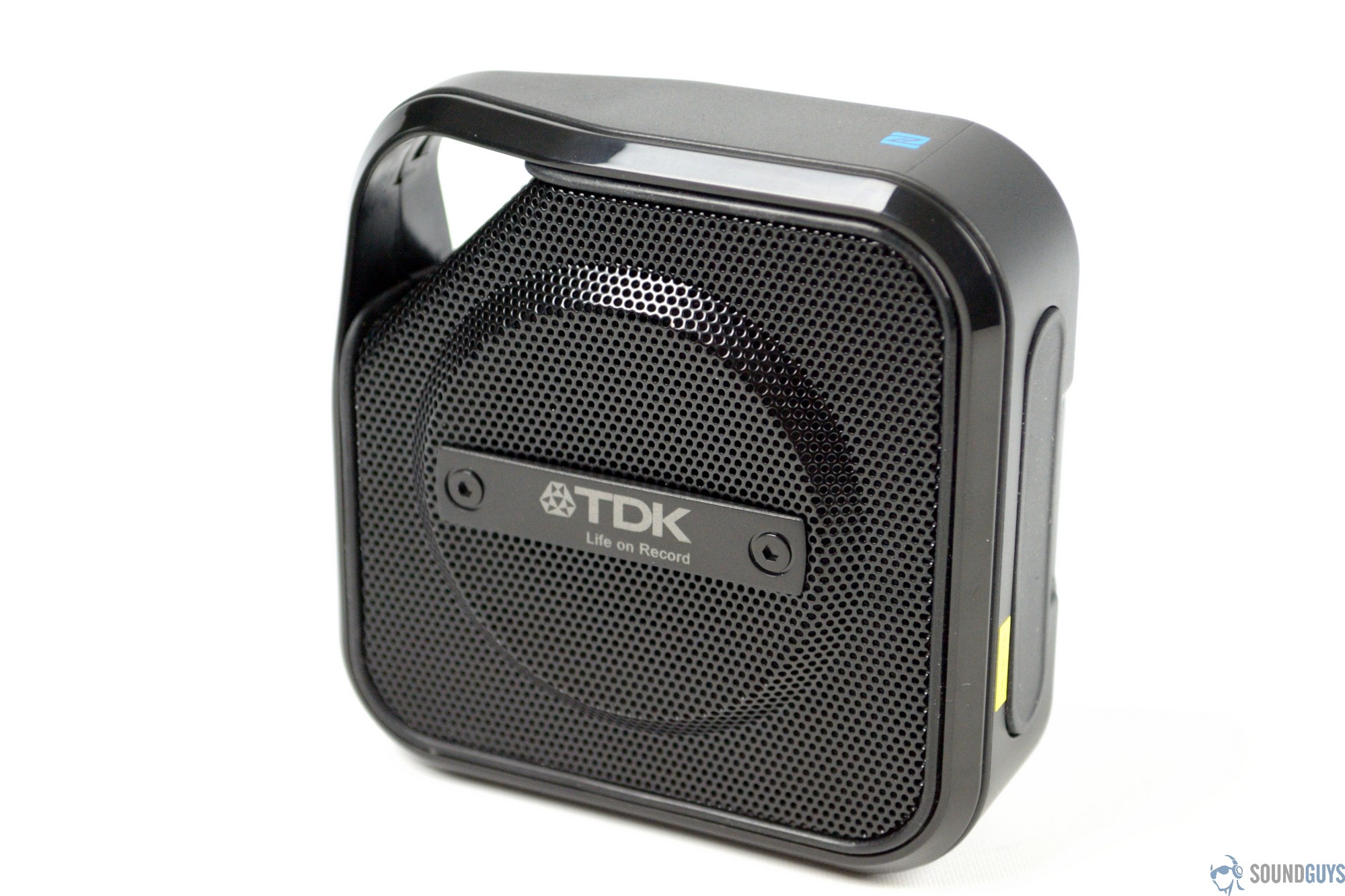 The bottom line
If you're looking for a smaller clip style speaker that can withstand a beating, this is probably your best bet.
If you're looking for a smaller clip style speaker that can withstand a beating, this is probably your best bet.
What we like
Tougher than most speakers this size
Covered jacks and connectors keep water out
Included carabiner
What we don't like
Sound isn't great
Battery life could be better
Rating Metric
Sound Quality
7.0
Bass
6.7
Midrange
7.3
Highs
7.0
Durability / Build Quality
8.0
Value
7.0
Design
8.0
Microphone
8.0
Portability
8.5
We recently reviewed the TDK Life On Record TREK Max Bluetooth speaker. While we weren't expecting much out of the gate, we walked away at how good it both sounded and looked for a speaker that was IP64-rated weather resistant.
In the same shipment, we'd also received a review unit of TDK Life On Record's TREK Micro. It offers the same IP64 rating, but is substantially smaller. Again, we weren't expecting much, but the TREK Max had raised our expectations a bit. Was this hockey puck-sized speaker worth the $50 asking price?
What's In The Box?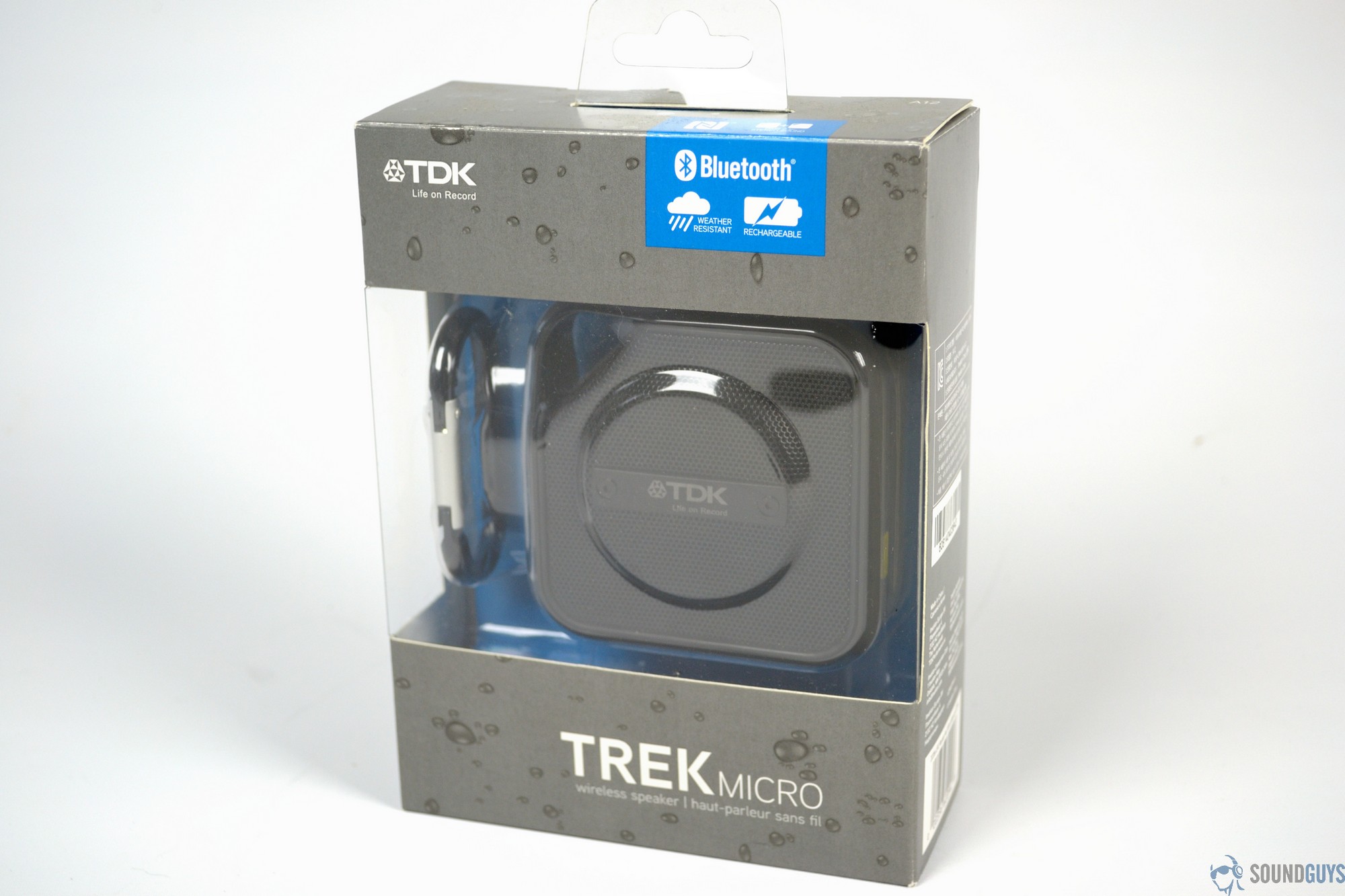 Thanks to the clear plastic making up most of the front of the box, you don't even have to open the box to get a good glimpse at what's inside: both the speaker itself and the included carabiner are clearly on display. Open the box up and you'll find the included USB charging cable and the manual.
Build & Design
We're looking at the TDK Life On Record TREK Micro in black, but that isn't the only color available. It's also available in iDevice-friendly white and a much flashier red option. Like it's big brother, the TREK Micro doesn't make a big deal out of showing how rugged it is. While it does indeed carry the same IP64 rating, you wouldn't know it to look at — the simple plastic build and metal grill don't seem flimsy, but you wouldn't expect this to be as tough as it is at first glance.
The TREK Micro may not look tougher than most speakers of its kind, but it is. Like the TREK Max it's resistant to sand and splashing water, though you don't want to submerge it. This is not a speaker to take in the bath with you, but clip it to the outside of your backpack with the included carabiner, and you don't need to worry about a rainstorm. As a plus, it's light enough that it won't weigh you down either.
Connectivity
Normally speakers this size offer the bare minimum in terms of connectivity options, but we were surprised to see that this isn't the case here. Not only does the TREK Micro connect via Bluetooth, but NFC pairing is available. No matter which option you use, pairing your device is a simple process.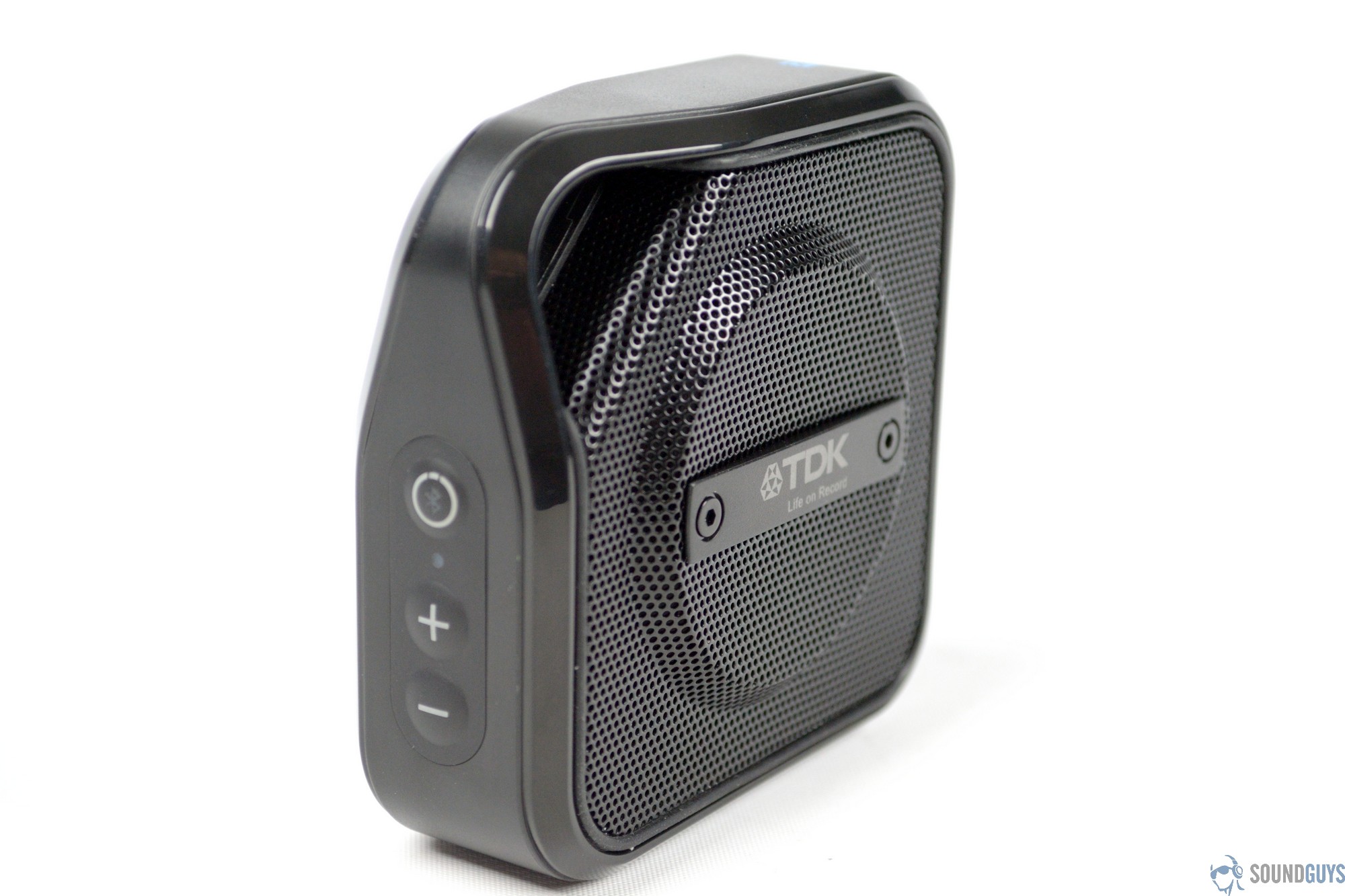 The 3.5 mm aux jack was expected, but we were thrilled to see a second 3.5 mm jack. This one is an output, allowing the TREK Micro to be used to add Bluetooth functionality to another speaker or even your home stereo system. Open up the waterproof flap on the side to find these ports as well as the on / off switch. This has another mode, "TWS" or True Wireless Stereo. This allows you to pair a second TREK Micro to use as a stereo pair.
The other buttons are minimal but functional. The Bluetooth button also doubles as the power button, and there are dedicated volume buttons, but to pause and resume playback or skip songs, you'll need to pick up your device. A built in mic provides speakerphone, but again, you'll need to answer and end calls on your phone.
Battery Life
TDK Life On Record states battery life as up to 6 hours. In our testing we got closer to 5, but considering this was heavy testing which included playing at near-max volumes for long periods, this is to be expected. Playback at moderate volumes should get you between 5 and 6 hours.
The TREK Micro includes a micro USB cable for charging but no AC adapter. In most cases, charging should only take around 2 hours, but if you're charging the speaker by plugging it into a computer's USB port, expect it to take a little bit longer.
Sound Quality
Speakers of this size can only do so much considering the small physical size of the speaker, so our expectations are always somewhat lower in this class, and our ratings are slightly adjusted accordingly. If judged by the same criteria as larger speakers, no speaker this size would ever get over a 5.
A word of advice before you use this speaker: make sure it's laying flat on whatever surface it's on. Keeping it vertically oriented is going to dramatically lower bass response.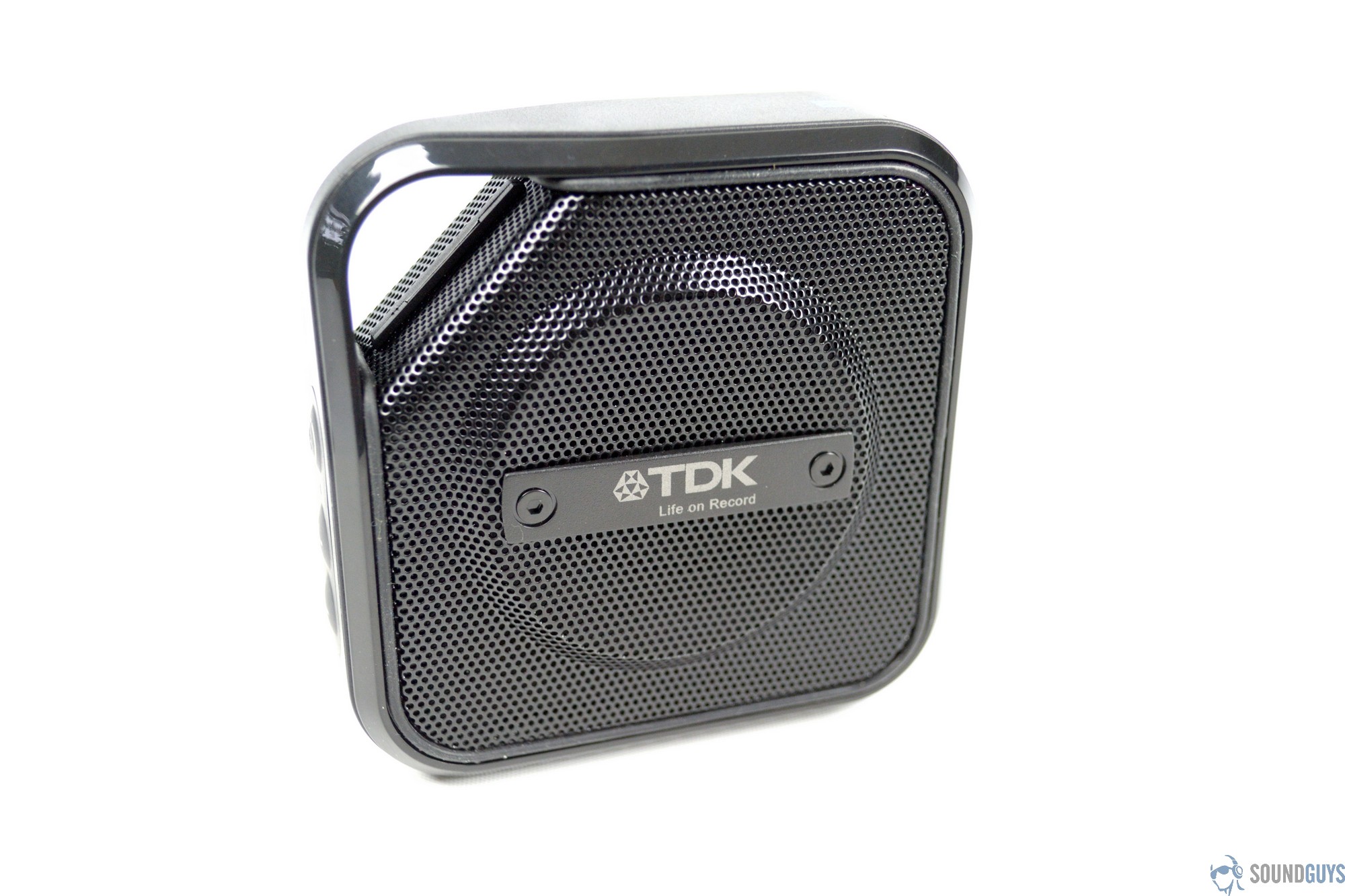 While a speaker this small is limited by simple physics, we were surprised at how tight the low end sounded, unlike the normal loose, sloppy sounding mess present in most speakers this size. Bass guitars could disappear at times, but kick drums sounded tight and focused.
The lower mids are (relatively) thick sounding, and while some mud is present, the amount of clarity in this range was fairly decent. The high mids are rolled off a bit, which is a smart choice as it avoids harshness.
For the most part the highs are okay, but some cymbals were tinny sounding and frequencies became piercing on a few occasions. This is par for the course in speakers this size, however.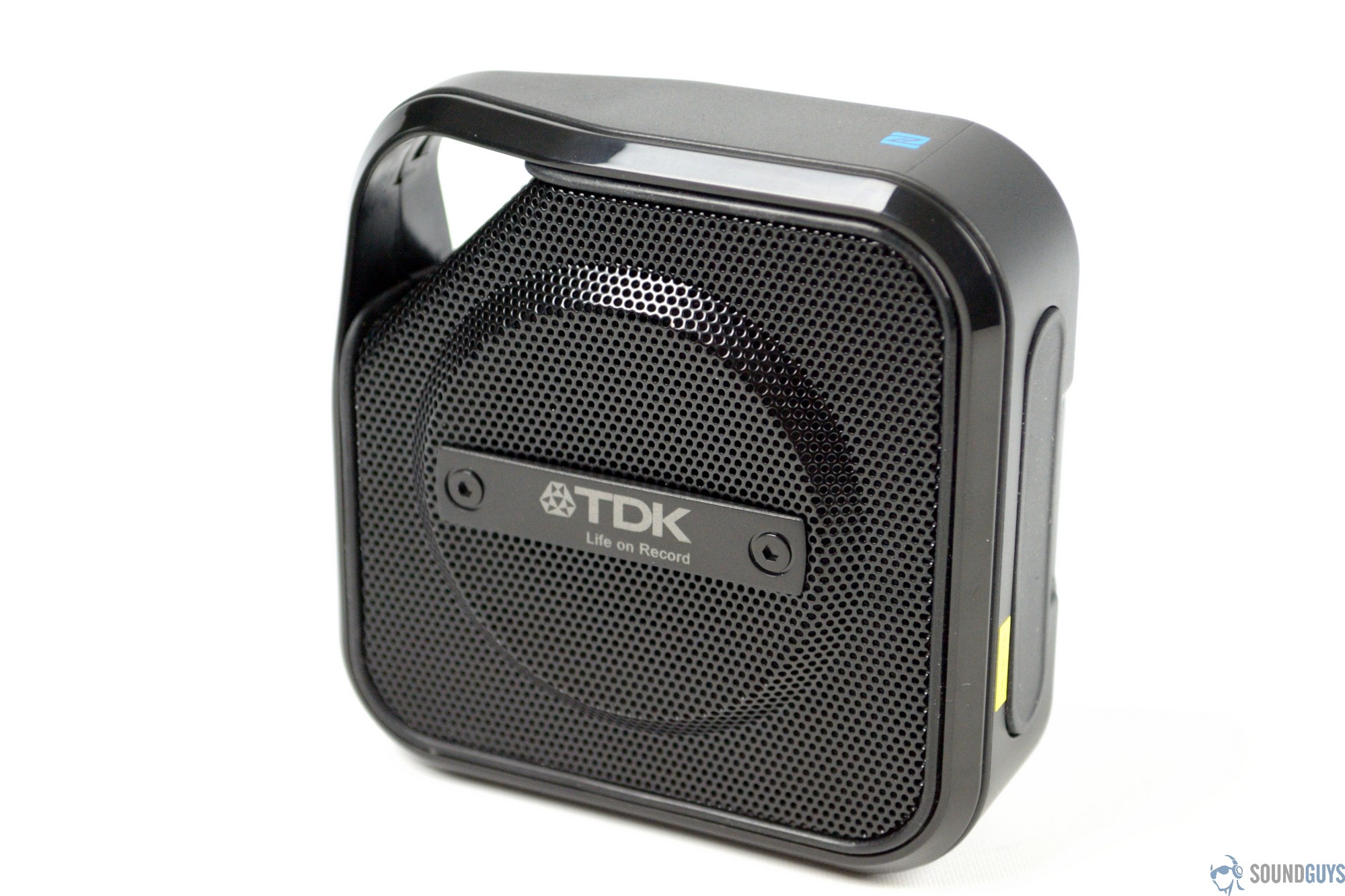 Stereo is non-existent (not surprising given the size) but as mentioned earlier, the TREK Micro can be paired with another model for actual stereo sound.
Conclusion
While the TDK Life On Record TREK Micro is slightly pricier than other speakers of its type, it's also substantially tougher. Whether or not it's a good buy comes down to a few issues, the first of which is how important that IP64 rating is. The second issue, which applies to all speakers this size, is whether portability is more important than sound quality. If it is, the TREK Micro is certainly a contender among speakers in its class.
Buy now from Amazon ($49)