All products featured are independently chosen by us. However, SoundGuys may receive a commission on orders placed through its retail links. See our ethics statement.
The bottom line
The battery life and dated Bluetooth drag it down, but the excellent sound quality and feature set make this speaker a contender.
The battery life and dated Bluetooth drag it down, but the excellent sound quality and feature set make this speaker a contender.
What we like
Great overall sound quality
Killer bass
IPX3 Water Resistant
What we don't like
Bluetooth 2.1
Only charges via AC adapter
Rating Metric
Sound Quality
9.3
Bass
9.5
Midrange
9.1
Highs
9.0
Durability / Build Quality
8.7
Value
8.0
Design
8.7
Portability
7.5
Battery Life
8.0
While they continue to fly further under the radar than they deserve, TDK Life On Record's recent Bluetooth speaker offerings have had a lot going for them. The TREK Max in particular sounds better than most other "rugged" speakers we've had the opportunity to review. One we haven't had the chance to check out until now is the TDK Life On Record TREK 360.
As the name implies, the TREK 360 offers 360 degree sound, allowing you to place it in the middle of a room and hear it just as loud and clear anywhere. Unlike a lot of similar speakers, this model is more than a beer can-sized cylinder. Not only is it cube shaped, but it's a whole lot bigger too.
What's In The Box?
With a lot of speakers, the first thing you'll see upon opening the box is the speaker itself, but here you'll instead find the manual next to a box containing the AC adapter and different outlet adapters. Underneath all of this you'll finally find the speaker, tucked between two pieces of recycled cardboard.
Build & Design
Like the other speakers we've reviewed from TDK Life On Record, the TREK 360 is only available in black. Having seen this speaker, I can't say I can imagine it working as well in bright colors, though a silvery gray or white model might have been nice. Still, if you've only got one color option, black is a safe bet.
The 360 is essentially a cube with a handle on top, measuring roughly 8 inches in every dimension. It's fairly heavy too, weighing in at 2.6 pounds. You're not going to carry this speaker around in a backpack, though tossing it into your passenger seat to take to a party is still easy enough, especially considering the handle.
The sleek black look is complemented by the shiny metallic buttons and control wheel on the front of the speaker. This is as cool looking as a black cube can get, but that's not all it's got going for it. The TREK 360 is also IPX3 rated, meaning it can stand up to splashing water, but you won't want to submerge it.
Connectivity
Pairing is fairly easy: just hold down the Bluetooth / Aux button for a few seconds until it begins flashing and then pair from your device. A 3.5 mm in jack is also available on the back of the speaker. If you're looking for the best audio quality, you might want to use that jack too, as this speaker only uses Bluetooth version 2.1.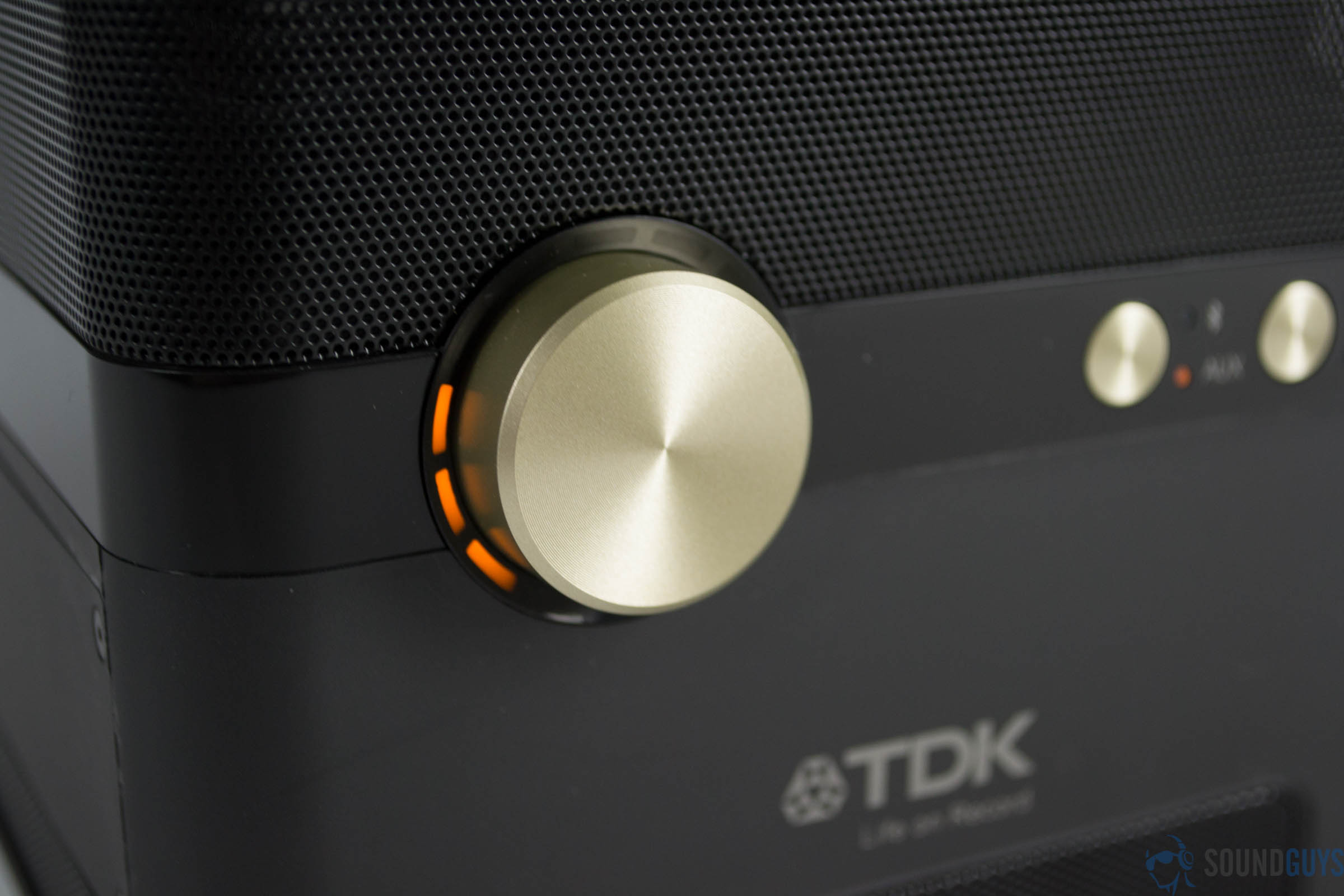 The TREK 360 hides a lot of functionality behind the guise of one knob and two buttons. The knob acts as a control wheel, putting it in charge of a lot of options. Pressing it in will turn the speaker on and off, while turning it predictably raises the volume. Tap the Bass / Treble button, and it's now in control of boosting or cutting bass and treble.
Despite the dated Bluetooth, range is still fairly good. I was able to move the source device over 30 feet away without any dropouts or stuttering audio.
Battery Life
TDK Life On Record claims a battery life of up to 6 hours for the TREK 360, and while I was initially disappointed by that claim, hearing the volume the speaker is capable of made it much more understandable. Luckily, TDK Life On Record isn't exaggerating the claim: I actually got just over 6 hours during testing, even when using the speaker at fairly high volumes for longer periods.
The TREK 360 only charges via AC adapter, which we're never too happy about, but there is an upside. While it can't be charged via USB, the TREK 360 will charge other devices via USB. Mobile charging is always a plus in Bluetooth speakers, though obviously this will drain your battery faster. The time to recharge it from completely drained to fully charged was about 2.5 hours, so you shouldn't have to wait too long.
Sound Quality
To enable its 360 degree sound, the TDK Life On Record TREK Max uses a downward facing driver on the bottom for bass in addition to four speakers on top – one on each corner. Though you'll get the best sound quality using the 3.5 mm audio in jack, we did the majority of testing using Bluetooth, since that's how most users will likely be playing music from the speaker.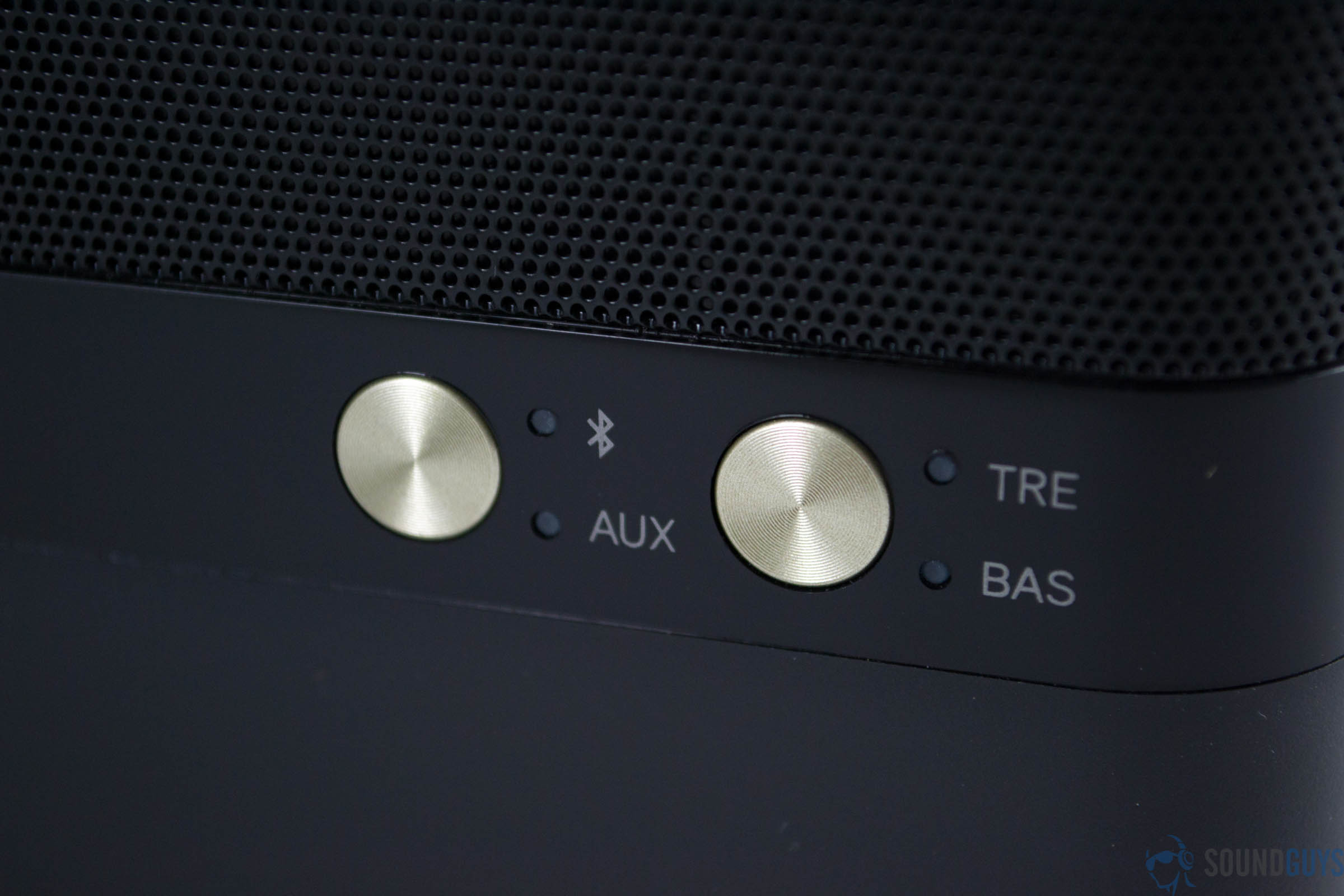 Simply put, the bass is astounding for a speaker this size. Even on flat settings it was powerful, but cranking up the bass on the built in EQ pushed it over to incredible. Cranked up, the bass was actually overkill on some songs, and I could feel the synth bass on Pujol's "Youniverse" rumbling through the floor.
While cranking the bass and treble can hide them a bit, the mids are very nicely balanced when using the speaker on flat settings, providing nice depth to vocals and guitars.
On flat the settings the highs are crisp and clear, though cranking the treble will likely drive them into harshness, at least for modern music. If you're listening to older blues recordings though, for example, it's handy to have the extra treble available.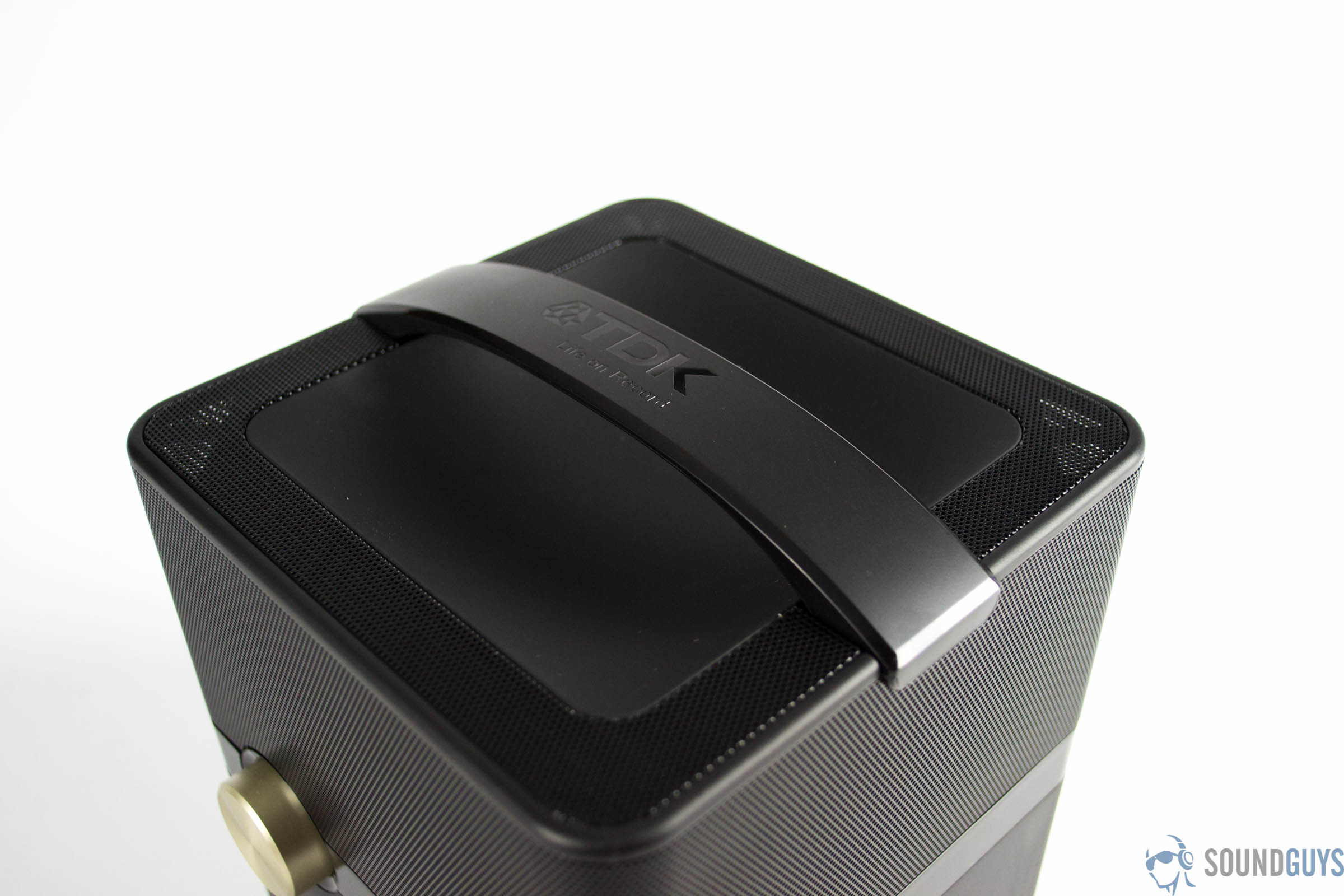 There isn't anything to speak of in terms of actual stereo separation here, but the sound that comes out of the TREK 360 is huge, and cranking the volume doesn't exhibit nearly as much breakup as many other speakers we've seen.
Conclusion
It's a shame that the TDK Life On Record TREK 360 is saddled with Bluetooth 2.1 and the battery life isn't spectacular, because otherwise this speaker would be looking at an editor's choice award. Even so, this speaker has some of the most powerful bass we've encountered in a portable speaker to date, and throws in a ton of useful features. If bass is your number one key attribute in a portable speaker, this is absolutely worth a look.