All products featured are independently chosen by us. However, SoundGuys may receive a commission on orders placed through its retail links. See our ethics statement.
The bottom line
Unless you absolutely must hear everything going on around you over your music, these are best left on the shelf. The Sidetone feature is well-intentioned, but an audio passthrough feature isn't appropriate to leave on all the time—something that the Sony WH-CH510 does.
Sony WH-CH510
Unless you absolutely must hear everything going on around you over your music, these are best left on the shelf. The Sidetone feature is well-intentioned, but an audio passthrough feature isn't appropriate to leave on all the time—something that the Sony WH-CH510 does.
Price
Original: $59 USD
May 2022: $38 USD
What we like
Sound quality great for the price
Battery life
Price
What we don't like
Sidetone
Added noise
Rating Metric
Sound Quality
8.0
Bass
8.8
Midrange
8.8
Highs
8.4
Isolation / Attenuation
3.0
Durability / Build Quality
6.9
Value
7.7
Design
6.3
Connectivity
5.0
Portability
7.4
Battery Life
9.9
Feature
6.0
Comfort
7.4
The world of cheap on-ear headphones is vast and largely disappointing, but Sony has long been a stalwart purveyor of the most popular options in this segment. Does the Sony WH-CH510 live up to this position in the market? We spent more than a week with it as a daily driver, and we've recorded everything you need to know about the headphones.
Editor's note: this article was updated on July 28, 2023 to note the release of the WH-CH520.
The Sony WH-CH510 is for people who want cheap on-ear headphones with extreme battery life, and don't mind a few rough edges now and again.
---
What's it like to use the Sony WH-CH510?
The Sony WH-CH510 is a pretty standard—albeit very cheap-feeling—set of wireless on-ear headphones. It's made mostly of a very lightweight matte plastic with a diamond-shaped texture on the outside. As expected of inexpensive headphones, the Sony WH-CH510 has a very basic foam and soft coating for ear pads. It's more comfortable than many cheaper headphones, but it creaks and groans when bent because of the quality of plastic in the band. Whether you have a smaller head or larger one, the clamping force isn't very high—again, this is a very cheap plastic—but you definitely won't forget you're wearing it.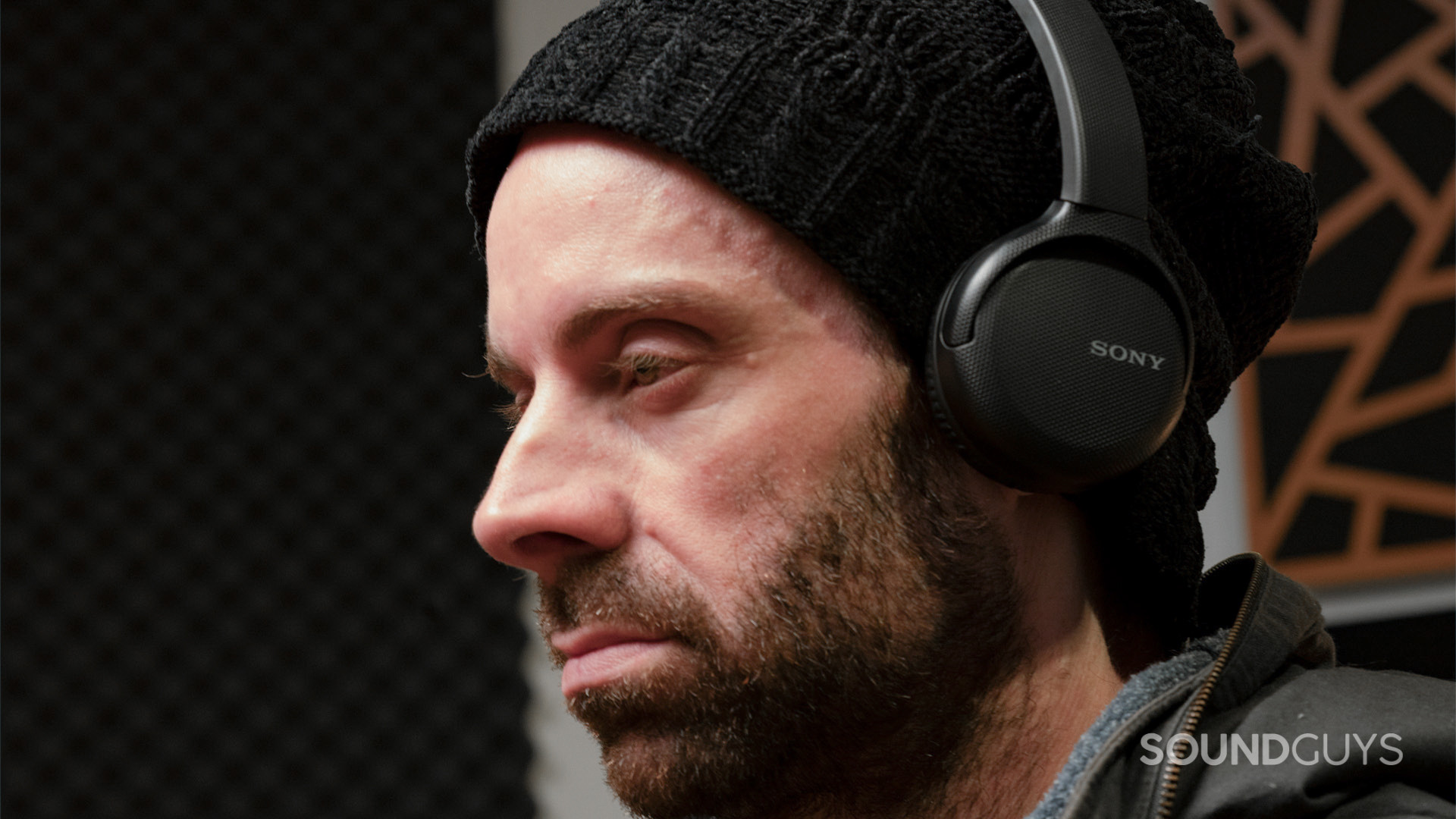 The Sony WH-CH510 is not a fun time in the office.
Like the premium Sony WH-1000XM5, these headphones don't fold down for a smaller footprint, so they take up a larger amount of space than it feels like they should. However, the ear cups can swivel 90 degrees to rest flat on a table or your clavicles if need be. Unlike many of the higher-end models of Sony headphones, there is no wired option for listening here.
If you just look at the score at the top of the page, you'd get a pretty generous assessment of the Sony WH-CH510. On paper, these are great headphones for $60 USD, but that score doesn't take into account a rather notable user problem with the Sidetone feature.
What is Sidetone?
Sidetone is similar to a transparency mode on noise canceling headphones, but with the not-so-fun drawback that you can't turn it off on this set of headphones. This feature is supposed to only be enabled for phone calls as it would be with most headphones, but in our use: the Sony WH-CH510 sometimes flips it on if you talk while your headphones are on—not just on a phone call. It's easy to see the intent here: if you're on a call you need to be able to hear yourself so you don't accidentally raise your voice too loudly. This is a standard feature of most Bluetooth headphones, and it's an extreme rarity that it malfunctions. However, something's up with the implementation of Sidetone on the Sony WH-CH510.
The volume level and sensitivity of the Sidetone function cannot be adjusted, and the function cannot be turned off. —

Sony support guide
When we start our reviews, we often look through the critical reviews on Amazon for some guidance in addressing common issues with each product. Sometimes it takes a little finagling, but this time the results were very obvious.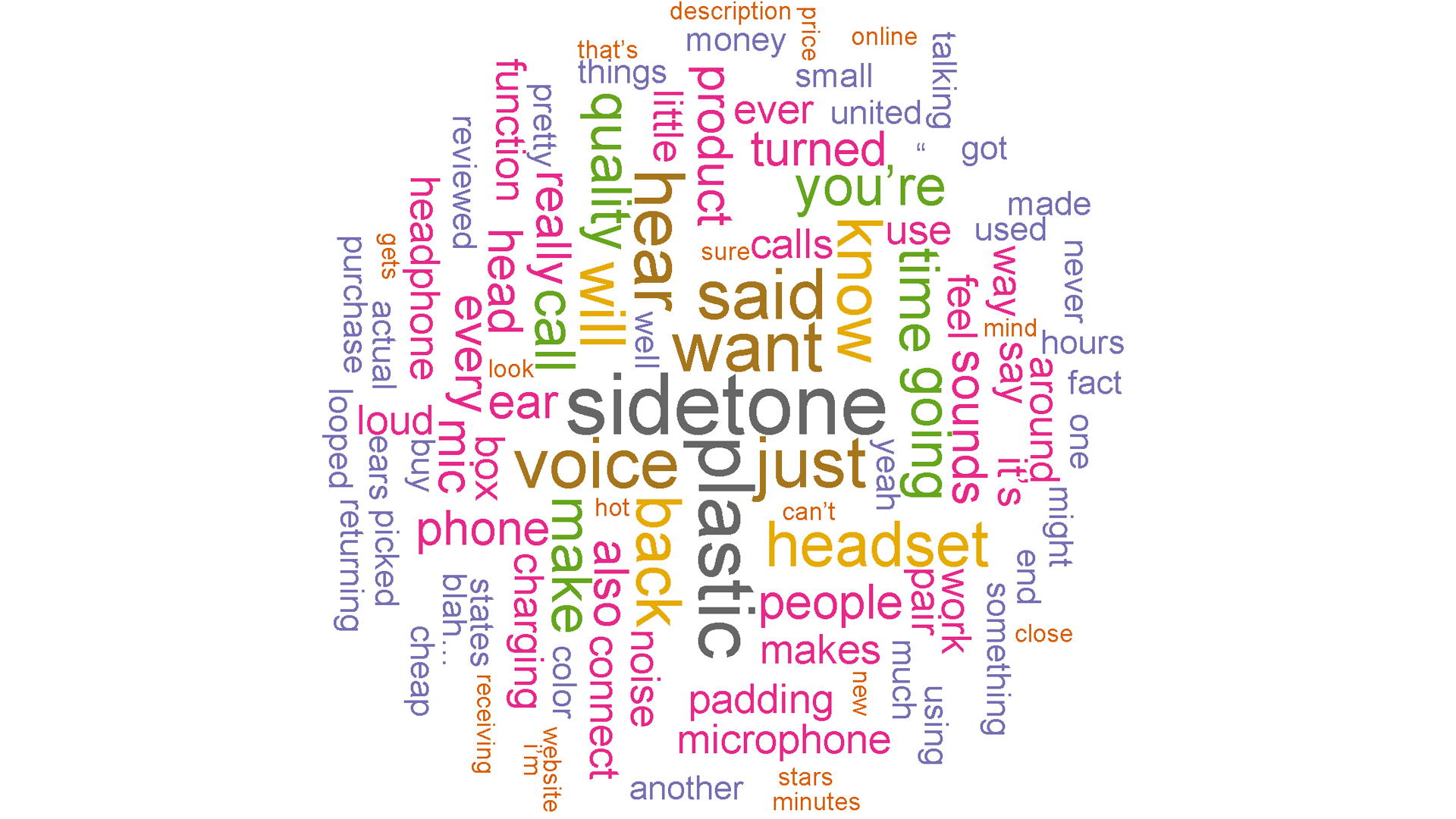 A word cloud built from the top 50 noted complaints about the Sony WH-510 shows that Sidetone is the most-hated aspect of these headphones.
We can't get Sidetone working the same way twice, with even the same devices. One day, the Sidetone is active with an Asus phone, and then weeks later it isn't. Same, too, for a Google Pixel phone. iPhones don't seem to have this trouble, nor does the Mac Mini. It doesn't work with the Windows PC in our testing setup, but when we leave the lab it connects to a different computer running the same version of Windows and it's back. When it's active, it's a colossal distraction, but when it's inactive the headphones are inoffensive at worst.
We're going to go out on a limb and say that for most, this won't inspire confidence. Walking my dog down the main road in my town, the Sony WH-CH510 is frustrating, but at the SoundGuys office: perfectly fine. Your mileage will vary depending greatly on where you listen, and whether or not the Sidetone feature is working in a predictable way.
How do you control the Sony WH-CH510?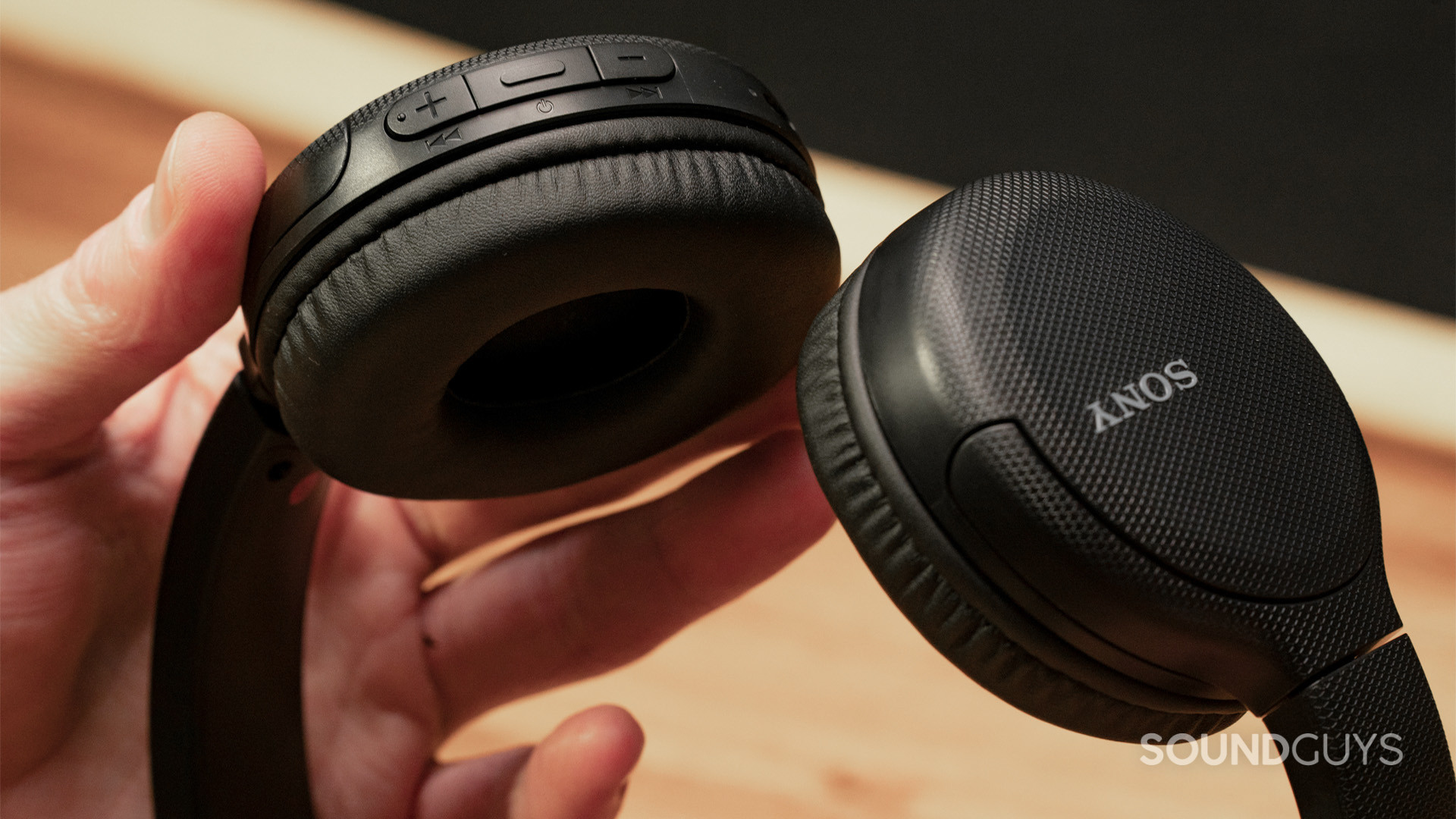 The controls may be simple, but at least they're straightforward.
Controls for the Sony WH-CH510 are very simple, albeit frustrating. On the back of the right ear cup, there's a physical button cluster that contains a power/multifunction button, as well as volume up and volume down buttons. The volume buttons pull double duty, handling track forward/track back—just hold the up (forward) or down (back) button until you hear a chime to move tracks—but that can lead to some early mixups. The time window to skip back a track is so narrow using the buttons that it's almost impossible to actually go back. I've only successfully done it once. The best you'll probably get is restarting the song you're on.
Key
One press
Double press
Hold

Key

Volume up


One press

Double press

Volume up


Hold

Track forward


Key

Power / multifunction


One press

N/A


Double press

Voice assistant


Hold

Power / pair


Key

Volume down


One press

Double press

Volume down


Hold

Track backward

Double-tapping the power button calls up the voice assistant on an Android or Apple phone. While it's a fairly standard feature on higher-end headphones, this inclusion is a pretty nice add at the entry level.
How do you connect to the Sony WH-CH510?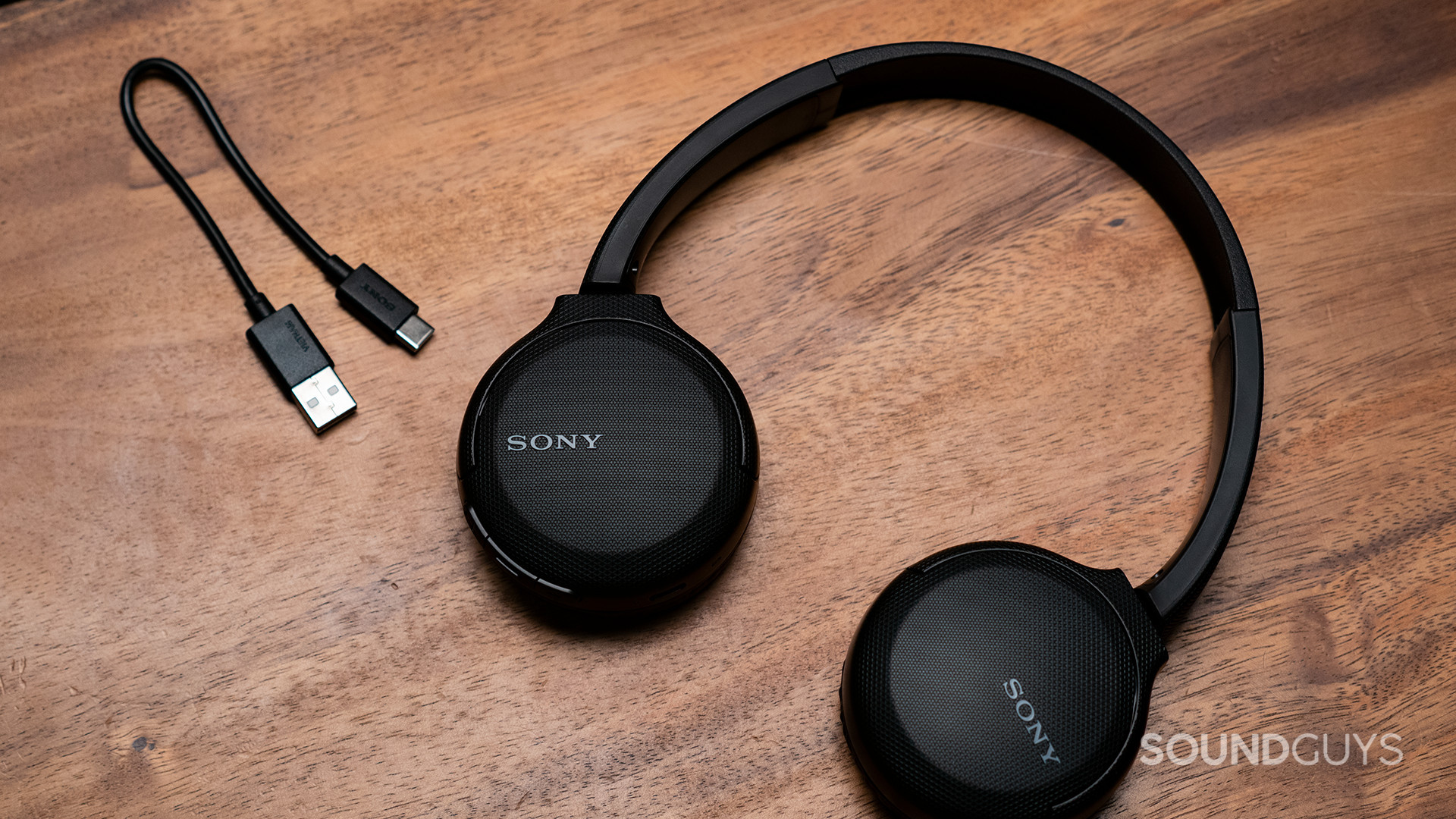 The Sony WH-CH510 charges via USB-C.
The Sony WH-CH510 can connect to your source via Bluetooth 5.0, either with the  SBC or AAC Bluetooth codecs. Long gone are the days where this is much of an issue, but if you were hoping for higher-quality codecs: you're out of luck. Additionally, there's no physical 3.5mm port, so you can't use the Sony WH-CH510 wired either.
| | Specification |
| --- | --- |
| Version | 5.0 |
| Profiles | A2DP, AVRCP, HFP, HSP |
| Codecs | SBC, AAC |
| Range | 10m |
There's no equalizer or any other feature to change the sound either—so if you want to tweak the sound, you'll have to do it with your source device. The Sony WH-CH510 doesn't even work with the Sony Headphones app, so there's no way to tinker with which features you have enabled. This also means that there are no firmware updates coming for these headphones, no way to factory reset them, and no new features coming like they sometimes do on other headphones. What you see is what you get—though that's not necessarily a bad thing if you just want headphones that work.
How good is the battery life of the Sony WH-CH510?
The battery life of the Sony WH-CH510 is excellent, running the marathon in our test for 46 hours, 35 minutes. Our battery tests are run with constant playback of real music, peaking at 75dB(SPL), a good listening level.  That's an outstanding result, and certainly the headphones' biggest bright spot. Of course, your mileage may vary depending on whether you max out the volume or not, but anyway you use these headphones: a full charge will get you anywhere you're going without needing a top up.
How well does the Sony WH-CH510 block outside noise?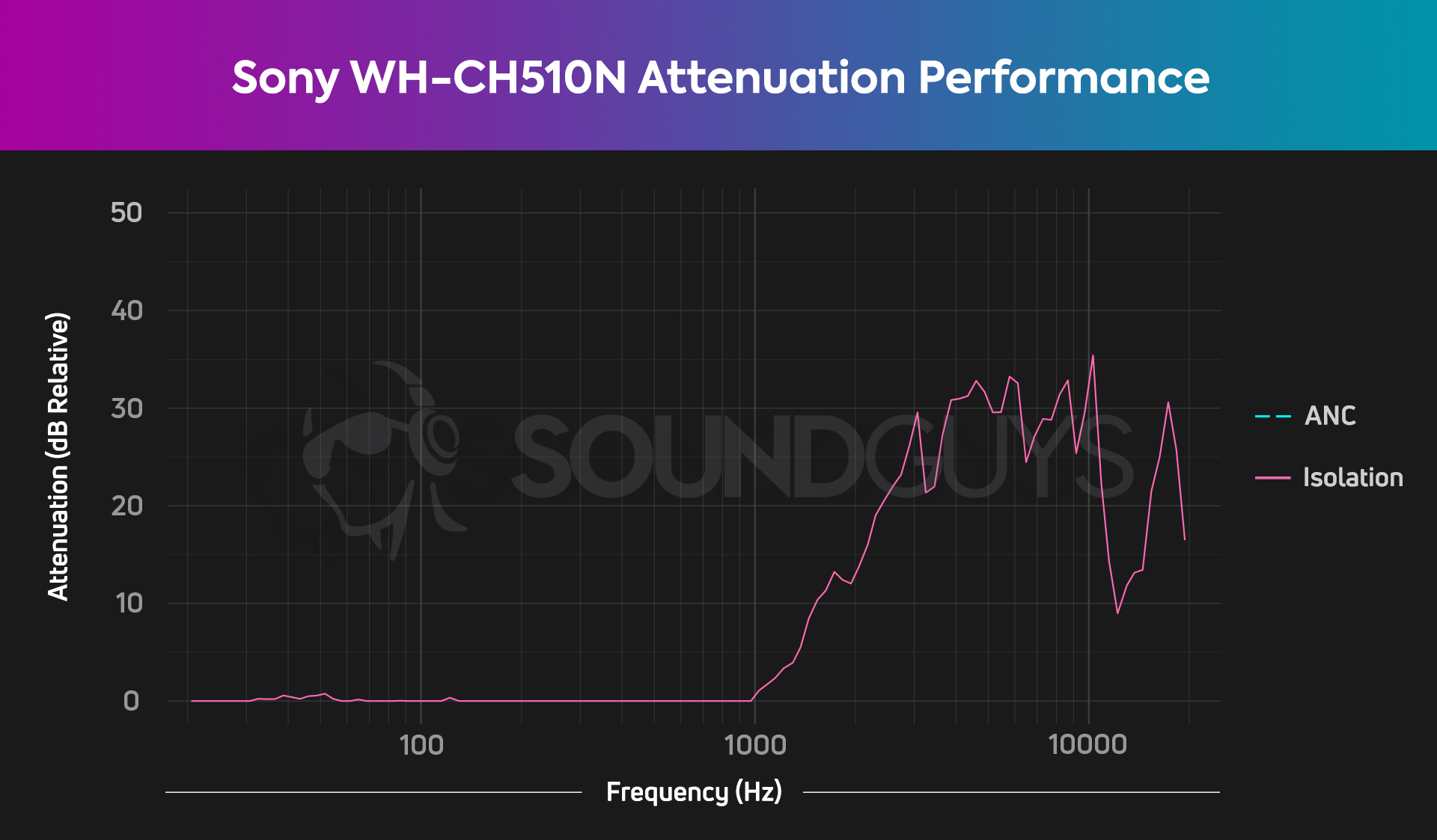 On-ears typically don't block sound well, and the Sony WH-CH510 is no exception.
In short, on-ear headphones like the Sony WH-CH510 aren't headphones to buy if you value isolation. On-ears struggle with the fact that your ear's cartilage isn't amazing at preventing noise from reaching your ears if it's sufficiently loud enough. This type of headphone doesn't seal your outer ear, and it doesn't bypass it like in-ears. Consequently, on-ear headphones are the toughest kind to fit out there, and among the worst at blocking out noise (save for open-back headphones).
If you put the Sony WH-CH510 on your head without turning them on, they do fairly well despite the caveats above, but they're definitely not the headphones you want for an intercontinental flight for example. Please fight the urge to turn the volume up if this happens, and restart your headphones.
What does the Sony WH-CH510 sound like?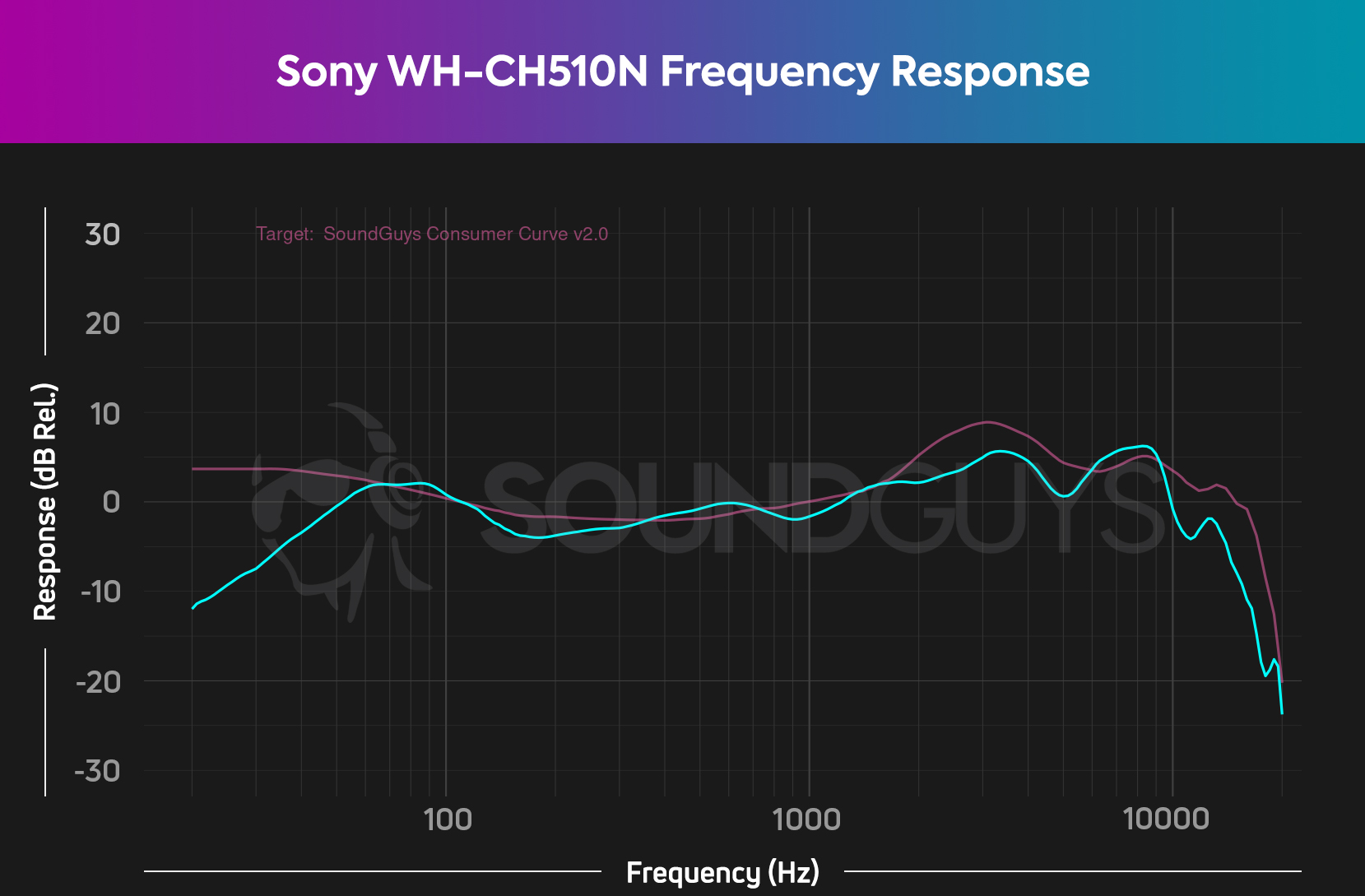 The highs are a little off-target, but otherwise, the Sony WH-CH510 has a fairly consumer-friendly frequency response (cyan) compared to our house curve (pink).
If nothing is going on around you, the sound quality with the Sony WH-CH510 isn't bad! It just… isn't amazing. It certainly won't make you forget studio headphones or anything, but—assuming a good fit—there's surprisingly decent bass for on-ears and mids aren't distractingly under-emphasized. Highs are a bit all over the place, but in a manner that's pretty common with cheaper headphones. However, even here there are tradeoffs.
Lows, mids, and highs
You'll find that a good fit nets you decent sound quality; much better than you'd expect from a pair of headphones this inexpensive. While the sub-bass isn't going to wow you, the Sony WH-CH510 really doesn't have any super noticeable deficiencies that aren't a normal feature of on-ear headphones. There's definitely a lack of rumble in pretty much any Run the Jewels songs or movies with a lot of explosions or huge machines in them, but on the whole bass sounds come in at least loud enough to be heard over competing vocals.
Mids are largely fine, and with everything else going on you shouldn't hear many faults with how the higher notes of your music sound. However, you may notice that cymbals and bells will sound a little off. That's because the Sony WH-CH510 under-emphasizes frequencies between 1.2-6kHz by about 5dB relative to our target curve. It's not a lot, but you will notice things like the hi-hats all but disappearing in Post Malone & Swae Lee's Sunflower. Additionally, some fricatives and sibilants (f, s, sh, z, zh) will sound unusually quiet in vocals.
We're not going to comment on things like the highest of the highs because it's so fit-dependent, and that's a drawback that's really tough to make definitive statements on. As it is with all on-ear headphones, you may have to reseat these a number of times to get the best results, and it's something that may be a little fiddly if you do end up with these cans.
How good is the Sony WH-CH510's microphone?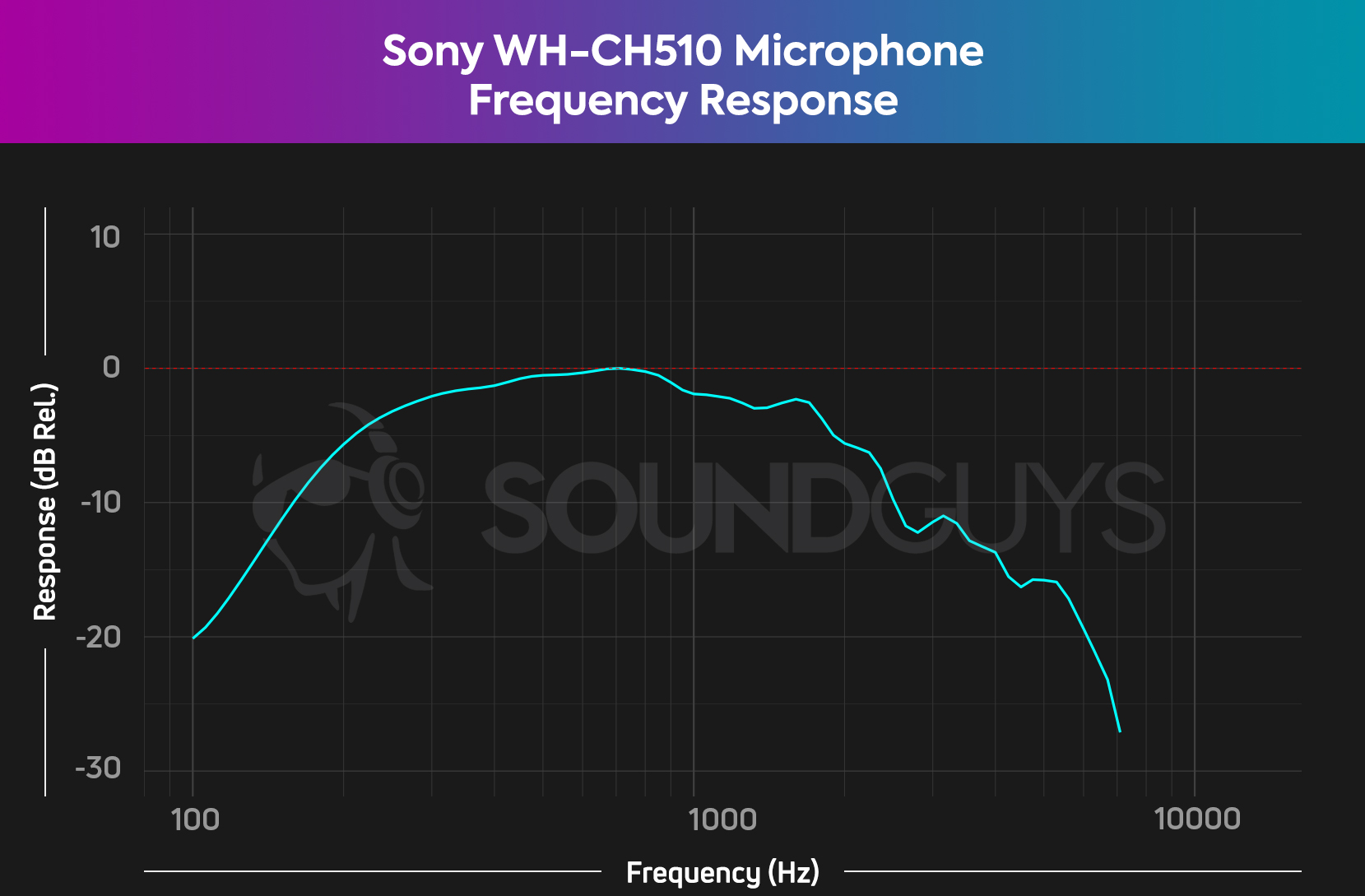 While the microphone performs well on paper, in practice it's terrible at noise rejection.
If you're in an environment with no noise or wind, the Sony WH-CH510 microphone isn't bad. However, it is wretchedly terrible at noise rejection no matter how you slice it. You can hear this for yourself in the samples below, but the office and windy samples are really rough. If you want to take phone calls with the Sony WH-CH510, we suggest doing it only in a quiet place—lest your environment drive your conversation partner bananas. This is absolutely not something you want to use in an office.
Sony WH-CH510 microphone sample (Ideal):
Sony WH-CH510 microphone sample (Office):
Sony WH-CH510 microphone sample (Wind):
How does the microphone sound to you?
1236 votes
Should you get the Sony WH-CH510?
As good as the Sony WH-CH510 is on paper, you should probably save your money for something slightly better—or at least something more controllable. The Sony WH-CH510 works absolutely fine as an inexpensive pair of on-ears, but like lots of other cheap headphones: it comes with a number of foibles. However, there aren't a lot of standout performers in this price bracket. If you wind up landing on these headphones, be sure to test out a few phone calls before your return window closes to make sure there's no wonkiness with your phone.
The ear pads may not be a high-quality material, but they're comfortable enough.
This product reminds us a lot of Sony's LinkBuds. The recent true wireless earbuds are a little weird, but very good at doing one thing that isn't the most popular feature out there. And similarly to the LinkBuds, we're not telling you outright to avoid the Sony WH-CH510, just to be aware that it's more of a product to use when you really don't want to lose the world around you.
Now that this model has been supplanted by the Sony WH-CH520, you can expect its price to fall even further at outlets where the WH-CH510 is still available.
Sony WH-CH510
All prices listed in USD unless otherwise specified. Prices may change over time, and vary by region. Unfortunately, we cannot list Amazon prices on the site, as they vary greatly by currency.
What should you get instead of the Sony WH-CH510?
We recommend saving up for something better than the Sony WH-CH510, namely something like the Anker Q30, or even reach for the Sony WH-CH710N. It doesn't feel particularly fair to tell someone on a budget to spend more money, but headphones are one of those things where it's worth not skimping, otherwise… you end up with really severe tradeoffs. Most ANC headphones have pretty good ambient-aware options on them, but the main advantage those cans have over the Sony WH-CH510 is that you can turn the feature off.
Frequently Asked Questions
On Windows: open sound settings, and make sure to disable the microphone on the Sony WH-CH510. While you can't turn Sidetone off, you can prevent it from sending any signal to your headphones!
On Android: Unfortunately, this is not possible on Android for all phones, though models that allow you to disable the microphone may allow this.
On iOS: Unfortunately, this is not possible.
---