All products featured are independently chosen by us. However, SoundGuys may receive a commission on orders placed through its retail links. See our ethics statement.
Pre-order your 2nd generation Star Wars headphones by SMS Audio
If you're a fan of Star Wars, you can now pre-order the 2nd Generation Star Wars themed headphones by SMS Audio.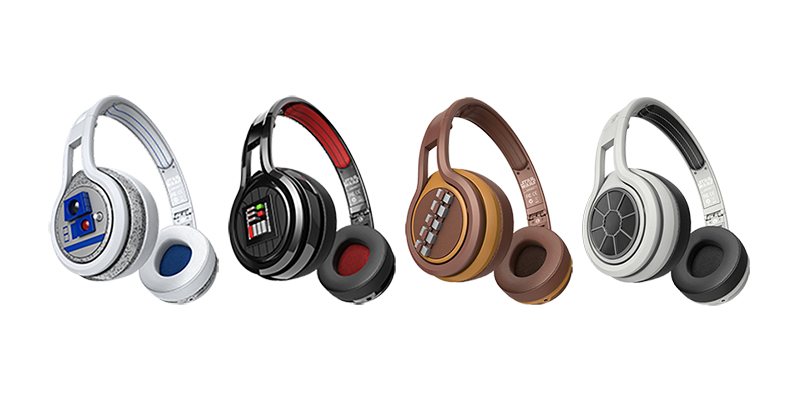 Fans of the Force rejoice, SMS Audio has announced pre-orders for the second generation of their Star Wars themed headphones. There are now four new character options that are being added to the original four from the first generation. The new headphones take their inspirations from R2-D2, Chewbacca, Tie Fighter, and Darth Vader.
Previously SMS Audio only had the Star Wars editions available in four options: Rebel Alliance, Galactic Empire, Storm Trooper, and Boba Fett. Hopefully future generations will give us even more character themed headphones to choose from. On the technical side of things the new headphones don't seem to be any different. They are still on-ear wired headphones with 40mm drivers in the ear cups and retain the ability to fold at the hinges for easy storage. They also come with a hard shell carrying case so you can throw them in your bag for safe keeping. The audio cable also still comes with a three click mic so you can answer phone calls without having to take them off, same as the first generation.
As cool as they are, the SMS Audio Star Wars edition headphones are not budget friendly and will retail at $179. Some people (including myself) may find that to be a bit on the pricey side but keep in mind these are more than just headphones. They are without a doubt a really unique collectible that I'm sure many fans would love to get a hold of. From that perspective, who cares how much they cost as long as you can add them to the collection.
Each pair comes with a branded cleaning cloth, a hard shell carrying case, a Second edition 5"x7" poster, a Star Wars sticker, and a certificate of authenticity. You even get a free Star Wars t-shirt if you pre-order. If you want all this for yourself pre-order now so you can get yours when they start shipping out on May 18th.