All products featured are independently chosen by us. However, SoundGuys may receive a commission on orders placed through its retail links. See our ethics statement.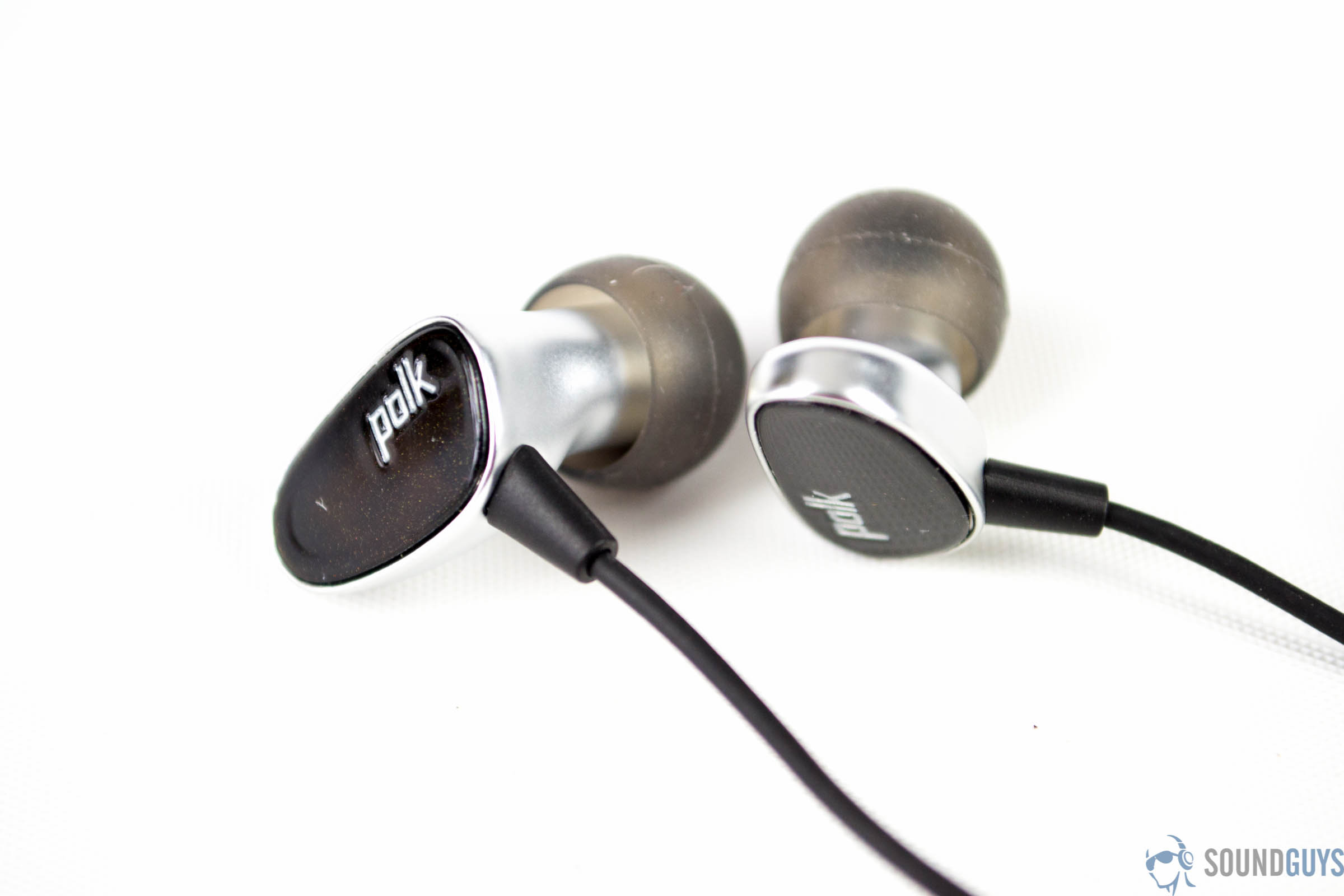 The bottom line
As long as you're not looking for mega-bass, this is a solid pair of in-ear headphones.
As long as you're not looking for mega-bass, this is a solid pair of in-ear headphones.
What we like
Good sounding, fairly balanced audio at most volumes
Plenty of additional tips included
What we don't like
Getting a perfect fit can be difficult
Distortion is apparent at higher volumes
Rating Metric
Sound Quality
8.2
Bass
8.0
Midrange
7.4
Highs
8.2
Durability / Build Quality
7.5
Value
7.0
Design
8.0
Microphone
7.5
Polk has been in the audio business since 1972, but for many, they're still known more for bookshelf speakers and larger models than they are anything to do with portable audio. That makes sense, since they only entered the headphone market in 2011. While their initial models were somewhat underwhelming, newer models have been much more well-received.
The Polk Nue Era in-ear headphones retail for $79 and are pretty barebones in the feature department, but how do they hold up in the sound department? That's what we're here to find out, isn't it?
Editor's note: This review was updated on January 25, 2021, to adjust formatting to match SoundGuys' current style. 
What's in the box?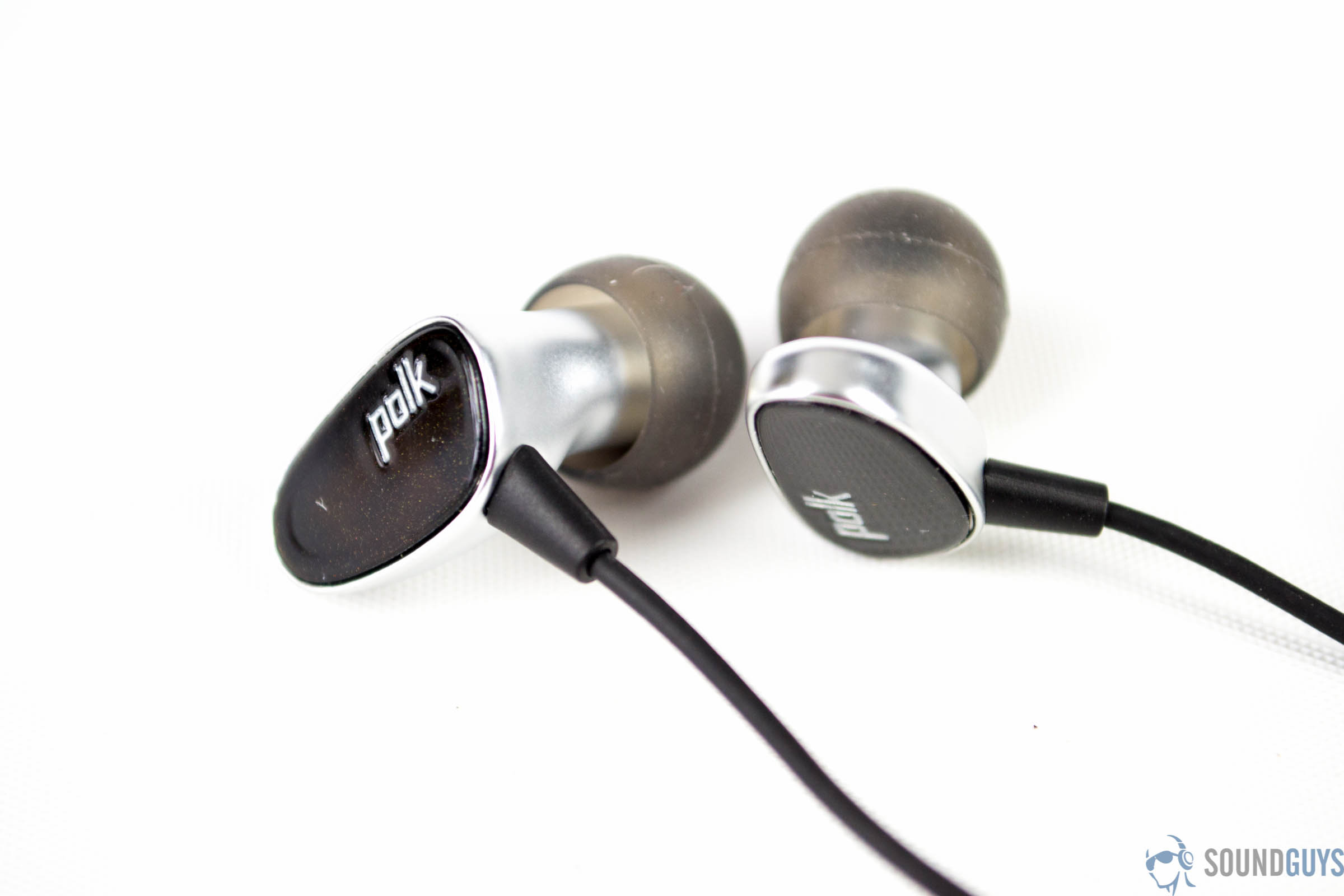 The earbuds
Dig inside the box and the first thing you'll find are the Polk Nue Era earbuds themselves and the cloth carrying pouch. Underneath the pouch you'll find the accessories box which holds quite a few different ear tips. Finally, underneath everything else, you'll find the manual.
How are the Polk Nue Era built?
hhh
The Nue Era in-ears are available in two colors: black, and tortoise shell. We're looking at them in black, which is less flashy but still a nice looking pair of earbuds. The general look is fairly subdued, which is nice for those of us who prefer to remain low-profile when out and about.
The build here is fully plastic, but these don't feel nearly as flimsy as plastic earbuds can. There is a positive here too, in that the earbuds feel very light. The cable has a microphone and controller to adjust media playback or toggle your phone calls. The cable is fairly flimsy, but this is generally par for the course in this price range. Pack these inside the included carrying pouch, and you've got nothing to worry about.
How's the connectivity?
jklhsfajs
There aren't many connectivity options to speak of here. You've got a standard-length cable with an included mic and three button remote. As is generally the case with these remotes, full functionality is provided on iOS devices, while Android users will have to get by using only the middle button in the same way that a single-button clicker style remote would be used. Unlike the Polk Hinge on-ear headphones we reviewed recently, there is no rattle when using the remote.
How is the sound quality?
While critical listening during testing is done with lossless audio played from a computer through a Focusrite Saffire Pro 40 audio interface, that isn't the way that most people listen to their music, so that isn't the only way we test. We also played MP3s and streaming music from a few mobile devices, all of which sounded fine.
Lows, mids, and highs
Bass is decent for those who like a fairly flat response, but may not be enough for those who prefer their music with a little more low end. Definition is decent too. On some rock songs, the Polk Nue Era exhibited a "woofy" sound around the 1000 kHz range, though this wasn't always an issue. Orchestral music sounded much better. The highs sound somewhat rolled off, which a soft character. Cymbal bells cut through nicely, but don't hurt as they can on other 'buds.
For cheap earbuds, these sound pretty good, but the bass response is a bit weak.
The soundstage isn't anything shocking, but definitely sounds fairly decent for earbuds. You're not going to be fooled into thinking the band is in the room with you, but spatial cues work well. There is no real noise isolation, which can be seen as either a positive or a negative, depending on how much attention you want to pay your surroundings.
Should you buy the Polk Nue Era in 2021?
The well-balanced sound and decent build make the Polk Nue Era a solid pick. Even though they are quite an old pair of earbuds, wired earbuds haven't changed all that much in the past ten years. Especially now that they're only $29.95, the Polk Nue Era are not a bad choice at all.