All products featured are independently chosen by us. However, SoundGuys may receive a commission on orders placed through its retail links. See our ethics statement.
7.5
OnePlus Type-C Bullets earbuds
The bottom line
While the OnePlus Type-C Bullets certainly aren't perfect, they're worth picking up just because they only cost about $20. Unfortunately, as of June 2021, you can no longer buy these earbuds.
OnePlus Type-C Bullets earbuds
While the OnePlus Type-C Bullets certainly aren't perfect, they're worth picking up just because they only cost about $20. Unfortunately, as of June 2021, you can no longer buy these earbuds.
What we like
Price<br>
Good sound quality<br>
Slim design<br>
What we don't like
Not all playback controls worked on my phone<br>
Build quality is flimsy<br>
Tangle easily<br>
Rating Metric
Sound Quality
7.1
Bass
7.0
Midrange
7.5
Highs
7.0
Durability / Build Quality
7.0
Value
9.0
Design
8.5
Microphone
7.0
Portability
8.0
Battery Life
6.6
If you don't really pay too much attention to what's going on in the phone world, then you might not know what OnePlus is. The company has made a name for itself by making competitive phones for way less than the competition, and it has gathered an almost cult-like following because of it. That said, smartphones aren't the only category the company is hoping to disrupt and has been starting to release a number of headphones as well.
We already looked at the OnePlus Bullets wireless and were fairly impressed by what you get for the price, but now we're taking a look at the wired OnePlus Bullets that only cost around $20. There's a twist though. Seeing as many phones don't have a headphone jack anymore these connect via USB Type-C. So do we finally have a good pair of USB-Type C headphones to choose from, or are these more of the same?
Editor's note: This review was updated on June 24, 2021, to address the product's availability.
Who are these for?
Anyone with a USB Type-C phone that's done away with the headphone jack. While I experienced weird playback control issues with my Pixel 3, these still sound good and only cost $20.
Anyone that needs a backup pair of 'buds. Even if you have a great pair of over-ear headphones that you bring everywhere with you, having a backup pair of 'buds in your bag is always a good idea. Especially because if you have a phone without a headphone jack then your options for USB Type-C earbuds are already pretty limited.
How are the OnePlus Bullets built?
The earbuds themselves are small, made of aluminum, and pack a punch.
With headphones in this price range you might expect a cheap and flimsy build quality, and in this case, you'd only be partially right. While the cable doesn't inspire any confidence, the earbud housing is made of a tough metal that I don't see breaking anytime soon. On top of that, the control module is well-built with clicky buttons that don't leave you guessing whether or not you actually did anything, and the Type-C connector at the end feels sturdy as well. Of course, I've only been testing these for about one week so I can't speak to how they will hold up over time, but one thing that I wish OnePlus did here was to add some extra reinforcement to the connector as it looks like it will eventually give out.
The control module has a subtle OnePlus logo next to the microphone.
As far as comfort goes, these do feel a little loose in my ears but it never ended up being a problem. They stayed in my ears fairly easily during my commutes, though I will say that I accidentally snagged them on something and ripped them out on multiple occasions. This is a problem with all wired earbuds obviously, but even more so with the OnePlus Bullets because the cables that have the earbuds on them don't have a wire cinch. So I couldn't secure the loose cables closer to my chin which made it easier to get caught on stuff while moving around.
The other issue that I had with the build quality had to do with the flat cable which is supposed to be harder to tangle. Keywords: supposed to be. It seemed like I was having to untangle them every other time I took them out of my pocket. In all fairness, I'm intentionally rough with headphones while testing them to make sure they can withstand the strain, so if you give these a little extra TLC and wrap them up correctly before putting them away you shouldn't have any issues.
What about connectivity?
The control module has controls for volume and playback.
With the 3.5mm connector, I always experienced some incompatibility with playback controls since I usually have both an iOS and an Android device at any time. With Type-C, I was hoping that would change, but I still find myself asking if manufacturer's know what the term "universal" means because I still find myself having issues. The OnePlus Bullets have a fairly standard control module with two volume buttons placed above and below a multifunction button that controls playback.
These are USB Type-C headphones, so if you have an Android device without a headphone jack you might want to get them.
While the volume controls work fine and I'm able to pause/play music by single tapping the middle multifunction button, I can't skip between tracks as stated in the manual when I double or triple tap. I'm using these with my Pixel 3 so I don't know if this is a Google issue or a OnePlus issue, but it's annoying nonetheless.
Do the OnePlus Type-C Bullets sound good?
The OnePlus Type-C bullets have a flat cable 1.2m cable.
Even at a price $20, the build quality and connection issues that I had made it hard to call these a steal. Then I used them. While they don't sound amazing, it wouldn't be hyperbole to say these are one of the best sounding earbuds I've tried at this price point USB Type-C or not. They certainly beat the crap out of the Google earbuds, anyway.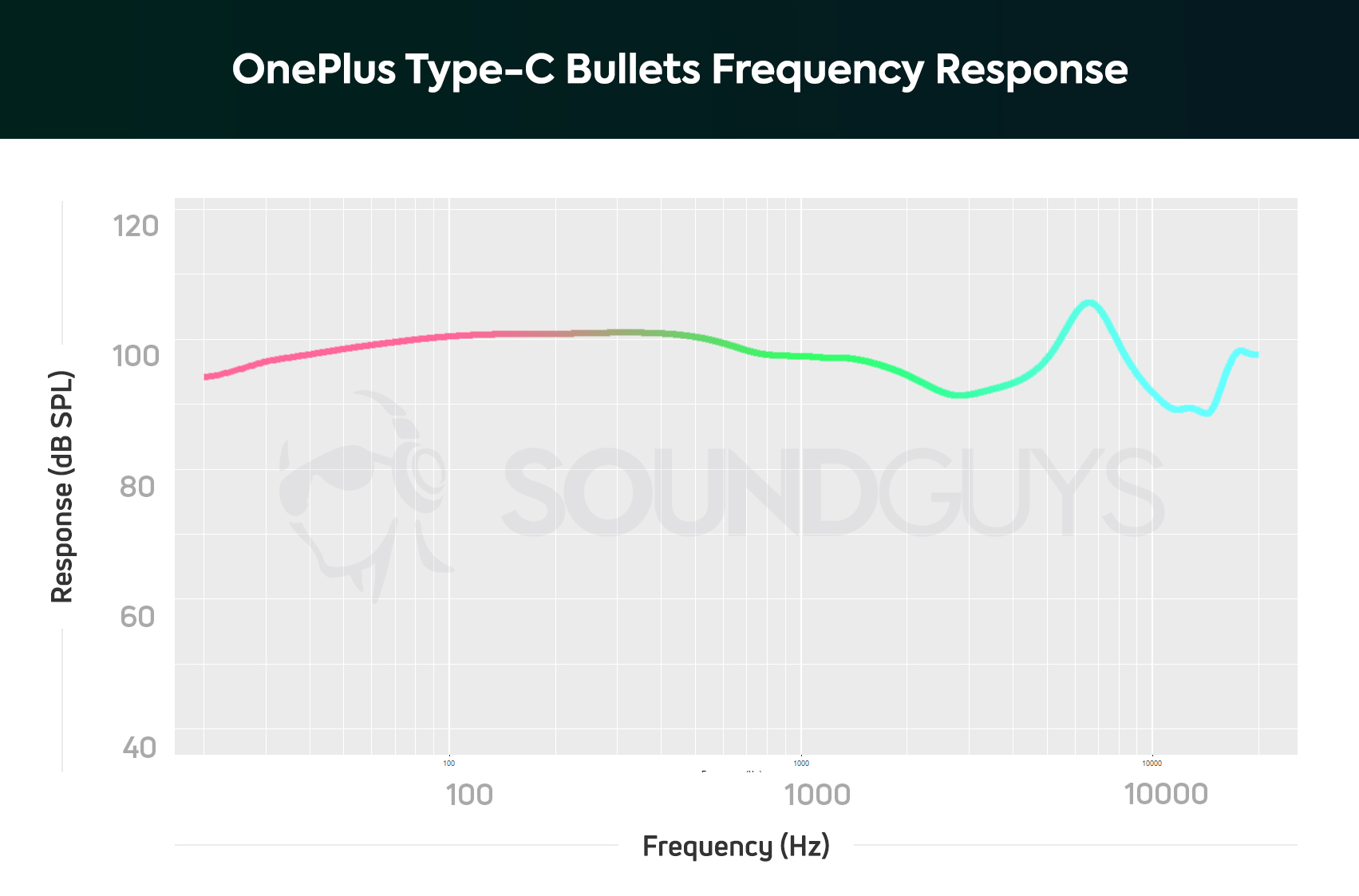 The frequency response of the OnePlus Type-C Bullets.
You can see from the graph the frequency response that there is a slight emphasis put on the low end which is to be expected, but there's also a slight bump in the frequency range around 6000 Hz which really helps to separate vocals from the lows.
Considering how awful USB-C earbuds tend to sound, these aren't half bad.
This lends itself nicely to pop songs like Heatstroke by Calvin Harris. While the low end doesn't have amazing clarity and the bassline is difficult to follow, you can still feel its presence. Then because of the slight push in the mids, vocals easily float over the top without too much masking or interference. You can hear this in Who Says by John Mayer as well, where the bassline and guitar are lacking in crisp detail but vocals can be easily distinguished.
Highs tend to roll off a bit which is fine considering you probably don't want loud, piercing sounds right in your ears, but that affects details in the higher frequencies with some of the finger plucking done by Mayer barely gets through.
Should you buy the OnePlus Type-C Bullets?
While the issues with the OnePlus Type-C Bullets playback controls make it annoying as it forced me to pull out my phone every time I wanted to change the song, the sound quality at around $20 made up for that inconvenience. Especially since these have a fairly standard sized nozzle on the earbuds, so I was able to throw on a pair of memory foam tips for added isolation (and thus way better sound). If you have a phone with USB Type-C connector, you should definitely consider picking up a pair of these for yourself even if it's just as a backup pair to throw in your bag for a rainy day.
Up next: Best USB-C headphones of 2021

Frequently asked questions
Yes, the Samsung Galaxy M40 have a USB-C input which these earbuds can connect into.
The T-160 tips will fit on the OnePlus Type-C Bullets Earphones, but you can also try the SmartCore tips as well.