All products featured are independently chosen by us. However, SoundGuys may receive a commission on orders placed through its retail links. See our ethics statement.
Omaker M4 Review
It's a little utilitarian, but as long as you keep your expectations in check, the Omaker M4 is a surprisingly good value.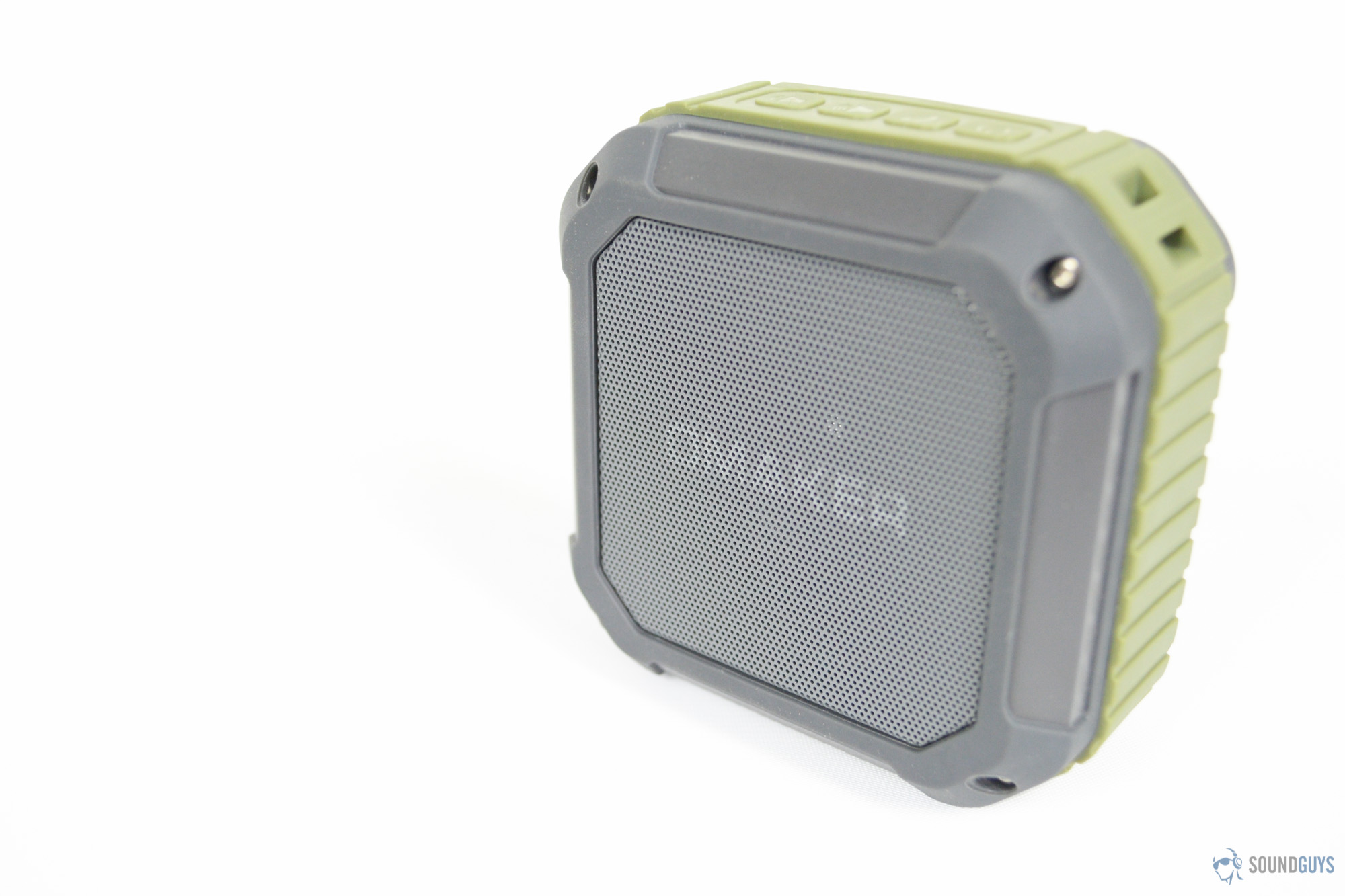 While we here at Sound Guys often focus on sheer audio quality first (sound is right in our name) when it comes to Bluetooth speakers, it may not always be the most important aspect of the product. After all, what good is a speaker if it stops working a month or two after you buy it?
As we've grown more accustomed as a culture to never being bored, the desire to be entertained at all times has expanded into the shower. With this has come the need for a speaker that can stand up to this daily practice, like the Omaker M4. Sure, a shower may not sound like that harsh of an environment, but it is if you happen to be an electronic device and are subjected to it every single day.
What's In The Box?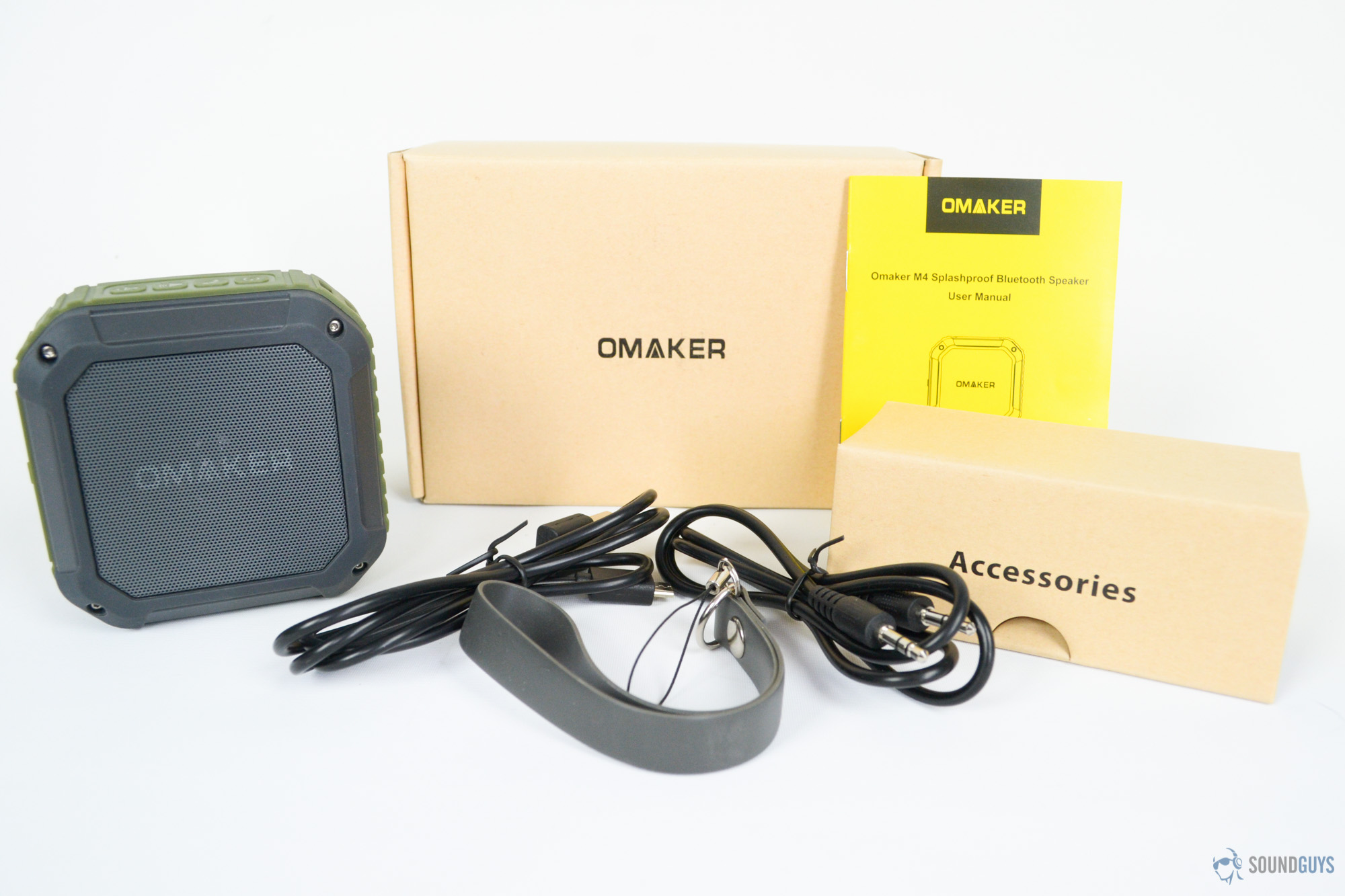 Opening up the box, you'll see the speaker right on top, and next to it is the accessories box. Inside are a USB cable, 3.5mm audio cable, and a lanyard that can work as either a carrying strap or as a loop around a shower head. Underneath all of this you'll find the manual.
Build & Design
The Omaker M4 is available in two color options, both of which will look right at home in the outdoors. We're looking at the speaker in a leafy green color, but an orange variant is also available. No matter which color you end up with, nobody is going to be fooled into thinking that this isn't a rugged speaker — the square look isn't the most stylish thing we've seen, but the trade-off for utility is worth it. Unlike some products we've seen from Fugoo or TDK Life On Record, this speaker certainly looks its part.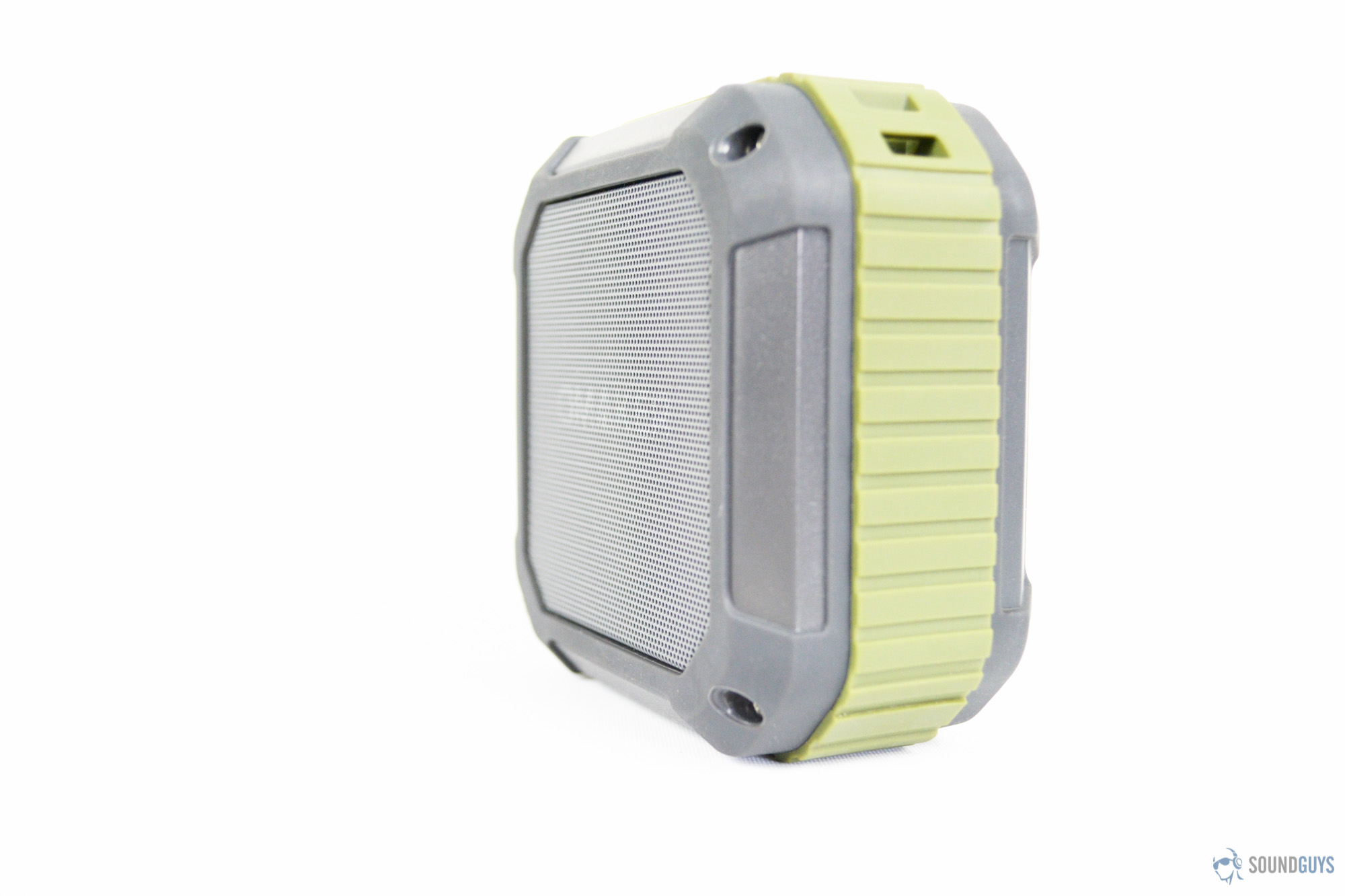 Fortunately, this doesn't only extend to the appearance. The M4 is IP54-rated splash-proof, shock-proof, and dust-proof. While Omaker doesn't recommend actually submerging the speaker, the occasional splash shouldn't pose a problem, nor should using the speaker in the shower. While we've seen tougher speakers, we're confident that the Omaker M4 will easily withstand a few rough drops. Considering the $30 price tag, that's definitely noteworthy.
At 3.2 x 3.2. 1.8 inches, the M4 is small enough to be easily portable. Whether or not it will fit in your pocket depends on how tight you like your pants, but you won't have a problem keeping the speaker with you at all times.
Connectivity
Despite the low price, the Omaker M4 isn't lacking when it comes to its wireless connectivity. Not only is the Bluetooth version 4.0 (unlike many similarly priced speakers) but it even features NFC pairing for compatible devices. Whether or not you take advantage of this feature, pairing is a snap. Range is claimed as the standard 33 feet, and this worked fine both indoors and outdoors in our testing.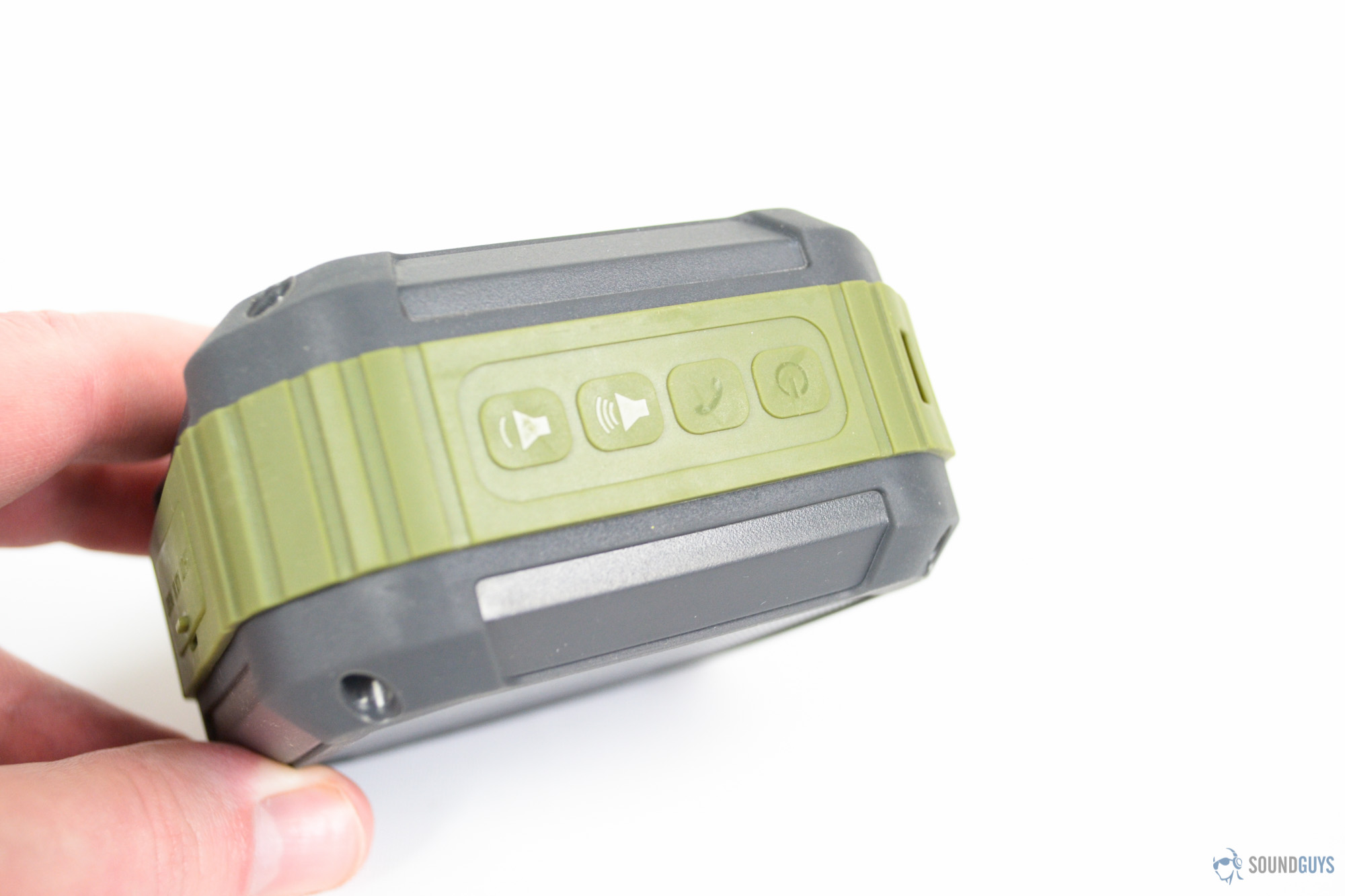 The Omaker M4 is IPX6-certified and houses its playback controls in a cluster on the top panel.
Looking at the controls, you have a power button and next to it, a multi-function button to pause and resume playback or answer and end calls. Finally you have the volume buttons, but in a strange twist, functionality is reversed: tapping the buttons skips forward and backward, while you actually have to hold them down to adjust the volume.
Battery Life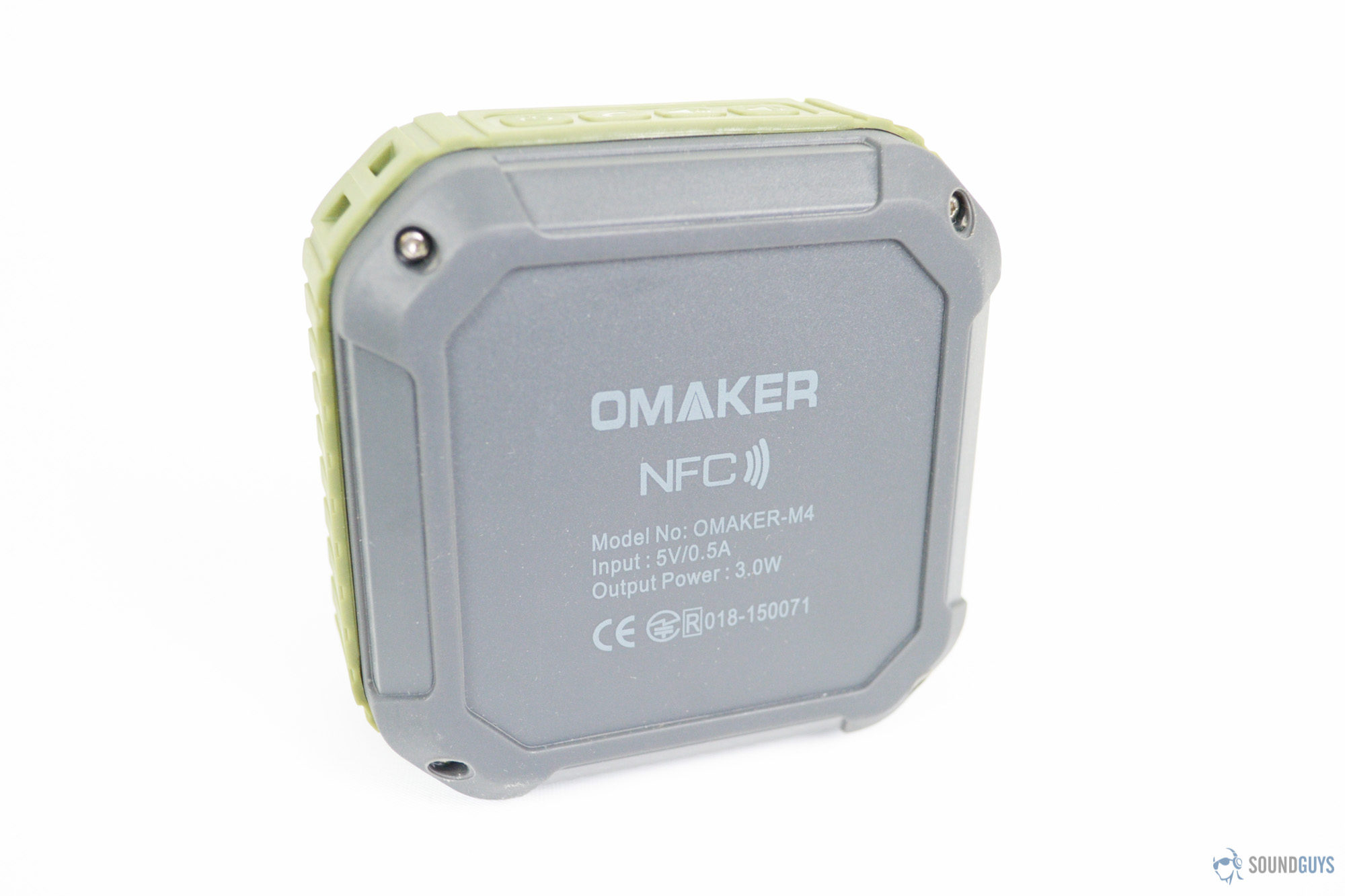 If you have a compatible device, you can quick-pair via NFC.
Somewhat impressively, Omaker claims 12 hours of playback for the M4. While that isn't a staggering number, the strange part is that this is stated as at 80 percent volume, while many companies use 50 percent volume for their playback estimations. The actual capacity is 1500 mAh, and the speaker charges in 2 to 3 hours using the USB port hidden under the waterproof flap.
Sound Quality
Considering the small size and 3 watt driver, we didn't exactly get our hopes up in terms of sound quality, and you shouldn't either. At this size, there are limits that no amount of processing or acoustic trickery can overcome. That isn't necessarily a deal breaker, just something prospective buyers should be aware of.
As hinted at already, you're not going to find much here in terms of low frequencies. You'll hear bass and kick drums, but they won't sound particularly impressive. If you were expecting something this size to rumble the floor, well, that's on you.
The mids are right in line with what we expect from a speaker this size, which as you may have guessed, doesn't mean great things for music. Detail in guitars and keys is definitely lacking. That said, the midrange is well suited to the spoken word, so the M4 works nicely for audiobooks or podcasts.
The highs are, in a word, harsh. Detail is here, sure, but it's not exactly pleasant. Acoustic guitars are passable, but electric guitars will sound tinny and blown out. Sibilance on vocals can be harsh in music, but like the mids, works better for the spoken word.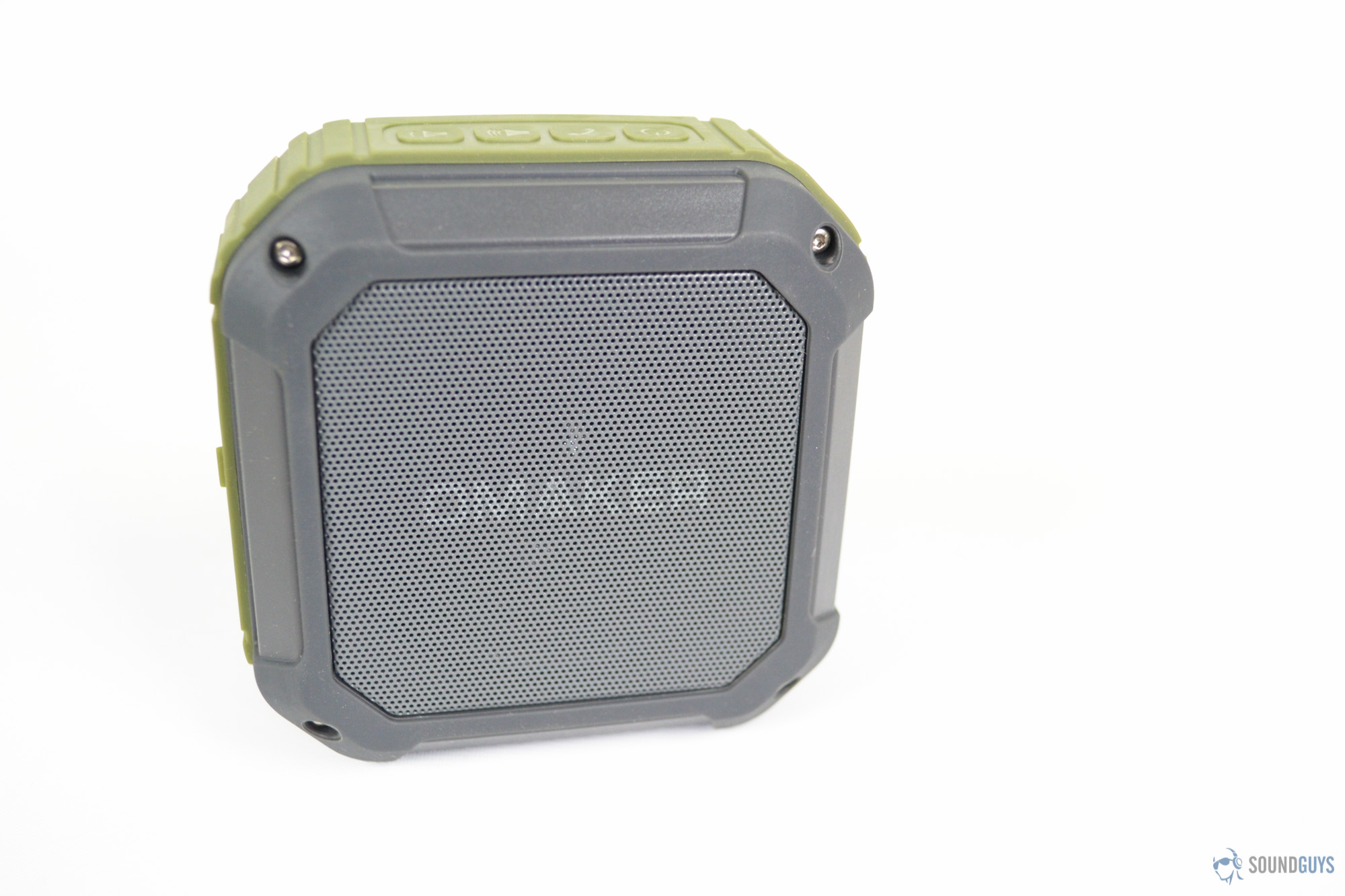 You're not going to power a house party with the M4 — not even close — but all things considered, we were fairly impressed with the volume the speaker could pump out considering its small size. That said, you'll encounter some distortion with music as you push the speaker toward max volume. With podcasts or audiobooks, this is less noticeable.
The M4, along with all speakers in this size and price range, isn't meant for enjoying the subtle characteristics of music — it's for hearing things, period. Chances are if you're reading this review, you already know whether or not this is going to be a problem for you.
Conclusion
The audio quality certainly isn't going to blow you away, but if you want a daily shower speaker, or even just something you won't feel bad about leaving in the rain, the M4 will handle that and more. We don't exactly have a lab for torture-testing the products we review, but the speaker feels pretty tough.
There are a lot of speakers out there that do exactly what the Omaker M4 does, but at this price, this one is worthy of your attention.