All products featured are independently chosen by us. However, SoundGuys may receive a commission on orders placed through its retail links. See our ethics statement.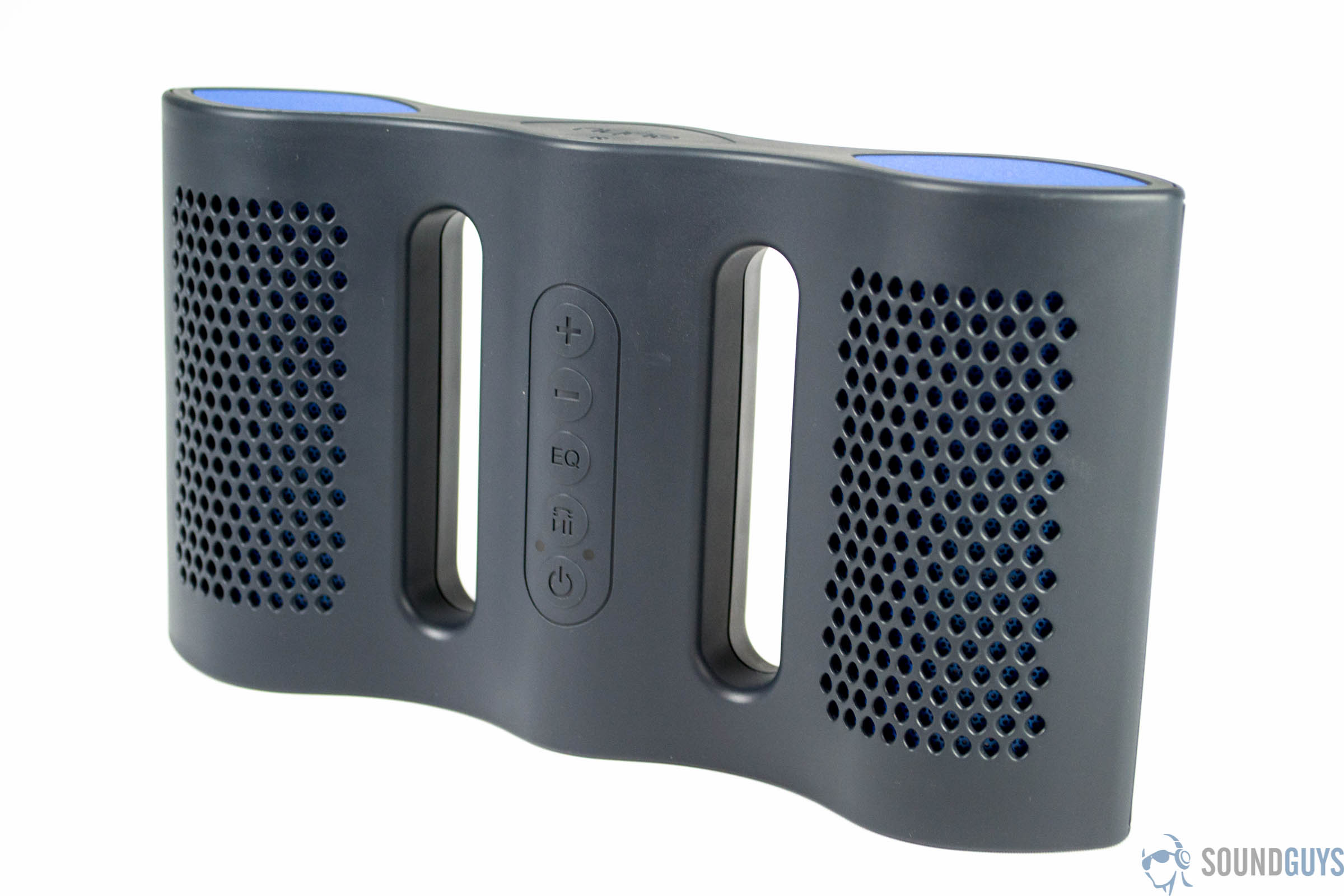 The bottom line
If you need a speaker for the beach or shower and don't need great sound, this might be worth a look.
If you need a speaker for the beach or shower and don't need great sound, this might be worth a look.
What we like
IPX7-certified waterproof – it even floats
The included strap is handy and attaches easily and securely
What we don't like
Sound quality isn't very good
Some may find the shape off-putting
Rating Metric
Sound Quality
5.0
Bass
4.0
Midrange
5.0
Highs
4.0
Durability / Build Quality
8.5
Microphone
7.5
Portability
8.5
[button type="link" link="https://geni.us/2d7K" size="btn-lg" variation="btn-primary" block="btn-block"]Buy now from Amazon ($129)[/button]
UPDATE [January 2022]: This speaker is no longer in production, though you might still find it online. Looking for better alternatives? Have a look at these waterproof Bluetooth speakers.
One of the best things about Bluetooth speakers is that you can take them anywhere, but that isn't without its problems. While it's great to get out of the house and head to the beach, beaches tend to have sand and water – two things that don't generally agree with electronics. This tends to be a big deal with most speakers, but not all of them.
The NYNE Aqua is waterproof, but that isn't all that unusual. The fact that it floats on the other hand? That's a little weirder. It's a novel concept to be sure, but is this speaker going to bring your beach party to life, or let it wash out with the tide?
What's In The Box?
You'll get a peek at the speaker without even taking it out of the box. Once you've got it out, everything else is packed together in a single box underneath. You'll find a USB charging cable and 3.5 mm audio cable strapped together, a carrying strap, user guides in a few different languages, and finally the warranty.
Build & Design
The NYNE Aqua comes in two different color schemes: blue and gray, and blue and white. Both look fairly nice, though its likely that the white model will show dirt and scuffs easier, so that's worth keeping in mind if you're going to be taking the Aqua to the beach frequently. Either way, the colors aren't the most interesting thing about this speaker.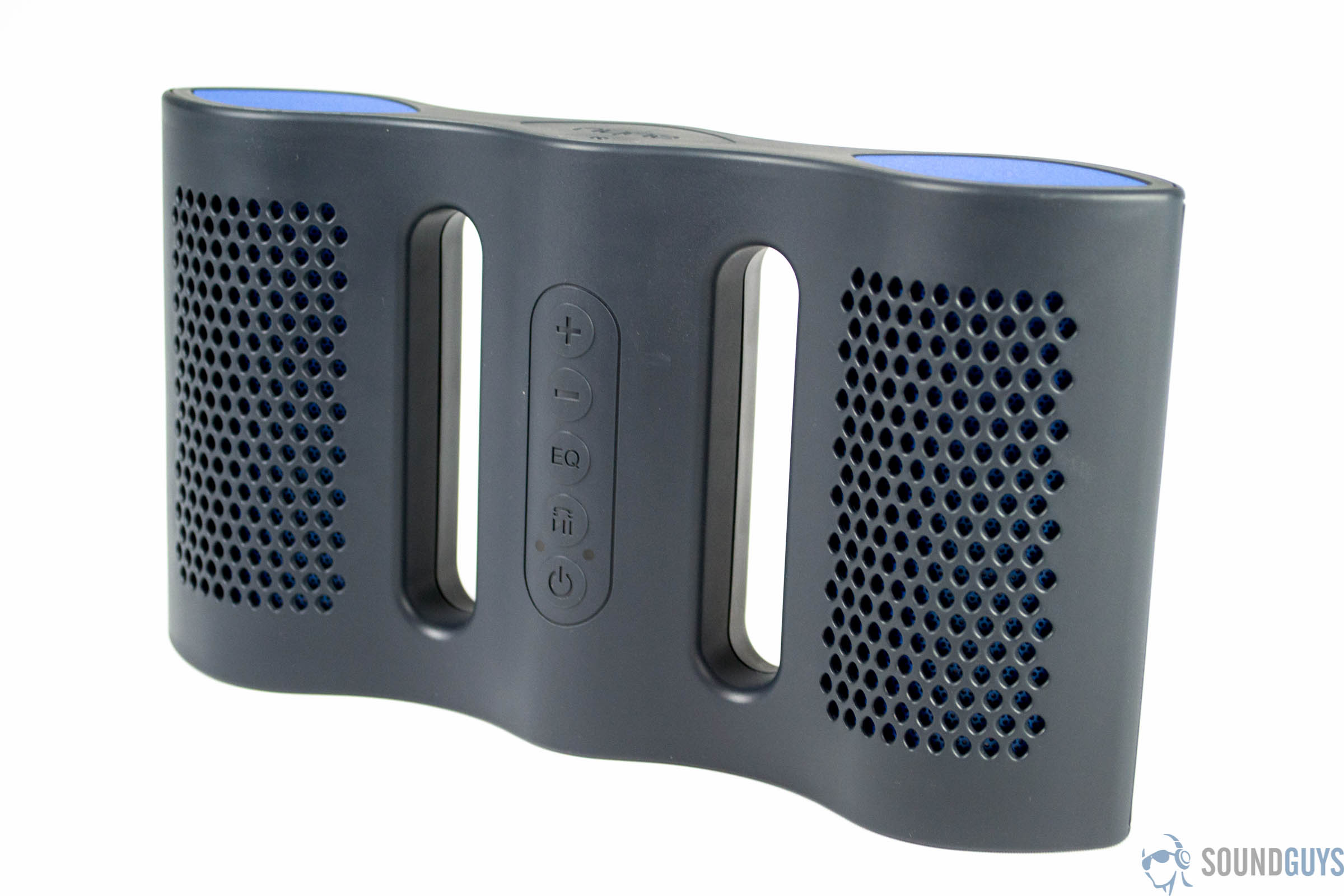 You might have noticed the slightly odd shape of the speaker, somewhat like a pontoon boat, and there's a reason for that: it floats. Better yet, it's IPX7-certified waterproof, and submersible to 3 feet. It isn't clear why anyone would actually want to submerge a speaker, but it's nice to know that you can.
For those of us who prefer to keep our speakers on land, if not exactly dry, NYNE has included a hanging strap, perfect for hanging the speaker in the shower.
Connectivity
Bluetooth connectivity is simple, if not cutting edge. Pairing is fairly easy: turn the speaker on, hold down the multifunction button for a few seconds, and it will enter pairing mode. Then just pair from the device of your choice. Once this is done just pair from the device of your choice.
The Aqua uses Bluetooth 3.0, and that can affect sound quality (which we'll get to in a minute) but that doesn't keep it from including speakerphone functionality. Now you can finally make and take calls while in the shower, assuming that's something you ever wanted to do.
The NYNE Aqua has its fair share of buttons, which makes controlling it while keeping your phone safe and dry fairly easy. Starting from the top you'll find the volume buttons, the EQ button, a multifunction button that provides functionality to pause and resume playback as well as answer and end calls, and finally the power button.
Battery Life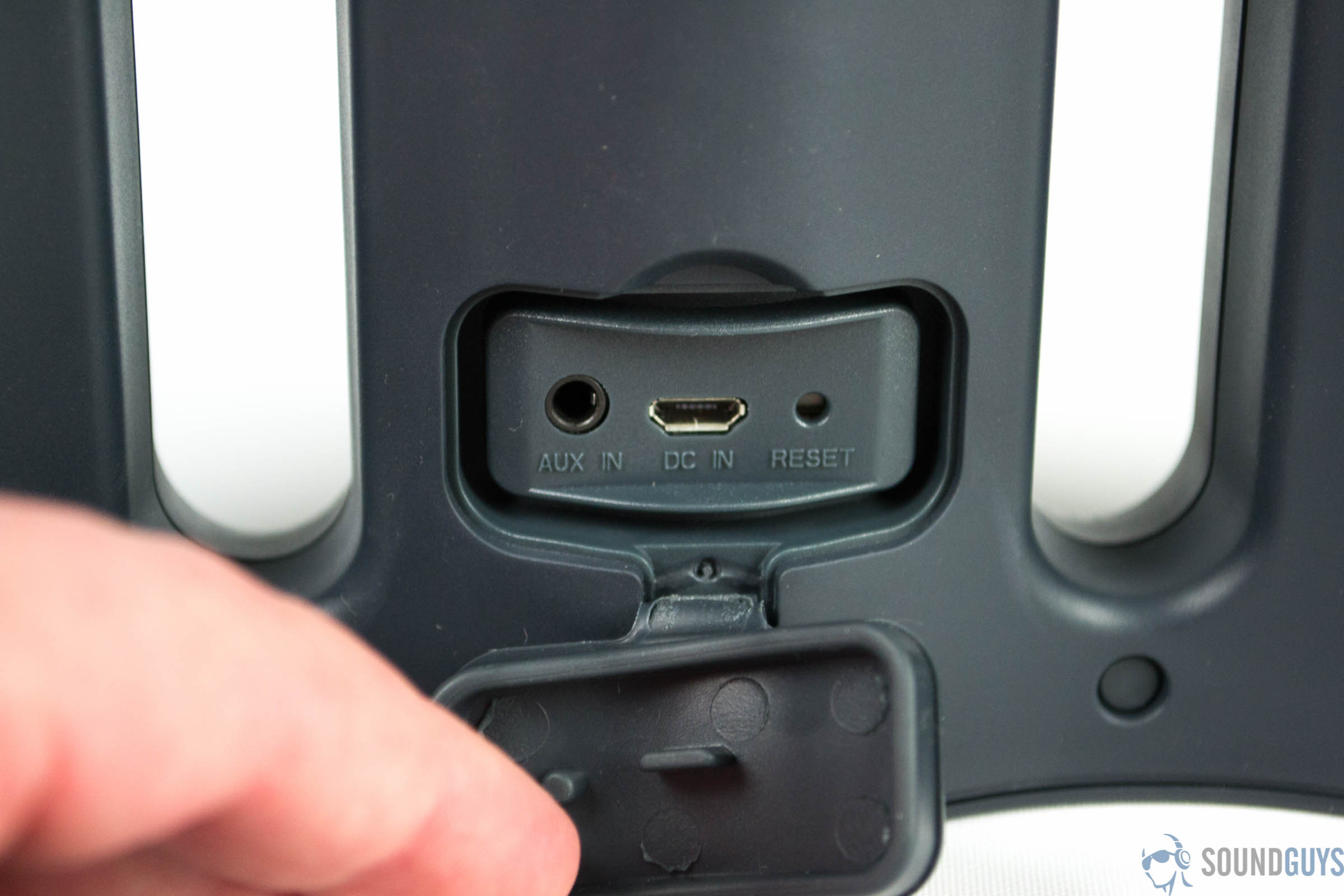 NYNE states battery life at up to 10 hours of playback time, which seems reasonable given the 2,200 mAh battery. In our testing, we got closer to 8.5 hours, but our testing process usually results in shorter-than-advertised battery life. Charge time was fairly quick when charging from a USB wall charger at around 2 hours.
Sound Quality
The NYNE Aqua includes three EQ presets that allow you to switch through a total of four settings: flat, rock, pop and jazz. The vast majority of our testing was done with the EQ set to the flat setting, though we'll include notes on the EQ settings where applicable.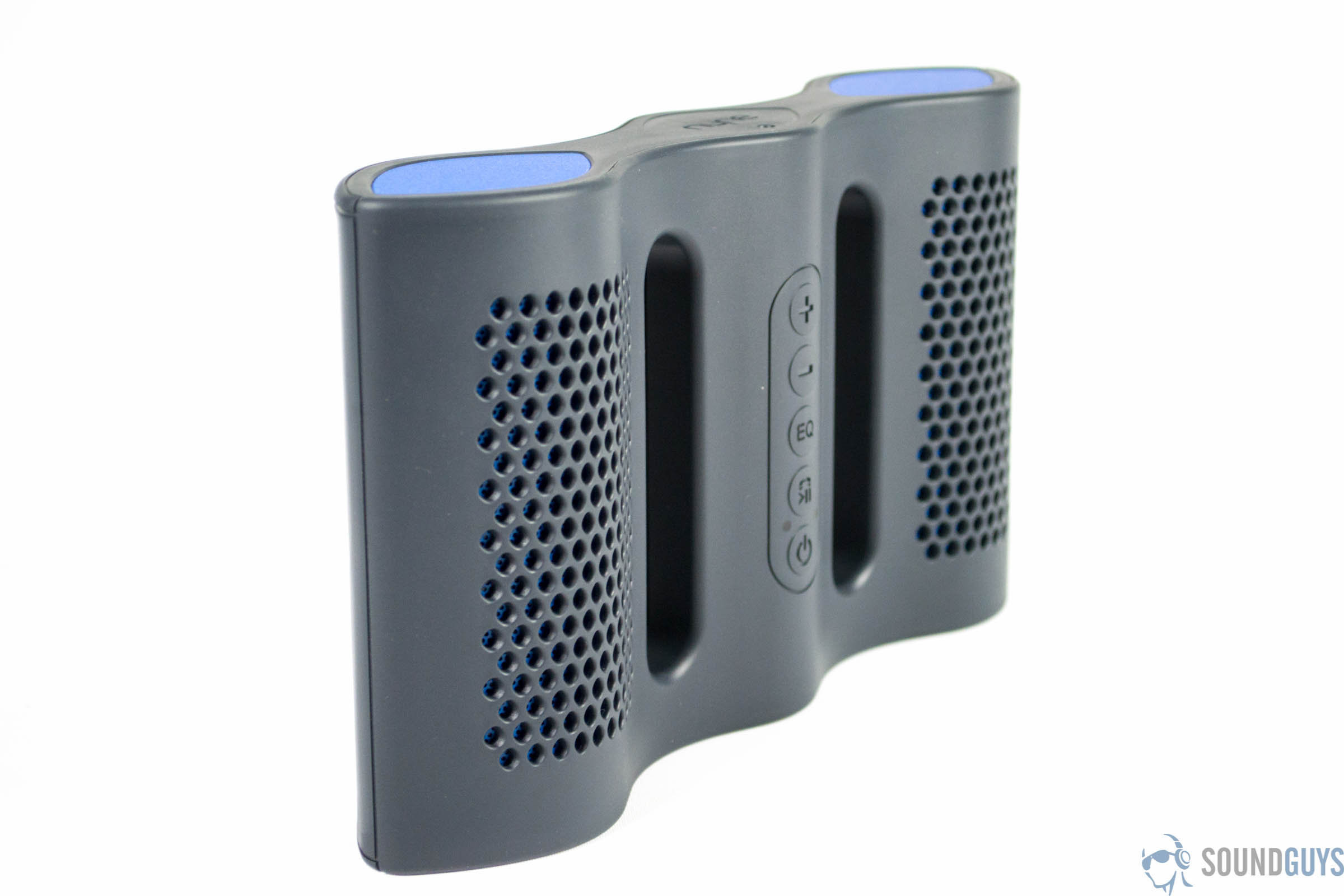 The low end sounds like you're listening to a much smaller speaker. This isn't a surprise – the sound in waterproof speakers often suffers because they have to be so well sealed.
The low mids get a strong boost in an attempt to make up for the lacking low end, and this has mixed results but works well enough. The high mids just sound odd. This is especially true when using any of the EQ presets which add a strange, synthesizer-like overtone to music.
The highs range from slightly harsh on the flat EQ setting to very harsh on any of the other EQ settings. Details are quite well hidden, no matter the setting.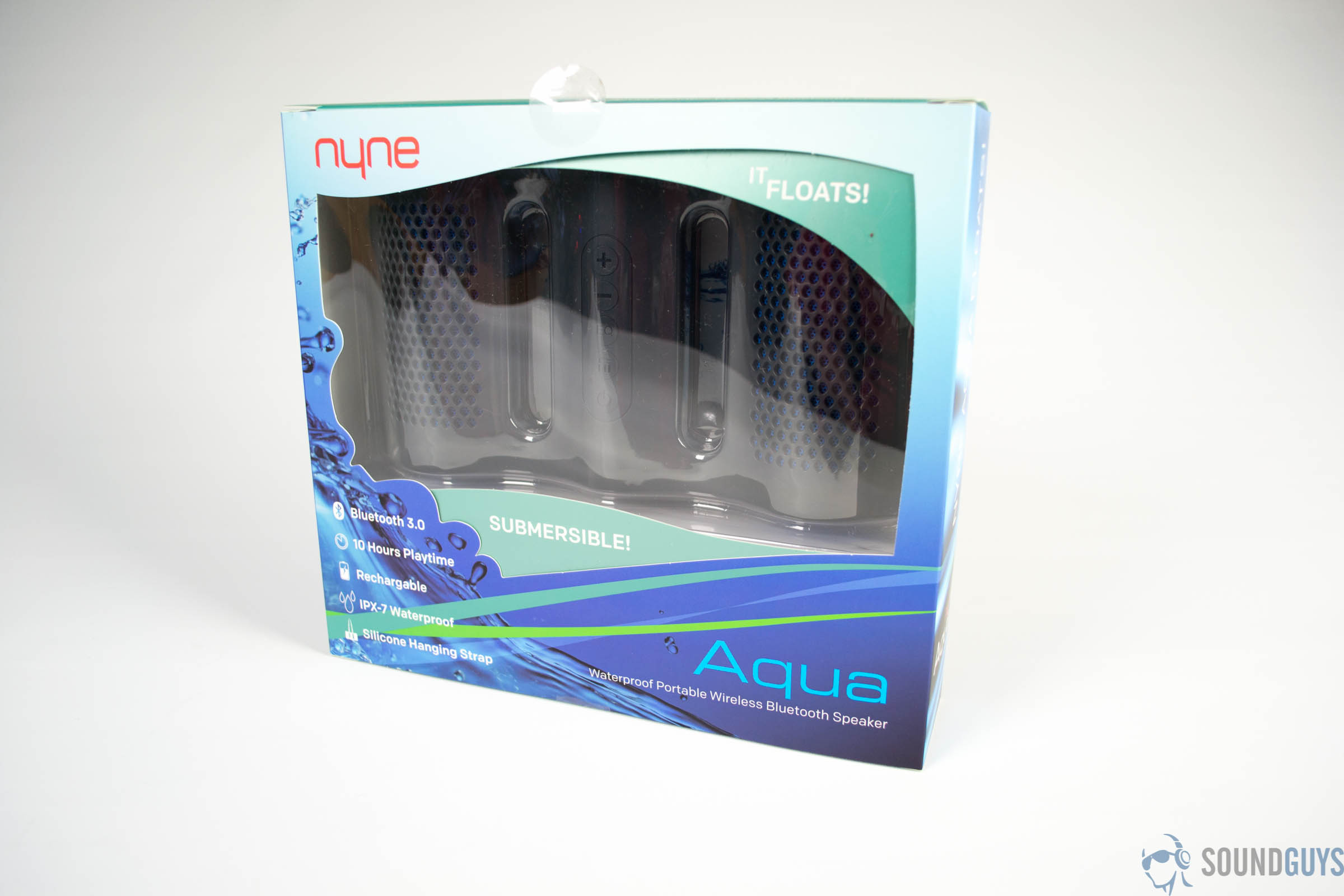 On the plus side, the Aqua is well suited to the spoken word. It's hard to imagine a group of beach-side party-goers cranking up an audiobook, but this could be useful if you enjoy listening to a podcast during your morning shower.
Conclusion
It should be obvious, but the real appeal of the NYNE Aqua is the IPX7 certification and the fact that it floats. Unfortunately, that seaworthy build comes at the cost of sound quality. Ultimately it comes down to what matters to you most. If the water resistance matters to you more than anything, the Aqua might be worth a look. Otherwise, there are better options.
[button type="link" link="https://geni.us/2d7K" size="btn-lg" variation="btn-primary" block="btn-block"]Buy now from Amazon ($129)[/button]