All products featured are independently chosen by us. However, SoundGuys may receive a commission on orders placed through its retail links. See our ethics statement.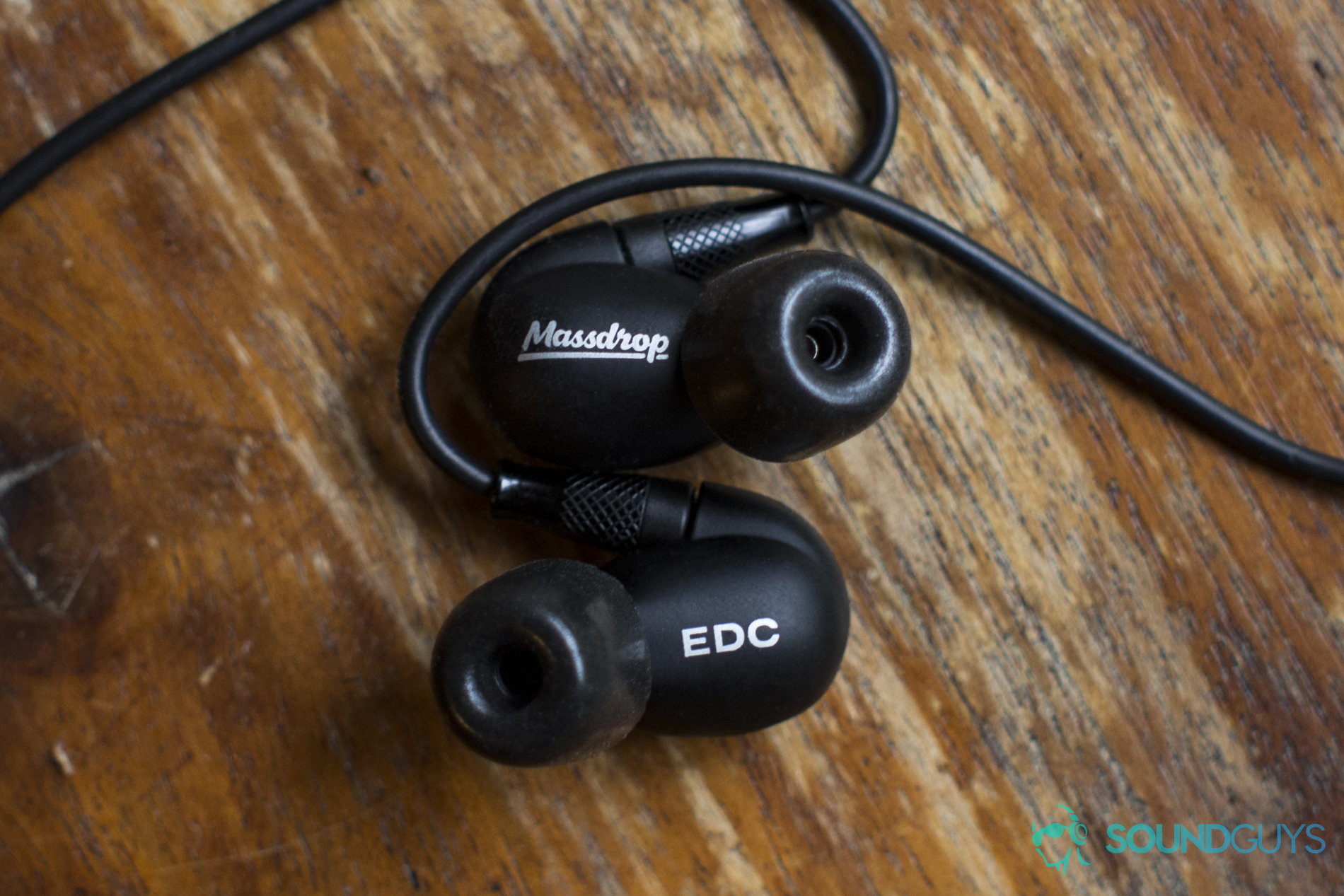 8.7
Everyday Carry In-Ear Monitors
The bottom line
These may not be the be-all-end-all of in-ear monitors, they're certainly one heck of a bargain. It's just gravy that their design is so smart, and isolate so well.
Everyday Carry In-Ear Monitors
These may not be the be-all-end-all of in-ear monitors, they're certainly one heck of a bargain. It's just gravy that their design is so smart, and isolate so well.
What we like
Sound quality
Build quality
Isolation
Adaptability
What we don't like
Heat buildup
Rating Metric
Sound Quality
8.6
Bass
8.7
Midrange
8.3
Highs
8.5
Durability / Build Quality
9.2
Value
9.3
Design
9.0
Microphone
6.9
Portability
9.5
If you're unfamiliar with the online bargain-agglomerating site Massdrop, now's a good time to check them out. Their philosophy for a long time has been simple: users vote on a product they want, they commit to buying it, and the site buys it in bulk to give the pledged buyers a hefty discount. But now that the site has moved into direct manufacturing partnership with big brands, we're starting to see once-inaccessible sets come down in price with a Massdrop logo on it.
This week, Massdrop partnered with NuForce to offer the Everyday Carry in-ear monitors: a set of IEMs with detachable cables, silicon and foam tips, and a Lexan driver housing for $59.99. While this review will be short-lived due to the nature of "drops," as they were, it's nonetheless important to identify products worth your time if you're looking for a deal.
What's in the box
A look at all the stuff crammed into the packaging for the NuForce x Massdrop EDC In-ear monitors.
Tear open the paper box containing the EDC like an animal would, and you'll be greeted by the IEMs, a carrying case, two sets of cables (one with a mic, one braided), three sets of silicone tips, two sets of memory foam tips, a shirt clip, and assorted documentation.
Build and design
I'm an instant fan of the design. That's not professional or objective to say, but I'll go into why I'm okay with making a statement like that. There are precious few earbuds that actually address my biggest bugbears over headphone design, so when they do come along, it's notable.
Really, it boils down to the fact that IEMs are fragile things, and they break just so damned easily that I rarely (if ever) buy them for myself. There are so many ways to mess up in-ears that most people never think about that the vast majority of options out there… kinda suck out of the box. That's not to say that they're not worth their pricetag—they often are—but you're not getting very good value out of something that isn't working as well as it could.
It takes a little doing, but the cables are removable.
So right off the bat, the NuForce/Massdrop EDC gets the whole tip thing right: memory foam tips are the way to go because silicone tips don't work for everyone, and memory foam offers far better isolation and fit. All you have to do is roll the tips in between your thumb and forefinger, put the nozzle in your ear, and let the foam expand to meet your ear canal. Perfect fit every time! If by some astronomically unlikely happenstance that this isn't true for you, then having three sizes of silicone tips is a nice backup to have—but the headline here is that the NuForce/Massdrop EDC is equipped for just about any buyer, and most IEMs aren't.
Additionally, the removable cable design is a massive plus. This is especially true when you consider that the wires are so small that it's a question of if, not when they'll break. But having a backup cable means that should the most common break on any headphone ever happens on your EDCs: you just swap out the cable. Donezo. Removable/replaceable cables are the single most important durability feature a set of in-ears can have, because a simple break doesn't mean you have to buy a brand new set. While I'm not a fan of the braided cables (they can get caught on more things than smooth ones), just having a secondary cable available is a huge plus.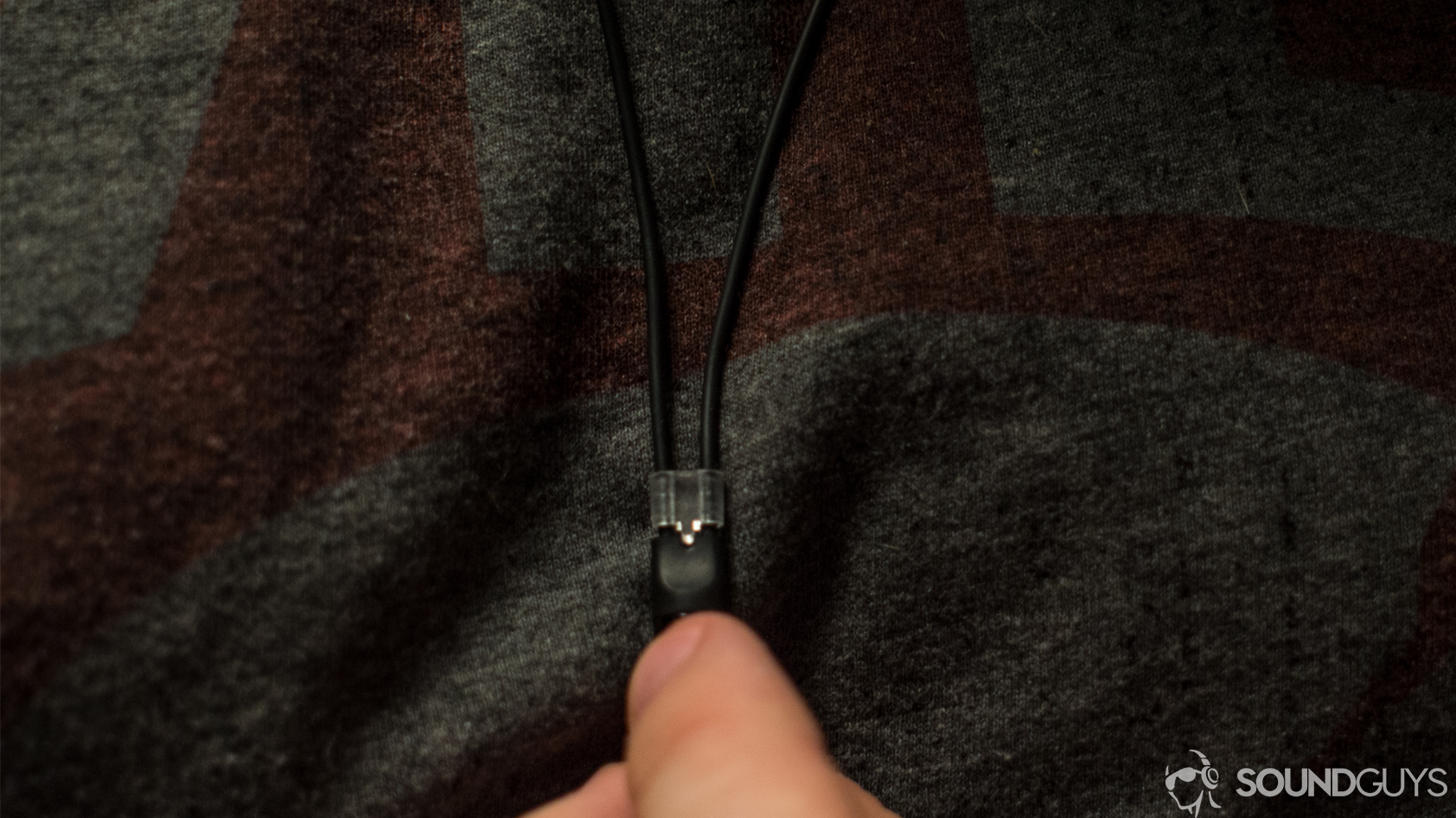 The remote is tiny and hangs at the Y-split.
Finally, the housing for all the driver elements and electronics is protected by Lexan. If you're unfamiliar with the strength of said material, I'll refer you to the show Mythbusters, where they use thick panes of the material to shield against shrapnel (and live ammunition) from all their crazy experiments. I, too, used it in the past to serve as a lightweight and impact-resistant armor for robots my high school team entered into the US FIRST robotics competition every year. While this thin piece isn't going to stop a bullet or protect you in any meaningful way, it will withstand normal wear and tear from light impacts much better than your garden-variety cheapo earbuds off Amazon.
As far as the fit goes, I find that IEMs with an ear loop tend to sit better in your ear canal because they distribute the weight across your pinna, and not just your ear canal. On top of that, the straight nozzles of many IEMs make for an awkward or uncomfortable fit, so angling the nozzle usually means the rest of the in-ear body can be shaped to better fit your ear: exactly what the EDC does. So not only is there very little pressure on your ear canal, but the wires are less likely to tug or snag because they're pulled more taut to your body.
Connectivity
The EDC uses a simple TRS 3.5mm connector for its braided cable, or a TRRS 3.5mm connector for the cable with remote. The unit itself has an impedance of 16Ω, but its sensitivity is a bit lower than I thought it'd be. While it's not a big deal for most smartphones, what a 90dB/mW sensitivity means is that you'll be nudging the volume slider a little higher than usual when listening to music.
An L-shaped plug isn't ideal for smartphones in your pocket, but it's not the end of the world.
Obviously, that means no use with an iPhone 7 without a dongle, but I assume most people reading this aren't "courageous" enough to ditch their headphone jack.
Sound quality
For a pair of sub-$100 in-ears, I was pleasantly surprised with the EDC. Sure, they're not going to make you forget that you're not in a recording studio, but they have a fun sort of sound that should appeal to the vast majority of listeners. Bass is bumped up to a not-crazy degree, while a couple ranges in the mids are a little bit dampened. There is a peak where hi-hats, hand claps, and cymbal crashes live, but again: not too crazy. Nothing painful, unless you're overly-sensitive to that range.
If I had to pick a nit with these in-ears, it'd be that they're not the clearest things ever, but that's honestly something you can't really ask of earbuds in this bracket. They hang with the Shure SE215, which is high praise—those are legends among musicians. There's no audible distortion, and I didn't notice any tracking, resonance, or falloff errors. I'm sure if I wanted to measure it I could, but being overly concerned with academic errors generally only leads to people reading into something that doesn't affect what they hear all that much.
Remember what I said about foam tips being generally superior to silicone ones? Where it all comes through is the isolation. By using the foam tips, you can block out the world around you to a degree you're probably not used to. Not only does it make your music easier to hear, but it'll sound better because you're avoiding a problem called auditory masking. And while that may sound a little too nerdy to care about, try this on for size: If you're in a noisy environment, you'll be hard pressed to find headphones that sound as good as these do without shelling out some serious cash. Additionally, this type of in-ear is popular with drummers for tracking/metronome purposes, so these are also a good pickup if you're beginning your recording career as well.
Conclusion
If you're perusing deals, these are a rock-solid option at a very competitive price. Not only are they built to last, but they outkick their coverage a bit in the audio department. The NuForce/Massdrop EDC is an easy buy to make if you're looking for in-ears that are more than a cut above your stock smartphone earbuds, but won't be kicking the bucket after some light use. They're exactly as advertised: for everyday carry.
Now they're not high-end earbuds, nor are they going to make you forget a set of audiophile cans, but they fit their role of casual listeners and fit it well. If you want an upgrade, you might want to look at the Shure SE215, but those cost a cool $100. Be sure that in-ears are what you want before plunking down for these, as you may find that even the memory foam tips aren't comfortable to you when they build up heat. Still, the NuForce/Massdrop EDC is tough to pass up at $59.99.