All products featured are independently chosen by us. However, SoundGuys may receive a commission on orders placed through its retail links. See our ethics statement.
Monster SuperStar Review
The Monster SuperStar is billed by the company as the "world's smallest audiophile Bluetooth speaker" but it doesn't quite live up to all the hype.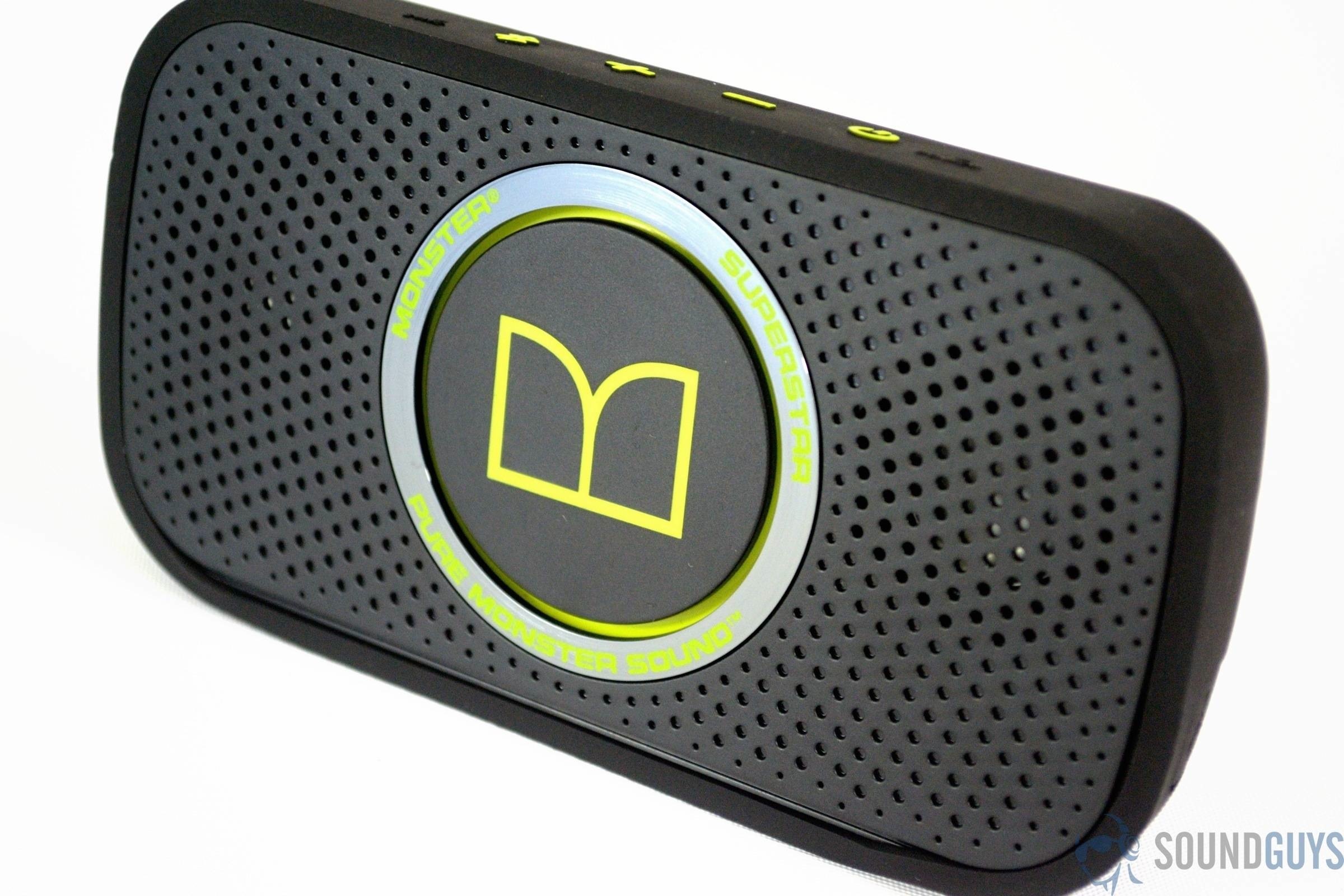 UPDATE (January 2022): Monster has taken its SuperStar series to a new level, releasing a few different iterations. The model we reviewed here, while still available on some marketplaces, is no longer in production. If you're looking for a compact speaker, refer to our pick of best Bluetooth speakers around.
As a company, Monster has quite the reputation — some of it good, some of it, well, let's just say that their lawyers keep themselves busy. While more recently the company has been known for partnering up to design headphones and other audio products for other brands, Monster was initially known for selling audio and video cables that some people thought were great and others thought were overpriced. Surprise, surprise, they're saying the same thing about the company's new Bluetooth speaker.
The Monster SuperStar makes big promises, billing itself as the "world's smallest audiophile Bluetooth speaker." When you make claims like that, you better have a lot to back it up. So how does this speaker fare? Read on for all the details.
What's In The Box?
As a preview for how slim the speaker is, the box that holds the Monster SuperStar isn't much thicker. Open it up and the first thing you'll see is a little note from Monster. Peel that back and you'll find the speaker itself. Underneath, you'll find a USB cable, the carrying bag and the manual.
Build & Design
Depending on which color you choose, the Monster SuperStar can look either refined and subdued or loud and flashy. We're looking at the Black / Neon Green model, which is somewhere in between the minimalist Black / Space Gray model and the "hey look at me!" Neon Blue model. No matter how flashy your color selection may or may not be, the speaker is fairly eye-catching, especially how slim it is compared to most of the other speakers we've seen this size.
The SuperStar is also fairly light, weighing in at just 7 oz. Despite the light weight, it feels fairly tough, and it's IPX4 rated, which basically means it's splash resistant, but don't go dunking it in the water. Both the USB port and the 3.5 mm jack are covered though, so it seems that there is little danger of liquid making it inside the speaker, unless something goes terribly wrong.
Connectivity
Getting connected to the Monster SuperStar is a snap. Turning it on for the first time should cause the speaker to immediately enter pairing mode, but in case it doesn't simply holding down the button marked with the Bluetooth icon will start it. Once this is done, simply pair from the device of your choice. Of course, if you'd rather plug in, you can do that via the 3.5 mm line in jack on the side.
Bluetooth range is the usual 30 feet and during testing, we were able to move around freely in this range without running into any dropouts or encountering any stuttering. This is good, because you're going to have to have your phone handy if you want to skip tracks, as the only buttons are the Bluetooth and power buttons and volume controls. Luckily, the Bluetooth button doubles as a play / pause button and answers and ends calls. Speaking of calls, the call quality using the built-in mic for speakerphone was fairly good.
Battery
Battery life for the Monster SuperStar is around 5 hours which is okay, but considering some of the other speakers we've looked at recently, it could be a lot better. Charging is done via the included 3.5 mm cable, though no AC brick is included. If you have a brick already (and in this day and age, you likely do if you're buying a Bluetooth speaker) this is fine, but if you're charging via a computer you better be prepared to wait a few hours.
Sound Quality
In testing, we briefly played lossless audio from a computer through a Focusrite Saffire Pro 40 audio interface for purposes of testing fidelity, but since most people will be using this speaker via Bluetooth, that is how the majority of the testing was done. We listened to a few podcasts and an audiobook, but most testing was done by listening to music from various genres.
In any speaker this small, the low end is going to be limited by the size, but the Monster SuperStar is still surprisingly present in the low end. Don't mistake this for saying that speaker pumps out earth-shaking bass — it doesn't — but it is fairly full sounding.
The mids are solid and thick sounding, with a nice emphasis on low mids in particular that makes the SuperStar particular well-suited to rock music and other guitar-heavy genres.
The highs are rolled off somewhat, presumably to avoid harshness, and that was likely a good decision, as harshness in the high end doesn't seem to be much of a problem and there is still a good amount of detail present.
The sound is surprisingly big for such a small speaker. There isn't any true stereo separation — we don't expect any from a speaker this size — but the Monster SuperStar does sound fairly "wide." Unfortunately, big sounding doesn't always equate with loud, and we did notice that as we pushed the volume up, some distortion was occasionally apparent, especially in bass-heavy tracks.
Conclusion
To address the elephant in the room: No, the Monster SuperStar doesn't really prove to be the world's smallest audiophile Bluetooth speaker. And that's fine, but the question is: would we recommend this speaker?
At $130, we've looked at other speakers that offer more for the same price or less. The JBL Flip 2, for example, packs great sound for $99. That said, none of the other speakers we've seen so far are as flat and slim as the SuperStar. If that's important to you, or you like the look, then sure, pick it up. For everyone else, there are probably better options out there.