All products featured are independently chosen by us. However, SoundGuys may receive a commission on orders placed through its retail links. See our ethics statement.
Moktak 2.0 wants to be your flexible friend for outdoor audio
If you're in the market for a Bluetooth speaker to take with you on your outdoor adventures, check out this Indiegogo campaign for the Moktak 2.0.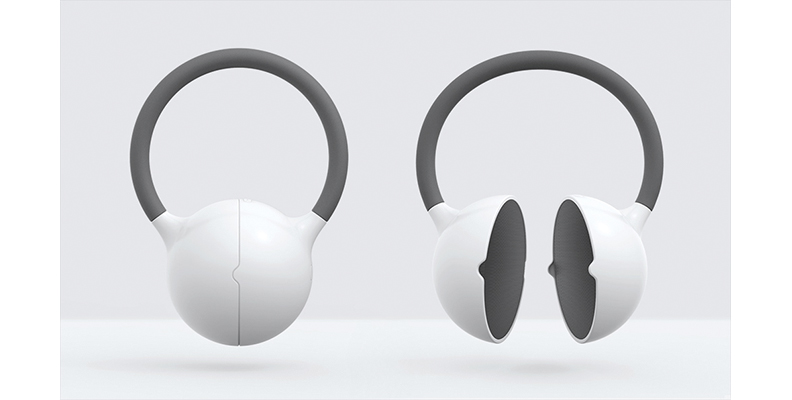 Yamazoki, an audio company based in Germany, has a new Indiegogo campaign for their take on a portable Bluetooth speaker made for the great outdoors dubbed the Moktak 2.0. Besides coming in a number of different colors (including some made specifically for the campaign), the speaker has an eye-catching design that looks nothing like any other speaker on the market. In fact Soohun Jung, the designer of the Moktak 2.0, got his inspiration for the design from a round percussion instrument used by Buddhist monks. Everything comes full circle I guess.
In terms of design, the two 40mm speakers are at each end of a flexible handle that can be readjusted to whatever shape you need it to be. For example, it can be oriented so that the handle acts as a stand and the two speakers are pointed towards the listener, or it can be bent into a hook-shape so that you can hang the speaker from a shower head or a branch. The fact that Yamazoki says you can hang it in the shower speaks to the fact that the Moktak 2.0 is IPX4 certified against water and sand damage. It's comforting to know that shower usage, trips to the beach, or even the occasional drop won't cause the speaker too much harm.
The Moktak 2.0 has Bluetooth 3.0, NFC connectivity, a built-in microphone, and a frequency range of 60HZ – 20kHz. However, one of it's coolest features is the way it enters sleep mode. Flexible handle aside, the speaker is essentially two halves of a sphere. When the two halves are brought together, magnetic sensors in the speaker realize that the ball is closed and it enters sleep mode allowing for longer battery life. The built-in 800 mAh battery should get you a solid 8 hours of constant playback, but any feature that conserves battery life is one I'd be happy to have.
The Moktak 2.0 comes in 11 different colors, three of which are exclusive to the campaign. If you're interested in making these your next durable outdoor speaker you can back the campaign and pre-order yours for $99, which is $30 less than it will eventually retail for. If you do decide to pick one up you can expect to get yours in the mail sometime this July or August. At the time of this post the campaign still has a ways to go until they reach their goal of $25,000 but there is still 48 days left in the campaign so anything is possible.