All products featured are independently chosen by us. However, SoundGuys may receive a commission on orders placed through its retail links. See our ethics statement.
The M4 is the newest wireless speaker by GGMM
If you're into high fashion speakers, check out the newest M4 by GGMM that allows up to 16 devices to be connected simultaneously.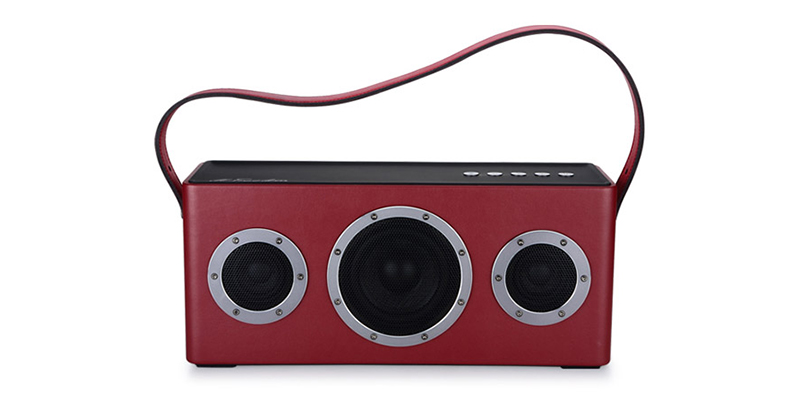 This year at the Luxury Technology show in New York a number of audio companies came together to show off their latest gear, one of them being GGMM. Their newest product is a wireless speaker called the M4, which has a premium design that doesn't look out of place at a luxury show. Though it's bigger than most portable Bluetooth speakers, the M4 comes bound in a durable microfiber and even has a leather strap that allows it to be carried in a purse-like fashion.
The speaker itself promises around 8 hours of continuous playback and has an integrated Wolfson DAC that, along with the kevlar speakers, help to minimize distortion. The M4 uses Bluetooth 4.0 with AptX support to connect with your devices, but can also connect through Wi-fi with two built-in modes. The first mode is called direct connection and, as the name implies, allows a direct connection to be made between the speaker and your device via the Wi-fi router . The second is called router mode. When in router mode the M4 can be connected simultaneously with up to 16 other devices through the Wi-fi network and each one can take turns playing audio.
In order to stream music through Spotify or Pandora you will have to download the GGMM app and connect to the M4. However, GGMM warns in their FAQ section that it is optimized for iOS devices, so if you own an Android device there may be some issues with your music randomly pausing and having to be manually resumed. If you own an iDevice or plan on doing the bulk of your streaming through a Mac or PC then you shouldn't encounter any issues.
As much a fashion statement as it is a speaker, the M4 will come in multiple colors including red, orange, blue, and brown. Although pricing hasn't yet been officially announced and is subject to change, a GGMM employee estimated it to be priced at around $299. So if you're in the market to treat yourself, the ability to connect via Wi-fi as well as Bluetooth definitely makes this a solid contender.