All products featured are independently chosen by us. However, SoundGuys may receive a commission on orders placed through its retail links. See our ethics statement.
7.6
Libratone Q-Adapt in-ears
The bottom line
It's hard to recommend these just because you're paying for something that can only be used with one device, but if you want the best pair of Type-C headphones currently available, these make a solid argument for your money.
Libratone Q-Adapt in-ears
It's hard to recommend these just because you're paying for something that can only be used with one device, but if you want the best pair of Type-C headphones currently available, these make a solid argument for your money.
What we like
Good sound
Smart design
What we don't like
Average ANC
Price
Can only be used with USB type-C smartphones
Rating Metric
Sound Quality
8.0
Bass
8.0
Midrange
8.5
Highs
7.5
Durability / Build Quality
8.0
Value
6.0
Design
7.5
Portability
8.0
While some are still mourning the death of the headphone, others are quick to take full advantage of the possibilities. Case in point: Libratone. When Apple removed the headphone jack they were quick to release a pair of in-ears that ends in a Lightning connector. Now that Google has done the same thing, Libratone tweaked the headphones to now end in the USB Type-C standard that works with their new Pixel 2 phones. As someone who still swears by the headphone jack—yet still went ahead and bought the Pixel 2XL despite it's lack of one—I was curious to see how these fared. So let's get into it.
What's Inside
When you open the box you'll get the headphones, along with the usual couple of accessories that you've come to expect from earbuds. Three extra pairs of eartips for a better fit, some wing tips if you decide to use these for the gym, and the quick guide and warranty information.
Build & Design
These earbuds are nice, but you need a phone with a Type C connection
The Q-Adapt in-ears use a combination of plastic and fabric for the majority of their build materials. They don't feel cheap by any means, but they also aren't what you'd expect for the price. You won't any polished metal here. The earbuds are split between a matte black and glossy black plastic that are surprisingly resistant to fingerprints. Libratone claims that the TPE plastic build is also sweatproof, though it's worth noting that no mention of that is made on the Google page. The only problem with the earbuds in my opinion is their round shape.
Though it looks aesthetically gorgeous matches the look and feel of their product line-up, I found that the rounded earbuds became slightly uncomfortable for longer listening sessions. I should clarify that by "longer sessions" I mean really long. I've been using these headphones for up to 6 hours a day to get a good feel for them, and I didn't really have any issues within the first two. So if you're just going to be using them for commuting (which is their intended use case) you should be fine. But if you're going to be using these for travel, you're going to need to let your ears breathe every once in a while. I also had to swap out the included silicone sleeves for Comply memory foam tips in order to get a better seal, but that could just be because my ears are weird. The control module is also oddly large compared to what I'm used to, but it makes sense when you consider that the active noise canceling tech is built into it. And it's positively tiny when compared with the module on the Bose in-ears thanks to not needing a battery.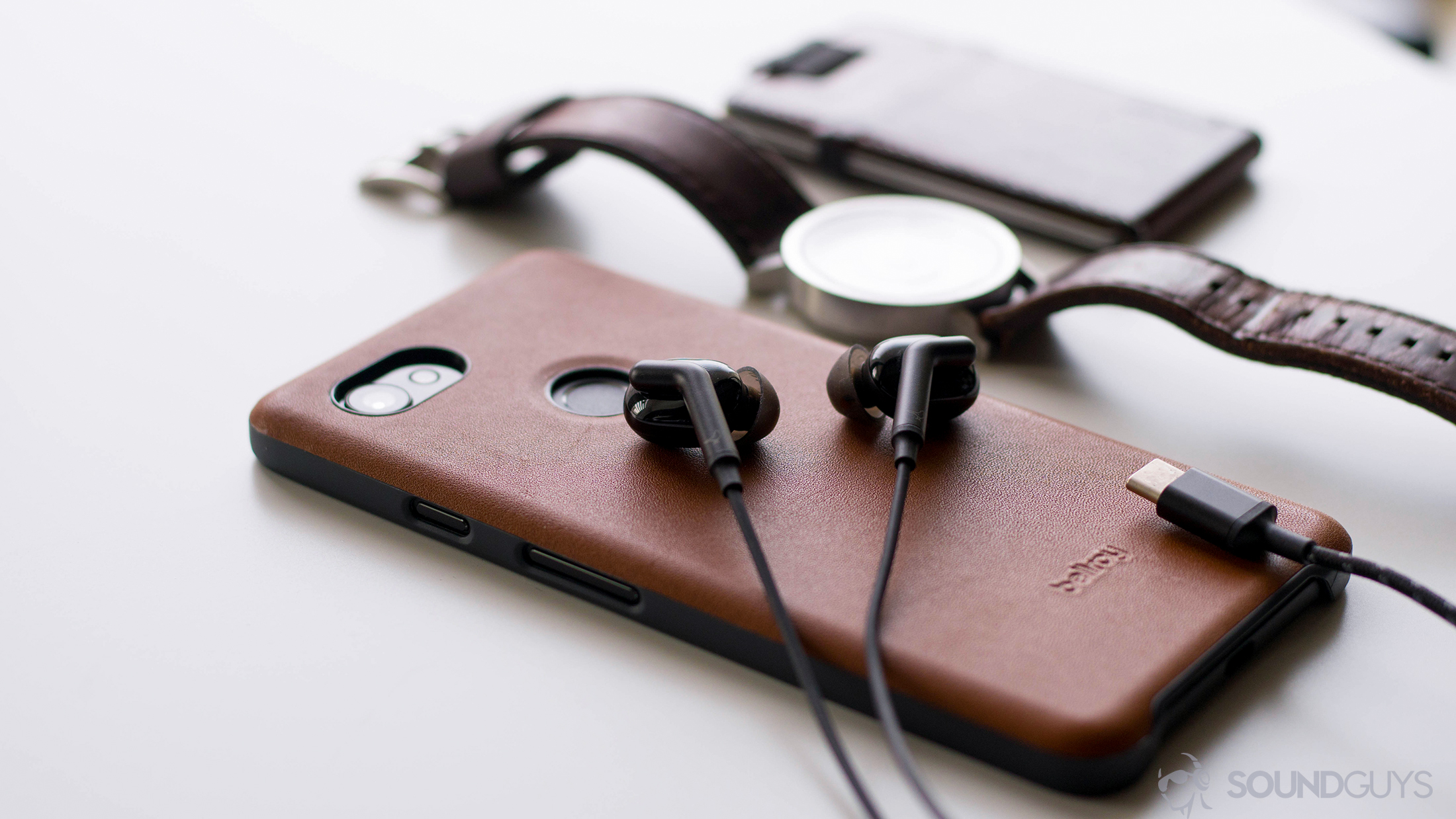 The Libratone Q-Adapt in-ears work perfectly with the Pixel 2XL
The buttons on the module are easy to click, but I did have a problem remembering which button does what since there's two circular buttons on the module. It's not that they feel the same, because Libratone did a good job differentiating them with one of them being indented, but I have a terrible memory—so I was stuck staring at them trying to remember which one controlled the ANC more often than I care to admit. My terrible memory aside, I really like the control module; mainly because even though it was kind of large it didn't feel like it pulled down the earbuds in any way. Then you have the cable, which is plastic from the module to the earbuds, and woven in a nice fabric from the module down to the USB connector (or Lightning if you opted for the iOS version).
Overall, I like the build of the headphones, even though the plastic wires connecting the earbuds tend to twist up more than I like. But at least I don't pull them out of my pocket and discover an impossible knot which is my usual curse with in-ears. The audio cable is also listed at 1.2m but actually feels a bit shorter, which I think is a weird plus. I think it's because the Y-split is so far down, leaving less length for the cable that feeds into my pocket where my phone usually is. But it actually feels like the perfect length: I don't want that extra slack that can easily get caught on things when I'm walking around or taking the train.
Connection
I'm going to try to get through this part of the review without venting about the lack of 3.5mm connector because that's not Libratone's fault, it's Google's. But I should say that Libratone made the best of a bad situation here and really knocked it out of the park with their USB Type-C connection. Although, that's also it's biggest weakness so I'll start there.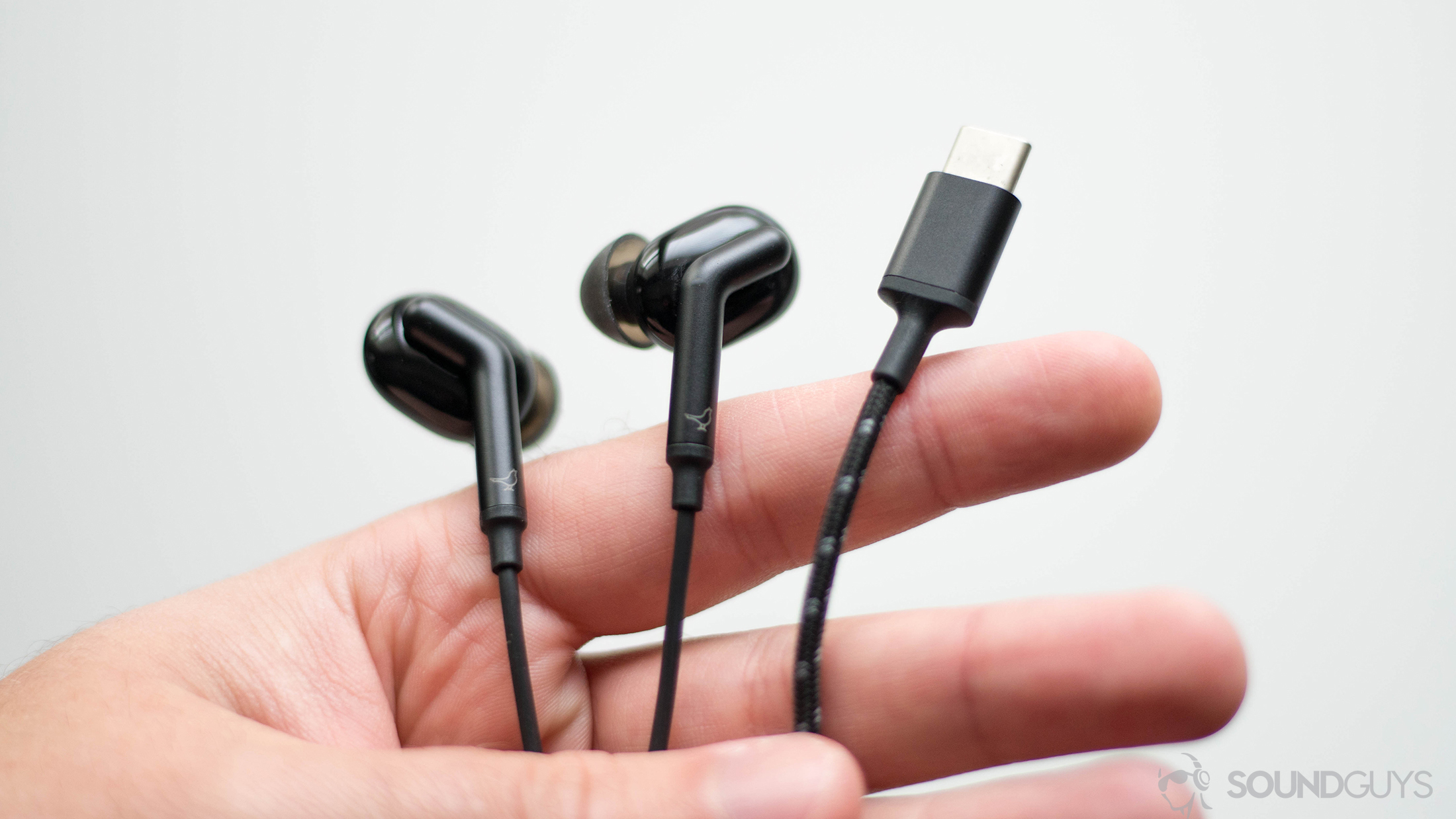 We test USB-C audio products like we do any other model: we use 'em!
No 3.5mm jack means that these headphones are all but useless unless you're going to be plugging them into your phone. At least until more products come out in the future supporting USB Type-C. I can't even use these with my Nintendo Switch which is a brand new console. I can't use these with my iPad (Lightning), Playstation controller, Nintendo Switch, Macbook Pro, Chromebook, you get the point. These are exclusively phone headphones, which is hard to justify for the price. Saying these are a niche product is an understatement.
But like I said: Libratone made the best of a bad situation, and took full advantage of the new connections—adding some features that set the Q-Adapt in-ears apart from the rest. Because they plug directly into the phone, they can draw power from it to power features that would otherwise require a battery. In this case, the active noise canceling. True, the ANC isn't going to blow you away like some of the Bose models, but it's still pretty decent for a pair of in-ears. On the control module you get four buttons: volume down, multifunction button, volume up, and another to control the strength of the ANC. You'll get the typical controls here in terms of playback. Pressing the multifunction button once will pause or play music, while double and triple tapping will skip between songs. One thing that I should mention is that the microphone isn't great and I had multiple complaints on phone calls, but I think this actually might be Pixel 2 issue because it also happens with another pair of headphones that I plug into the provided dongle that came with the phone. so clearly USB Type-C still has its issues and again makes us question the removal of the headphone jack. But I digress, that's not Libratone's problem.
The control module it a little large, but doesn't weigh down the 'buds
Libratone calls its ANC "CityMix", and gives you four levels of ANC to play with. If you want to hear what's going on around you just use the Hush mode, and then you can slowly make the noise canceling stronger by going up to levels 1 – 4 (4 being the strongest). You can download the Libratone app in order to control it, or more conveniently, just press the raised top button on the control module in order to cycle between the modes. Digging deeper into the app, you can also choose between a more natural sound, extra bass, or enhanced treble. For the purposes of this review, I just kept it on the natural sound setting. The ANC doesn't do anything against voices (don't expect to block out conversations) but it does a decent job at low hums and fans.
Sound Quality
Libratone logo on the control module
Although part of the benefits of removing the headphone jack was bypassing the DAC built that's built into your smartphone, it doesn't play as big a factor as you might think. Mainly because the DAC in your average smartphone is dramatically better than it used to be. Still, the one in the Q-Adapt headphones definitely get the job done.
One aspect of the headphones that really impressed me was the soundstage. It isn't as great as something like the open-back Focal Clear headphones I recently reviewed (duh), but for a pair of in-ears the instruments and vocals in "Pre-Occupied" by Jon Bellion don't get in each other's way at all. The spacing between the drums in the low end and the shakers and piano in the highs really showed the depth in the track. When you have a pair of 'buds that can really space out the instruments like these, it makes all the difference.
In terms of the bass I find that it's a little too strong for my liking, but only a little. The deep kicks that happen every now and then in the song "Blu" By Mura Masa just tend to be a little overpowering when they hit. Sticking with this song, the elements in the mid-range including the vocals sound buttery smooth. There was never a moment where I felt like things were lacking in detail. The same can't be said with the highs which could've used a little more detail in my opinion. The nice spacing helped a bit, but I still prefer an airy cymbal hit that reverberates through my ears instead of a slightly muffled one. The perfect example of this is in the song "Four Winds" by Bright Eyes where the cymbals sound like they're under a thin blanket.
Conclusion
Overall, I really like the Libratone Q-Adapt in-ears… but not for the reasons that you might expect. The active noise canceling is underwhelming, and the fact that you can't use them with anything other than your phone is a real downer. At $150, these aren't cheap. And that's a hard drawback to overlook for the price. It would be easy to recommend these for commuters if the ANC was phenomenal, but like I said it's not. It's just fine. So if that's what you're after you might have to look for other options. But these do have a strong point: sound quality.
Really my favorite part of the headphones is their sound quality. The build quality is fine, and the USB Type-C only connection will always be an issue for me even if that isn't Libratone's fault, but the soundstage in the Q-Adapt's is great for a pair of earbuds. These find a nice balance between clean and bass-driven sound signatures even without going into the app. If I'm in the gym I'd prefer a strong bass, and if I'm commuting I'd want more of a clean sound and these go straight up the middle and manage to accomplish both. If you want a good sounding pair of earbuds and don't want to deal with annoying dongles, this is clearly the best option available. That said don't expect to be blown away by the extra features that make these headphones so pricey.