All products featured are independently chosen by us. However, SoundGuys may receive a commission on orders placed through its retail links. See our ethics statement.
LG Tone Studio & Free Wireless Earbuds Hands On! [CES 2017]
Ears/Hands On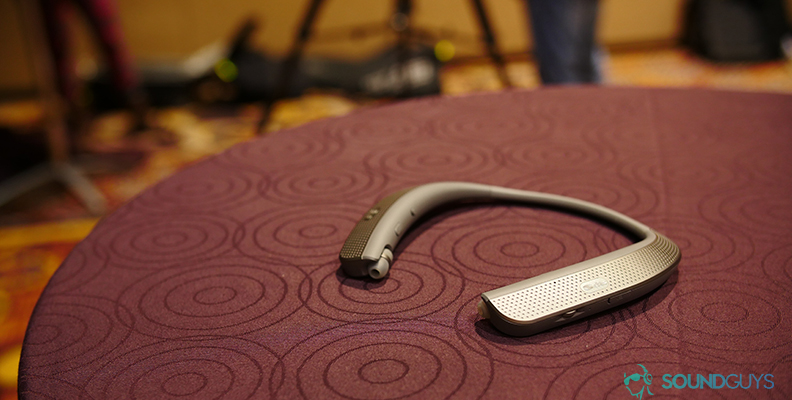 The Bluetooth headphone market has exploded in the past few years, and LG has been at the forefront of it with their Tone series headphones. Back in 2015, the company announced that it had roughly 40% of the Bluetooth headphone market and though that might not still hold true here in 2017, one thing is sure. LG is still setting itself apart with unique new products like the Tone Studio and Tone Free Wireless Earbuds. We got a chance to check them out today.
LG Tone Studio
First up are the Tone Studios. These might look familiar to anyone who has seen a Tone pair of headphones, but there is a slight catch to these. Along with the retractable earbuds that we've come to expect from the company, these also have speaker grills directed at the wearer. Jumping between the built-in speakers and earbuds is as easy as flicking a switch, and you'll also find the usual array of controls for music playback. This probably isn't ideal if you're looking for audiophile quality but if you're lounging around the house and find yourself wanting to listen to music without really disturbing anyone these could be the headphones you reach for.
LG Tone Free Wireless
The next pair of headphones announced were the LG Tone Free wireless earbuds. For all you fans of true wireless these might be for you. But again, with a slight catch. The Free's are truly wireless earbuds complete with a charging case that you can pop them into, but they also come with a neckband. Once you're done using them you can just pop them back into the neckband for charging and safe keeping.
Besides being able to try them out, LG was shy with details on pricing and when they will be released, but we'll be sure to let you know when they're announced. Make sure to keep coming back to SoundGuys.com for more CES 2017 coverage in the world of audio.