All products featured are independently chosen by us. However, SoundGuys may receive a commission on orders placed through its retail links. See our ethics statement.
The bottom line
If these are your first pair of LG Tone's, you won't be disappointed. But if you already have a previous version, it might not be worth the upgrade.
If these are your first pair of LG Tone's, you won't be disappointed. But if you already have a previous version, it might not be worth the upgrade.
What we like
Strong Bluetooth connection
Good controls
What we don't like
Design is subjective
Highs are faint
Rating Metric
Sound Quality
8.5
Bass
8.7
Midrange
8.6
Highs
8.3
Durability / Build Quality
9.0
Value
8.8
Design
8.6
Microphone
9.0
Portability
8.6
Battery Life
9.0
UPDATE [February 2022]: If you find that the LG Tone Platinum isn't in stock on Amazon anymore, have a look at these alternative neckband earbuds.
The LG Tone line of headphones is one that many people are familiar with, but whether or not they're fashionable remains a matter of opinion. Now LG is back with the newest version of the series called the Tone Platinums, where they hope to convince you to make these your next pair of Bluetooth headphones. So should you ditch the pair of Tone's you already have for the new ones or are you better off staying with what you have?
What's in the box?
We received these headphones as a review unit, so unfortunately there is no unboxing to speak of. That said, if the previous versions of these headphones are any indication you'll most likely receive a USB 2.0 cable for charging and a few different sized ear tips to get that perfect seal.
Build & Design
If you've ever used a pair of LG Tone headphones, you should know what to expect with the Platinums. They have a solid build and an attractive look, combining matte black with a glossy plastic. The controls use both sliders and buttons to get the job done. On the left side you'll get a multifunction button that lets you answer/end phone calls and activate voice commands. Above that is a small volume slider that also lets you check battery life or toggle the vibration if held down. On the right side of the headphones are where you'll find the actual playback controls. You can pause/play music or change tracks thanks to the sliding control, and they even have some added functionality which we'll dive deeper into in the connectivity section.
One of the more notable deign features of the Platinums has to be the retractable earbuds. You can pull them out to about 4 or 5 inches and then easily reel them back in using a button on the inner portion of the Tone Platinums. Once pulled out, the earbuds will reach your ears without a problem and the silicon tips are comfortable enough to provide hours of listening once you find the best fit pair. Now the million dollar question: Are these fashionable? Well this design is fairly polarizing so that's up to you to decide but we will say that the build quality does hold up very well in most situations. It's worth mentioning that they do bounce around somewhat while running and they tend to slip off the neck during bench presses, but that's to be expected with this design.
Connectivity
When it comes to connectivity on the LG Tone Platinum (or any other headphones in the Tone series for that matter), Bluetooth is the name of the game. These connect to source devices strictly through Bluetooth, so you won't be connecting to phones, tablets, or computers in any other way. The initial setup is fairly straightforward and we had no problems connecting them to a smart phone.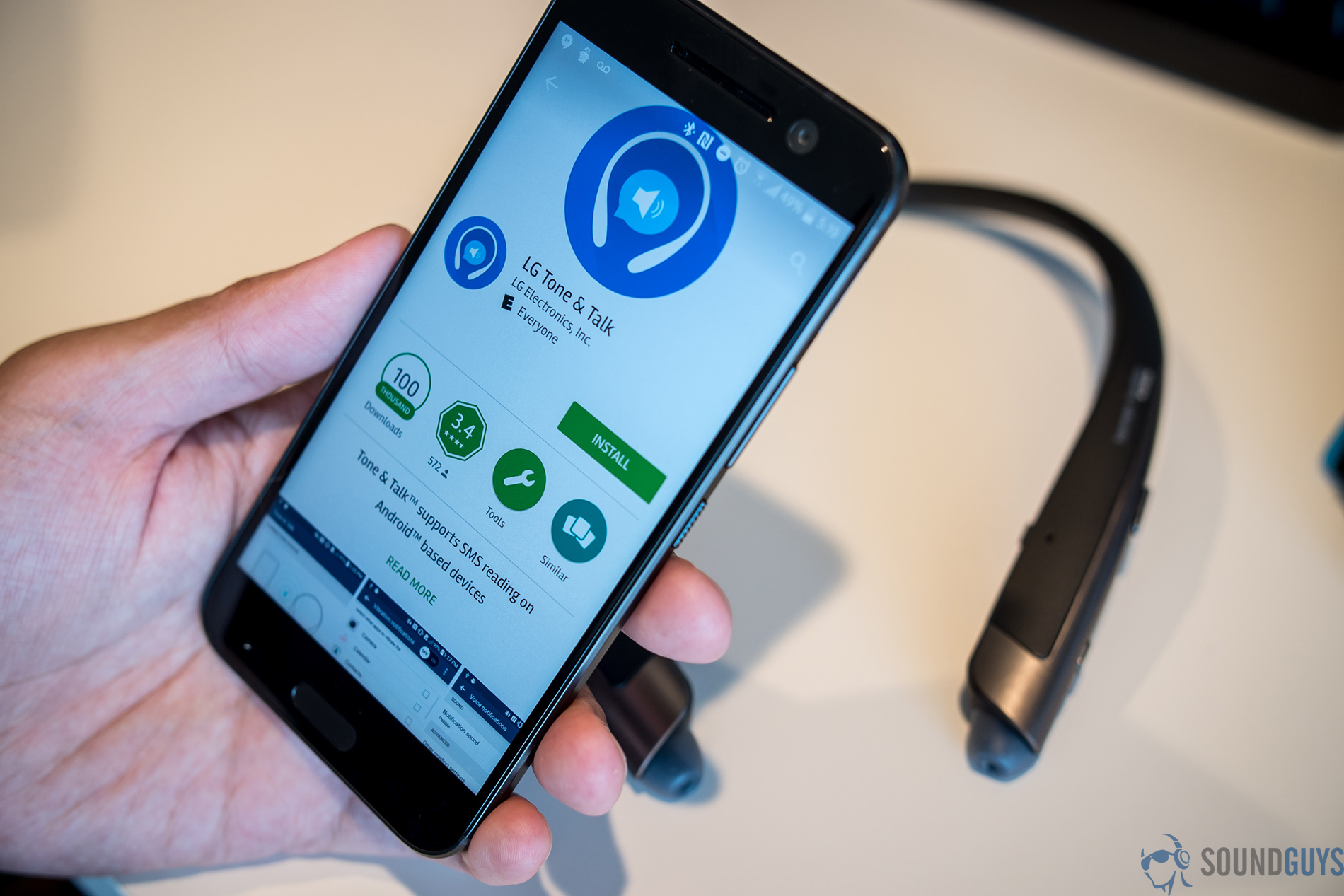 If you're pairing a second device to the unit, you'll simply have to hold down the call button immediately after powering on the device in order to enter pairing mode. The signal strength is as good as ever with no dropouts and a solid range. Joshua Vergara was even able to walk to the other side of the gym he works out in without any major skipping. Unfortunately, one downside to owning a pair of headphones that are completely wireless is that once the battery dies you have no other way of connecting to your source device.
Regarding the extra functionality we alluded to earlier, you can also download the LG "Talk and Tone" app on any Android phone in order to assign a few shortcuts to the different controls on the headphones. For example, you can hold for the previous song and instead the Platinums will read back your most recent SMS message. The headphones also vibrate when something new happens on your phone and through the app you can filter out what apps you want to be alerted about. Call quality on these is also top notch thanks to dual microphones on the ends of the two arms.
Battery Life
LG claims a battery life of about 10 hours and in our testing that was fairly accurate. These were mainly used at the gym and casual listening and they were able to last a 3 to 5 days between charges. If you're an above average listener you'll have to charge these up between uses, but thankfully charging time is only between 90 minutes and 2 hours.
Sound Quality
Bluetooth may not be the most ideal way to enjoy music for audiophiles, but LG hopes to fix that with a number of enhancements including always-on noise canceling, Qualcomms aptX codec for 24-bit music support, and the Harman Kardon sound stamp of approval. It does seem to work fairly well removing most of the noise pollution coming from the outside world, especially while listening to music on even a medium level.
The bass in the Platinums is rich and thankfully doesn't get too muddy, which is good since that's what you're going to feel the most.
Mids feel like they're the most balanced part of the headphones, which is good since that's the part of the frequency range where the vocals from all of your favorite songs lie.
The highs do tend to feel a little bit muffled and if you like more clarity in the upper frequencies, these probably aren't going to be for you. If we had to pick a type of music that would work best with the headphones it would probably be hip-hop. The faint higher end probably won't make for the most enjoyable experience in genres like classical or even some EDM.
Conclusion
In the end it does come down to the price point and at $199, these aren't cheap. You will have to shell out a pretty penny for the newest headphones in LG's Tone line-up. They do provide a good experience but if you already have a previous pair of headphones from the Tone series, you might be able to save some money and just stick with the ones you have since the upgrades to the sound don't really make them a "must-have".