All products featured are independently chosen by us. However, SoundGuys may receive a commission on orders placed through its retail links. See our ethics statement.
Klipsch announces the Groove Bluetooth speaker
Klipsch announces plans for a new line of wireless speakers, the first of which is the Klipsch Groove.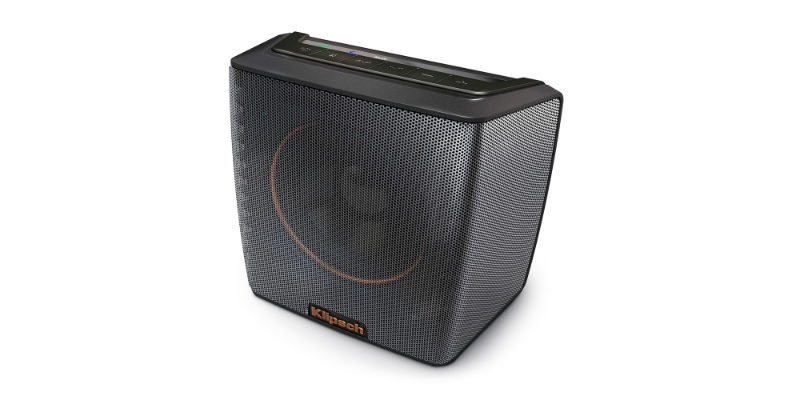 Klipsch has announced that over the course of the next couple of years it will be unveiling a new line of wireless speakers. The first of which is dubbed the Klipsch Groove, a portable and durable Bluetooth speaker.
If you're reading this chances are you know about this borderline legendary company. When it comes to audio it has made some of the best products for almost 70 years. You'd be hard-pressed to find a professional studio anywhere in the world that doesn't have at least one of their speakers hanging around. In the past few years they've taken that knowledge of audio to the consumer world and have consistently brought quality audio at affordable prices. If you need proof look no further than their line of reference in-ears which have quickly become fan favorites. That said, the company now has its eyes set on portable audio with the Groove.
The speaker looks like it's made of materials from their larger sound systems using anti-skid rubber casing and a metal grille that wraps entirely around the speaker, save for the top. That's where you'll find the control and playback buttons. Though the speaker is Bluetooth, it also has a 3.5mm input and a dedicated button that lets you switch between wired and wireless sources at will. Next to that are basic playback buttons that let you pause and play tracks as well adjust the volume. The Groove measures in at 5 x 4 x 2-inches making it small enough to carry around with you, but large enough to push some solid sound.
Behind that metal grille is a full-range 3-inch driver and dual 2-inch passive radiators. Somewhere in the speaker is also a rechargeable battery that Klipsch claims will get you a solid 8 hours of constant playback. Though it's not the best battery life we've ever seen, most people shouldn't have a problem getting through the day with it. It's also pumping out 10 watts of power so hopefully the lack of an extremely long battery life will be compensated with lifelike sound. On top of all that the Klipsch Groove is IPX4 certified, meaning that getting caught out in the rain won't be the end of your speaker.
This speaker appears to be a promising start to whatever plans Klipsch has in store for their new line of products. If the Groove hits all the sweet spots in what you look for in a Bluetooth speaker, it's available now via the Klipsch website for $149.