All products featured are independently chosen by us. However, SoundGuys may receive a commission on orders placed through its retail links. See our ethics statement.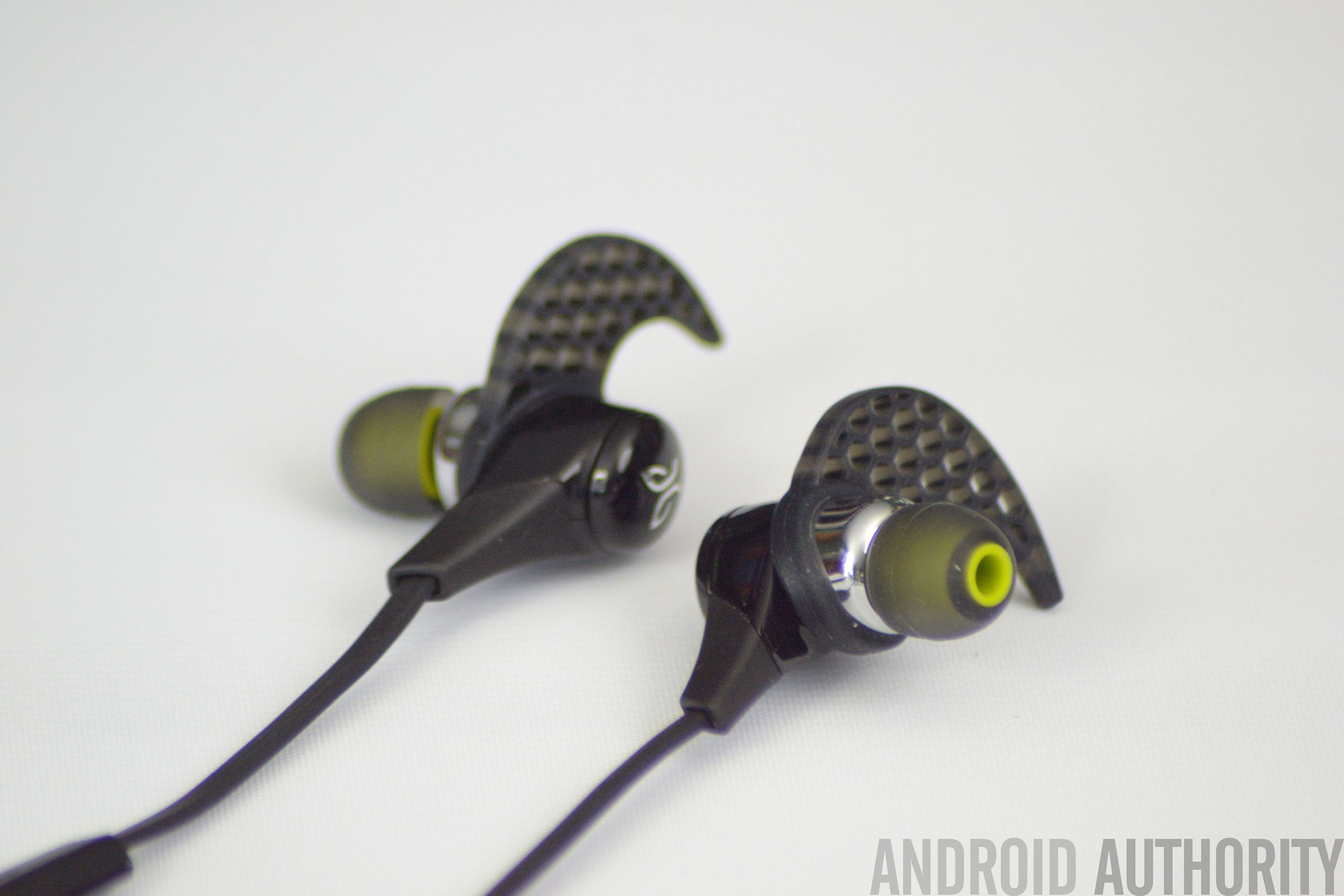 The bottom line
The JayBird BlueBuds X retail for $169, and they are worth the asking price, but not everyone is going to agree about that. If you're rough on your earbuds, you might want to look for a lower-cost option, or at least use the included carrying case.
The JayBird BlueBuds X retail for $169, and they are worth the asking price, but not everyone is going to agree about that. If you're rough on your earbuds, you might want to look for a lower-cost option, or at least use the included carrying case.
What we like
Excellent sound quality
Lightweight
Good battery life & short charge time
What we don't like
Expensive
Ear cushions can be hard to get used to
Rating Metric
Sound Quality
9.0
Bass
9.2
Midrange
9.0
Highs
8.8
Durability / Build Quality
8.5
Value
8.0
Design
8.7
Microphone
8.5
[button type="link" link="https://geni.us/TPiPzA" size="btn-lg" variation="btn-primary" block="btn-block"]Buy now from Amazon.com ($128.99)[/button]
Anybody who has spent any time actually trying to get a few things done has run into the same problem with standard earbuds: eventually you snag the cord and either rip the buds out of your ears or out of the phone they're plugged into. If you're lucky, that's the extent of the trouble. If you're not, you might be looking at your new earbuds at the bottom of a sink full of dishes. Either way, it's not very convenient. Enter: the Jaybird BlueBuds X.
Before we dive into talkinga bout the Jaybird BlueBuds X, let's talk about bluetooth technology in general. Bluetooth headsets and earbuds have done a lot to make the above issues less of an issue, but they're not without problems of their own. For a long time, Bluetooth just didn't have very good audio quality, and even though that is less of an issue these days, Bluetooth earbuds are often just bulky enough to be annoying.
The Jaybird BlueBuds X aim to solve every single problem mentioned in the previous two paragraphs, offering great sound quality and low snag-ability without the feeling that you've attached weights to your ears. Specifically aimed at athletes, fitness buffs and other active people, they're also handy for just about anyone. The question is: are they worth the comparatively high asking price? Let's find out in our Jaybird BlueBuds X review.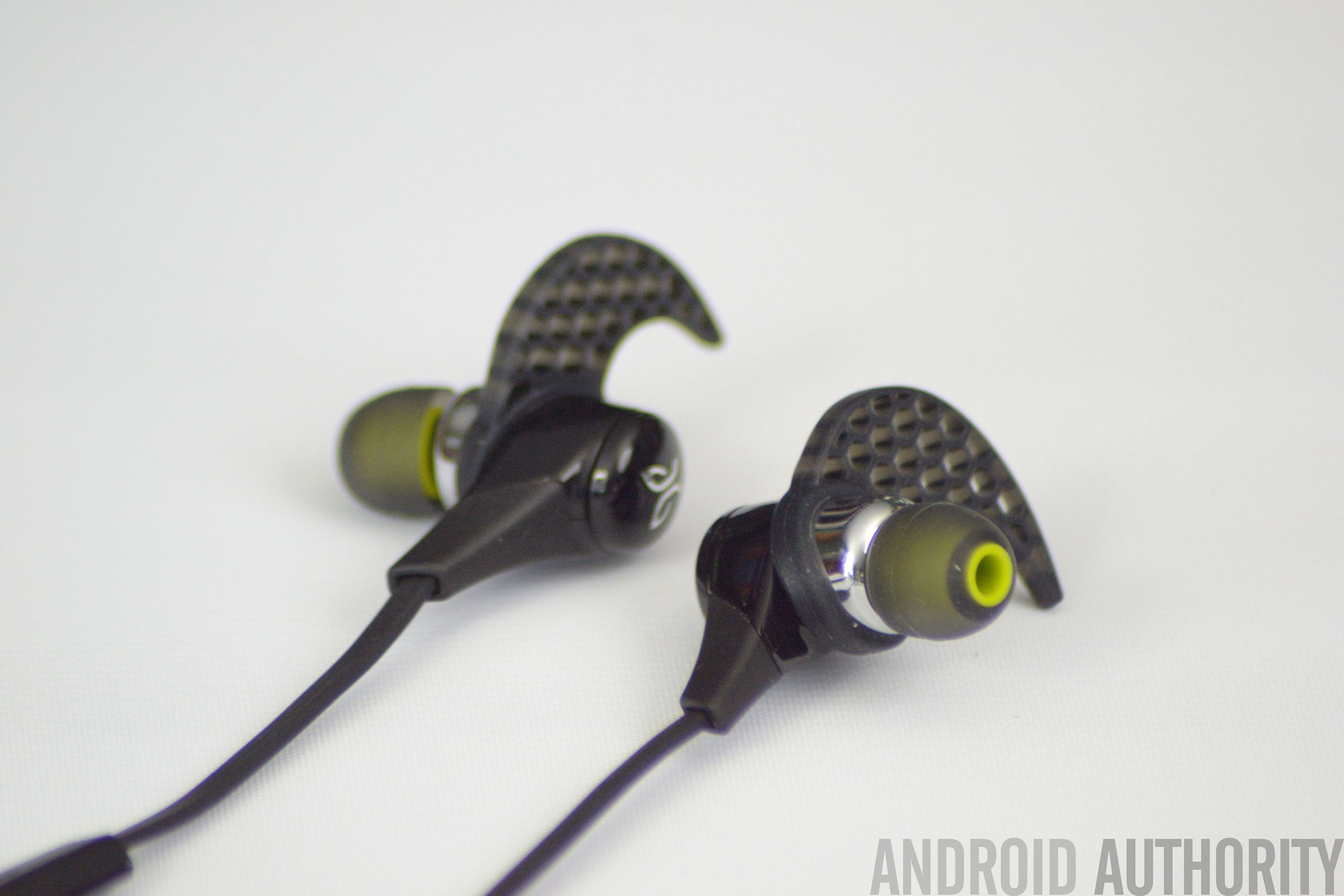 Features
Included carrying case
Ear Cushions for secure fit
X-Fit (two different ways to wear)
Signal Plus for skip-free music
Jenna voice prompts
Lifetime guarantee against sweat-related issues
Jaybird BlueBuds X: what's in the box?
On opening the Jaybird BlueBuds X, the first thing you will see is the earbuds themselves. At their center, bearing the Jaybird logo, is the handy carrying case. Everything else sits inside this case: the charging cable, three different sizes (small, medium and large) of rubber tips for the earbuds, and the same three different sizes of the "ear cushions" that secure the buds in your ear. By mixing and matching the different sizes, most people should be able to get a secure, comfortable, and good sounding fit.
In use
Even the best-sounding pair of earbuds is worthless if they aren't easy to use, and with Bluetooth as part of the equation, usability is an even bigger part of the equation. Luckily, the Jaybird BlueBuds X performed very well in use.
One of the most unique features of the BlueBuds is the focus on providing the listener with a decent fit. Not only does a decent fit keep your earbuds out of the sink, but it is vital for the best sound quality. This is where the ear cushions come in, and though it was a little hard to get used to them at first, they certainly do what they're intended to.
There are two different ways you can wear the BlueBuds X, with the cable going under your ear or over your ear, and even once you've made your choice, it can be a little confusing at first. To help you, Jaybird has not only included directions in the quick start guide but also produced videos to show you how to get the best fit for you.
Pros
Jaybird has clearly focused on keeping these earbuds out of your way, and they've succeeded in that. Once they're on, you can just forget that they're there in a way that simply can't be done with a lot of earbuds. The BlueBuds are small, light and comfortable enough that I never noticed them becoming uncomfortable or irritating.
The Jaybird BlueBuds X claim a battery life of 8 hours, and in my testing, they seemed to hit the nail on the head. It might have been a little shorter, around 7 and change, but that's still pretty good. Even if you do need to charge them up a bit, a 30 minute charge gets you around 90 minutes of playtime and they fully charge in around 2 hours.
There are a few other nice features that don't need to be there, but certainly go a long way toward making this already-nice pair of earbuds even nicer. First, the included case. If you're spending over $100 on earbuds, you're going to want to make sure they're protected when you're not using them, and this does a good job of that while also giving you a spot to stash the charging cable.
Finally, the "Jenna" voice prompts are actually pretty useful. I initially wrote this off as a gimmick, but voice notifications are especially useful when you're already wearing the BlueBuds but want to pair with a different device, for example.
Cons
There aren't a lot of cons when it comes to how usable the Jaybird BlueBuds X are, especially once you're used to them, and that's the main issue here. Between having two methods of wearing the earbuds to the wing-like ear cushions, there's a lot to get used to at first. You can just pop these in like normal earbuds, but you also get the feeling that you're missing the point if you do. Personally, even after using them for a while, I had a hard time getting used to the "wings."
The only other issue here is that while the over-the-ear method is supposed to be the preferred way of wearing the BlueBuds for those who are very active, they actually become a little less usable when worn this way. The buttons are just harder to reach because of the shorter cable length. This is another thing you can easily get used to, but it's worth mentioning.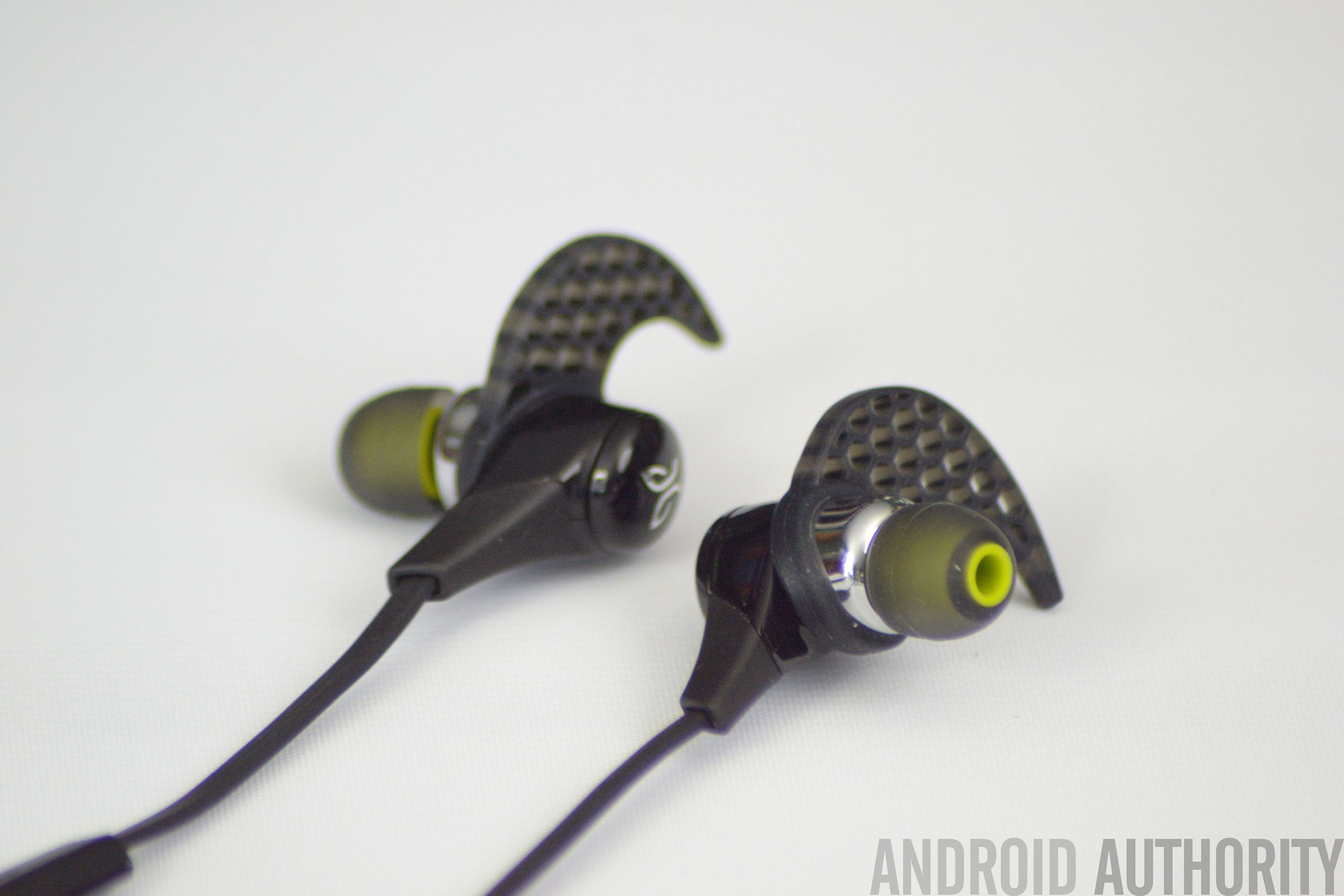 Sound Quality
Just as I mentioned that the best sound quality in the world is useless if the earbuds aren't easy to use, the opposite is true as well. A pair of earbuds could massage your earlobes and give you money, and they still wouldn't be great earbuds if they didn't sound good.
It's simple science that the smaller the speaker, the harder it is to get any decent low-end frequencies out of it. This is why fit is so important with earbuds, because they work by basically making your ear part of the speaker. That said, when you get a really good fit in place with the Jaybird BlueBuds X, they sound fantastic.
Low rumbling bass isn't actually all that hard to pull off in earbuds anymore. You can find pairs of earbuds that can do that for five bucks these days. There is a difference between bass that you can hear and bass that actually has definition though, and the BlueBuds have excellent definition in low frequencies. Low mids, another frequency range that tend to suffer in earbuds, were clear as well.
Even as I pushed up the volume levels, I couldn't hear any noticeable distortion. It might be present, but not at levels I would feel comfortable subjecting my ears to. Stereo imaging is also very good, something I was curious about given how much the stereo image suffered in older Bluetooth headphones.
The only problem I noticed is that despite the Signal Plus feature, I would experience occasional very brief audio dropouts when I would move my phone (a Moto X) around. By brief, I mean so brief that it sounded more like a tick in the audio until I realized it was an ultra-short skip.
Obviously, if you're looking for the highest in high-end audiophile audio, the BlueBuds aren't going to fit the bill. Neither would any other earbud, Bluetooth or otherwise. Still, I've heard more than my share of speakers, headphones and earbuds, and for what they are, these do very well.
Conclusion
I'll be honest; I hadn't realized how little negative points I had against the BlueBuds until I sat down to write this article. Even after going over my notes again, I don't have much bad to say about them. There is, however, one possible negative that we haven't touched on yet.
The price. The Jaybird BlueBuds X retail for $169, but are usually on sale for around $150. After spending some time with them, I think they are worth the asking price, but that isn't going to be the same for everyone. If you're like me and find yourself going through a few pairs of earbuds a month because you don't treat them well, you might want to hold off on considering the BlueBuds. Then again, if you consider them a worthwhile investment (and use the included case), they are definitely a great choice.
[button type="link" link="https://geni.us/TPiPzA" size="btn-lg" variation="btn-primary" block="btn-block"]Buy now from Amazon.com ($128.99)[/button]
So that's it for our Jaybird BlueBuds X review. Have you tried the Jaybird BlueBuds X? What do you think of them?