All products featured are independently chosen by us. However, SoundGuys may receive a commission on orders placed through its retail links. See our ethics statement.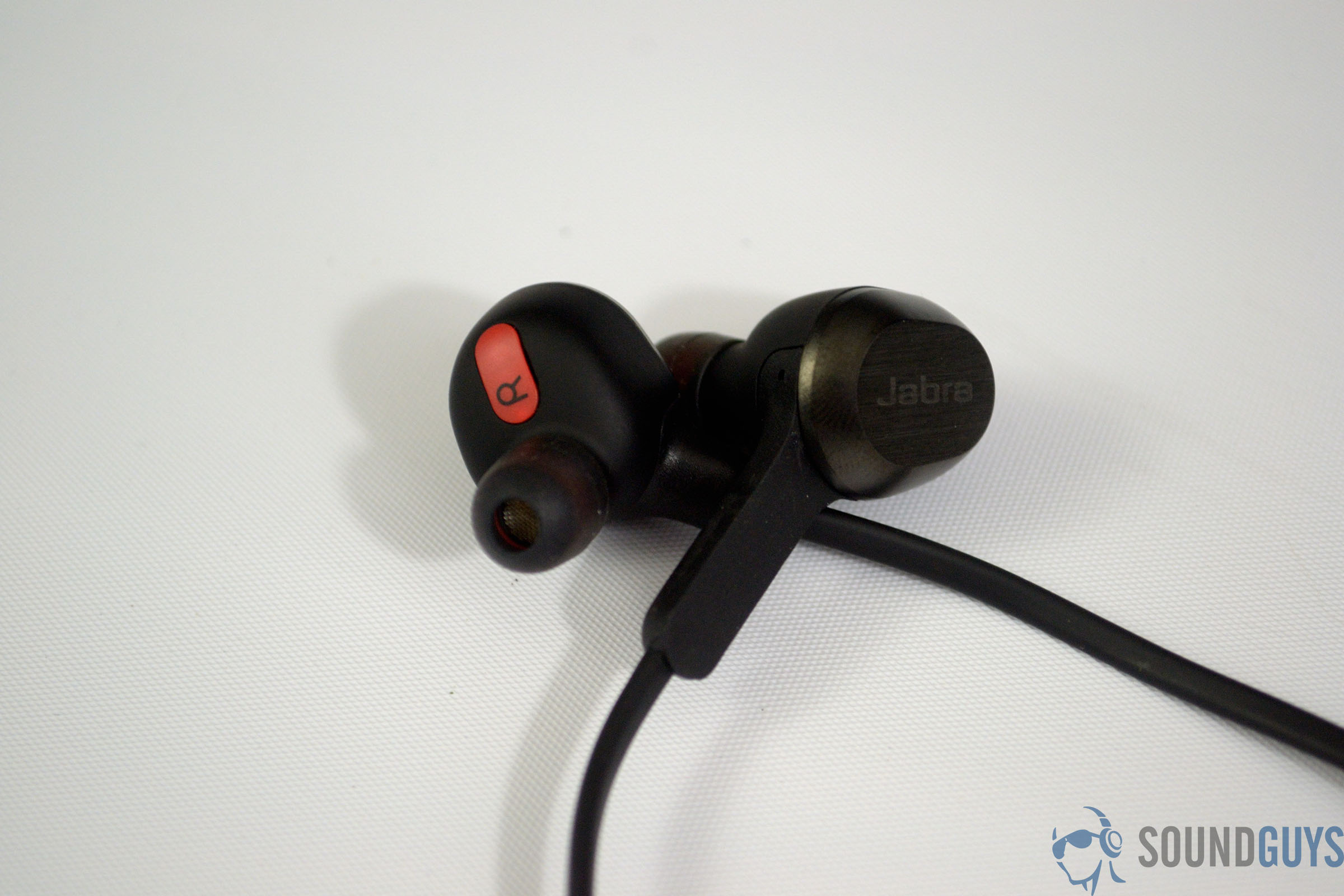 The bottom line
The Jabra ROX sound great and have some novel features, but it's hard to say whether they stand up to competitors on equal ground.
The Jabra ROX sound great and have some novel features, but it's hard to say whether they stand up to competitors on equal ground.
What we like
Great sound
Solidly Built
Dolby Digital Plus
What we don't like
Included pouch feels cheap
Magnets could be stronger
Rating Metric
Sound Quality
9.2
Bass
9.3
Midrange
9.1
Highs
9.2
Durability / Build Quality
8.8
Value
8.2
Design
8.8
Microphone
8.3
Bluetooth has come a long way when it comes to sound quality, and that is a fantastic thing. Gone are the days of hissy, strangled sound or dealing with unwieldy cables snagging everywhere you go. While Bluetooth earbuds and headphones are getting better, there are still a lot of variables that can make or break a good pair.
While Jabra is starting to gain recognition, they aren't widely regarded as one of the top players in the field, like Jaybird for example. Still, when the company came along with the Jabra ROX, we were interested: metal construction, Dolby Digital Plus sound? Sounds good. But do they sound good? Let's take a look.
Features
Dolby Digital Plus sound
Rugged construction (metal, kevlar)
Magnets for easy on / off
What's In The Box
The Jabra ROX earbuds themselves are on display before you even open the box. Everything else is stowed underneath, and despite the small size of the compartment, there's a lot there. First you'll find the usual assortment of rubber tips. In another, similar pouch, you'll find three pairs of Ear Wings, to help hold the ROX in place. Also in the box is a USB cable for charging, a cable clip, and finally, a carrying pouch.
Build & Design
For all that the marketing talks about the rugged nature of the materials that go into the Jabra ROX, they don't seem bulky or unwieldy in use, and this is a good thing. One thing you'll notice however, is that they tend to be on the large side. I'm imagining this is because the drivers in the earbuds themselves are large, because the ROX don't seem particularly heavy.
The build seems fairly solid. Between the metal construction used on part of the buds themselves and the kevlar-reinforced cable, they should stand up to some decent abuse, though I wouldn't try it just for the heck of it. One very cool thing here is that the caps on the back of the earbuds are actually magnetic, allowing them to clasp around your neck when you're not using them. I've seen complaints on the Apple store about the ROX being too big to fit around a person's neck, but they fit around mine just fine, and I'm not exactly small.
I do have a few complaints of my own, however. First, the rubber tips that come with the ROX are a little on the flimsy side. This isn't a big deal if you're using the included wings, but if you're relying on the tips alone, the ROX might have trouble staying in your ears. Second, the pouch that comes with the Jabra ROX is pretty flimsy. For this price, I'd like to see something a little better.
Connectivity
In a pair of Bluetooth earbuds, connectivity is something that can really make or break them. If the connection is unstable or the music skips, that can turn your musical wonderland into an arhythmic terror-dome instead. Nobody wants that. Luckily, that didn't seem to happen with the ROX.
That's not to say I never encountered a skip at all, but it was on par with what I've seen from other wireless earbuds I've tried, including the Jaybird BlueBuds X, the main competitor for this particular pair of 'buds. Range is good, as expected. I was able to get 25 feet away without the music suffering at all, but once I went beyond 30 feet it started skipping quite often.
Jabra even goes a step further in helping you to pair your earbuds. The first time you turn the ROX on, they'll begin playing instructions on how to pair them with your phone. This isn't the first time I've seen this, nor is it the most comprehensive functionality of its type that I've seen, but it was an unexpected extra bit of usefulness that I was glad to see.
The inline remote has three buttons, all with multiple functions, and all of them worked fine. Though sold through the Apple store and marketed toward iOS devices, all of the remote functions worked perfectly fine with my Moto X. Even the double tap and hold related functions worked without a hitch.
Battery
Jabra claims a battery life of around 5.5 hours for the ROX, with a charge time of around 2.5 hours. In my testing, I found this to be very close. After around 5 hours of listening, I got a battery warning, played another song or two and plugged the ROX in to charge. A little over two hours later, they had finished charging.
When it comes to standby time, the Jabra ROX are supposed to last much longer. Since they've only been out a few days, I haven't been able to reliably test this yet. One thing that is sure to preserve battery life is the magnetic on-off functionality. Clasping the ROX around your neck automatically places them into sleep mode. When they are in this mode, unclasping them will answer a call. After you're done talking, clasp them again to end the call.
Sound Quality
Before we get into how the Jabra ROX sound, it's important to state that a good fit is imperative for the best sound quality, especially when it comes to low frequencies. Everyone's ears are shaped differently, and therefore a good fit can be hard to find. With the Jabra ROX, whatever the reason, I had a hard time getting a good fit at first.
I'm not normally a fan of the ear wings included with some Bluetooth earbuds, so I don't tend to use them unless I have to. In this case I had to, and it made a world of difference. Without the wings, the ROX sounded average, with them, they sounded great. There is another part of the equation that can make them sound even better, but we'll get to that in a minute. First, let's tackle the basics.
The low end on the Jabra ROX can be anywhere from anemic to MASSIVE, again, depending on a proper fit. With the earbuds properly secured and with a good fit, the low end felt powerful enough to shake my brain around, at least on bass-heavy music.
That isn't to say that frequencies are artificially enhanced. I played music that I know very well, and all the frequencies were very well represented.
The same can be said for the mids. A lot of people don't pay much attention to the midrange when it comes to headphones, but this is where many of the most important sounds, such as vocals and guitars, is carried. There is a nice definition to the midrange, which is neither over- or under-emphasized.
The highs are crisp and clean sounding. Details like cymbals, orchestral strings and the breath and air of vocals (especially female) came through very well. The highs can be pushed to the point of being irritation with improper equalization, but if left alone, the highs are very nice.
Jabra offers an app for both iOS and Android devices, aptly named Jabra CONNECT. This allows the use of Dolby Digital Plus sound, as well as some additional audio enhancements. Without going too deep into what this actually does, I'll instead describe the result: it sounds like you've just strapped a room with a full sound system to your head. And yes, it's exactly as cool as it sounds.
This can be either slightly good, or VERY good, depending on what you're listening to. The stereo imaging seems to improve, as instruments suddenly sounded behind or in front of me, and with a good mix, this took the sound from very good to absolutely fantastic.
Conclusion
Here is where things get difficult. I really like the Jabra ROX. They're a great sounding pair of earbuds that packs in some really cool features to boot. The problem is that they face some incredibly stiff competition from the Jaybird BlueBuds X, which feature a hard-shell case, offer longer battery life, come with a lifetime guarantee against sweat-related damage, and cost roughly the same amount of money.
Looking at the inclusion of Dolby Digital Plus, the magnetic on / off capability, and the great sound, the Jabra ROX are absolutely worth the money. Personally, I think I would take the Jabra ROX because I prefer the sound, but if you work out a lot or require more battery life, you might want to think twice.