All products featured are independently chosen by us. However, SoundGuys may receive a commission on orders placed through its retail links. See our ethics statement.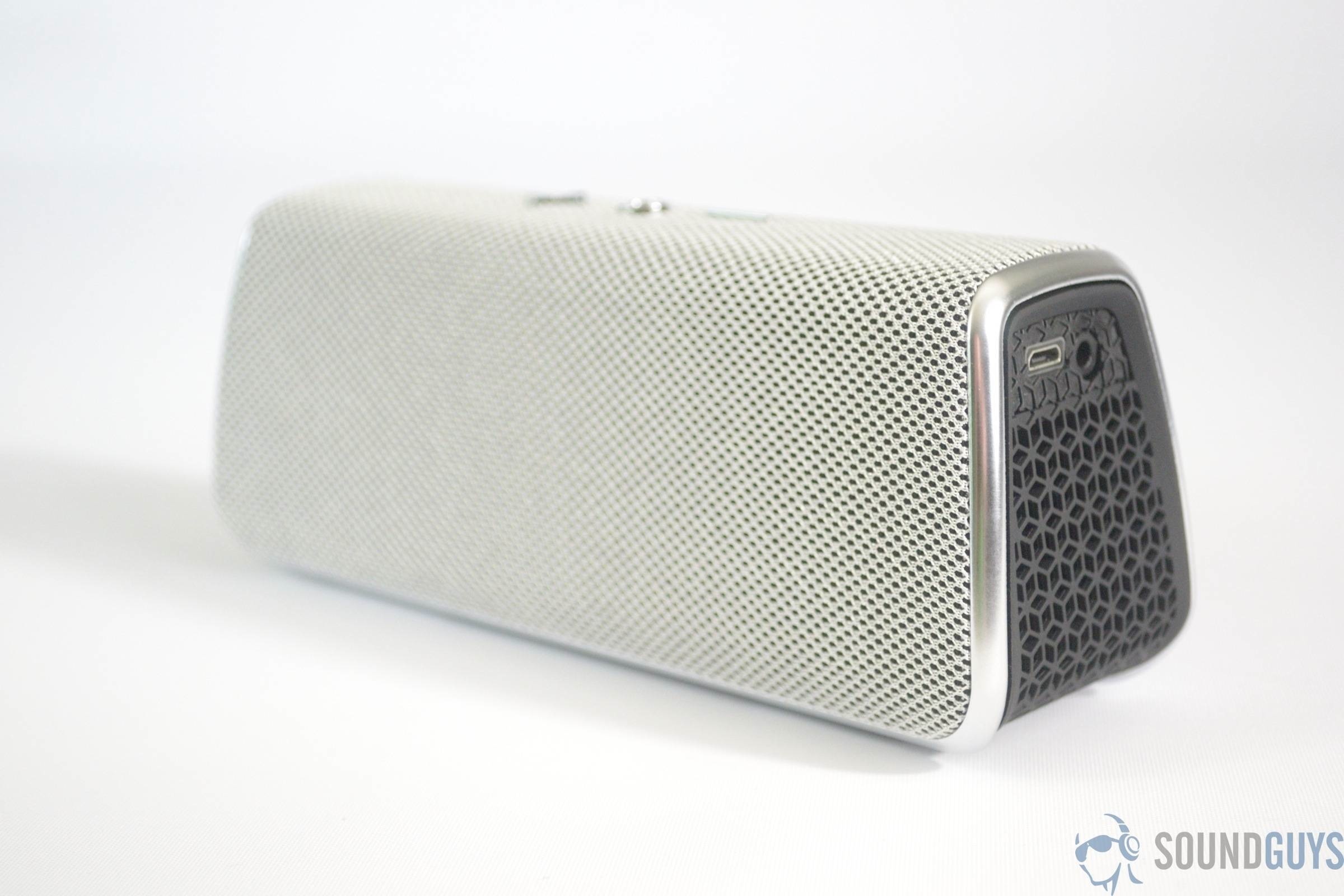 The bottom line
Rugged, stylish, and surprisingly big-sounding, the Fugoo Style is more than worth its asking price.
Rugged, stylish, and surprisingly big-sounding, the Fugoo Style is more than worth its asking price.
What we like
Super tough
Very portable
What we don't like
Somewhat lacking in bass
Rating Metric
Sound Quality
8.0
Bass
7.7
Midrange
8.4
Highs
8.2
Durability / Build Quality
9.5
Value
9.2
Design
9.1
Microphone
9.0
Portability
9.5
There are plenty of Bluetooth speakers out there both good and bad, but generally, there seem to be a few rules that always apply. One of these rules is that sure, you can get a rugged Bluetooth speaker that can withstand any conditions you throw at it, but it's going to look like some sort of monstrosity, and it probably won't sound amazing either. What if that wasn't the case?
Enter Fugoo — the speaker, not the fish. Fugoo makes Bluetooth speakers that combine weather resistance, style, and good sound quality all it one single speaker. Yes, the idea that this could exist may seem shocking, but that's what they claim to do, while also boasting insane battery life. This seemed to be too good to be true, so we knew we had to take a look at one of these speakers, and soon enough, we had our hands on a Fugoo Style.
What's In The Box?
The box containing the Fugoo Style is clear plastic on top, so the speaker was immediately visible, though removing it took a little longer than usual as it's attached to the platform that it sits on by thumbscrews. Everything else is tucked in the box underneath. Here you'll find the AC adapter, USB cable, 3.5 mm audio cable and accessories bag.
Build & Design
Fugoo uses an interesting modular system, where the core speaker is the same, but the different models are actually different "jackets" worn by the core speaker. We're looking at the Style model, though a Sport model and a Tough model that Fugoo claims is "virtually indestructible" are available as well. Say you bought the Style model and decide you'd like a different look, additional jackets can be bought for $39 or $49 each, depending on the model.
An interesting fact to note is that while the Tough model is indeed tougher, every model of the speaker is IPX67 weather resistant. This means that the speaker is snow proof, sand proof, and can withstand being submerged in water for 30 minutes. That makes it tougher than speakers we've tested that look like they could double as tire blocks.
While the Fugoo is tough, that's not all it has going for it. For starters, it's also super portable. The Fugoo Style weighs just over one pound, and measures 7.4 x 2.9 x 2.3 inches in size. Fugoo takes this a step further still by including a bike mount. If you've ever been bicycling through the mountains and thought to yourself, "this moment would really be better with a little Motörhead," you're in luck.
Connectivity
We've seen a few pairs of headphones that talk to you, and audio cues in Bluetooth speakers are nothing new, nor are Bluetooth speakers that talk, but it was still a pleasant surprise when we first turned the speaker on and it provided instructions on how to pair. It's not only handy to have these audio cues, but essential, as aside from an LED power light, the speaker has no visual cues as to what is going on. There's a minor downside in that the speaker's "voice" is fairly loud and the volume can't be changed, but it can be turned off, so it's not that big of an issue.
No NFC pairing is available, but considering the audio instructions and the fact that you pretty much only need to pair once, this isn't a huge problem. Bluetooth range easily hits the standard 30 feet, and during testing there was never a moment where I experienced audio drop outs or stuttering as long as I stayed within that range.
The Fugoo has a built-in noise reducing microphone and support for full duplex speakerphone. In additional to making calls, the speaker also allows you to use Siri and Google Now without issue. Calls made over the Fugoo worked very well, and outgoing call quality was as good as can be expected in a speakerphone situation.
Battery
When I first read that Fugoo claimed 40 hours of battery life, I thought that it had to be a misprint, but research proved that this is indeed the quoted battery life. I had my doubts, but I managed 35 hours of use before I plugged the speaker in, and I could have gotten more, I just plugged it in because it was a convenient time to do so.
It's hard to overstate hour important battery life is to portable speakers, and I'm honestly surprised more people aren't talking about this. The battery life alone makes this an excellent choice for weekend trips.
Sound Quality
Stereo is nearly impossible to attain in smaller speakers, so Fugoo decided not to really try, and instead, focused on 360 degree sound. There is no "right" way to listen to the Fugoo, as it fires sound in all directions. To do this the company uses a total of six speakers: two tweeters, two midrange drivers, and two passive radiators.
In testing the Fugoo Style, I plugged it in and played CDs and lossless audio files through a Focusrite Saffire Pro 40 for a little bit, but for the most part, I tested via a Bluetooth connection. During testing, I listened to a wide variety of music representing different genres, styles and instruments. Additionally, I listened to a few podcasts and audiobooks to test spoken word performance.
In a speaker this size, you're never going to get incredibly powerful bass, so we didn't expect it, and the bass is a little weak. On the upside, you don't get the feeling that certain frequencies are simply missing. This won't shake the floor, but it isn't anemic-sounding either.
Midrange is fairly decent, and the boxiness that can often be present in speakers of this size isn't an issue here. There is a fair amount of depth to the mids, giving guitars and vocals a nice strong presence.
The highs are strong and clear, though depending on the music you're listening to, there can be a little hint of harshness in the high end.
As mentioned above, and as is always the case with Bluetooth speakers, the surface you place the Fugoo on is going to have a dramatic effect on sound quality, as will the surfaces surrounding it. Taking a little time to play with positioning the speaker will definitely benefit your listening experience.
Overall, this is a good sounding speaker considering the size, and much better than we were expecting.
Conclusion
In the end, it seems that all of Fugoo's claims turned out to be true. The Fugoo Style is a Bluetooth speaker that has the style and sound quality of a "normal" Bluetooth speaker, but also happens to be super tough and have the best battery life we've seen too date. Initially, we were skeptical of a $199 price tag on a speaker this size, but after seeing it in action, the Fugoo Style is more than worth its asking price.