All products featured are independently chosen by us. However, SoundGuys may receive a commission on orders placed through its retail links. See our ethics statement.
The bottom line
These are a really solid set of high-pedigree home theater speakers. But be prepared to shell out for them.
Focal Sib Evo
These are a really solid set of high-pedigree home theater speakers. But be prepared to shell out for them.
Model Number
Sib Evo Dolby Atmos 5.1.2 system Black
What we like
Sound quality
Easy setup
Dolby Atmos ready
Powerful
What we don't like
Heavy
Costly
Rating Metric
Sound Quality
9.5
Bass
9.1
Midrange
9.3
Highs
9.6
Durability / Build Quality
9.1
Value
5.5
Design
8.9
For those of you who aren't aware, Focal is a French speaker company that produces some outstanding audio equipment. Go into any recording studio, 1%er listening room, or audiophile showroom, and there's a really good chance you'll see some Focal monitors kicking around. So when I got a large package the other day with the Focal logo on it, I was a little perplexed, but interested to see what it was. Turns out, I was about to get my paws on the brand new Sib Evo 5.1.2 sound system.
What's in the box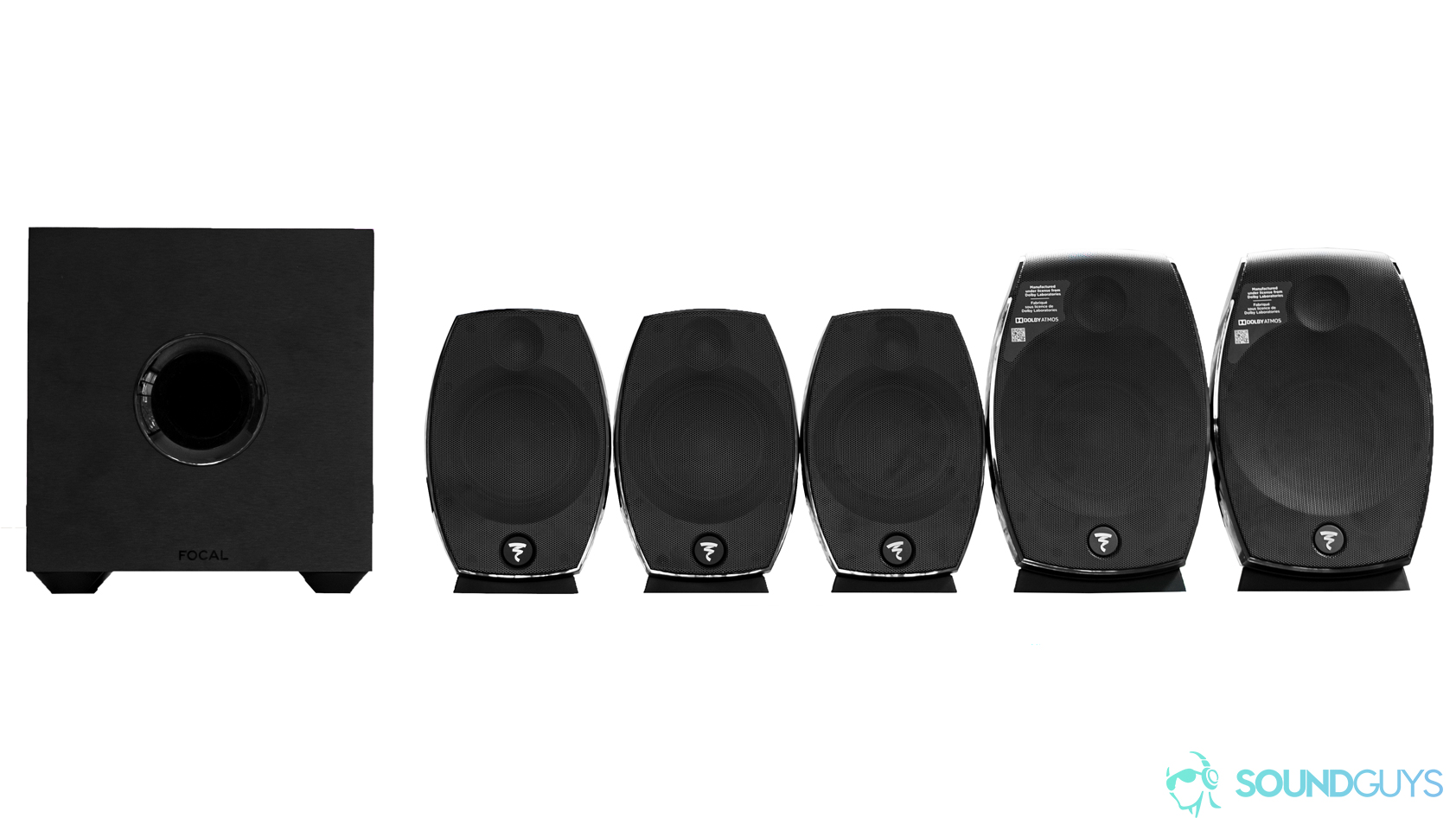 This is fairly basic in terms of speaker setups, but these babies sing.
When you liberate your system from the box, you'll be greeted with three small speakers, two larger speakers, power cables, assorted documentation, two speaker mounts, and the Cub Evo subwoofer.
Design and specifications
Much like anything Focal, the design of the Sib Evo is a touch flashy, but eminently functional. All five speakers contain 5″ Polyflex woofers paired with a 3/4″ soft dome tweeter, but the two large speakers up front also have a 4″ upward-firing full-range element. This is used exclusively for the Atmos height information, which probably won't see much action unless you're actually using Atmos encoded content. The three smaller speakers have a bass port on the top of their backs.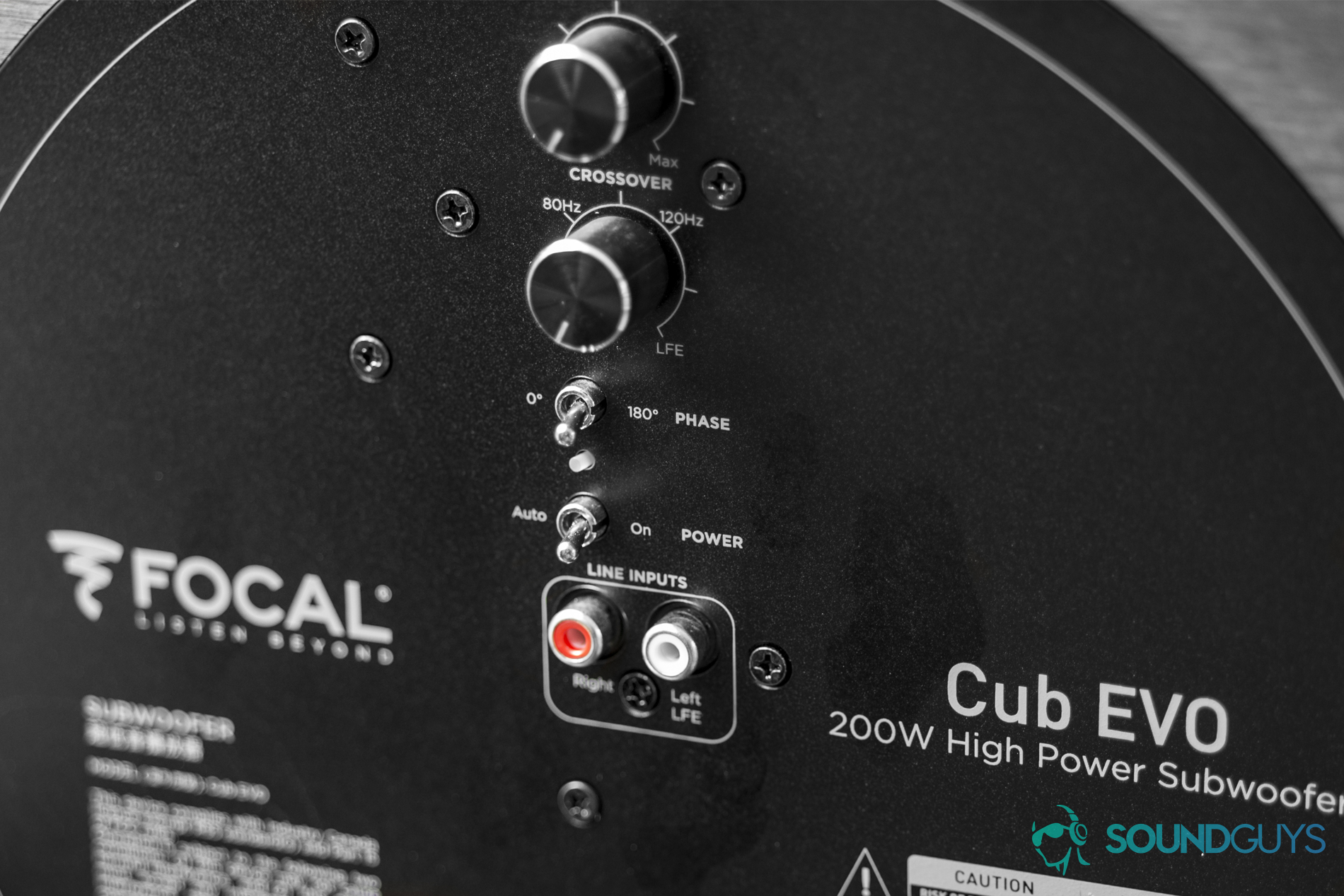 The back of the subwoofer is as straightforward as they get, which is a plus.
The woofer unit is a near-perfect matte cube, with a minimalist look. I suppose this might have something to do with the fact that Focal recommends shoving this guy in a corner, but like the rest of the setup: it's easy on the eyes. This down-firing unit is fairly featureless, save for a phase switch, power switch, two knobs adjusting crossover, and a power connector.
Taking a peek at the main drivers of the Focal Sib Evo, you'll notice these 7lb. monsters are quite curvy from the casing to the speaker grill. For best results, these go about 3 meters away from your intended listening position, and 2 meters apart from each other. You can actually angle any of the speakers in the Sib Evo by unscrewing the bottom and adjusting the pre-assembled stand attached to each unit. That's a pretty cool design point, even if it isn't the most exciting. I appreciate any step that takes frustration out of setting up a home theater.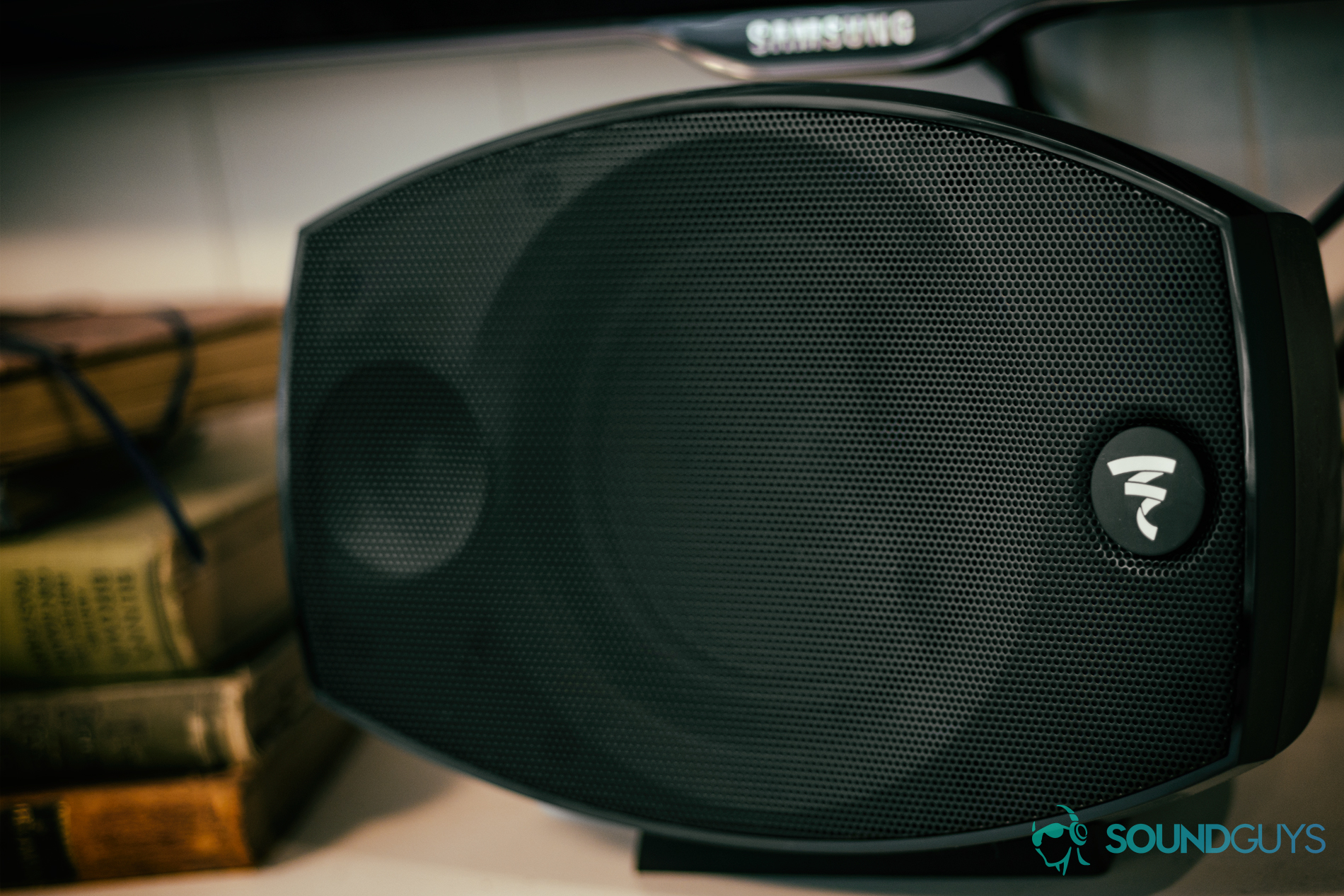 The little speakers may seem small, but they're powerful enough to rock the house.
If you're handy with a power drill, you'll want to mount two of the smaller speakers behind you, while the last one should be turned to its side and mounted back onto the stand using the included sticker. This one will serve as your center channel. I appreciate having a center channel set up because it's a great thing to unplug the little guy when watching sports—it's the channel dedicated to playing back the announcers. So if you're as tired of Joe Buck and Boomer Esaison as I am, this is a handy little lifehack.
Focal
Connection and setup
Setting up the Focal Sib Evo is thankfully no more difficult than it is to set up any other speaker system, assuming you have a receiver that can handle the Atmos processing, that is.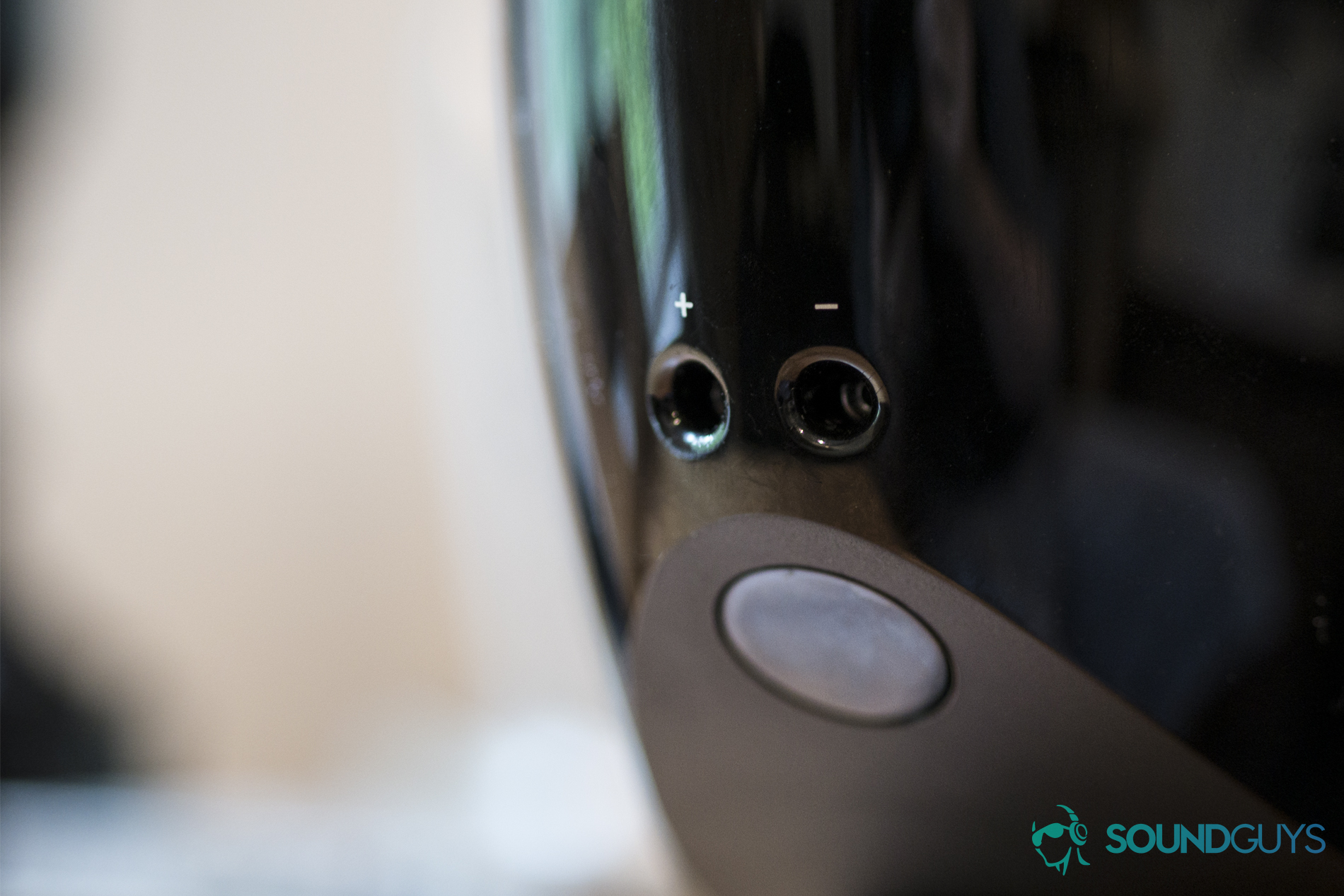 The speaker wire ports are a little finicky, but can take up to 12 gauge wire.
Using 12 AWG (or 16, if you're desperate) gauge speaker wire, press the button on the back to open the wire sockets and connect your speakers to the receiver, while using the shortest amount of wire that you can. While it's unlikely that your receiver will be unable to power these guys, they do take a fair bit of current to drive. They are rather good drivers, after all.
As I mentioned before, the sub goes in a corner of the room in front of you, while the Atmos speakers go 3m away from you, 2m apart. Two of the small speakers go behind you, while one of them serves as the center channel in front.
Once everything is set up, you need to go into the settings of whatever's driving the signal to enable Dolby Atmos surround. Easy peasy.
Sound quality
Wow.
So the first thing I did when I hooked these puppies up into my receiver was to play a bit of music from the 70s, 80s and so on to take me through different mixing styles. I've gotta say, I'm sufficiently impressed. The speakers never struggled with power: these things can get loud.
On top of that, the small speakers do a fantastic job of handling their own, whether you have two or three hooked up. Even without the sub hooked up, there's no shortage of bass, which was a welcome surprise. Adding in the sub kicks up the bass, and there isn't any audible distortion added to your music. The drivers to exactly what's asked of them, no more, no less.
There's a lot of power in this lineup.
I will say that speaker placement does matter a lot to get the most out of them, so I suggest using your receiver's included mic to calibrate, or even use a tool like Room EQ Wizard (free) to deal with your room's natural resonances and layout. It may seem silly, but corners, furniture, and other layout issues can impact your music—but you can compensate for most of it if it's a big deal to you.
However, the suggested layout in the instruction manual is pretty damn close to what I ended up with. Of the home theater systems I've set up, this is probably the best-out-of-box experiences I've had in a long time.
If the angle of your speakers aren't quite right, use the bottom screws to adjust the stands' angle.
I wasn't able to kick the tires on the full Atmos system (I don't have an Atmos-ready receiver), but it's nice to know that if/when you grab the right equipment, your speakers can handle the minimum requirements for a new generation of surround sound. On their own, the Focal Sib Evo seemed to do great with the standard output of my existing stack, so I have no reason to believe the Atmos system will struggle either.
Conclusion
These speakers are great, it's a rock-solid system that has the quality to back up the price—even though many competing models are quite a bit cheaper. Obviously, you will need a receiver that can support Dolby Atmos, and that'll add to the strain on your wallet.
But aside from price, I really don't see much of a downside to these speakers. Really, they offer a high level of audio quality in a package that can handle pretty much anything you throw at it. The Sib Evo is built to handle the next 5 years of home theater tech, and that's nothing to turn your nose up at.
The mid to high-end of the market is quite saturated, so you'll have to weigh your priorities when you consider the Sib Evo against soundbars, floorstanding systems, and others. You may find that you're unwilling (or unable) to make the most out of the system with the wall mounts, or the cost of a proper receiver stretches your budget just a bit too thin. Still, these are fun as hell.
The Focal Sib Evo 5.1.2 will be available in August 2017 but you can learn more about them and book a demo to hear them for yourself via this link.