All products featured are independently chosen by us. However, SoundGuys may receive a commission on orders placed through its retail links. See our ethics statement.
8.4
Fluance AB40 Soundbase
The bottom line
If you want good sound quality on a budget, the Fluance AB40 soundbar performs admirably with a few quirks.
Fluance AB40 Soundbase
If you want good sound quality on a budget, the Fluance AB40 soundbar performs admirably with a few quirks.
What we like
aptX<br>
Easy setup<br>
Angled drivers<br>
Bass boost and 3D toggle<br>
High-value soundbar<br>
What we don't like
Remote commands not always received<br>
Must use Fluance remote for volume adjustment<br>
Sub-par Bluetooth stability<br>
Rating Metric
Sound Quality
8.6
Bass
8.6
Midrange
8.3
Highs
8.4
Durability / Build Quality
8.4
Value
8.3
Design
8.0
Deciding on a home theater setup is a daunting and expensive task that can easily empty your wallet. But the Fluance AB40 soundbar demonstrates that you don't have to drain your bank account to get great sound. This aptX supported speaker may not look remarkable, but for just over $200: the sound quality is nothing to sniff at.
Who is the Fluance AB40 for?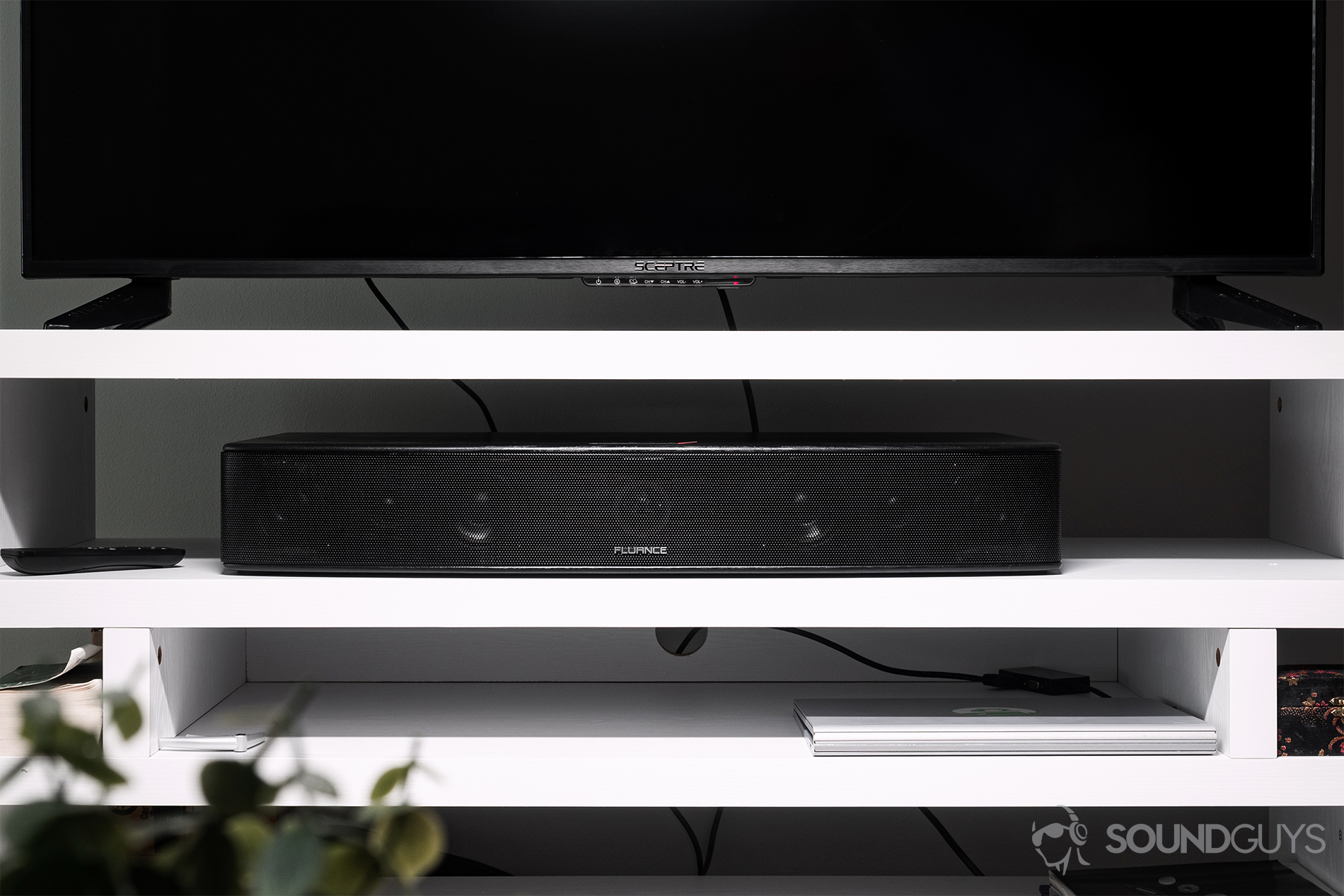 The Fluance AB40 is 66cm long and weighs 10.9kg. Even the all-black paint job can't slim this large soundbase.
These are for listeners who want a home theater audio setup without shelling out insurmountable sums of cash for it. Whether this is your first or fifth home audio purchase, the Fluance AB40 is a bargain.
Given the no-fuss nature of setup, the AB40 is an appropriate option if you're intimidated by optical inputs and the like. While this does include an optical input for those who want to expand the system, you'll do just fine with plugging the included AC adapter in and pairing via Bluetooth.
What's included
You get a Fluance-branded remote, a 100-200V AC adapter, a quick start guide, and the 10.9kg AB40 soundbase.
Fluance AB40 build and design
There's no avoiding it; the Fluance AB40 is large. And while the wooden cabinet looks nice, particleboard feels cheap to the touch. However, on the back of the speaker you'll find a tuned side port, which helps improve low-end frequency response. Emphasized bass notes, which is great for action and horror flicks—as well as your music.
Beneath the metal grille are dual tweeters and four aluminum drivers.
Wrapping around the entire front element is a metal grill that protects dual 1" tweeters, and four 3" aluminum dynamic drivers powered by an internal 90W amplifier. The outermost drivers are angled outwards at 35º, allowing for a more even distribution of sound than just front-facing speakers. What's more, the dedicated tweeters assist in accurate reproduction of treble frequencies.
Integrated into the wood cabinet on the top panel are four touch controls. If you lose the remote, you can access the most important functions directly from the soundbase including powering the AB40 on/off, choosing your media source, and making volume adjustments.
If you're looking for a sexy, compact solution to all of your home theater needs, you'll want to keep looking. Being 66cm long and 36cm deep means that the Fluance AB40 is a conspicuous piece of hardware—no matter what shade of black its dressed in. Additionally, the 10.9kg (24lb) weight may not seem heavy, but the cumbersome shape makes it difficult to maneuver around for placement.
What can I control with the remote?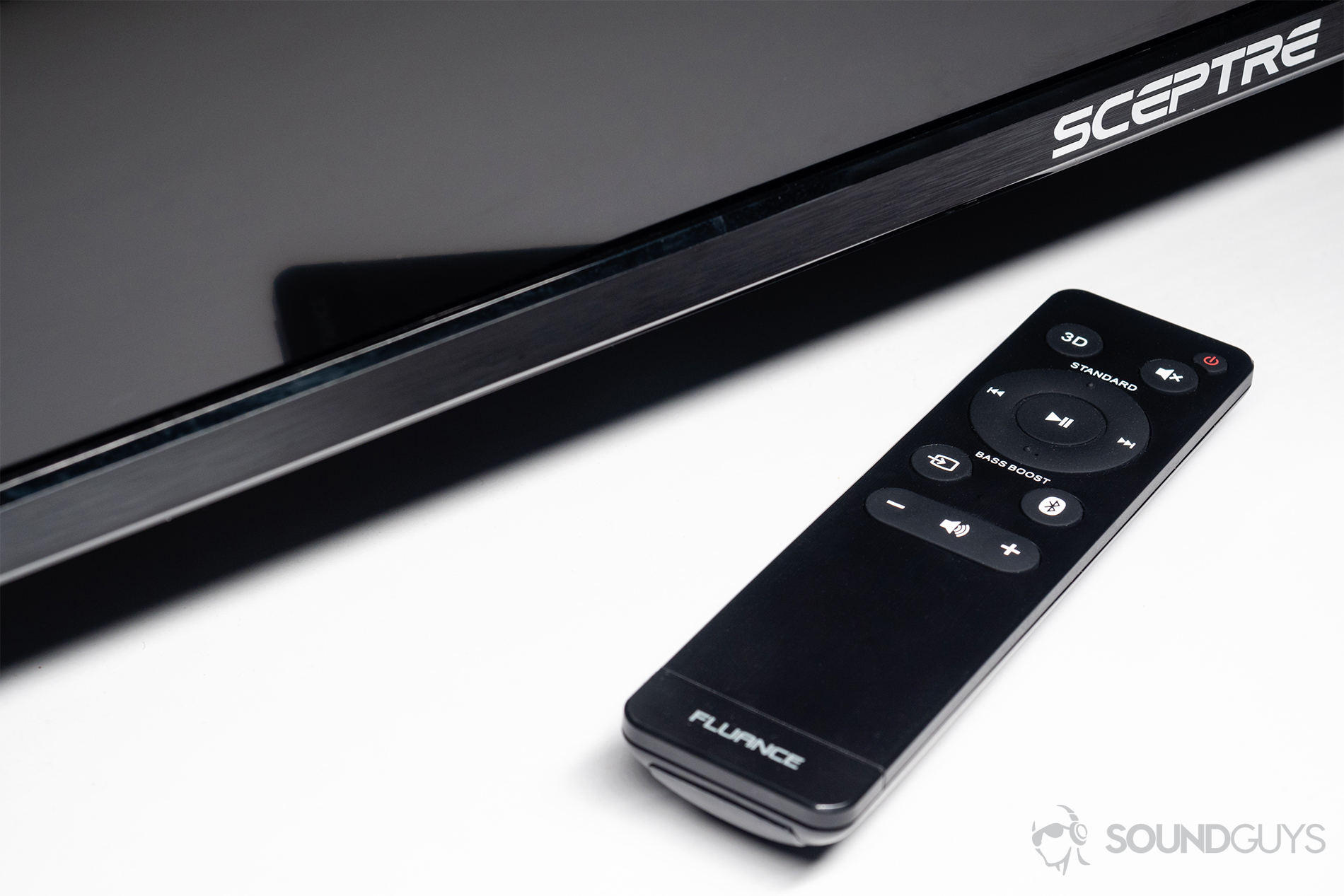 Included with the Fluance AB40 is a remote which must be used to make volume adjustments.
Power on/off
3D sound mode
Mute
Play, pause, and skip tracks
Alternate between bass boost and standard sound
Source toggling and Bluetooth pairing
Volume adjustments
It's worth noting that when using the AB40 soundbase, you can't use your TV or cable box's remote to adjust the volume. If you want to do so, you have to use either the Fluance remote or the top-panel touch controls. It's not a huge deal, but an odd limitation.
Connectivity
By support aptX, users can connect via Bluetooth without running into latency issues.
Hidden away in a rear alcove are three inputs: optical, AC adapter, and auxiliary. Just like the Fluance Ai40 bookshelf speakers, the AB40 is built with simplicity in mind. For wireless listening, the speaker should automatically connect to a designated paired device after the initial pairing process. It can then remain connected for three meters. Although, it struggles to maintain a connection if you move into an adjacent room.
Another minor issue pertains to the auto-connect functionality. With multiple devices paired to the Fluance AB40, it struggles to automatically connect to a device. An easy workaround, however, is initializing Bluetooth on the desired source device before the others. It's a nuisance, but a solution nonetheless.
What do all of the LED flashes mean?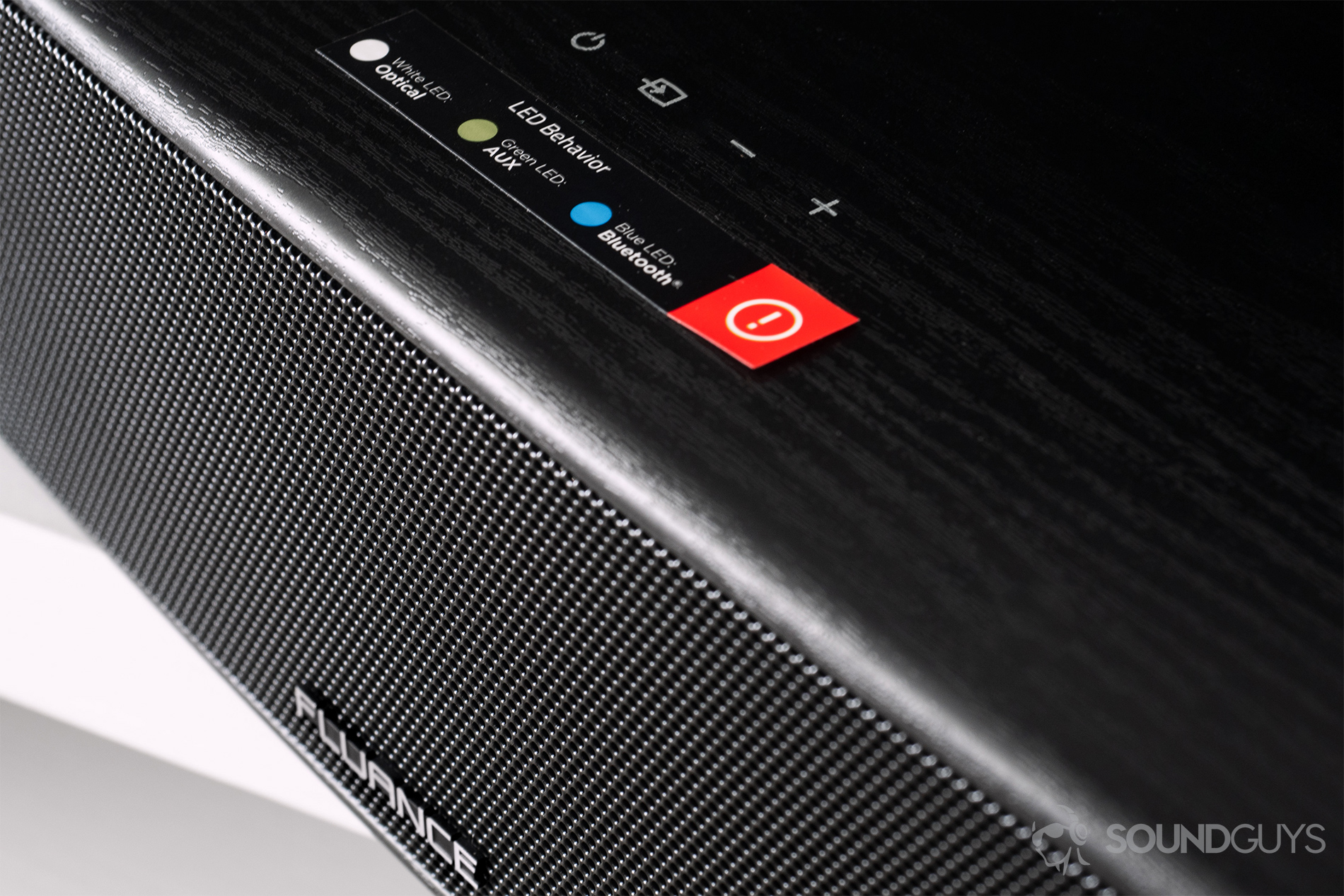 A response touch interface can be accessed from the top of the wood cabinet.
White: Optical connection
Green: Auxiliary connection
Blue: Bluetooth connection
When toggling 3D sound mode on and off, the LED will flash twice when enabled and once when disabled.
How does the AB40 sound?
Even without the bass boost activated, it boasts a bass-heavy sound. While this may not be ideal for music because the over emphasis can be grating, it's great for movies and TV shows. In the movie Emelie's opening scene a car rolls up, its engines rumble palpably. While the bass port doesn't have quite the same effect as a designated subwoofer, it gets you most of the way there. Plus, the character Anna's voice is still relayed clearly within the scene.
When alternating between having the 3D sound mode on and off, the same scene is more immersive than listening through my TV's downward-firing speakers. And having it on made it sound like autumn was in the air. I could hear the light wind rustling between crunched leaves before and during the car's entrance.
Although the design is unassuming, the seams between the wood and metal pieces are perfectly aligned.
Having watched this scene repeatedly with the 3D mode toggled on and off, it's safe to say that it makes a difference. But if you want true surround sound, you're going to have to shell out a bit more cash for something like the LG SK10Y, or at least something that's Dolby Atmos supported. However, for just over $200 you'd be hard-pressed to complain.
It is worth mentioning, however, that where you sit matters with the Fluance AB40. If I was 60º off-axis from the base's direct projection, the scene in question sounded unnatural despite the angled peripheral drivers. When hosting a movie night, seat your least favorite people on the outer edges of the group because listening like this is disorienting.
Bass boost vs. standard mode
By opting for bass boost, the low-end receives ample emphasis which, again, is great for movies and TV shows. That said, if you're purchasing the AB40 soundbase for music, you'll want to use standard mode. The built-in bass port still works to improve bass response but it won't be overbearing. The only instance where bass boost may be preferred for music is if you're hosting a party. In that case, of course you're going to want some bump in that bass.
Should you buy it?
Yes, much like the company's bookshelf speakers, the Fluance AB40 is an absolute steal. By featuring aptX compatibility along with an auxiliary and optical input, users are granted the liberty to connect how they want without feeling overwhelmed by options.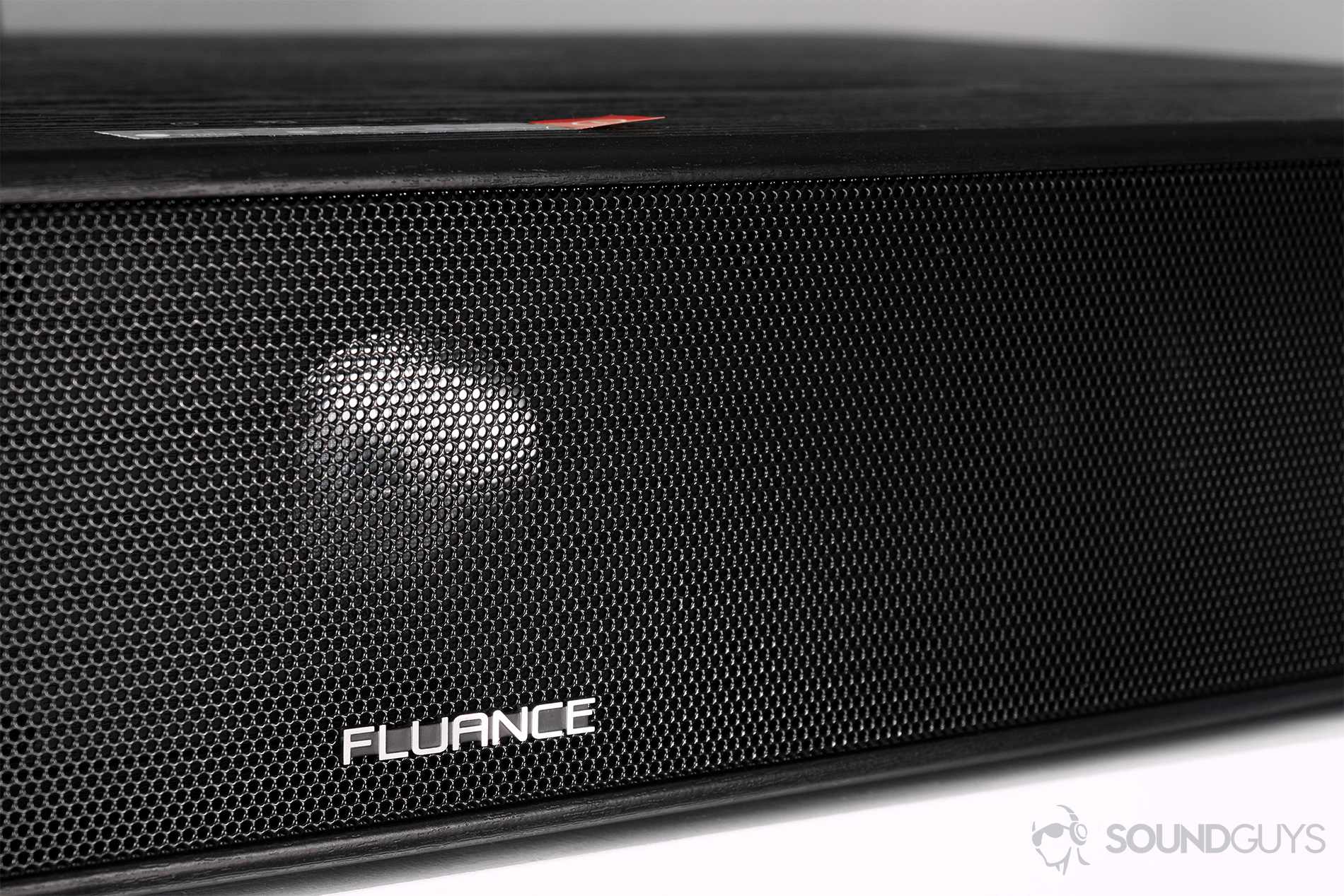 The Fluance AB40 is a bargain soundbase with excellent bass response.
Naturally there are a few quirks of the soundbase. For one, sitting off-angle from the main drivers can result in a distracting listening experience when watching a movie and being confined to volume adjustment through the remote-only is annoying, but these are small complaints given the reasonable sub-$210 price.
Still looking? Read up on our list of the best cheap soundbars