All products featured are independently chosen by us. However, SoundGuys may receive a commission on orders placed through its retail links. See our ethics statement.
Fixbeat begins campaign for new Boombox Touch speaker
Georgia based company Fixbeat has started an Indiegogo campaign for their new sub-$50 wireless speaker that doesn't even use Bluetooth.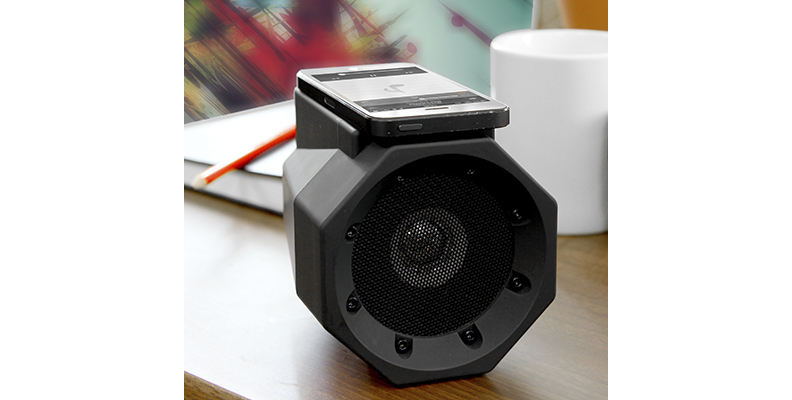 A new Indiegogo campaign by Georgia based company Fixbeat popped up yesterday with a new wireless speaker called the Boombox Touch. Without the use of Bluetooth or Wifi, the Boombox Touch Speaker is able to amplify the sound coming from a phones speaker simply by placing the phone on the flat top of the speaker.
Fixbeat used a new technology called NearFA™ that acts as a sound amplifier for devices within a short distance. Simply play a song and place your phone on top of the speaker and the sound coming out of your phones external speakers gets played through the speaker for a noticeable boost in volume. The advantage to this technology is that it is lower in power consumption than Bluetooth and has a lower cost of production as well. This allows devices to get more juice out of their batteries for cheaper. In the case of the Boombox Touch the built-in 850 mAh battery is estimated to give around 10 hours of constant playback.
However, it's not all rainbows and butterflies. The speaker does come with it's faults, one of them being that it has a frequency range of only 100Hz – 20kHz. This means that if you're looking for solid low end sound this probably is not the device for you. That said, the Boombox Touch can be had for only $39 and at the low price the loss in low-end quality might be manageable if you simply want to increase the volume of your phones external speakers in a cool new way.
Though it may not be your go-to speaker for large parties, I can definitely see it being used between friends taking turns placing their phone on the speaker. If you're the friend who uses an MP3 player without an external speaker you can still partake in the fun with the 3.5mm auxiliary input found on the back of the speaker.
The team at Fixbeat is looking to raise $22,000 to make this speaker a reality. Since the campaign only began yesterday at the time of this post, there is still plenty of time to achieve the goal before it ends on May 3rd. For those who back the project you can expect to get yours sometime in May of this year. If you have a spare $39 laying around and want to treat yourself, make sure to back the campaign and guarantee your speaker.