All products featured are independently chosen by us. However, SoundGuys may receive a commission on orders placed through its retail links. See our ethics statement.
EMTEC Stay Review
The EMTEC Stay wireless earbuds aren't the best out there, but they're certainly a solid pick in this price range.
[button type="link" link="https://geni.us/2Gz6″ size="btn-lg" variation="btn-primary" block="btn-block"]Buy now from Amazon ($63)[/button]
As a company, EMTEC as been around for a long time, but as a purveyor of audio products, they've only just made their way on to our radar. That doesn't mean we're ready to discount them right off the bat. Far from it, actually. Some of our favorites from the past year have been companies that don't have a major reputation in audio.
The EMTEC Stay wireless earbuds seem like a fairly standard pair of earbuds on paper, which makes sense, because they are. A look at the price — $69 list — is what makes these look a whole lot more interesting.
What's In The Box?
Open up the box and you'll be greeted by the manual. Underneath, you'll find the headphones tucked halfway inside the included carrying bag and two pairs of additional ear tips. Take the headphones out of the bag and you'll find the USB charging cable and clothing clip.
Build & Design
The EMTEC Stay earbuds only seem to be available in one color option, but luckily it's a striking metallic silver and red combo. This gives the earbuds a look that doesn't give away their budget price point. Unfortunately, certain aspects of the build don't fare as well.
The earbuds themselves are light, but the electronics are packed into a "lump" on the cable. You can use the included clothing clip to clip this to your shirt — you'll probably have to in order to keep them from falling out — but it makes the headphones less enjoyable to use. After a while you'll get used to it, but it certainly isn't a positive aspect of the headphones.
Maintaining a proper fit using the three different ear tip sizes will help to keep the earbuds in place, but even then you'll notice another issue: an annoying rattle that comes out of the remote when you move around.
Connectivity
All of the usual Bluetooth connectivity options including aptX are available in the EMTEC Stay. You won't find NFC, but you shouldn't expect it either. Pairing is simple, and the earbuds automatically enter pairing mode when you turn them on for the first time.
Range is the Bluetooth-standard 30 feet. The Stay earbuds mostly worked as intended, though we did notice some signal loss as we pushed the limits of their range.
The remote is the standard 3-button variety. The center button is the multifuntion button. Holding it down will turn the headphones on or off, while tapping will pause and resume playback or answer and end calls. On an iPhone, tapping the + and – buttons will raise and lower volume, while holding them will skip audio forward and backward, respectively.
Battery Life
EMTEC claims a battery life of around 5 hours for the Stay, and we found this to be right on the money, though occasionally we'd get a little over 5. Charge time was fairly quick at less than two hours.
The USB charging cable fits in the included carrying case, which is a good thing, because you'll be charging these fairly often if you use them with any regularity.
Sound Quality
Bluetooth is the only method of playback here, though we did test on an iPhone 5s, Nexus 5, and Windows laptop.
Whether or not the lows are any good depends on how good of a fit you get. With a proper fit, the low end is solid and very good for rock, but if you prefer the heavy thumping bass prevalent in some genres, these may not have enough bass for you.
There is a nice open, unrestrained sound to the midrange that is strange to find in more budget-focused earbuds. There is also a slight boost in the 1 kHz range that helps vocals stand out, but can also give some songs a "honking" quality.
The highs offer nice detail on vocals without becoming overly sibilant, and cymbals were well represented without harshness. The same high-end rolloff we normally see in wireless earbuds was present here.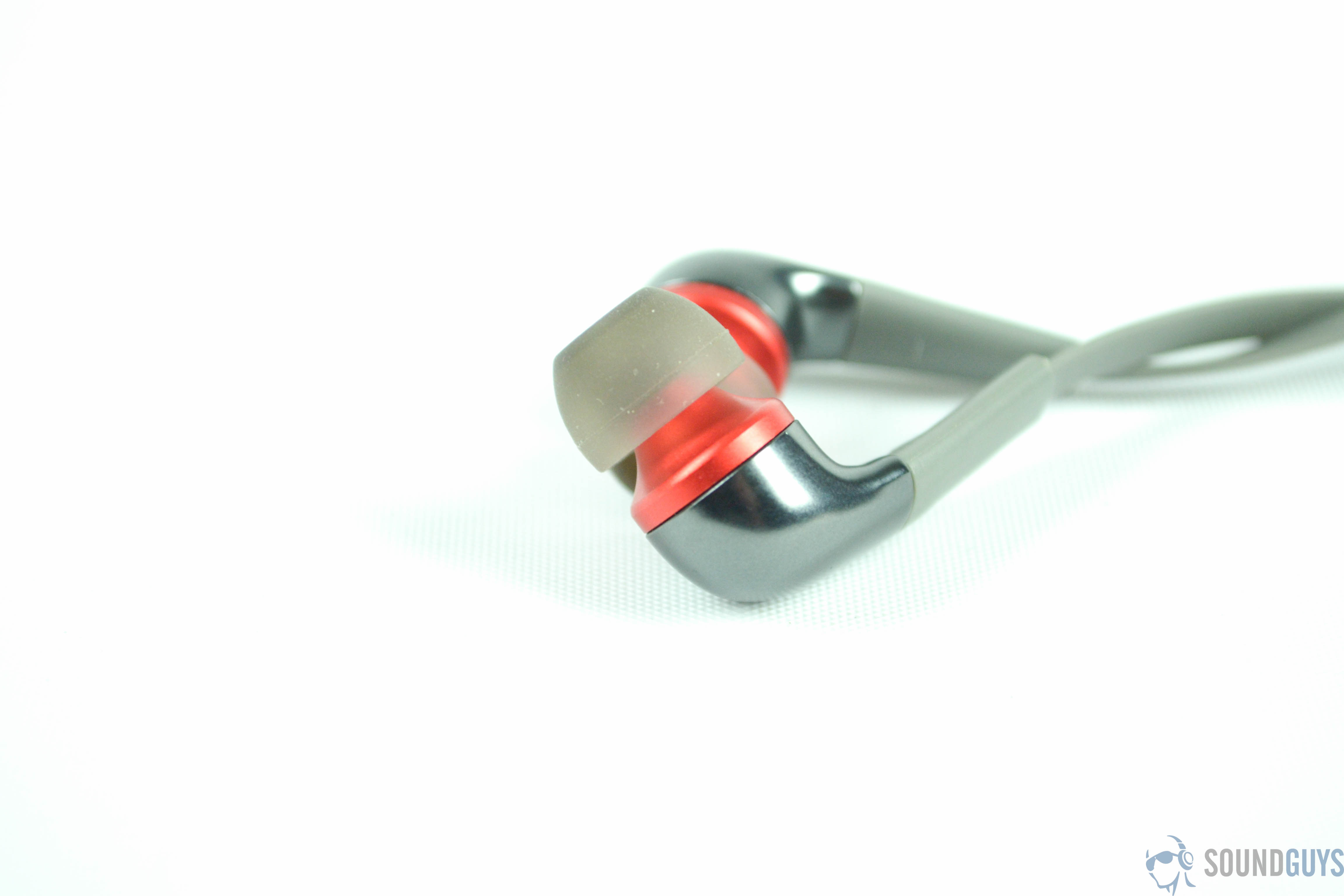 Stereo imaging was nice, and the soundstage was surprisingly good considering we're talking about an inexpensive pair of wireless earbuds here. Noise isolation was very effective as well.
There is occasionally some slight distortion at higher volumes, but overall the EMTEC Stay make for a pleasant listening experience.
Conclusion
Yes, the EMTEC Stay have their share of issues — mainly relating to the electonic lump on the cable and the battery life — but these problems can be dealt with, and what you get in return is an excellent value. The main competitor EMTEC will see with the Stay earbuds lies in the Plantronics BackBeat GO 2, but as this is a better sounding pair of earbuds, they might be the better between the two.
If you're looking for a pair of wireless earbuds for $70 or less, these are absolutely worth looking into, especially if you'll only be wearing them for a few hours a day and don't plan on taking them to the gym.
[button type="link" link="https://geni.us/2Gz6″ size="btn-lg" variation="btn-primary" block="btn-block"]Buy now from Amazon ($63)[/button]