All products featured are independently chosen by us. However, SoundGuys may receive a commission on orders placed through its retail links. See our ethics statement.
Electrohome Signature Review
The Electrohome Signature is unlike most of what we review, and it's not for everyone, but it does what it does very well.
UPDATE [January 2022]: Unfortunately, Electrohome discontinued this product. We haven't reviewed many products quite like it. The best alternative we can offer is this selection of turntables. If you do end up investing in a record player, don't forget to get a suitable turntable speaker along with it.
Here at SoundGuys, we end up reviewing a lot of similar products. Speakers are speakers and headphones are headphones, so what do you expect? It's not like you'll be seeing us reviewing restaurants or watercraft anytime soon. That said, we like variety, and we're sure our readers do too, so every once in a while we like to take a look at something a little different.
In terms of what we review, the Electrohome Signature is definitely different. This all in one music combo does have built-in speakers, but that's about as close as it gets to anything we've reviewed to date. This is going to be fun.
What's In The Box?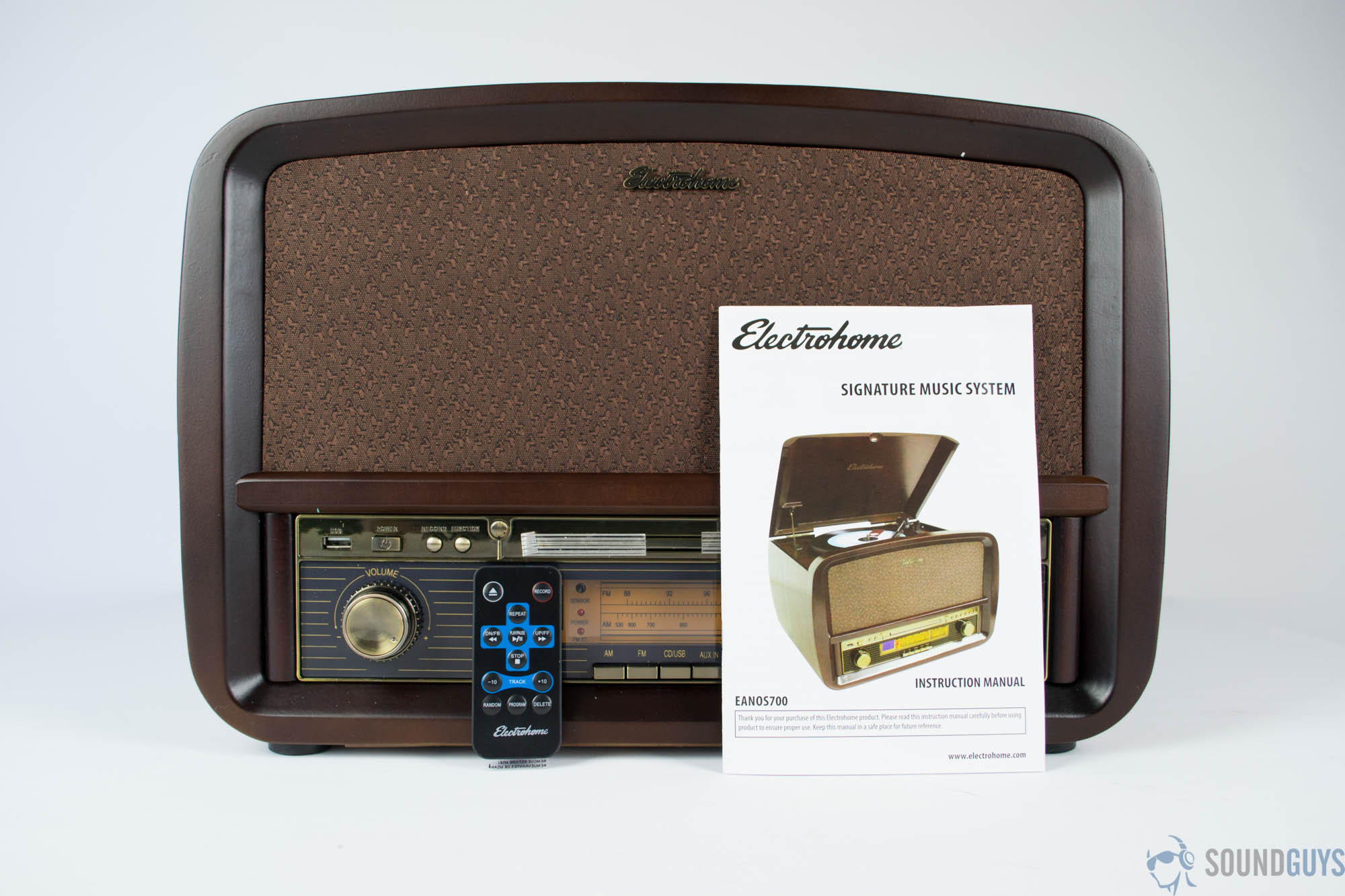 The Signature is fairly self-contained, and as a result, you won't find much in the box. Aside from the unit itself, you'll find a plastic bag holding the credit card sized remote and the manual, and that's all there is to it.
Build & Design
If you're used to the look of most Bluetooth speakers, the Electrohome Signature is probably going to look as alien as a cassette player does to most people these days. The cabinet is pure wood, and the walnut finish wouldn't look out of place in the 1950s.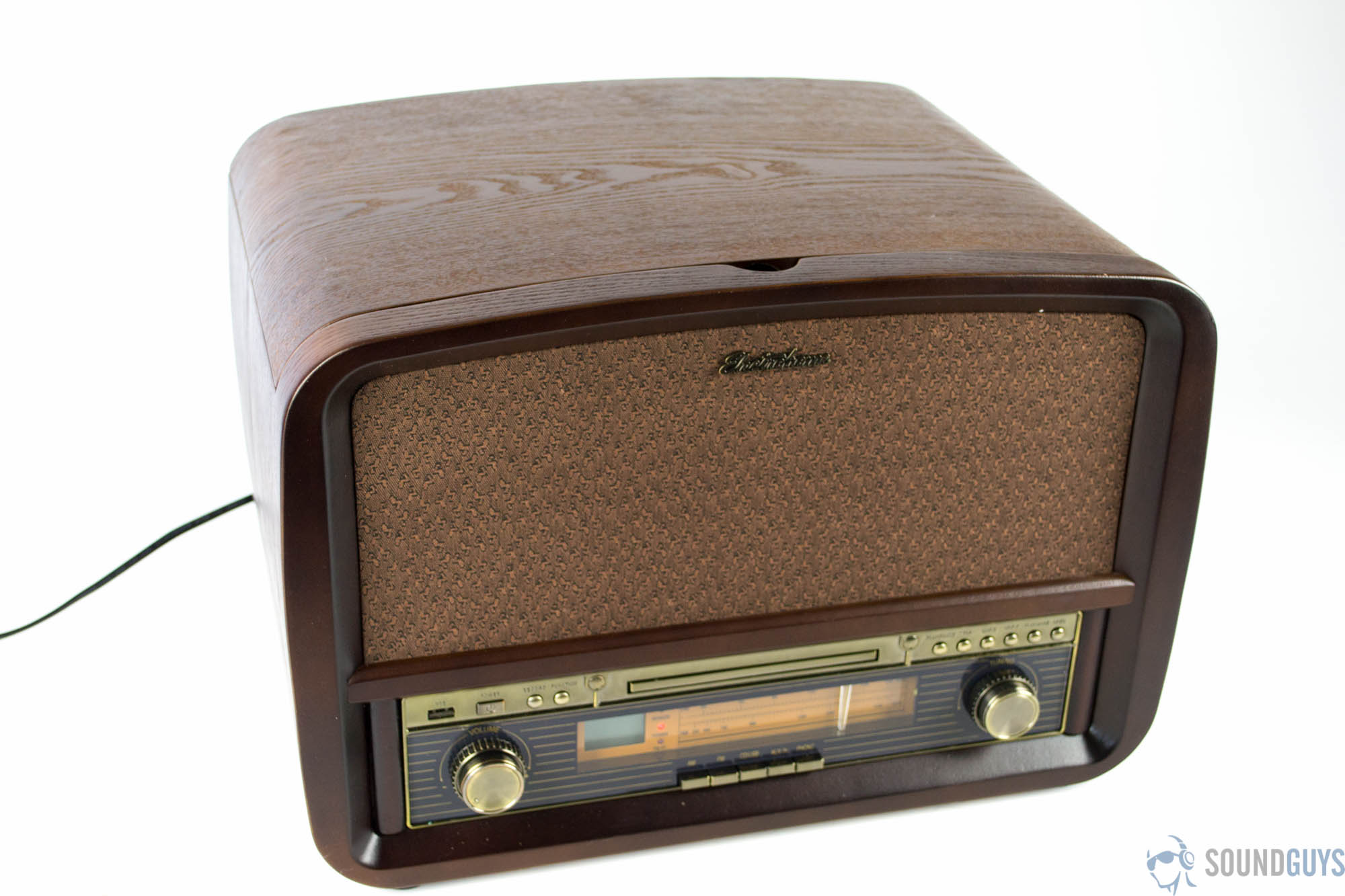 The old-school look isn't limited to just the cabinet, either. The knobs and buttons all keep the retro aesthetic going. Turn on the AM / FM radio (yes, it has a built-in radio) and the dial even lights up from the side. While a digital readout is provided for CD and MP3 playback, it's easy to tell that the Signature only adds 21st century features when it absolutely needs to.
The Electrohome Signature's throwback qualities aren't limited to its looks — pick it up and you'll see what we mean. Weighing in at 28 pounds, this is anything but light. Don't expect to be hauling this around with you. Instead, you're going to put this somewhere and expect it to stay there for a while.
Connectivity
The most unusual feature of the Signature, given the site you're reading, is the fully functional built-in record player. That said, vinyl is making a comeback in recent years, and unless you want to invest in a full-sized stereo setup, a unit like this one is a good place to start if you want to play your burgeoning record collection.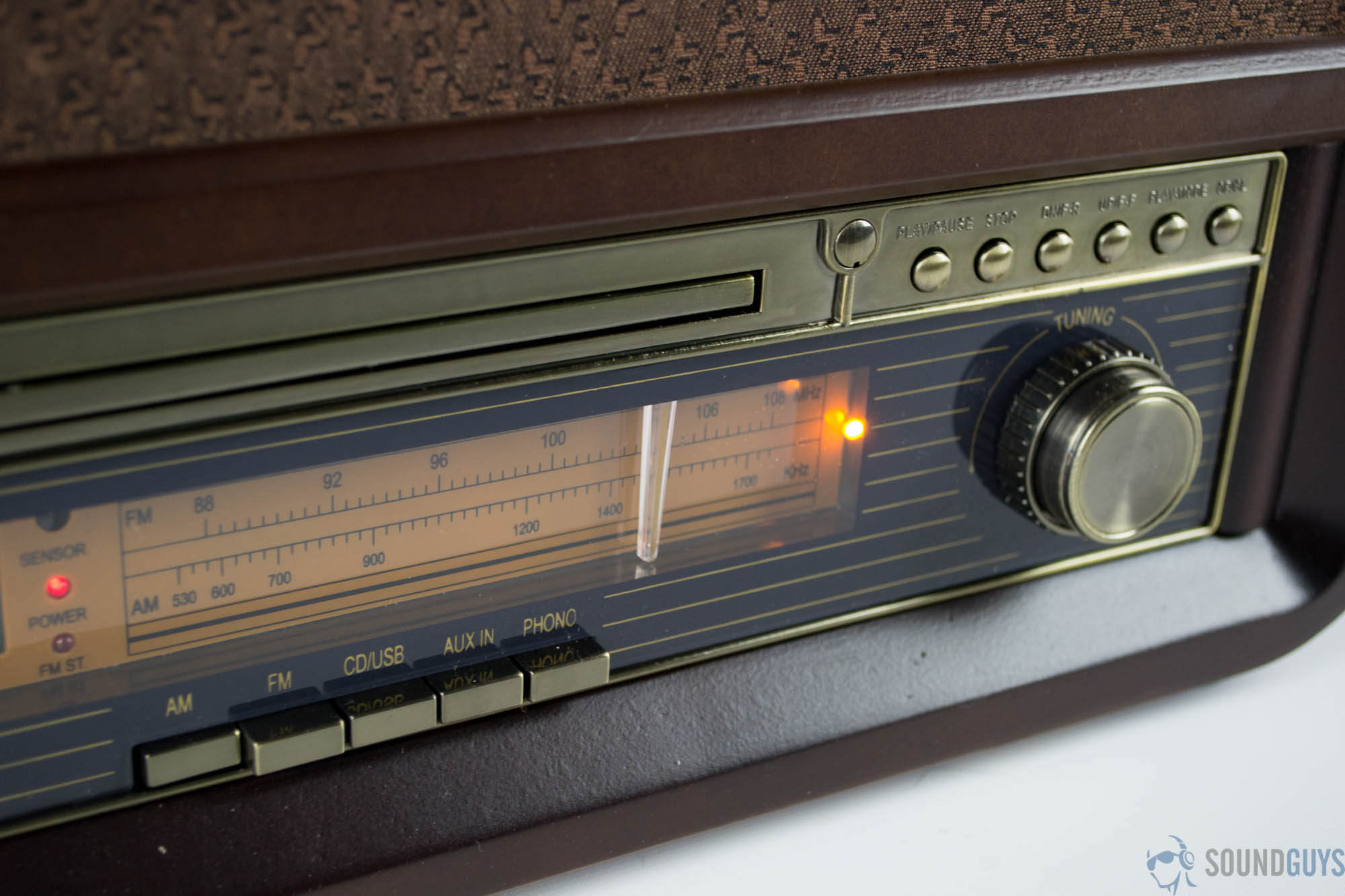 The turntable supports 33, 45, and even 78 RPM records, which is nice, but if you've become accustomed to many of the niceties of modern record players, you'll find it slightly lacking. There is no playback control here — you'll need to put the needle on the record yourself.
In addition to the turntable, the Electrohome Signature features a CD player, AM / FM radio, and USB port for MP3 playback. These features all work as intended, and there are too many controls on the front of the unit to name individually, but you won't find yourself lamenting a lack of options here. The Signature even records vinyl to MP3s, assuming this is something you'd want to do.
This unit does so much that it makes the few omissions seem glaring by comparison. We'd have liked to see Bluetooth capabilities even if it added to the overall price, and the lack of a line out or at least a headphone jack feels like a misstep on Electrohome's part.
Sound Quality
While we normally don't care whether or not a Bluetooth speaker has a built-in equalizer and actively dislike built-in EQ in headphones, the type of product this is means that we treat it a little differently. There is no equalizer here, but we certainly would have liked to see one. It isn't a deal breaker, but a little more control over the sound quality would have been appreciated.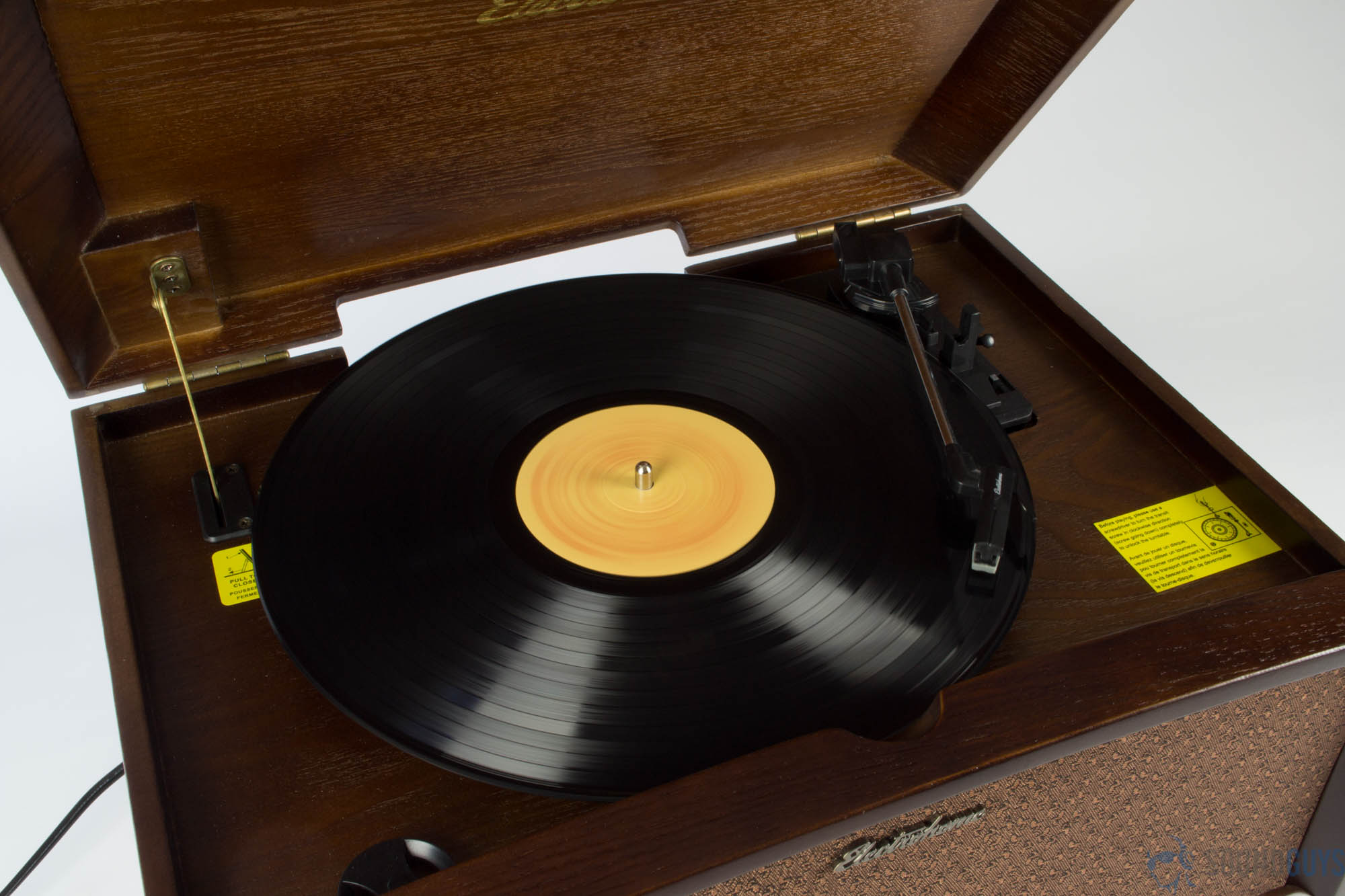 The Signature isn't as bass heavy as it could be, though given the built-in turntable, we understand. Too much bass and users could find their records skipping which not only sounds bad, but damages the vinyl as well.
There is a nice body to the midrange, low mid depth is very nice, and the sound as a whole is very well suited to rock music.
The highs are well represented, never lacking clarity while deftly avoiding going over the top and becoming harsh. There's a clear rolloff at the upper limits of the highs.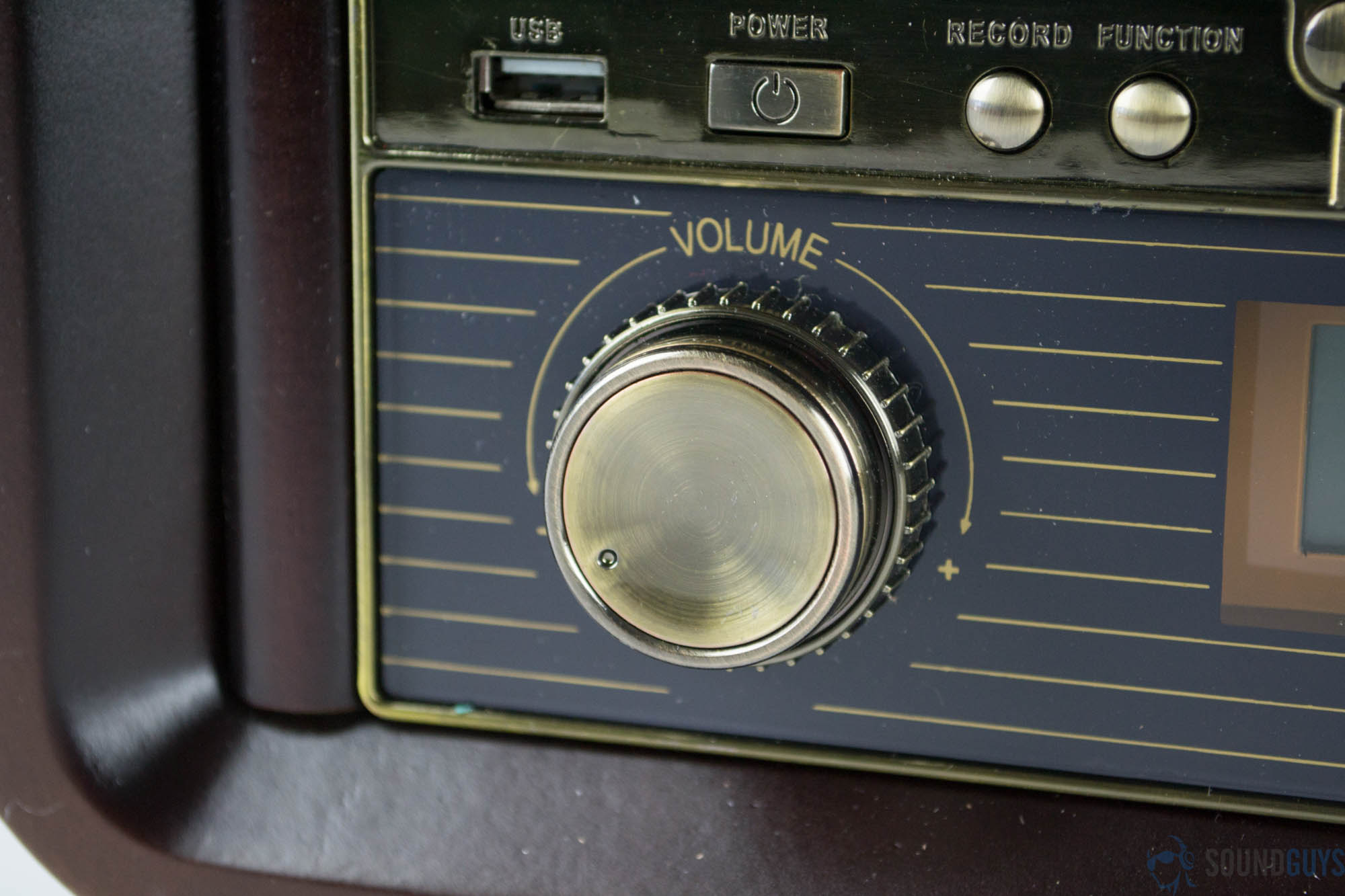 Even with the volume only turned up a third of the way, this was a loud sounding unit. Passing the halfway point and heading to 75 percent volume was enough that I began to worry about the neighbors being bothered. If you're expecting more volume than what this can provide, you're probably better going for a full stereo setup.
Conclusion
All in all, the Electrohome Signature is a very cool piece of kit — we're just not sure how much it appeals to much of the Sound Guys audience. If you've got a small apartment or dorm room and you want to play CDs and records without hooking up a full stereo, this is definitely a nice pick, and the look of it ensures that it adds to a room even when its not in use.
Is this for everybody? No. But the Electrohome Signature is still a worthy product as long as you're buying what this company is selling. If that sounds like you, check it out.