All products featured are independently chosen by us. However, SoundGuys may receive a commission on orders placed through its retail links. See our ethics statement.
The bottom line
For a pair of in-ears that you can confidently use everyday while commuting or traveling, these will do you justice if you can stomach the high price.
The Nomad
For a pair of in-ears that you can confidently use everyday while commuting or traveling, these will do you justice if you can stomach the high price.
What we like
Good sound
Lightweight
Minimal design
What we don't like
Cable
Plastic buttons
Price
Rating Metric
Sound Quality
9.0
Bass
9.3
Midrange
9.0
Highs
8.8
Durability / Build Quality
9.0
Value
8.5
Design
9.0
Microphone
8.0
Portability
8.8
If you haven't heard of Echobox Audio, you're not alone. Before CES this year I wasn't too familiar with them either. But after visiting their booth and trying out a few of their products I decided to put them on my radar. Last year the company released The Finder in-ears, and this year they have released two new pairs. The one we're looking at here are the Nomad N1 Titanium Headphones. Does Echobox have a winner on their hands?
What's Inside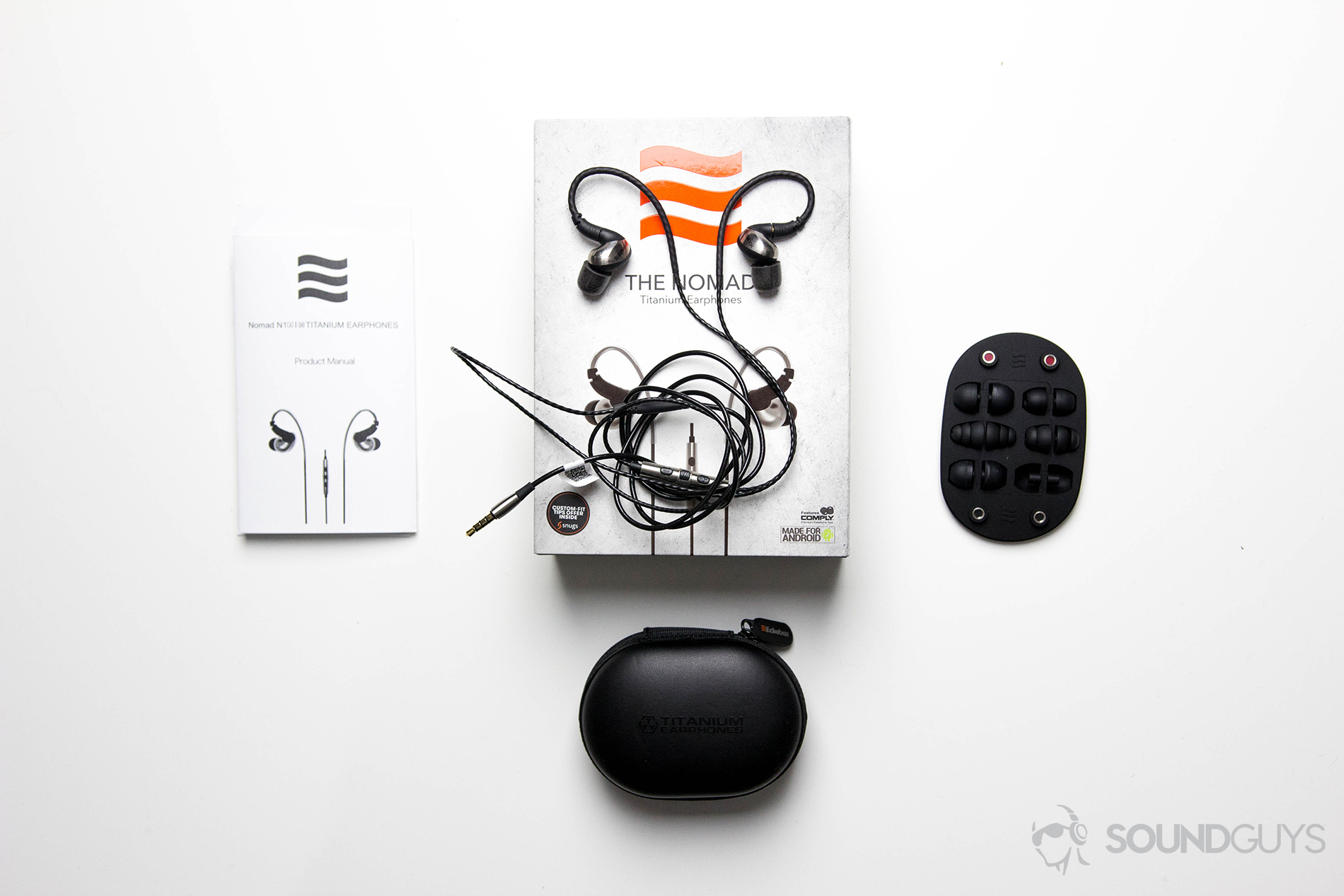 The packaging isn't anything special considering how much these costs. You'll get a cardboard box with a sleeve that has the image of the headphones on it, but it's what's on the inside that counts right? In the box you'll get a small hardshell carrying case, the headphones, extra ear tips, two extra tuning filters (the third is already on the headphones), and of course the headphones.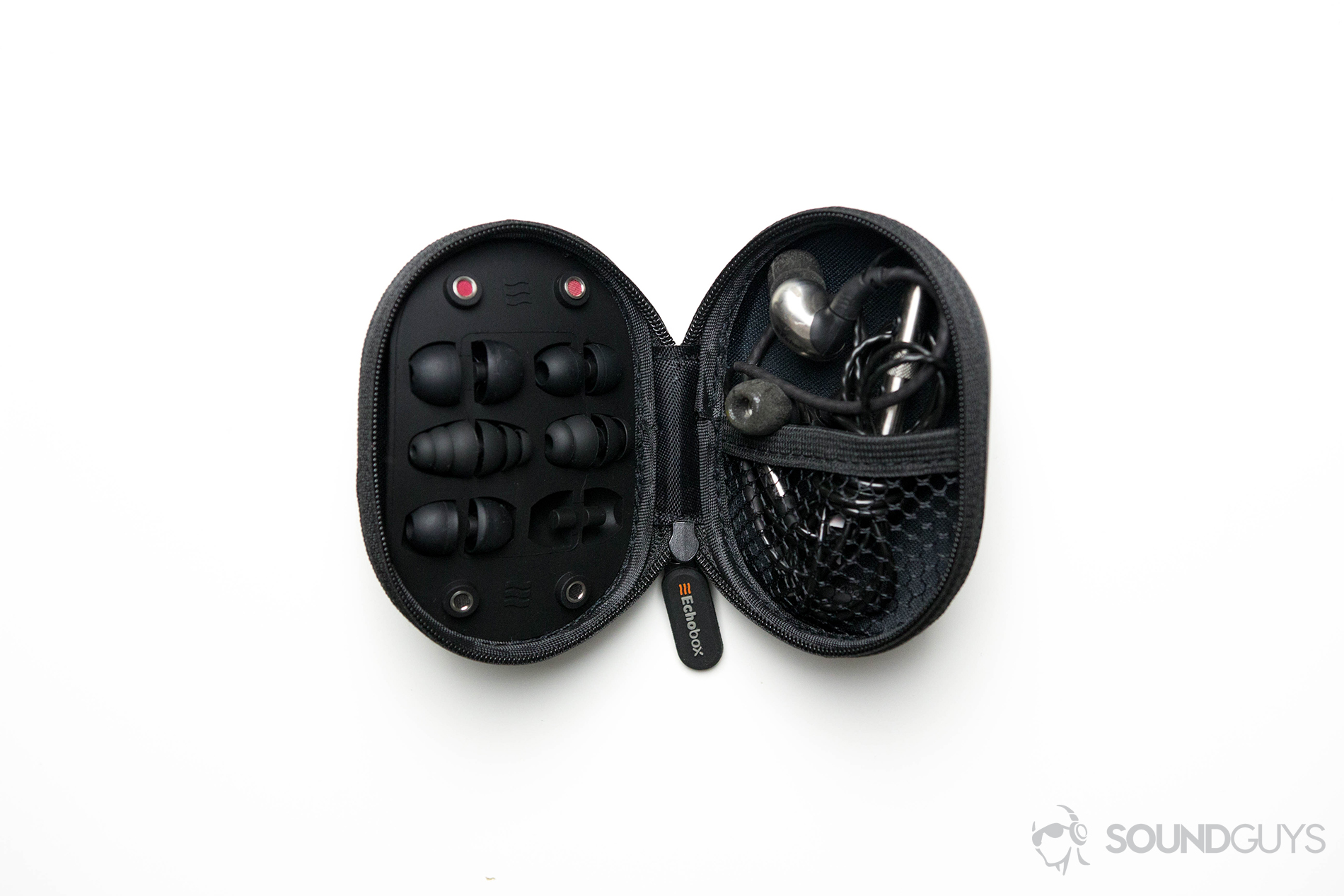 One thing I really liked about the carrying case is that the silicone sleeve that holds the tuning filters and extra ear tips fits perfectly inside. So you can toss your headphones into one side and still have everything with you to change things up on the go. Normally I end up leaving small things like tuning filters at home or in the box for fear of losing them, but this is a clever solution to that problem.
Build & Design
As you'll see later on in the review there are plenty of things I like about the Nomads, but the build is the one thing I'm torn on. Let's start with the positives first. These have a titanium housing which speaks to me as someone who is constantly tossing 'buds in my pockets and backpacks. I need them to be durable but lightweight, and titanium is the perfect metal for that. It's not as heavy as some other metals which makes it perfect for anyone on the go and with a name like "Nomad" that's something I take into consideration. They also aren't flashy at all and have an overall minimal look to them that I really enjoy. When I picture a pair of headphones that I can bring with me everywhere, these are what I picture.
You'll also find titanium on the straight headphone jack to protect against fraying wires in the cable and the control module that houses the microphone. One thing I really appreciate about the control module is the knurling that wraps around the middle. Most earbuds that have a control module are smooth and try to be too minimal, leaving you to feel around the buttons until you find your place and know which is which. The knurling gets rid of that hassle and helps you to know exactly where you are without look just by running your fingers along it.
Now for the negatives. I have nothing bad to say about the durability of the cable which I guess is the most important part, but I just don't like the way it feels. When you compare it to the premium feel of the earbuds it just feels out of place and like it doesn't belong. Thankfully you can pop the earbuds off thanks to the MMCX connectors and throw them on your own cable if you have one. On the bright side the cable does have a control module with a built-in mic and remote, but even though the titanium housing is nice the buttons are made of a plastic that again just doesn't match the quality of the 'buds. They are slightly raised and have a nice click to them, but the plastic is just an eyesore. If it wasn't for the aesthetics I would have zero complaints about them.
Connectivity
These end in a 3.5mm connector that plugs straight into the source device. The cable also has an OS specific control mic so whether you're using iOS or Android can play into your purchase decision. There are three buttons that let you control playback and adjust volume. The center button is a multifunction button that pauses/plays music, answers and ends phone calls, skips to the next song if you double click it, and pulls up your phone's voice assistant if you hold it down.
The other part of the connections that matter are the MMCX connectors. Thankfully this is fairly standard when it comes to premium headphones so you shouldn't have too much trouble finding a cable if you like if you don't like this one.
Sound Quality
Before we get too into the actual sound quality it's important to know about one key feature these headphones provide, and that's filters. These come with three tuning filters (bass, balanced, and treble) that can nudge the sound quality in the direction you find most pleasing. You can easily screw on filters that will put more of an emphasis on the lows, the highs, or neither. This last option is the route I took. All testing was done with the balanced filters.
The reason for this was that I felt that these headphones had enough bass as-is. That's not to say they were too powerful but if you handed these to a friend they wouldn't be complaining about lack of depth. Bass kicks in "1901" by Phoenix are quick and tight, with the gritty mid-bass synth maintaining all its detail. Of course a good low end also depends on the kind of ear tips you're wearing. A good seal is essential and the comply memory foam tips that come in the box did me justice.
The same can be said about the mids but to a lesser extent. Headphones usually are tuned to put vocals front and center, but it wasn't as drastically noticeable here. They're a part of the performance rather than the main attraction. A great example of this is the song "Fall Creek Boys Choir" by James Blake and Bon Iver. Vocals command attention like someone who speaks quietly in a large room, but not in a bad way. In a way that makes you want to listen closer.
These had a nice airy high end as well which was helped by a pretty decent soundstage. You're not going to be turning your head and pinpointing spatial cues, but the hi-hats throughout the intro of "MY HOMETOWN" by Bruce Springstein really do sound like they're coming from the room you're sitting in.
Conclusion
Though the Echobox Nomads are expensive at $299, they're worth it to anyone who values sound and durability. They live up to their name with a sturdy yet minimal design perfect for bringing with you everywhere. Though they might not be the best sounding headphones at the price point, they're far from bad. If you want truly great sounding headphones there are a few at this price that might do you better, like something from Westone or Grado.
But if you want an overall solid everyday pair of good sounding headphones, then I have no problems recommending these. Unfortunately these headphones aren't yet released, so the final product might look slightly different than what's pictured here. But if you want a pair as soon as they become available you can pre-order them from the official Echobox website.