All products featured are independently chosen by us. However, SoundGuys may receive a commission on orders placed through its retail links. See our ethics statement.
The bottom line
The HEOS 1 is a solid speaker for its price and a great entry level speaker into the Denon ecosystem.
The HEOS 1 is a solid speaker for its price and a great entry level speaker into the Denon ecosystem.
What we like
Sleek design
Easy to navigate app
Solid lows
Not too expensive
What we don't like
Not the most portable speaker
Battery life
Rating Metric
Sound Quality
8.7
Bass
9.0
Midrange
8.2
Highs
8.8
Durability / Build Quality
9.0
Value
9.2
Design
9.1
Portability
8.3
Battery Life
7.1
Denon has been pushing their way into home audio with their HEOS line of products. When we were given the opportunity to hear the HEOS 1 at an event in New York City, we were eager to get our hands on it to test it out for ourselves. So now that we've put it through the ringer, is it any good?
Editor's note: This review was updated on January 19, 2021, to update formatting to match SoundGuys' current style.
What's in the box?
The Denon HEOS 1 is hefty.
In the box you'll get the HEOS 1 speaker, a 3.5mm aux cord, an Ethernet cable, power adapter, and the warranty and information booklet. That's pretty much it unless you splurged and got the Go Pack separately for an extra $99. If you did then you'll get more paperwork, the portable dock/battery, a Bluetooth USB adapter, and a rubber seal to put on the back ports of the speaker to protect against water. Nothing too fancy here.
How is the Denon HEOS 1 designed?
The HEOS 1 has a durable feel to it.
The build on the HEOS 1 is solid, so much so that I'm sure it could easily survive a drop or two. Still, I wouldn't want to test that aspect of it. It's made almost entirely of a hard plastic that feels super smooth to the touch, but not so much that it's slippery. We're looking at the black model here, but it also comes in white if you prefer. The front half is covered in a grill that protects the dual drivers, one precision dome tweeter and a mid-range woofer. Underneath this is a small LED light that flashes and blinks in different colors depending on what you're doing. For example, when connected and playing music it shines a solid blue but when the software is updating it blinks red.
Up top are three buttons that allow you to control volume. You can raise it, lower it, or mute it entirely. The buttons are not squishy at all and are nice and tactile, just how we like them. On the back are all of the ports including a reset button, DC in for the power supply, auxiliary input, an Ethernet port, and a network connect button. Directly above all of those ports is the USB input for the Bluetooth adapter that comes with the Go Pack (if you got one).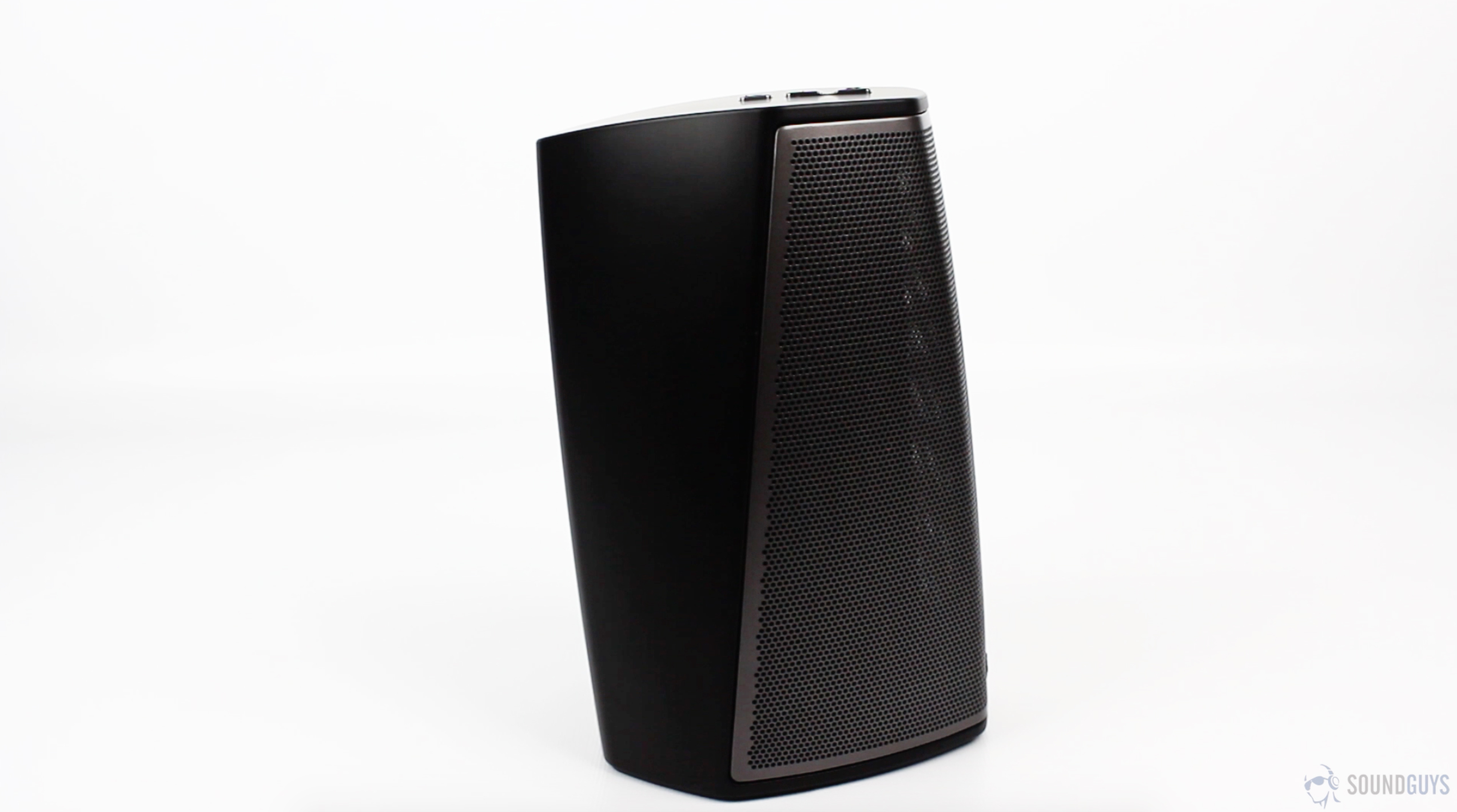 If you can't already tell, I love the design of the HEOS 1. It's minimal and sleek just how I like it. Initially I thought that the speaker was oddly shaped, but the more time that I spent with it the more I realized that it's just a very unique looking speaker. Whether that's a good or a bad thing depends on the person, not everyone has the same taste. That said, I can't think of too many places where it would look out of place.
Does the HEOS 1 stay connected?
The Denon HEOS 1 has an aux input if you want to listened the old fashioned way.
The HEOS 1 is a wireless speaker, meaning that it needs to connect to your home internet in order to function. You can either physically plug in the included Ethernet cable, or connect to your Wi-Fi network since it's rocking 802.11 on 2.4GHz and 5GHz bands. This gives you a range of about 100 feet and we didn't have any trouble controlling music playback in that range. You can also plug in a 3.5mm aux cord if you're using a non-wireless device, but that's it.
If you decide to connect via your home internet you then have to control the speaker by using the free HEOS app. It's available on both Android and iOS and works easily enough. Setting it up is fairly straightforward and I was up and running in a minute or two. In the app there are three tabs that allow you to group multiple HEOS speakers together, pick how you want to play your music (be it local files or streaming services), or control playback.
The app supports plenty of streaming services like Pandora, Spotify, Sirius XM, Tidal, and even Soundcloud just to name a few. However it's still missing two big ones, Google Play Music and Apple Music. Denon says that the list of supported streaming services is constantly changing and they'll most likely be added in a future but, for now if you want to use either one of those (or anything else that isn't supported) you have only one option: Bluetooth.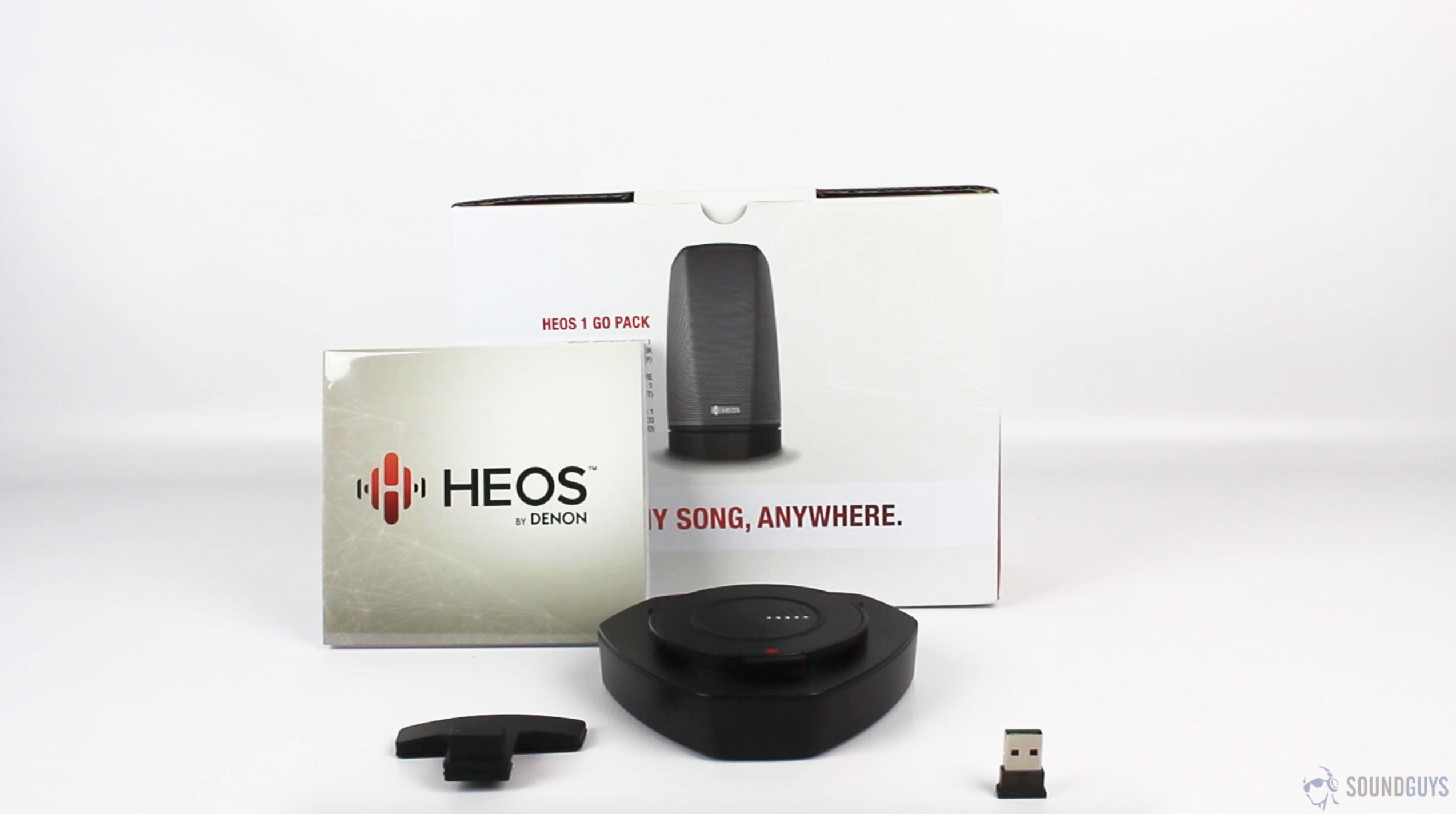 This means that you need to purchase the Go Pack since you get both the dock/battery and the adapter that allows you to connect to it via Bluetooth. Doing this will limit your range to about 30 feet but it also gives you the option to leave the plug in the wall and take the speaker with you when you go out and about. Though this isn't exactly a speaker you'd want to take with you on a hike, I've definitely made use of this when going to a friends house. It also let's you play whatever you want be it Spotify, Apple Music, Netflix, or even any podcasts that you listen to. Though Wi-Fi works flawlessly we did have a fair amount of skipping and glitches while using Bluetooth. Not anything that ruins the experience, but enough of a nuisance that we felt it was worth mentioning.
How's the battery life?
If you're only using it via your home internet with no need for Bluetooth, then battery life will be a non-factor for you since it needs to be plugged in at all times any way. However if you plan to use Bluetooth then you'll need the Go Pack since the dock is technically a battery that gives it enough juice for 6 hours of constant playback. This was spot on in our testing, but that doesn't make it great. We would've liked to see a bit more than 6 hours since most of my family barbecues can last quite a bit longer, but that should really only be a problem if you're not home. Since this is technically an entry level speaker for a home entertainment setup, I can't see too many people taking these out on long adventures or to the beach even if it does have the capability.
Does the Denon HEOS 1 sound good?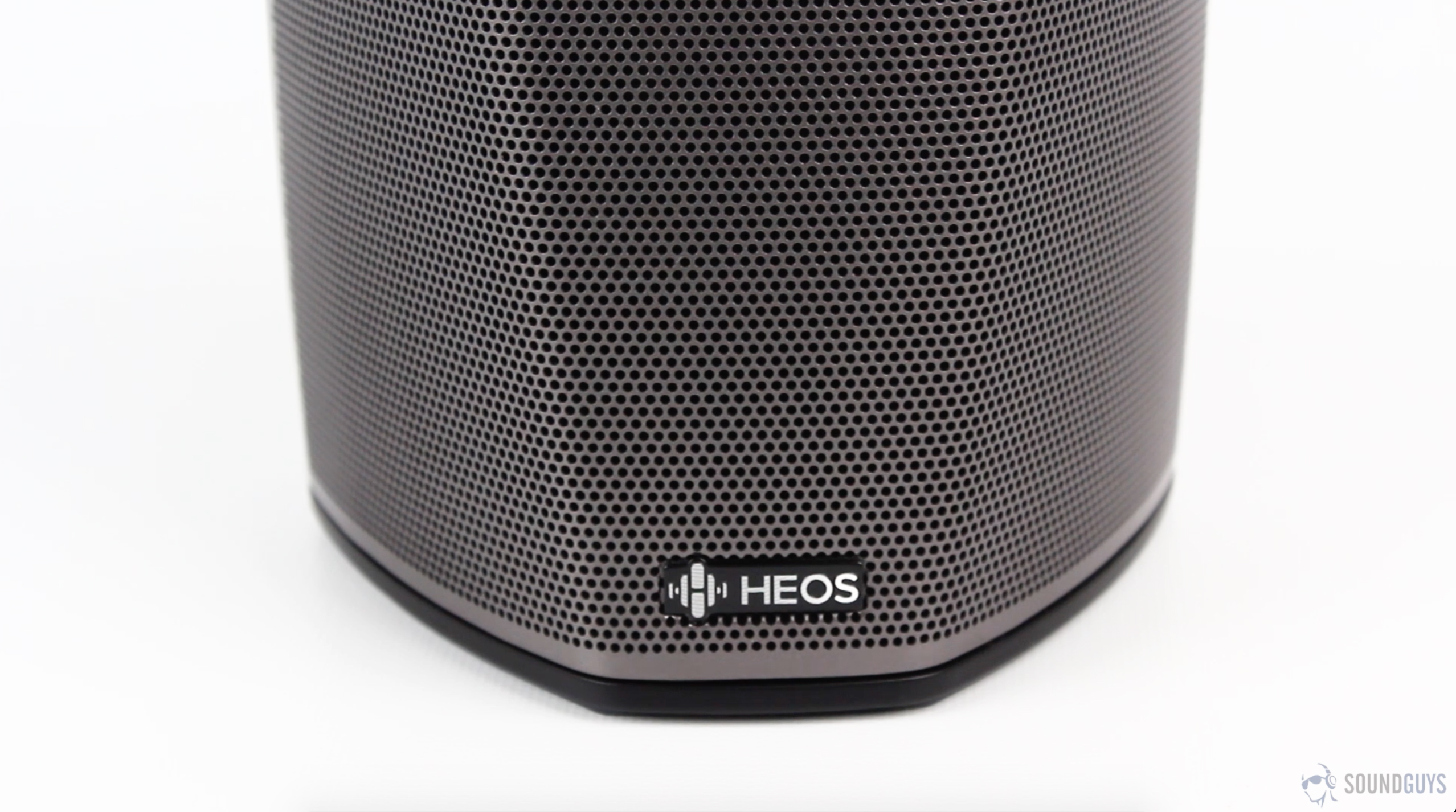 With the HEOS line of speakers, Denon took aim at the home audio market and tries to offer high end sound and build quality at a lower price. Since the HEOS 1 is the entry level model, we weren't expecting too much in terms of quality. That said we were pleasantly surprised at how good it sounded. Sure it isn't the best speaker we've ever heard, but it's definitely not the worst. It even gets loud enough that I didn't have to max out the volume in order to get a good sound. The sound can also be customized via the HEOS app.
Lows
Lows weren't overly powerful, but they were enjoyable. They're not going to blow you away or make your room shake but there was enough of a presence to do justice to songs that have a lot of bass. For example, when the bass drops in Trap Queen by Fetty Wap the lows add to the emotion of the song with bass kicks being easy to follow, but it's definitely not enough to disturb the neighbors. Overall I really like the amount of bass, not too boomy but not too subtle. Just right.
Mids
In contrast to the lows, the mids aren't the greatest. They seem to do very well with vocals and lyrics come through nice and clear, but background instruments tend to get a little clustered when listening to genres like rock and electronic. That's not to say that you can't single out individual instruments if you really listen in, but they're not too clear. They were also slightly rough sounding when listening to classical pieces but it was way less noticeable. I only realized that they sounded slightly odd when listening to cello pieces by Yo-Yo Ma.
Highs
Highs were nice and crisp and even though they sometimes border on the cusp of harshness, the speaker does a nice job at rolling them off so it doesn't get to be too much. Hi-hats, cymbals, and synths all sounded good in Let It Happen by Tame Impala and only begin to feel some of the effects of distortion when volume is maxed out, and even then it's not too noticeable.
Should you buy the Denon HEOS 1 in 2021?
In the end the HEOS 1 is exactly what it claims to be, an entry level speaker for your home audio setup. The sound of one of them alone is good enough to keep on my desk and fill the room with music, but it's clear that these will perform best when synced to a second HEOS 1, or any other product in the Denon ecosystem for that matter. It does a lot of things well, but it can't handle everything.
Still, for only $199 it's a damn good speaker and definitely holds it's own against other speakers in the price range. The model that is now being sold is also compatible with Amazon Echo devices and can be controlled by Alexa voice control, which allows it to keep up with the newer home speaker options out there. However, if you opt for a more recently released speaker you'll be afforded certain features like Bluetooth 5.1. In addition, there are more portable Bluetooth speakers out there, but if you like the idea of a home speaker that can occasionally be taken out, this is worth checking out.