All products featured are independently chosen by us. However, SoundGuys may receive a commission on orders placed through its retail links. See our ethics statement.
The Coolbox is an all-in-one toolbox
If you're the type of person that uses free time to fix things, the Coolbox is a toolbox that doubles as a Bluetooth speaker and so much more.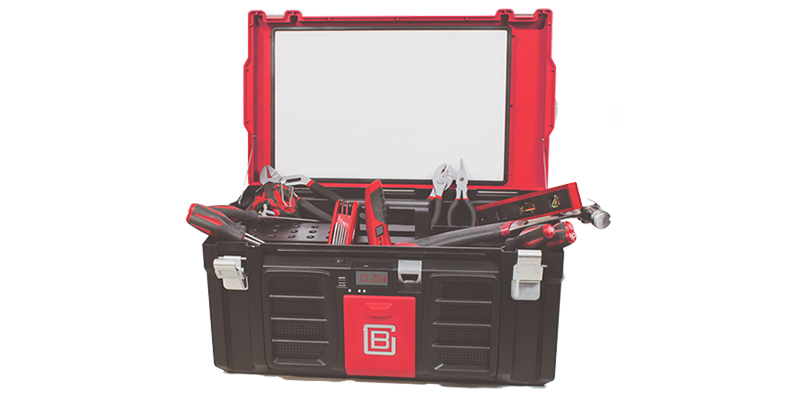 Nowadays, pretty much anything can be turned into a Bluetooth speaker. The latest of which is a Bluetooth speaker built into a toolbox, but that's not all it does. An Indiegogo campaign was recently funded to create the Coolbox, a speaker that intends to not only carry your tools but become one.
It uses 40-watt speakers on the front that is made of military grade materials allowing it to be used in the harshest working conditions. Despite having electrical components, the Coolbox is completely waterproof and washing it down with a hose won't be an issue. It also has a 3.5mm jack if your device doesn't have Bluetooth. Just in case it's been a long day and your device doesn't have enough juice to play music, there is a built-in 20 volt battery that can charge it back up via one of the two USB outputs on the front. If being used solely as a Bluetooth speaker the Coolbox will get you around 7 hours of constant playback.
However, the battery is used for more than simply charging devices and playing music. It also has a digital clock and LED lighting for working in the dark. The lights can shine up to 270 degrees illuminating the outside of the box as well as the inside. If only using the lights, the battery would last roughly 80 hours which makes it pretty useful in an emergency situation. It also has a pass-through power option that allows it to act as a splitter for up to three other devices that need to be plugged in.
Cool features aside, the Coolbox is still your standard toolbox with 1797 cubic inches of space inside. There are multiple compartments to put tools in, a removable whiteboard for notes, and has wheels and dual handles for easy transport. If you use a toolbox for work or even just for personal projects around the house, this doesn't seem like a bad option to have. The Coolbox can be pre-ordered now for 61% off of retail price for $179 and you can expect yours to show up on your doorstep sometime this summer.