All products featured are independently chosen by us. However, SoundGuys may receive a commission on orders placed through its retail links. See our ethics statement.
Braven BRV-XXL now available
Braves teased the BRV-XXL at CES a few months back, but now it's available from their website for $349 with Best Buy's selling it later this month.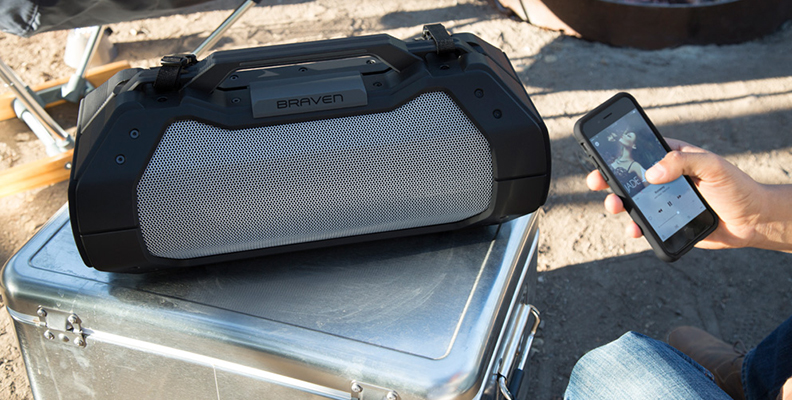 Braven has a product line that ranges from Bluetooth speakers that won't look out of place in a fashion boutique, to durable rugged speakers that can hold their own against the elements. At CES this past year they showed off a new speaker that falls into that latter category with the Braven BRV-XXL.
The speaker is still fairly portable, but it lives up to its XXL name weighing in at 18 lbs.
The speaker is IPX5 certified which means that you can use it outdoors in a rainstorm without a problem. Naturally, that also makes it ideal for pool and beach parties and the rubberized build of the speaker also means that it can hold its own against the average drop. Like some of the other Braven speakers, the BRV-XXL as a USB output so you can sip some juice from its large 15,600mAh battery and give some to your phone or tablet. This could be useful since the giant battery gives it a 14 hour battery life, which is more than some phones. Though a 14 hour battery life is decent enough for most use cases, keep in mind that if you're charging devices that number could be slightly smaller.
Inside the speaker are four drivers that push a big sound thanks to its large size. It also has built-in EQ controls so you can adjust the bass or treble to your liking on the fly. On top of that there's a microphone input so if you're hosting an event you can easily plug one in and play DJ. Though it does have a handle incorporated into the design to make transporting it relatively easy, Braven takes it a step further. The BRV-XXL also comes with a strap so you can carry it over your shoulder from place to place. On the side of the speaker are four buttons that let you control playback as well as power on the device. You can pause and play music or control the volume. They're all covered by a soft rubber, as you would expect with a speaker that can withstand any amount of water.
The BRV-XXL by Braven comes in only one color: black. Perfect for the minimalist in you. At $349 this isn't exactly cheap, but you get a big chunk of speaker for the price with a sound to match. If you're interested they're currently only available from the official Braven website but will soon be available at Best Buy later this month.