All products featured are independently chosen by us. However, SoundGuys may receive a commission on orders placed through its retail links. See our ethics statement.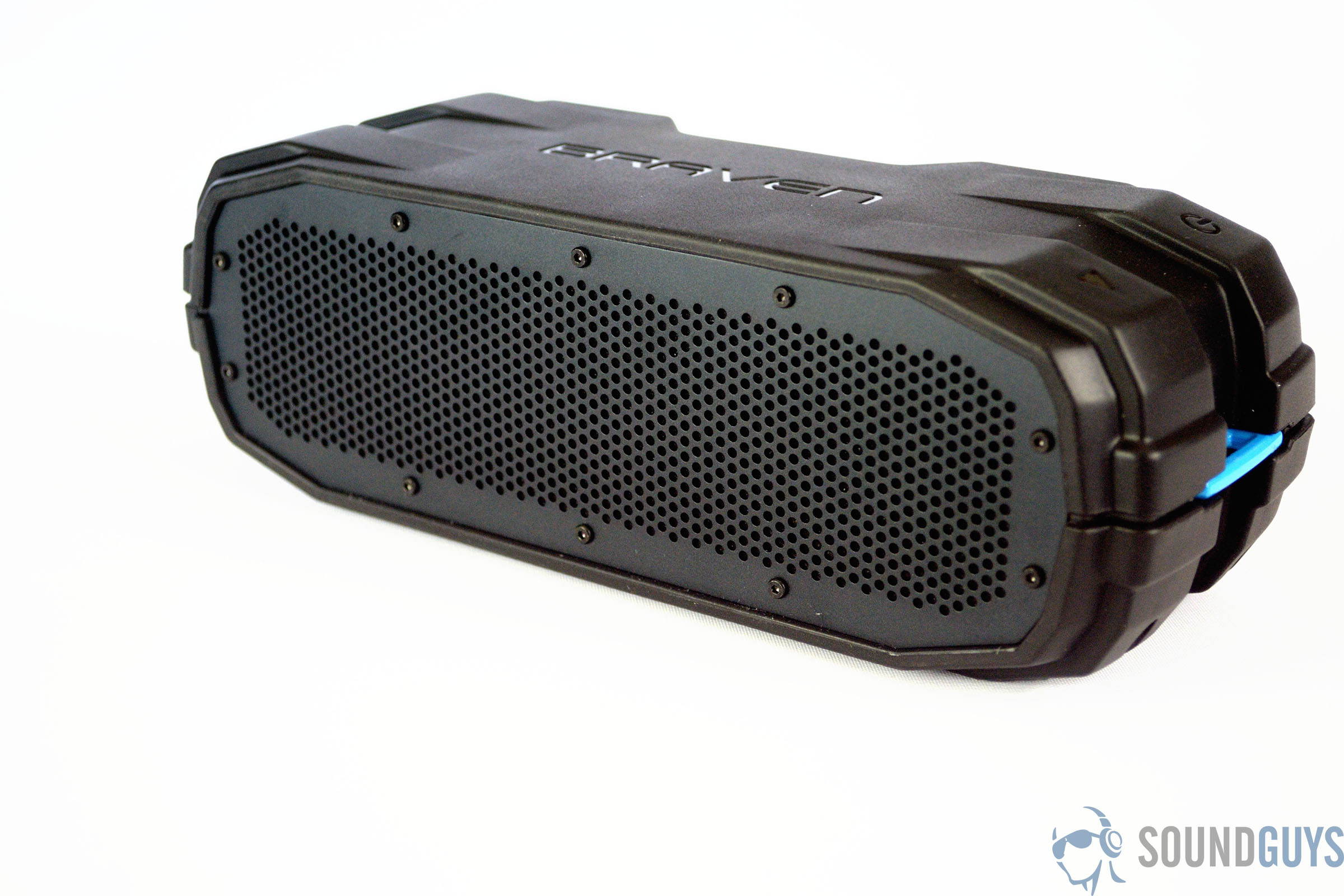 The bottom line
If you don't need the rugged build or charging capabilities, your money is likely best spent elsewhere, but if you're looking for a way to bring your tunes on a three-day hike in rainy weather, Braven has got your back.
If you don't need the rugged build or charging capabilities, your money is likely best spent elsewhere, but if you're looking for a way to bring your tunes on a three-day hike in rainy weather, Braven has got your back.
What we like
Weather resistant
Feature packed
Charges other devices
What we don't like
Sound quality is slightly lacking
Slightly expensive
Rating Metric
Sound Quality
7.0
Bass
7.5
Midrange
8.0
Highs
6.0
Durability / Build Quality
9.0
Value
7.5
Design
8.0
Microphone
8.5
Portability
8.0
Buy now from Amazon.com ($229.99)
As Bluetooth speakers continue to sound better and add more features, our expectations for them continue to grow as well. We want them to do more, sure, but we also want to be able to take them anywhere we feel like. If, for you, "anywhere" means to a friends house or maybe your car, pretty much any speaker will do. If, on the other hand, "anywhere" means the top of a mountain in the rainstorm, that narrows down your choices.
The Braven BRV-X is one of a few speakers that is designed specifically to tackle the latter of the two above situations. One look at the rugged-looking speaker, and you get an idea of the conditions it's meant to handle. The question is: does is provide a feature set and good enough sound to be worth it's $229 asking price?
What's In The Box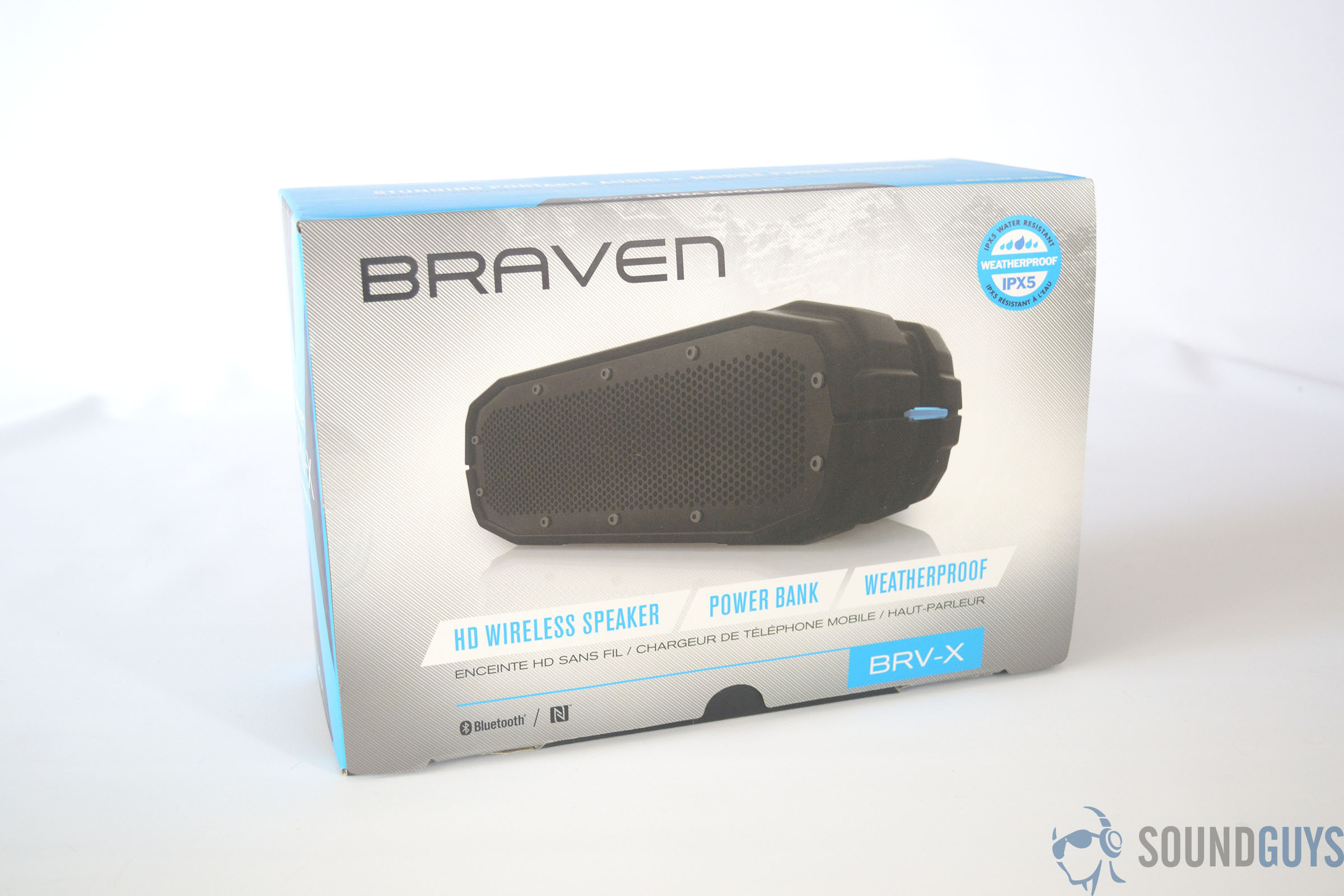 It seems to be something of a trend among certain manufacturers to include only the bare minimum along with Bluetooth speakers lately. Braven is not one of those manufacturers. Opening this box, the first thing you'll see is the included strap–intended to be used in securing the BRV-X to other equipment–wrapped around a cardboard lid. Under this lid is the speaker, AC adapter, USB cable, 3.5mm audio cable, lanyard and quick start guide.
Build & Design!
The Braven BRV-X is meant to be exposed to the elements, and it looks every bit the part. From the metal grille to the shock-resistant rubber exterior, it's clear that this speaker is meant to be used, not simply admired. This goes beyond the look of the speaker as well. The box is comes in looks like a shoebox, and opening it up, I noticed a smell that was very similar to what you would find walking through a sporting goods store.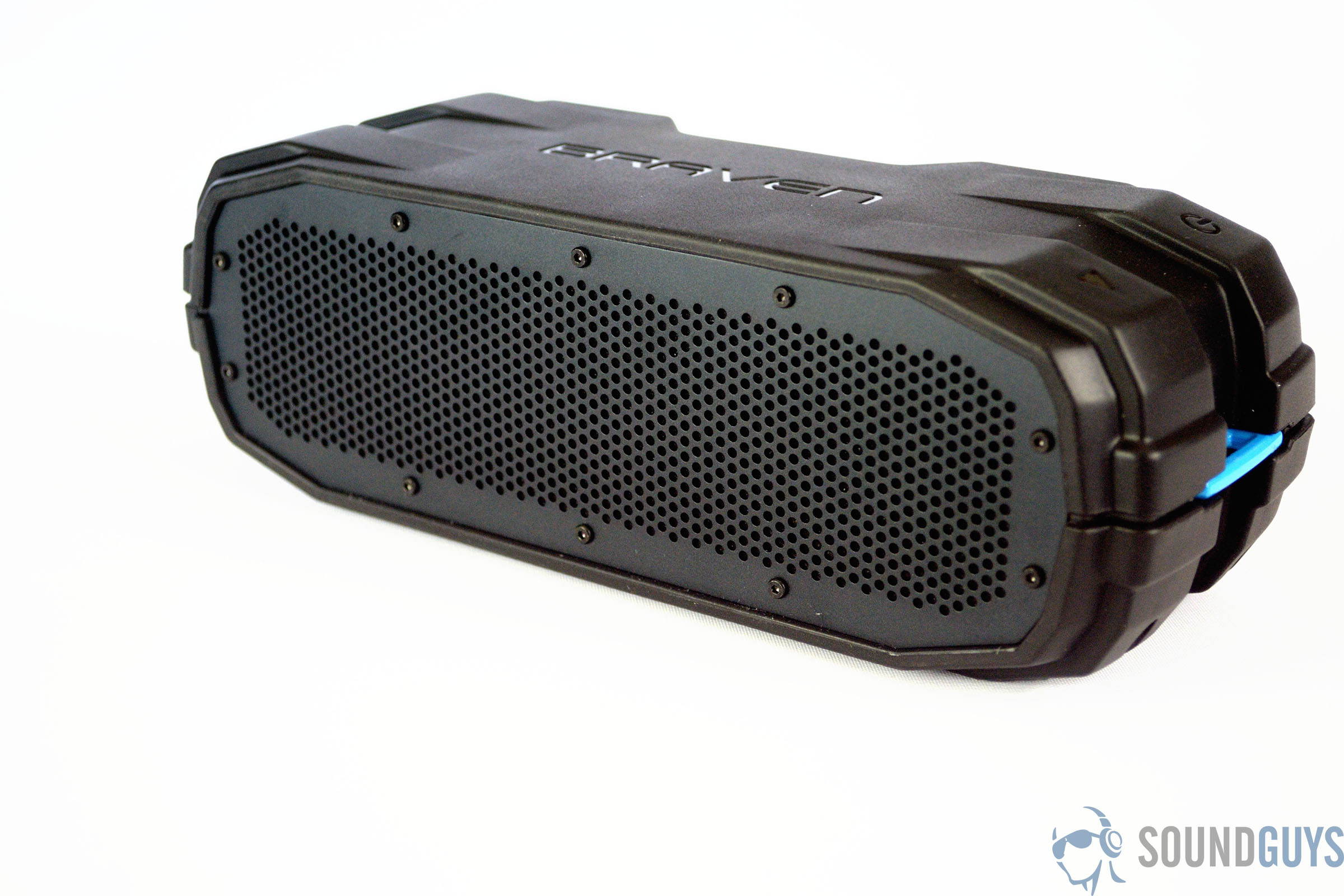 The unit we're reviewing is black with some blue highlights, but the speaker is also available in a silver / gray look. For all of its talk of heavy duty materials and rugged design, the BRV-X is surprisingly light to pick up. The size of the speaker may preclude carrying it around in a smaller backpack or shoulder bag, but the weight shouldn't get in the way of taking it anywhere.
The Braven BRV-X is IPX5 certified weather resistant, which means that not only can it be used in slightly wet environments, but it can be subjected to a stream of water without malfunctioning. That said, even though a cap on the back of the speaker protects the ports, it isn't meant to be submerged in water. Basically, you're probably okay to take this in the shower, but you don't want to drop it in the bath with you.
Connectivity
When testing a Bluetooth speaker, my method of figuring out whether or not the controls are intuitive is to try to pair a device and use the speaker without using the manual. In this case, I had already used the very similar Braven BRV–1, but it's still a fairly straightforward process. Hold down the power button to turn the speaker on, then hold down the play button for the speaker to start broadcasting. Then simply pair from the device of your choosing. The BRV-X also features NFC for easier pairing, if your device supports it.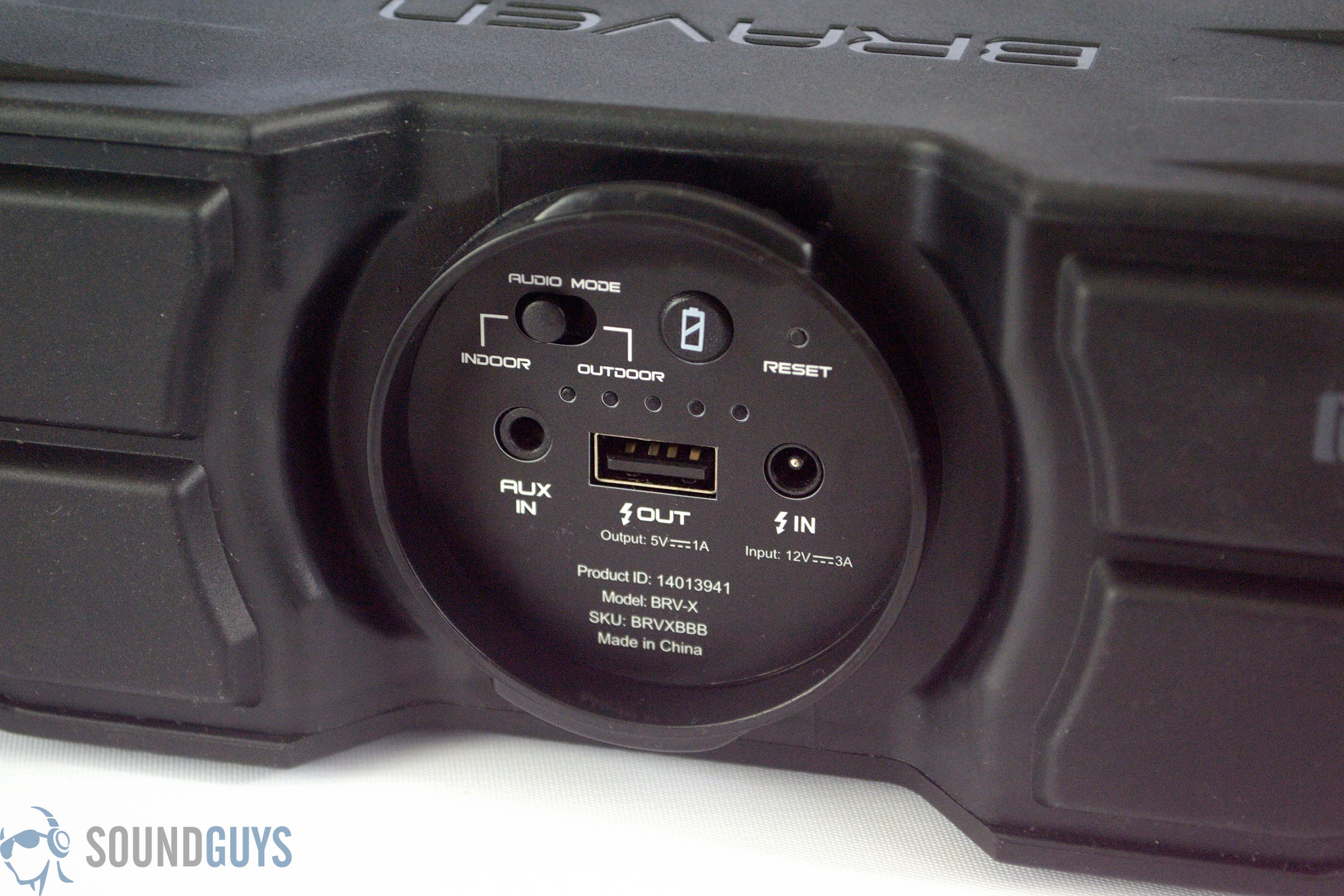 Bluetooth range is very good on the Braven BRV-X. I was able to get more than the usual 30 feet away without any stutters or issues. This included up to four walls in the way as well, which isn't bad. Of course, if you don't want to use Bluetooth, or if you're using a device that lacks Bluetooth functionality, you can plug directly into the speaker using the included 3.5mm audio cable.
In testing I always try un- and re-pairing a few times to see if the process remains easy. On one occasion, I had to search a few times on my Moto X before it saw the BRV-X, but this was an isolated incident.
Battery
Braven claims a battery life of over 12 hours with the BRV-X and I found this to be an accurate claim, though this is obviously dependent on a few factors. The higher you crank the volume, the faster the battery will drain. Unlike the smaller BRV–1, the BRV-X cannot be charged via USB; you'll need to use the included AC adapter, which features different configurations for various international wall plugs.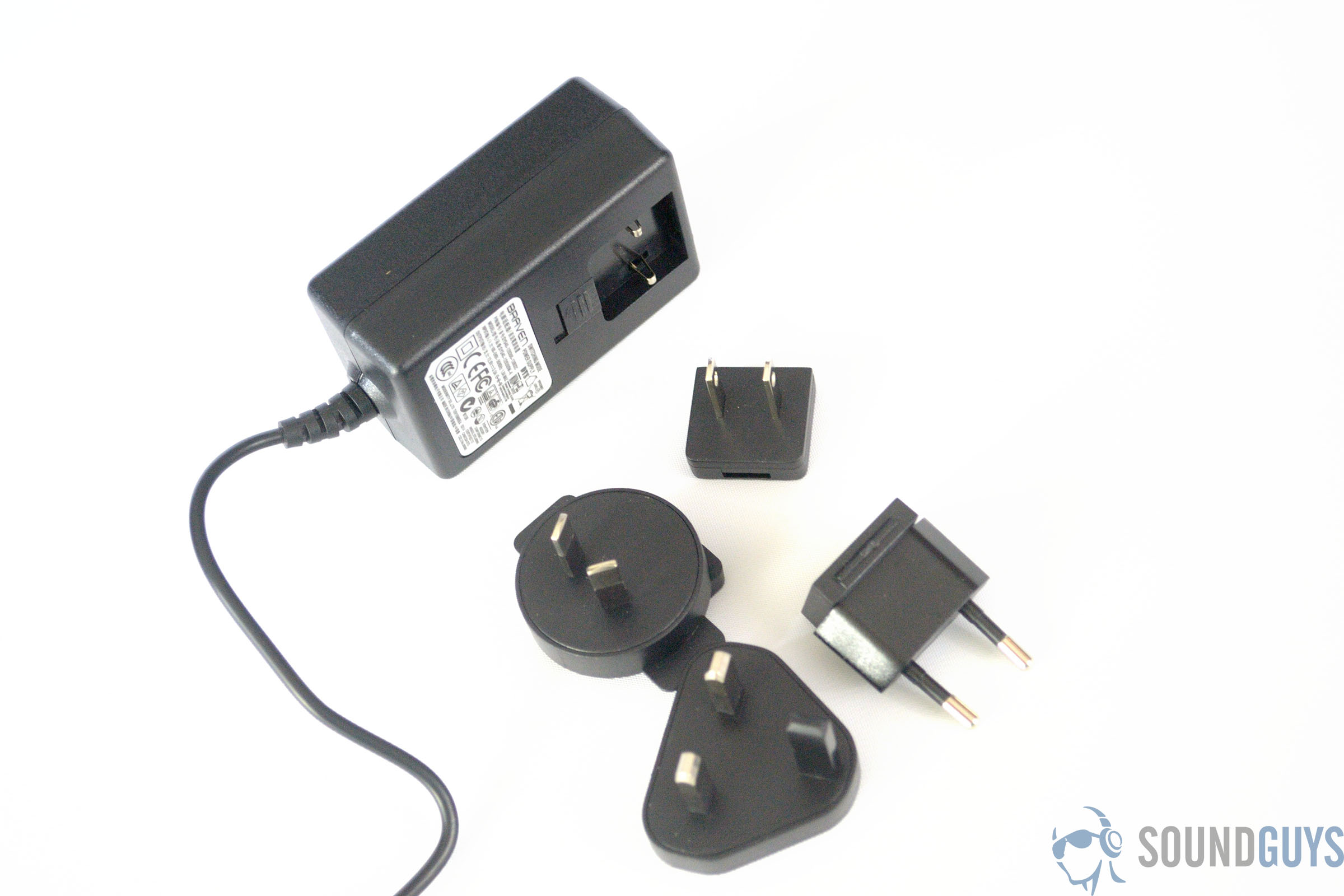 What the Braven BRV-X does have in common with the BRV–1 is its ability to charge other devices. The BRV-X has a capacity of 5200 mAh which, assuming you're not using it for music at the same time, can recharge many cell phones twice over. It's large size prevents the BRV-X from being the absolute best option for this job, but if you're carrying it around anyway, this is a handy feature.
Sound Quality
Like it or not, weatherproofing is often the enemy of good sound. After all, there's a reason that not every speaker out there is IPX5 certified. So how does the Braven BRV-X hold up in the sound department? Surprisingly well actually, assuming your expectations are in line.
The low end is well defined, but given the relatively small size of this speaker, it can only go so far. Braven has included what could charitably be called a subwoofer, and it's actually somewhat effective, though like any subwoofer, the surface it's placed on is going to make a huge difference. A wooden table or even better, floor, is your best bet here.
The midrange is the strongest suit of the Braven BRV-X. Mids are prominent and solid, and mostly escape the boxy sound present in many Bluetooth speakers. The bump in this frequency range helps vocals and guitars stand out especially well.
Unfortunately, the high end doesn't fare as well here. Highs range anywhere from slightly overemphasized to downright harsh depending on what music you're listening to, and this only gets worse as you crank up the volume. That said, for outdoor listening, where highs can disappear, this could be considered a plus.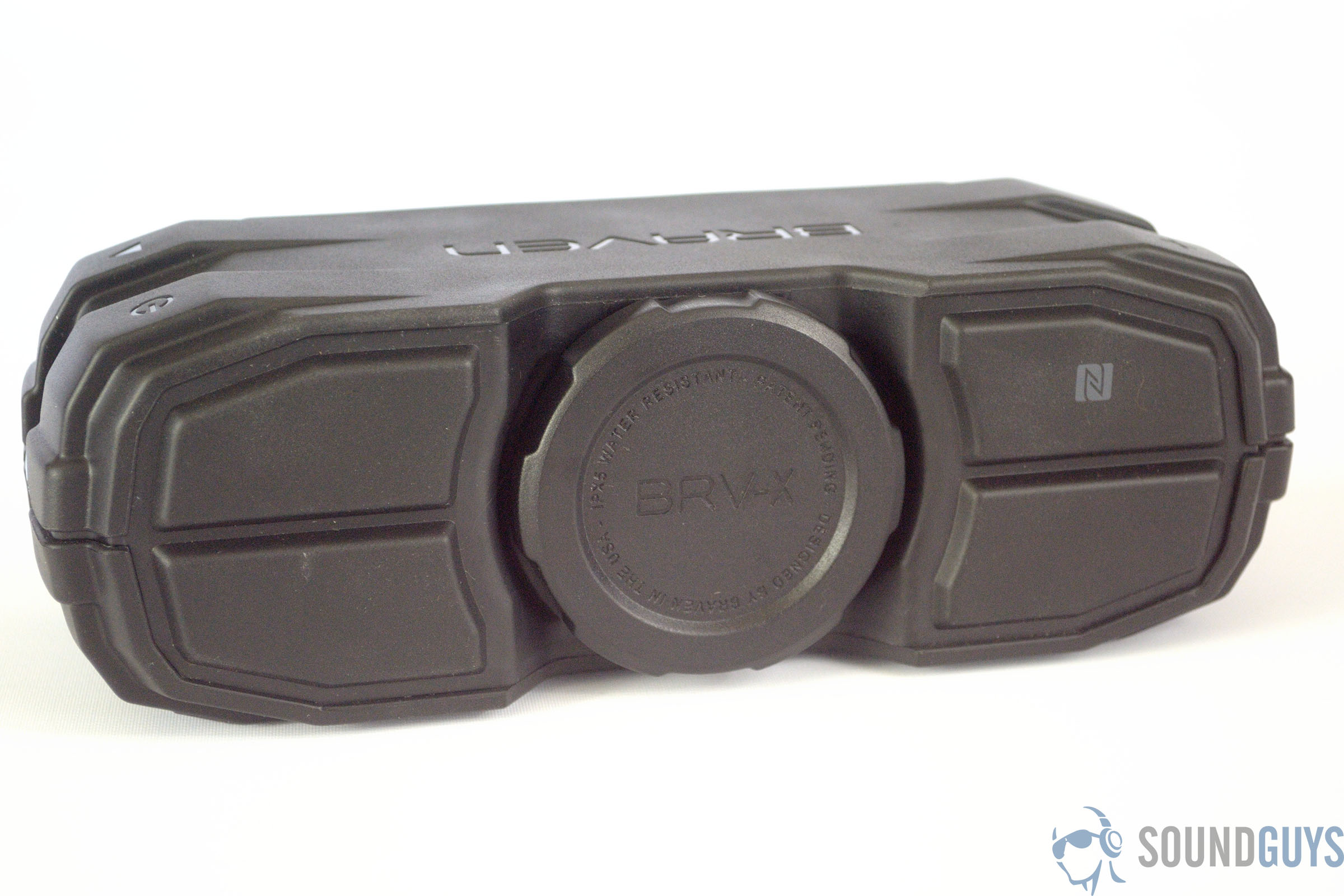 Stereo spread is effectively zero, a problem the BRV-X shares with nearly every Bluetooth speaker in existence (maybe a slight exaggeration) but there is a solution if you're prepared to pay double the price: TrueWireless technology allows you to prepare another Braven BRV-X speaker for left and right stereo. Not a solution for everyone, but if you happen to have two around already, why not?
Conclusion
At $229, the Braven BRV-X isn't the cheapest Bluetooth speaker on the market, nor is it the best sounding. That said, this is aimed at a select set of people, and if you fall in the middle of the Venn diagram that birthed this speaker, you'll likely be very happy with it.
If you don't need the rugged build or charging capabilities, your money is likely best spent elsewhere, but if you're looking for a way to bring your tunes on a three-day hike in rainy weather, Braven has got your back.
Buy now from Amazon.com ($229.99)