All products featured are independently chosen by us. However, SoundGuys may receive a commission on orders placed through its retail links. See our ethics statement.
Braven BRV-1 Review
The Braven BRV-1 is a small, easily portable Bluetooth speaker designed to bring your music to you while standing up to the elements.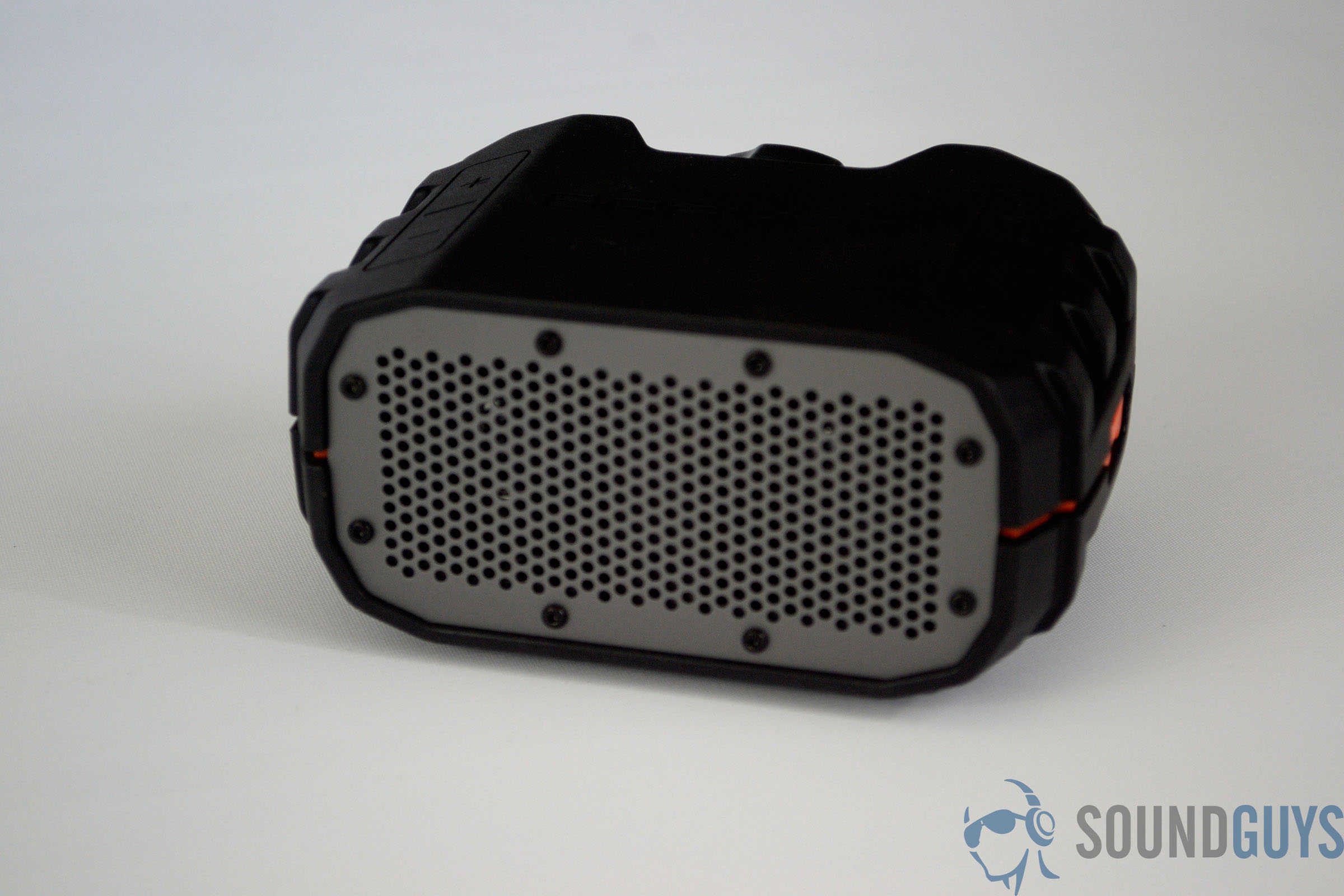 [button type="link" link="https://geni.us/fzzVa" size="btn-lg" variation="btn-primary" block="btn-block"]Buy now from Amazon.com ($107.99)[/button]
Braven is an oft-heard name in the world of Bluetooth speakers and with good reason—the company offers a ton of options with different features and a wide range of prices. From small and affordable to large and loud, they seem to offer an option for everyone. The Braven BRV–1 focuses on being weather-resistant, a niche that a lot of manufacturers ignore.
Being rough and ready to brave the elements is one thing, but that doesn't do you any good if the speaker sounds like junk. So does the Braven BRV–1 balance good sound with durability? Let's find out.
Features
IPX5 water resistant
3 watts per channel output
Speakerphone
12 hour battery life
What's In The Box?
The transparent plastic box shows off the Braven BRV–1 sitting inside, and when you open the box, this is the first thing you'll see. Everything else is hidden below it. On opening the lower portion of the box, you'll find the quick start guide. Below it, neatly tucked into their own compartments you'll find a male-to-male 3.5mm cable for plugging devices into the auxiliary port, a USB cable, and a lanyard.
Build & Design
The Braven BRV–1 is built to stand up to dirt and dust, and it certainly looks like it. Our unit came in orange, though there is a blue unit available as well. The chunky plastic body isn't sleek by any means, but it does have its own cool sort of style. This will fit right in with your other gear if you're taking it on a camping trip, for example.
The chunky build is part of the BRV–1's IPX5 water resistance, but the main part of the unit that makes it waterproof is the cap on the back. No, the BRV–1 doesn't double as a canteen. This cap covers the USB ports, 3.5mm AUX port, and battery life indicators. One thing worth noting is that while the unit is indeed waterproof, it's still not meant to be submerged in water. So please, don't take this speaker scuba diving.
For a unit as rugged as this one, it's surprisingly light. At 12.2 ounces, this relatively small speaker should be easy to carry if you want to bring it on a hike or bike ride.
Connectivity
When testing the Bluetooth capabilities of a speaker, we always make sure to pair the speaker with multiple devices and see how easily and fast it pairs. The Braven BRV–1 always paired easily enough. Just hold down the pair button until the unit emits its pairing sound and it will find broadcast to any nearby devices. On one occasion I needed to tap the "search for devices" button on my Moto X a second time, but besides this pairing was always fairly quick and painless.
To test the range, I started playing a song, placed the BRV–1 on one side of my house and started walking away from it. It played without issue up to around 30 feet. After I went beyond this it had the occasional skip, and once I got to about 40 feet, it was skipping enough that using it at that distance wouldn't be possible. For older MP3 players or devices that don't support Bluetooth, the 3.5mm AUX jack allows you to play audio from anything with a headphone jack.
The Braven BRV–1 supports speakerphone, which is nice considering that many manufacturers are leaving this feature out of their speakers these days. The play button on the speaker can be used to answer and end calls as well.
Battery
Braven claims a battery life of around 12 hours with the BRV–1 and I found this to be fairly accurate. Charge time can be up to 3 hours, but while I was testing the BRV–1, my charge times were usually closer to 1.5 to 2 hours. Granted, I wasn't fully draining the battery, but with the battery nearly dead, a full charge only took just over 12 hours. Knowing just how much battery life is remaining can be an issue with many Bluetooth speakers, but the included battery meter on the BRV–1 shows you how much life is left with a touch of a button.
You might notice that there are two USB ports on the Braven BRV–1. One is to charge the Braven itself, and the other allows it to charge other devices like smartphones and mobile devices. Obviously, you don't want to use this feature much if you want to preserve the unit's battery life for music, but it's very handy if you use the BRV–1 while traveling and your phone starts to run out of battery life.
Sound Quality
As small as it is, and with the focus on being weather-resistant and durable, I wasn't expecting to be blown away by the sound of the Braven BRV–1, and it is far from the best-sounding Bluetooth speaker that I've ever heard, but it's far from the worse-sounding speaker I've heard as well.
For testing, I listened to a wide variety of music from different genres and styles, as well as the occasional podcast and audiobook.
As you might have guessed from the small size of this speaker, the bass is far from massive. Still, given the size, I was surprised at the amount of bass that the speaker managed. The BRV–1 has a port on the bottom, so the surface you place the speaker on will affect the amount of bass from the speaker significantly.
Midrange frequencies are the most prominent with the Braven BRV–1 which, again, comes as no surprise. No matter the music you play, it's going to sound mid-heavy. The mids are slightly boxy, but not annoyingly so, and luckily the high mids aren't harsh-sounding.
The highs are slightly soft sounding: not muffled per se, but definitely "soft" sounding. Given a choice between slightly softened highs and harsh, tinny-sounding highs, I would definitely prefer the softer side, so this isn't a terrible thing.
Stereo separation is almost nil, as expected. When it comes to volume, the Braven BRV–1 got louder than I expected without distorting, but it still doesn't get as loud as larger speakers will.
Conclusion
The Braven BRV–1 can normally be found online for around $99. Though that price would seem expensive if it were just another Bluetooth speaker with average sound, the weather resistance and ability to double as a charger for your mobile devices makes it a decent value for the price.
This isn't the fanciest, best-sounding speaker in its price range, but for outdoor enthusiasts and frequent travelers, it's worth a look if it meets your needs.
[button type="link" link="https://geni.us/fzzVa" size="btn-lg" variation="btn-primary" block="btn-block"]Buy now from Amazon.com ($107.99)[/button]