All products featured are independently chosen by us. However, SoundGuys may receive a commission on orders placed through its retail links. See our ethics statement.
Bowers & Wilkins unveils P9 Signature headphones for $899
3.5mm now, Lightning later.
Bowers & Wilkins is now fifty years old and to celebrate they announced a brand new pair of over-ears. The headphones, dubbed the P9 Signature, have the modern design that we've come to expect from the company. But they're also the most expensive pair of headphones that the company currently sells.
Bowers & Wilkins makes it a point to say that these were designed to get the highest performance from mobile devices. They have a closed-back design to help block outside noise and a sturdy aluminum headband. Speaking of the headband, it can fold at the hinges for easy storage when traveling. Good news if you like tossing your headphones in a bag when you get to your destination.
Then there's the leather.
Then there's the leather. The headband and ear cup padding is wrapped in Italian Saffiano leather. It surely adds to the premium aesthetic, but there's no doubt that it must be quite comfortable as well.  You'll also find that same leather on the carrying case which matches the headphones in terms of style.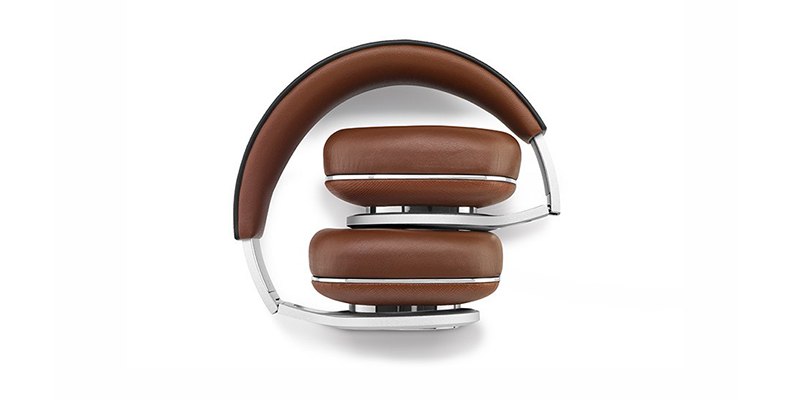 The ear cups are also de-coupled from the headband in order to decrease vibrations. Bowers & Wilkins claims that this reduces distortion when listening to music since the earcups are allowed to move more freely. That isn't the only design choice that was made to maximize audio quality. In each ear cup you'll find a 40mm driver that is slightly angled to give your ears the illusion that sound is coming from in front of you, rather than on the side of you.
Frequency Range: 2Hz – 30 kHz
Impedance: 22 ohms
Distortion (THD): <0.2% (1kHz/10mW)
Sensitivty: 111dB/V at 1kHz
Max input power: 50mW
Weight: 413g
Included with the headphones are three audio cables. Two of which are 1.2m in length (one with an iOS compatible control module and one with nothing) and a third 5m cable. The detachable audio cables end in a 3.5mm headphone jack, but Bowers & Wilkins promises to send you a free Lightning cable for your iPhone 7 once it becomes available in early 2017. All you have to do is register your headphones once you receive to get notified when it becomes available. Until then, you'll have to deal with the dongle.
Everything about the P9 Signature sounds premium, and that extends to the price. These headphones cost $899 and can be purchased now from their website.