All products featured are independently chosen by us. However, SoundGuys may receive a commission on orders placed through its retail links. See our ethics statement.
The bottom line
If you're willing to pay the price (or just love Bose products), the SoundTrue II's won't disappoint.
If you're willing to pay the price (or just love Bose products), the SoundTrue II's won't disappoint.
What we like
Very comfortable
Good sound
Flexible
Rating Metric
Sound Quality
9.1
Bass
8.9
Midrange
9.2
Highs
9.1
Durability / Build Quality
8.4
Value
8.0
Design
8.8
Microphone
9.0
Portability
8.0
UPDATE [February 2022]: Launched in 1970, Bose discontinued the SoundTrue line in 2016, yet you can still find these headphones on Amazon. If you're curious about alternatives, dig into our top list of Bose headphones.
Like it or not, Bose is probably the most known name brand when it comes to consumer audio second only to Beats. The first Bose SoundTrue received a pretty high score when we reviewed them last year, and now we have our hands on the Bose SoundTrue II. They have a slightly different design, and that's about it. So are they worth it?
What's in the box?
Bose provides consumers with a hard-shell case to protect the headphones when in transit.
All Bose boxes look the same and this one is no different. A picture of the headphones on a white background with some information about the product sprinkled around the box. Inside you'll get a pretty nice hardshell carrying, the audio cable, and warranty booklet. There's nothing else in the box, but I'll take it because I'm really happy that there's a hardshell carrying case.
Build & Design
When it comes down to it, this is where the only differences lie between the original SoundTrues and the new ones. There's a few subtle differences that you might not even notice at first glance, but they're there. The headphones are still made of a lightweight plastic and the padding is phenomenal.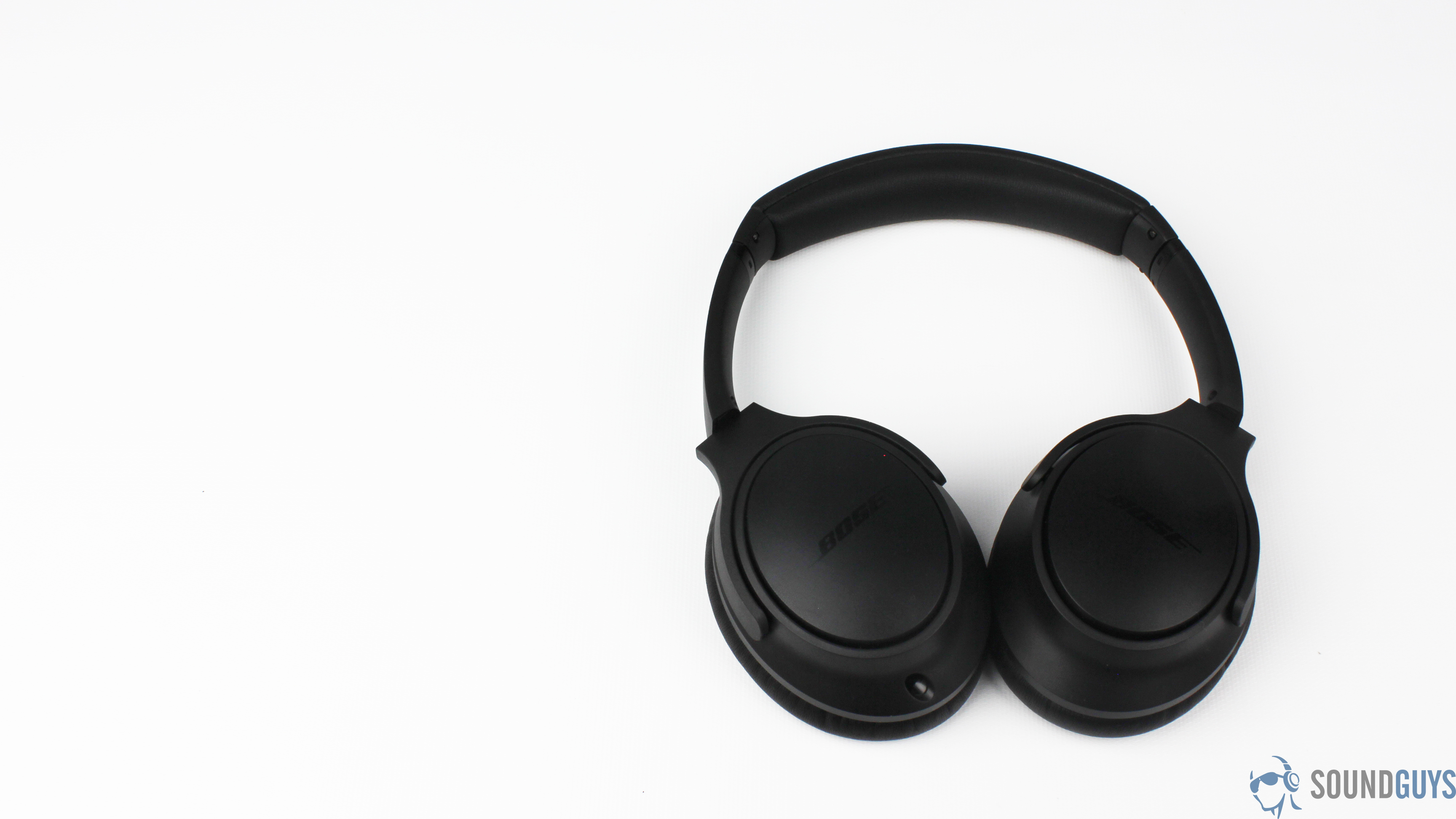 Like most other Bose over-ears we've tested, the SoundTrue II's just disappear when you're wearing them. They're extremely comfortable and wearing these for hours at a time caused no issues at all. This new model has a slightly thinner profile than the previous model which give them a more natural feel on the head. The ear cups now have a slightly more oval shape which help to fit your ears better and the headband was given a decent upgrade as well. Now it's slightly thicker and blends a little more nicely into the padding at the top of the headband.
The plastic that they're made of do feel kind of cheap, but it definitely helps the overall build because of how flexible they are. I'm not sure how these would fair if you crush them in backpack, but they can survive above average twisting and turning without a doubt. Besides if you need to throw them in a bag, there's always the hardshell carrying case. We're looking at the SoundTrue 2 in charcoal black, but they're also available in navy blue if that's more your style. The headphones are less flashy than some of their other products. Even the triangular pattern we saw in the past version of these is replaced with diagonal lines that now match the color of the headphones you get.
Connectivity
There's no Bluetooth to be found here but there is a replaceable audio so if you happen to break yours you can just get a new one. It has a mic and remote built into the cable about three inches down from the left ear cup that gives you complete control over music playback. Keep in mind that the type of device you use (iOS or Android) is an important factor here. Get the wrong one and your functionality will be very limited. That said, if you get the right one they work perfect.
The Bose SoundTrue II are a wired set of headphones that are compatibly with either Android or iOS devices
Click once to pause or play, double click to skip tracks, triple click to return to previous tracks, and you can even fast forward or rewind songs by double/triple clicking and holding down the button. They work perfectly, but it's just annoying that you can only get the full functionality depending on one kind of device. The mic also is pretty good and people on the other end of the phone couldn't tell that I was talking through a pair of headphones.
Sound Quality
Since these are made with iOS or Android in mind, we did most of the testing on mobile devices to get a better feel for how they are in every day situations. Still, we also plugged them in to an audio interface just to make sure. It's worth mentioning now that these sound similar, if not identical to the previous model which makes me think that Bose just wanted to optimize the design rather than the sound.
If you're looking for a thumping bass these aren't the headphones for you. That said the low end is still well represented and if you're using these for every day listening you shouldn't have a problem. The deep rumbling throughout 'Oakland Ting' by Johnny Rain didn't overpower the rest of the song at all and sounded very clean and controlled throughout.
Like the SoundTrues before them, these feel like they were made for vocals. Detail in guitars and synths is fine, but they really shine when it comes to voices. A perfect example of this is in the song 'Lay Down' by Son Little where the background guitar keeps a lot of its grit without getting in the way of the vocals at all.
Highs are crispy and even at max volume (which is decently loud) they never distort or become harsh sounding. The guitar slides in 'Letting In' by Deauville never made me cringe or feel like I had to lower the volume which is the case with other headphones.
Conclusion
In the end these headphones sound really good. Don't get me wrong you might not want to use them for mixing audio, but for casual listening I'm having a hard time thinking of another pair of headphones that I'd rather use. They're comfortable enough for long trips, light enough for commutes, and music really does sound better when you're wearing them.
That said, it's still Bose we're talking about. So these are currently priced at $180 which isn't exactly cheap. In fact, it's not cheap at all. It's just hard to recommend anything that's almost $200 but doesn't have Bluetooth or Active Noise Cancelling. If you don't mind paying top dollar for good headphones then you probably won't regret these, but they're not exactly bang for your buck.