All products featured are independently chosen by us. However, SoundGuys may receive a commission on orders placed through its retail links. See our ethics statement.
Bose FreeStyle Review
The Bose FreeStyle pack solid sound and a bold look, but their competitors offer comparable sound and more features at the same price.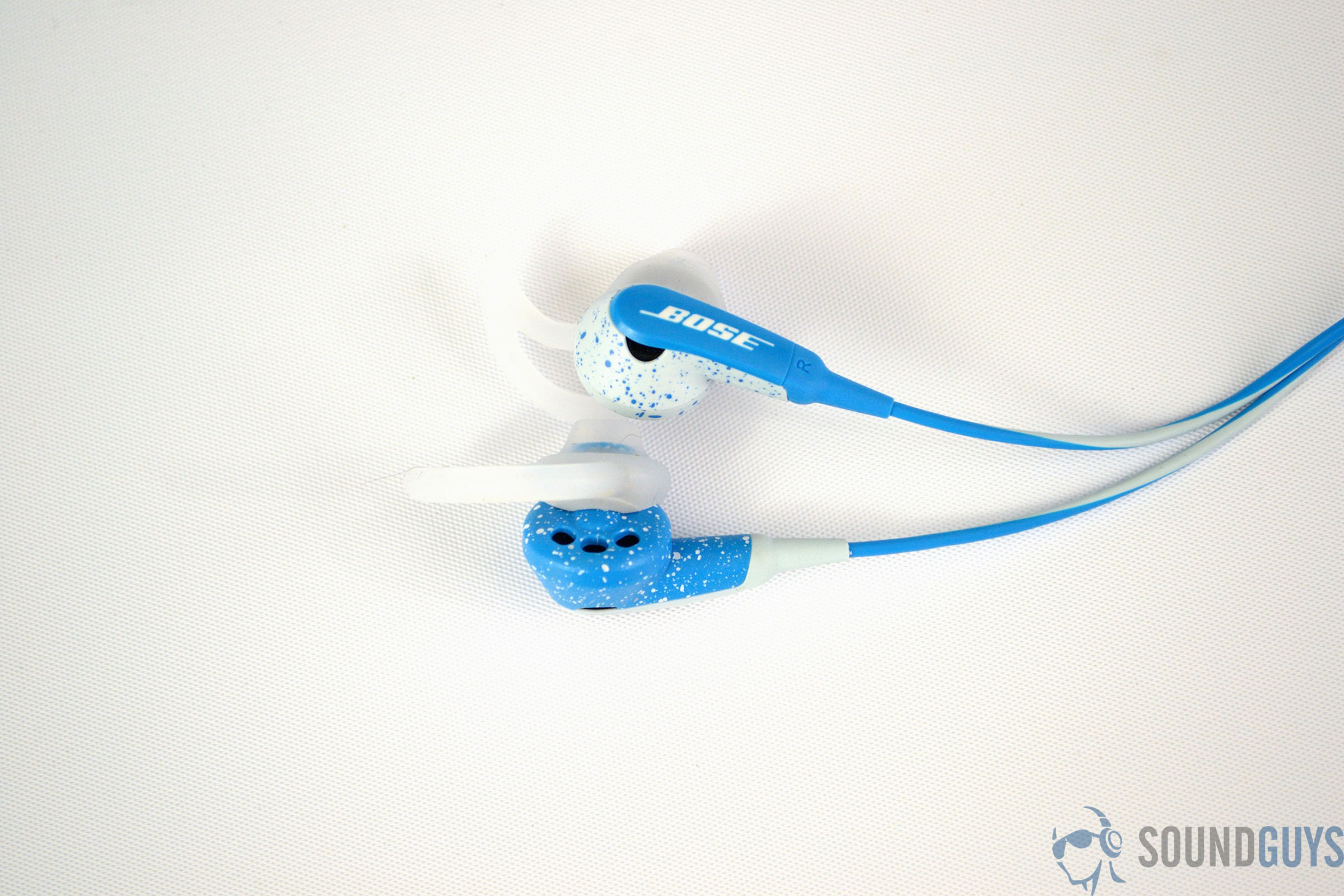 Buy now from Amazon.com ($129.95)
UPDATE (January 2022): Bose has discontinued this product in 2015. For the latest and greatest Bose earbuds and headphones, please refer to our choice of best Bose headphones.
In the years since Bose has entered the world of audio, consumers and audio enthusiasts have come to expect a few things from the company, for better or worse. They tend to run a bit high price-wise compared to their competitors, they prefer a small footprint over most anything else, and as for style, well, their products aren't ugly, but they're never adventurous in their design either.
In April of this year, Bose decided it was time for that to change, releasing two new products with a markedly different approach to their look. The SoundTrue headphones and FreeStyle earbuds, while not groundbreaking in their sonics or their feature-set, take far more risks on the visual side. Last month we tried and liked the SoundTrue, so we were curious to see how the FreeStyle fared.
What's In The Box?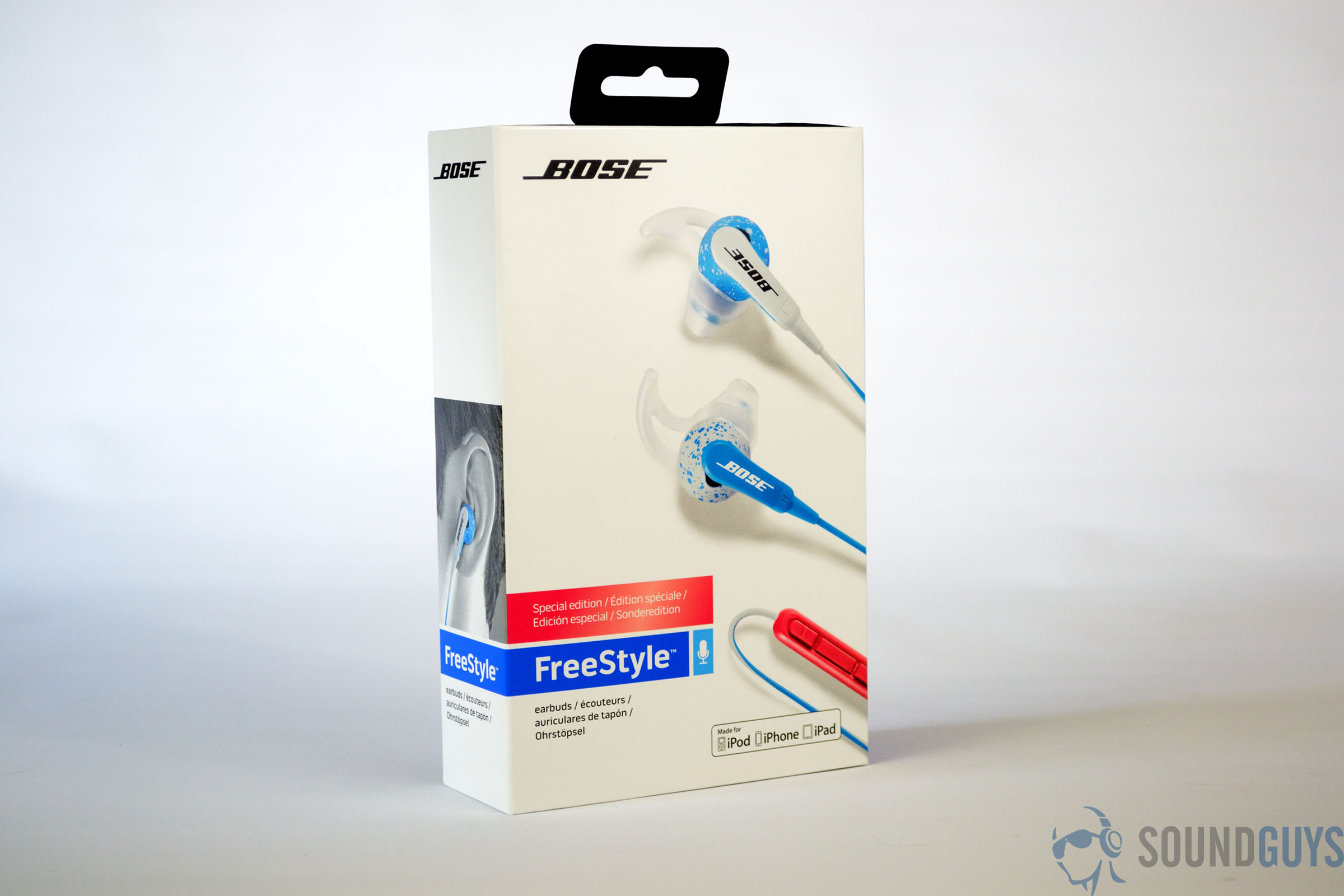 While it isn't unusual to open a box from Bose and find exactly one thing inside, not counting the manual, that wasn't the case here. Popping the lid, the first thing you'll see are the earbuds themselves, neatly tucked into molded plastic. Underneath this piece of plastic you'll find the carrying case, manual, and two small plastic bags containing one pair each of additional tips for the earbuds.
Build & Design
Bose certainly can't be accused of being overly modest with the design of the FreeStyle earbuds. While the names sound fairly innocuous – Ice Blue and Indigo – those are essentially code words for what the styles actually are. Ice Blue is a blue and white variation on a splatter-painted style that would be at home on an early '90s cassette player, and the Indigo style is basically half polka dots. We're looking at the Ice Blue, and the coloring combined with the red plastic highlights are very reminiscent of a Rocket Pop.
Say what you will about the look (we just did, after all) but when it comes to the actual build and design of the Bose FreeStyle, we were pleased. The earbuds are fairly solid feeling, especially for how light they are. They're comfortable too – usually I can't wear earbuds for more than an hour or two without noticing that I'm wearing earbuds and needing a break. With the FreeStyle, I was able to go at least twice as long as usual without minding. The SoundTrue were some of the most comfortable headphones I've worn in a long time, and with the FreeStyle, Bose seems to have kept the trend going.
The cable is long, something else shared with the SoundTrue. Though it isn't quite the 66 inches that the SoundTrue's cable reached, this cable is long enough that even the tallest people with the droopiest pants should have no problem.
Connectivity
Like the SoundTrue, the Bose FreeStyle earbuds are very barebones when it comes to connectivity options. No Bluetooth here, though that could be considered a plus given that the weight of the buds themselves would be increased given Bluetooth integration. There is at least an in-line remote and microphone here, a nice step up from the IE2. Call quality using the microphone was good, though again, this is a simple mic — no noise or echo cancellation.
The Bose FreeStyle are aimed at users of Apple devices, as were the SoundTrue. You can use these with an Android device if you wish, but in our testing, only the middle button was functional. Pausing and resuming playback worked fine, as did answering and ending calls, but the two other buttons might as well not have been there. These headphones clearly mention this fact, but it's still worth noting.
Sound Quality
When I reviewed the Bose SoundTrue headphones, I was very happy with how they sounded. I hoped that the FreeStyle would be comparable, but my expectations weren't set particularly high. Generally, given the choice between over-ear and in-ear headphones, I'll take the over-ear. My expectations for these turned out to be greatly surpassed.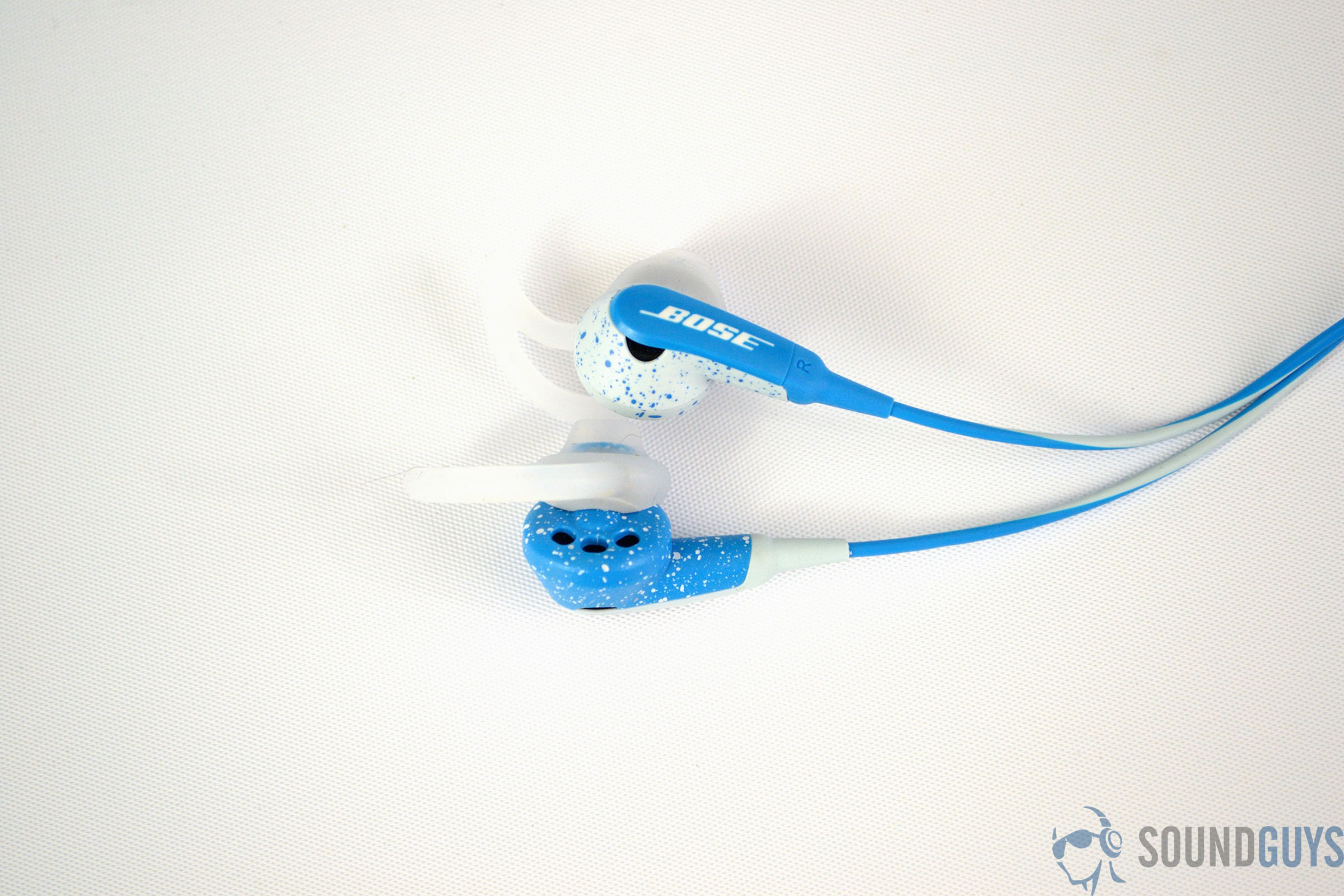 In testing the Bose FreeStyle is listened to music in a variety of different formats, from MP3 and lossless FLAC, to CD and vinyl records. I played music from a Motorola Moto X, through an Onkyo receiver, and a Focusrite Saffire Pro 40 audio interface, all in the hope of getting a good idea what the FreeStyle are capable of.
When I first put the Bose FreeStyle on, they were comfortable, but didn't have that overly tight feel many earbuds do, so I suspected that the bass response would be mild at best. I was wrong. Don't get me wrong, these earbuds are not the best choice for bassheads, but the bass is accurately represented, and the low end is solid. A low rumble at the beginning of Boris' Flower Sun Rain actually had me convinced that there was something seriously wrong with my furnace for a moment.
There is a strong emphasis on the midrange with these earphones, but not to the detriment of the low end or the highs. Vocals stand out very well, and there is a good amount of detail to guitars, both clean and distorted varieties. Turning up the volume a bit, the buzzsaw guitars on Trap Them's The Facts sounded like a cranked amp was sitting on either side of me.
The same level of detail is present in the highs. Cymbal bells, air on vocals, and other high end details are well represented. I did notice some harshness on exactly one song (Neil Young's Psychedelic Pill), but this was a rare occurrence.
Soundstage is usually far from spectacular with earbuds, and while the FreeStyle certainly don't approach a high end pair of open back headphones, the soundstage is impressive for in-ear headphones in this price range. Volume is good as well. I hit my own breaking point before these broke up from pushing the volume up.
The FreeStyle are not either noise canceling or noise isolating. While cranking the volume will drown out outside noise, just popping these in your ears will do almost nothing. Sound leakage is almost nonexistent though, so while you might hear somebody sitting next to you, they won't hear what you're listening to.
Conclusion
The Bose FreeStyle are among the best sounding earbuds I've heard in this price range, and if they were alone in that they'd be an easy recommendation. At $129, there are other options that offer Bluetooth and other features, and while they may or may not quite sound as good, this is enough to make them better choices for a lot of people. Still, if you're looking for a great sounding, barebones pair of in-ear headphones, you could do a lot worse, especially if you're an iDevice user.
Buy now from Amazon.com ($129.95)