All products featured are independently chosen by us. However, SoundGuys may receive a commission on orders placed through its retail links. See our ethics statement.
B&O introduces the Beoplay A1 speaker with 360-degree sound
B&O announced a new wireless speaker called the Beoplay A1 and it has a few key benefits over its competitors. Though at $249, it isn't cheap.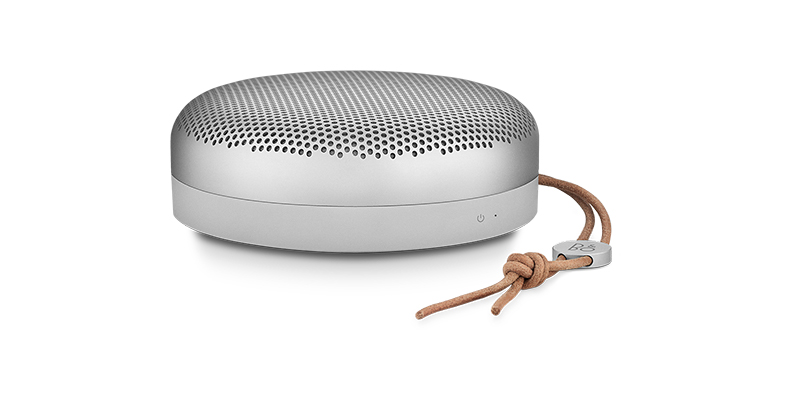 B&O is known for being making audio products that are premium in both design and in sound, but their new A1 speaker takes things a little further. The majority of their speakers tend to be aimed as new pieces of home decor with famous designers working on them, but the Beoplay A1 is the first by the company made to withstand many of the same stresses as other durable speakers. Still, that doesn't mean that B&O skimped out on a designer. Cecilia Manz, who worked on other B&O speakers like the A2 and the Beolit15, also had a hand in crafting this one.
The speaker is small and round in design weighing in at 600 grams, letting you strap it to a bag or carry it around so you can listen to some music on-the-go. It also has a soft leather strap that not only looks good next to the aluminum of the speaker, but allows you to dangle, hang, wrap, or loop it anywhere you want. It has a polymer base surrounded by an aluminum grill that protects it from the usual dings that come along with owning a portable speaker. B&O even makes it a point to say that "Every scratch tells a story." But the real purpose of this round design is to provide you with 360 degrees of audio. B&O claims that it'll give you a seamless sound regardless of where you're standing in relation to the speaker.
Around the side of the speaker are a few basic controls that let you do things like raise or lower the volume, turn on Bluetooth, and answer/end phone calls with the small microphone button. One of the more notable features is the 2200mAh battery that gives a claimed 24 hour battery life. Similar speakers of this size have significantly less battery life so hopefully more manufacturers follow in the footsteps of B&O because when it comes to listening time, less is not more.
One important note to be aware of is that it does charge via the new USB-C cable, so if you don't already have a few you're going to have to make sure you don't lose the one it comes with. That said, USB-C is the future so it might be better to begin making the change sooner rather than later. The Beoplay A1 comes in two colors: moss green or natural silver for $249 and is available now from the B&O website.