All products featured are independently chosen by us. However, SoundGuys may receive a commission on orders placed through its retail links. See our ethics statement.
Axiom Audio campaign for Wi-Fi speaker with Raspberry Pi brains
A new Kickstarter by Axiom Audio aims to bring their customizable Wi-Fi speaker to your home. Oh yeah and it has the Raspberry Pi micro-computer for brains.
Bluetooth is an amazing technology, but it does have it's drawbacks. For one the range is limited to only about 30 feet and is not always the most consistent depending on the device. It's really not too surprising to see many manufacturers turning to Wi-Fi as their preferred method for connecting to their speakers. There are tons of Wi-Fi speakers out there, but Axiom Audio hopes to be the one that fits into your home seamlessly with a new Kickstarter campaign for their speaker called AxiomAir.
The speaker boasts a high quality digital-to-analog converter (DAC) which, together with Wi-Fi streaming, enables you to play 24/192 lossless music files seamlessly. Should you decide that you want to take it to the beach or the pool it even creates it's own hotspot so that you can still connect to it and stream whatever you want even when you're nowhere near your home Wi-Fi.
How do you push all that sound? With dual 1″ dome tweeters and dual 6.5" woofers. It has a frequency response of about 50Hz – 20kHz but also has a bass reflex enclosure to help out with some of that low end. At 16 lbs, it's definitely not the lightest speaker we've ever seen but at the same time it really isn't meant to be. Sure you can still pick it up and bring it with you places, but you'll probably want to just leave this on a table in your living room.
AxiomAir is able to connect with multiple devices at once but only one source device can play at a time (naturally). You have the option of getting a 9 or 18 hour built-in battery, though I'd probably go with the 18 hours seeing as the speaker has three USB outputs so you can charge devices while you listen. It also has a USB input so if you have any audio files on a flash drive you can easily plug and play.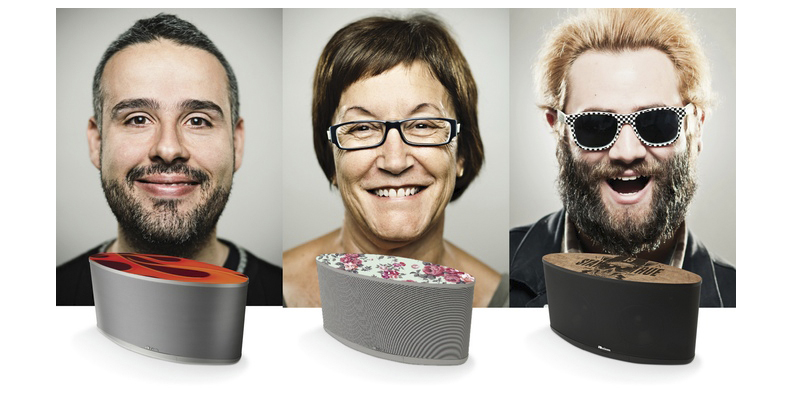 There are two unique features that set this speaker apart from the rest. One of them being that you can customize the wood grain lid to match your home decor or even put a picture on it. The speaker itself comes in either black or white, but the rest of is up to you.
Another thing that makes it unique is Axiom decided to use the Raspberry Pi micro-computer as the brains of the speaker. It is open sourced which allows developers to tinker with it and should the company come up with a new feature or two you can easily update the speaker via the Axiom user interface.
Should everything go according to plan, Axiom expects to begin production in October with shipments heading out to backers shortly afterwards. You can back the campaign and reserve yours for $475 which saves you more than $300. There are other pledges available as well that can get you multiple AxiomAir speaker or even a mini vacation to a resort in Canada ending in a factory tour and live show. The campaign just started today and has 29 days remaining so make sure to check out all of the options if this seems like something you'd be interested in.