All products featured are independently chosen by us. However, SoundGuys may receive a commission on orders placed through its retail links. See our ethics statement.
Astell & Kern announce the AK Jr, a high-res music player on a budget
Audio enthusiasts just beginning their journey to the world of high-res audio might want to check out the AK Jr.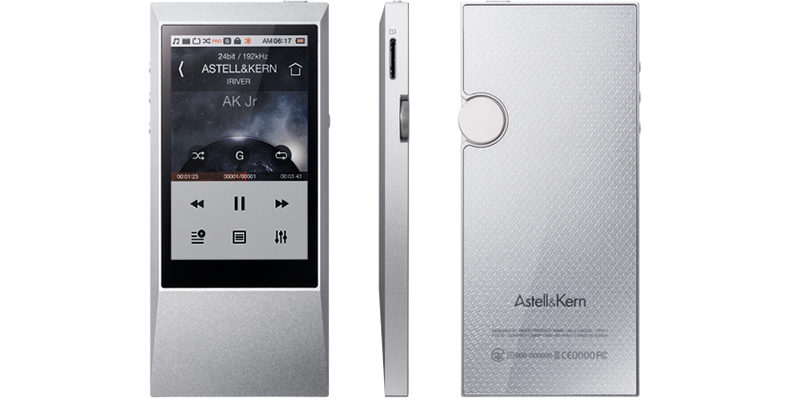 Assuming you already have a fairly good pair of headphones, the next logical step to listening to great audio is a quality music player. Something a little better than your smartphone. Astell & Kern have announced a premium high resolution player called the AK Jr. and they hope it'll be your "starting point of music".
The device itself has a completely aluminum body aside from the 3.1" LCD touchscreen that is used for navigating folders and displaying song information. It also has a buttery smooth textured volume wheel on the right side which makes it easier to use one-handed (sorry lefties). Austell & Kern also gave the AK Jr 14% boost in output when compared to the original AK100 model. Couple that with only 2 Ohms of impedance and this slim device can be quite powerful.  The AK Jr has 64GB of internal memory with an expandable card slot where you can add up to an additional 64GB via a microSD card.
You may think that's a lot of space (and it is), but keep in mind that high quality files are also quite a bit larger than your average MP3. The example Astell & Kern use is one four minute song with 24 bits/96 kHz resolution can take up around 90MB of space. If you do the math, that's roughly 1,400 four minute songs. What kind of format takes up so much space? The answer is DSD, or Direct Stream Digital. If you don't have too many DSD files lying around don't worry because the AK Jr can still play almost any file you throw at it, including the more familiar formats like MP3, WAV, and FLAC.
Another useful feature of the device is one that is shared with all of their high end music players, which is that the AK Jr double as a USB DAC(Digital-to-analog converter) for your computer. This would allow you to skip over your computers sound card and play the audio right through the AK Jr. Simply plug your headphones into the AK Jr, the AK Jr into your computer, and enjoy your high quality tunes.
There's no word yet on a release date, but it will be priced at $499 whenever it does come out. Expensive yes, but also very doable compared to some of the other high end music players on the market that can run you upwards of $1200 (I'm looking at you Sony).