All products featured are independently chosen by us. However, SoundGuys may receive a commission on orders placed through its retail links. See our ethics statement.
Anker MP141 Review
When it comes to get up and go sound, the Anker MP141 is a great choice, especially for the more budget-minded among us.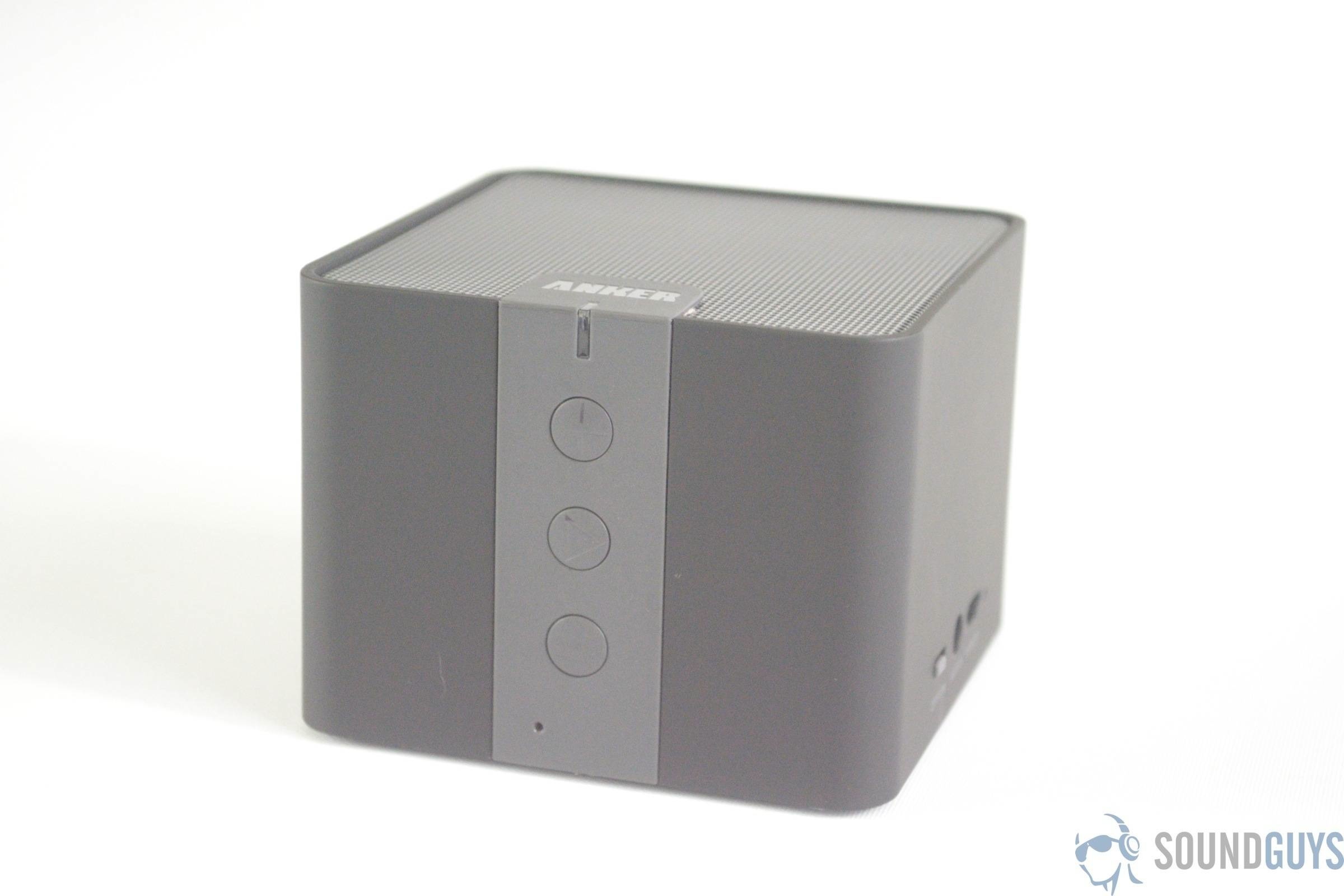 UPDATE (January 2022): Anker has discontinued this product. Check out our pick of the best Bluetooth speakers instead.
Some companies focus on doing one thing and one thing only. Anker is not one of those brands. Take a quick look at the products they offer and you'll find keyboards, mice, battery chargers, and phone accessories. A more recent addition to their stable of products: Bluetooth speakers.
The top of the line of these speakers is the still modestly priced Anker MP141. Nearly a cube, this small speaker sells for less than $50 and has been getting nearly unanimously good reviews everywhere it's sold. Naturally, we had to check it out ourselves and see if it could live up to the hype.
What's In The Box?
Slide off the outer cover and open the box, and the first thing you'll see is the speaker, wrapped in a white plastic bag. Next to it is a small cardboard box that holds the accessories: a 3.5 mm audio cable, USB cable, and the manual.
Build & Design
The Anker MP141 is available in two colors: black and white. For this review, we're looking at the black model, though both are pretty sleek looking. The height being a little shorter than the length and width is the only thing that keeps this speaker from being a literal cube — it measures 3.2 inches x 3.2 inches x 2.4 inches. The speaker is fairly light as well, weighing in at just 8.8 ounces.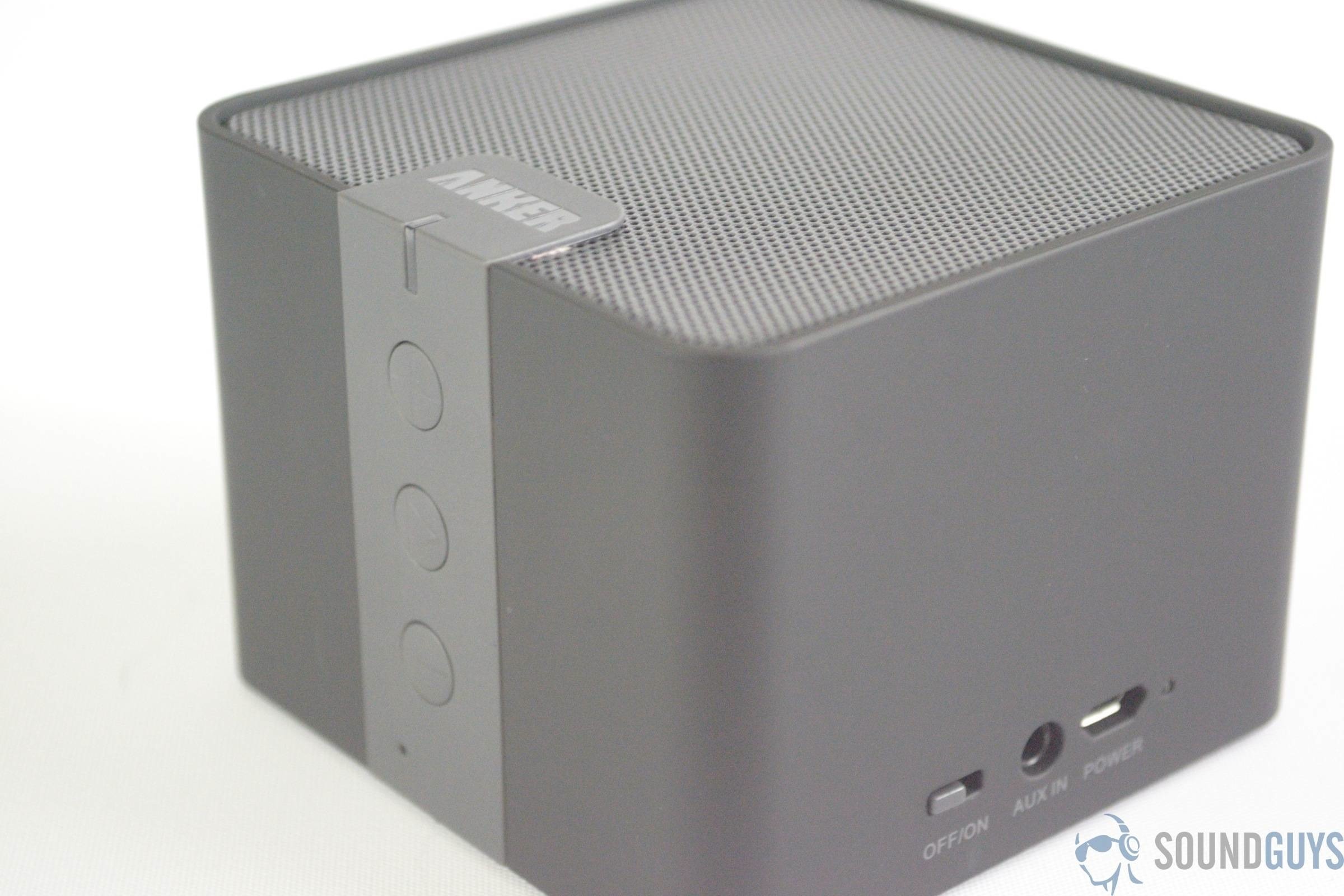 Though the look could easily have skewed toward the boring, instead the MP141 looks very sleek, if a bit starkly simple. The bottom has a single piece of rubber footing that runs around the entire outer edge of the speaker, which helps to keep it from sliding around despite the lack of weight. Despite it's small stature, the Anker MP141 feels fairly tough. You probably don't want to run over it with a car, but it should survive a trip in a backpack just fine.
Connectivity
Though the Anker MP141 doesn't feature NFC functionality, pairing is a fairly straightforward process. On turning the speaker on using the dedicated switch on the side, it automatically enters pairing mode. Just select it and pair from the device of your choice, and you should be all set.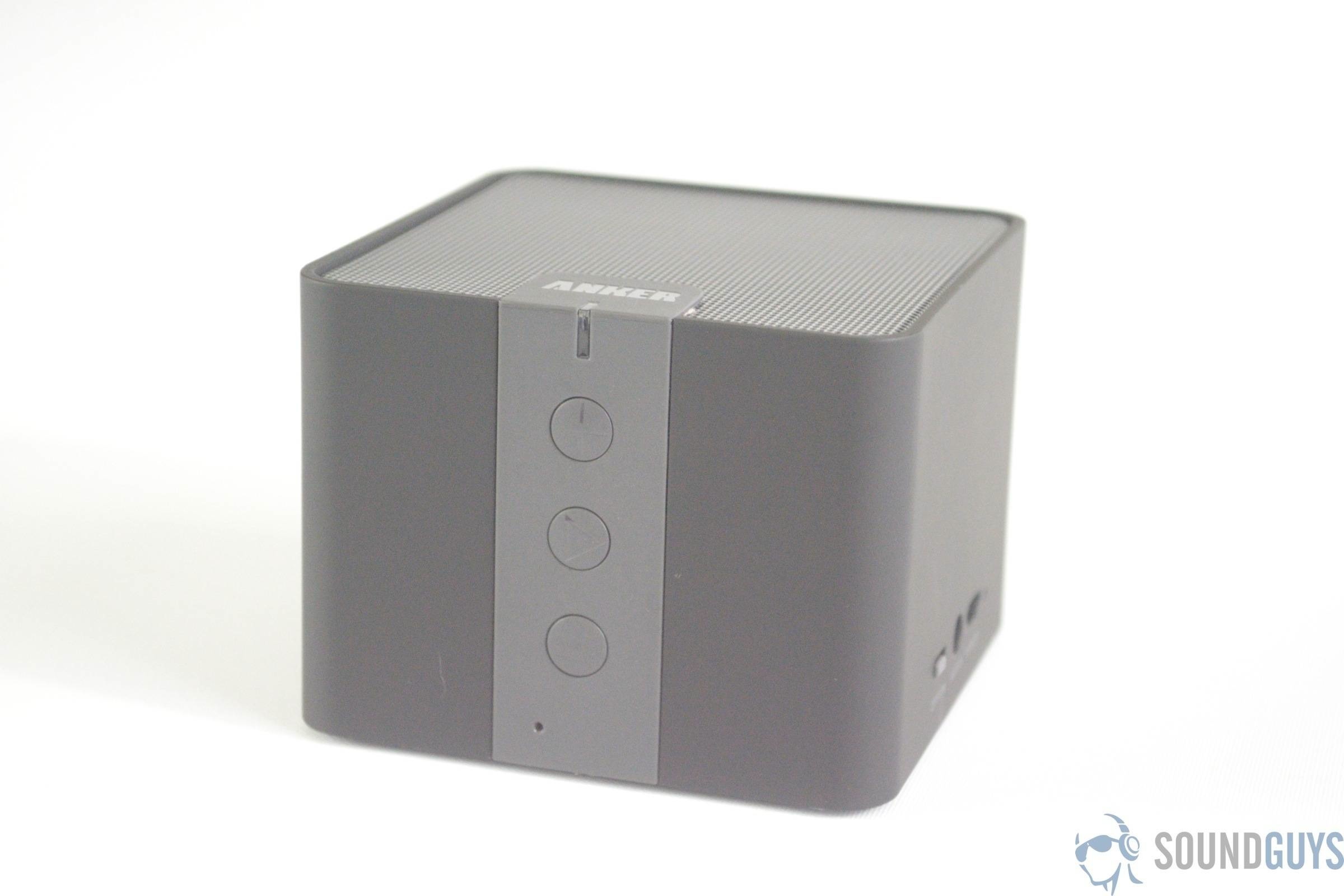 Anker claims a range of 33 feet for the MP141, and I found that at that range I encountered no problems, even with a few walls in the way. Moving any further caused the occasional dropout or stutter, but that is to be expected. If you would rather not use Bluetooth, or you're using a device that doesn't support it, the 3.5 mm audio jack on the same side as the power button allows you to plug directly in.
The front of the Anker MP141 packs all of the controls into a simple three-button setup. The play / pause button is located in the middle, while the + and — buttons are located above and below it, respectively. The play button is also used to answer and end calls. Speaking of which, speakerphone works very well with the MP141. No excessive echo or problems with background noise were made apparent during testing, and call quality was very good.
Battery
While Anker claims up to 20 hours of battery life (obviously dependent on volume) for the MP141, I found that I easily met this. Testing a speaker is fairly tough on battery life, so this was both surprising and impressive. Charge time is about what you would expect for a 2,100 mAh battery: around 3 to 4 hours, depending on the charger you're using.
To help stretch battery life even further, the MP141 features an auto-off mode that turns the speaker off after a certain period of inactivity. This doesn't seem to be over-zealous, and I never found the speaker turning off while I was in the middle of testing it.
Sound Quality
The Anker MP141 features a 4 watt driver, which may not sound particularly impressive, but given the size of the speaker, it's pretty powerful. During testing, I briefly plugged the speaker into a Focusrite Saffire Pro 40 audio interface via the 3.5 mm jack and played back some lossless files and CDs, but the majority of the testing was done via a Bluetooth connection. I listened a wide variety of music spanning both years and genres, as well as an audiobook and a few podcasts.
The MP141 is ported on the bottom for extra bass, and because of this, placing the speaker on wooden surfaces will generally produce more bass than other surfaces. You can only do so much at a given size, so this isn't a bass monster, but kick drums and bass guitars do still have plenty of punch and presence.
It seems that Anker has given the MP141 a boost in the lower mids to achieve a fuller sound. This works in the speaker's favor, and there is actually a surprising lack of boxiness in the sound for a speaker this size.
Highs in these smaller speakers can often be very hit or miss, but the MP141 offers plenty of detail without the wispy sizzle that so many speakers this size have.
One area where we found the Anker MP141 to be slightly lacking is in overall volume. The speaker isn't quiet by any means, but if you're using this for a small party or with a group of people, you may find yourself wishing it would get a little bit louder. Overall though, the MP141 boasts surprisingly good sound for its size and price.
Conclusion
Having put the Anker MP141 through its paces, we can safely say that it does indeed live up to the hype. If you want to spend more money, you'll definitely find better sounding speakers out there, but for the size and price, this is one impressive little cube. It's cheap enough that even if you buy it and find yourself disappointed it's not a huge loss, but honestly, we doubt you will be disappointed at all.
[button type="link" link="https://geni.us/ey5″ size="btn-lg" variation="btn-primary" block="btn-block"]Buy now from Amazon ($39.99)[/button]