All products featured are independently chosen by us. However, SoundGuys may receive a commission on orders placed through its retail links. See our ethics statement.
90% of headphone buyers prioritize sound quality over price
According to research conducted by Qualcomm aptX, 90% of headphone customers care about sound quality more than price, and still aren't sold on Bluetooth.
Qualcomm aptX has just published a detailed report into the state of consumer audio. The company spoke to over 3,600 consumers who own and use a smartphone, and who identified themselves as being music lovers or listeners, with the data revealing some important trends. According to the results, consumers are itching for the best sound quality, want better connected audio devices, and aren't quite convinced about the quality of Bluetooth yet. If that sounds familiar to you, I'm not surprised, but there are some interesting titbits buried in all the data.
Despite the fashion statements offered by some audio brands, Qualcomm's data indicates that a whopping 90% of headphone customers prioritise sound quality over any other factor when picking out a new pair. In fact, 71% said that quality is even more important than cost, so consumers are certainly willing to pay for good headphones.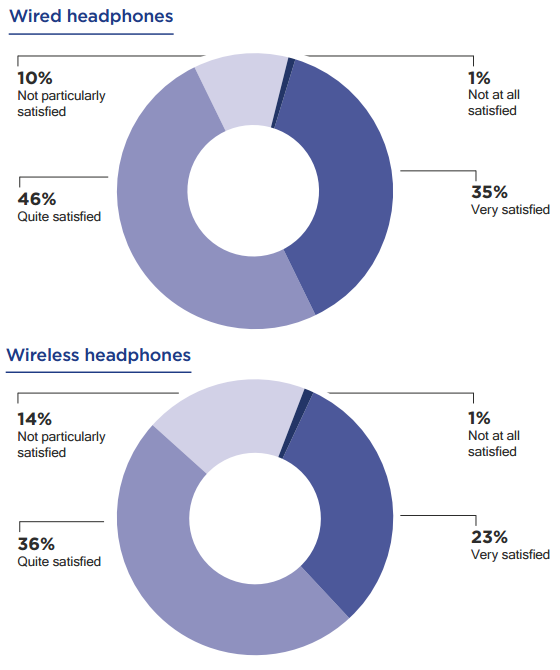 Furthermore, while Qualcomm, and much of the broader industry for that matter, maintains that wireless headphone sales are on an upward trajectory, a 58% majority of customers are holding off on wireless headphone purchases because Bluetooth sound quality just isn't good enough.
When asked about quality, 81% of wired headphone owners said they were quite or very satisfied with them, compared with only 59% of wireless headset owners. Revealingly, 46% of respondents said they are concerned that wireless headphones may compromise sound quality. The other major reasons for avoiding wireless are concerns about a lack of compatibility, the expense, and how easy/difficult it will be to pair them up with other gadgets.
Of course, some elements of quality are quite subjective and there do appear to be a few contradictions in the data, at least from an audiophile's perspective. While 90% of customers believe that audio quality is important when selecting headphones, 83% of respondents stream music as part of their everyday listening experience, and we know that they're not all using lossless services like Tidal.
That being said, 33% of consumers stream music as their main source of audio, while 40% are still using downloaded files as their preferred format. Of course, most of these are likely to be lossy MP3 downloads or an equivalent, but the quality is still likely to be higher than a typical streaming service. Just 1% listen to vinyl, and 9% are still primarily listening to their CD collection.
Just 1% surveyed listen to vinyl, and 9% are still primarily listening to their CD collection.
81% of those surveyed are either streaming music or playing back audio files on their smartphone.
When it comes to what consumers are listening on, it probably won't come as a surprise to hear that smartphones are almost universally used. 81% of those surveyed are either streaming music or playing back audio files on their smartphone these days, followed by 70% on laptops and PCs. Ease of use was found to be the reason behind this trend at 67%, while sound quality and format takes a back seat at just 18%. However, three quarters of those questioned listen to music on multiple devices.
Three quarters of those questioned listen to music on multiple devices.
This year, smartphone manufacturers have been paying increased attention to the audio quality of their handsets. LG and ZTE's Axon brand are happy to boast about the quality of their DACs, and a number of consumers have become fond of front-facing speaker setups.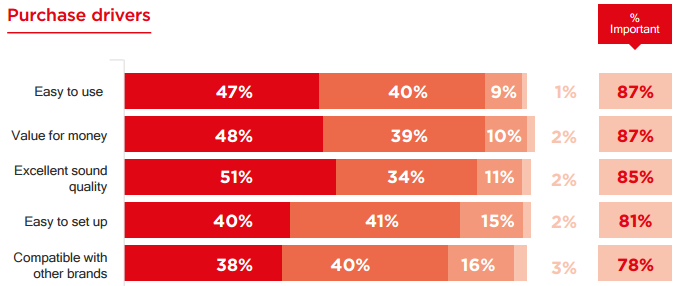 The last major point raised by Qualcomm's report is one of cross compatibility, specifically when it comes to the growing market for wireless speakers. 75% of consumers seem keen to own a wireless speaker system, but 50% of people aren't buying one yet. It seems that customers are being very picky about ensuring compatibility with the various wireless connection standards out there, and want to be certain that devices are compatible with each other before taking the plunge.
A majority of potential customers are put off the various wireless connection standards.
With different speaker systems offering up a range of wireless options, including Bluetooth, Qualcomm Aptx, AirPlay, and Wi-Fi, and manufacturers like Sonos offering up superior Spotify Connect integration and varying levels of support for different software platforms, it's certainly a good point that it can be hard to know exactly what to look for. Qualcomm notes that customers are prepared to pay extra for hardware that works well with technology from other companies right out of the box.
Going back to smartphones for a minute, there's nothing directly asked about USB Type-C in the report, but we can probably extrapolate people's feelings about wireless speaker compatibility to other connectors too. The report's findings don't make great reading for phone manufacturers that are dropping the 3.5mm audio jack, especially when it's clear that customers are yet to be won over by Bluetooth.
To sum up, music streaming and mobile have become increasingly important, and the latter is now the most popular way of listening to audio, including music, audiobooks, and podcasts. The trend towards wireless technologies has certainly piqued consumer interest, but they're not entirely satisfied with the audio quality and features of some of today's products. Consumers seem to be holding out for better alternatives to Bluetooth and, more importantly, want to ensure that all of their audio products play nicely together.
There's an awful lot more data in Qualcomm's State of Play report, which you can check out in full here. What are your thoughts on mobile and wireless audio products?